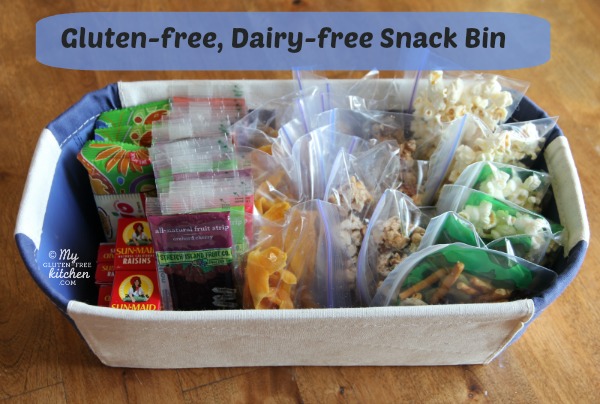 As so many of us are gearing up for the start of a new school year, I thought I'd share my household's gluten-free snack bin. I find that keeping a snack bin stocked with healthy, pre-portioned snacks helps my kids eat healthier, and keeps our grocery costs down. I like to buy in bulk and repackage into single servings. My boys can grab a healthy snack in the morning to put in their backpack to enjoy at snack time. If we have after school errands or sports practices, I'll quickly grab a snack for each of us to have after school.
Our snack bin is gluten-free, dairy-free, egg-free, and mostly nut-free. My boys cannot bring snacks with nuts to school, but I keep some nut snacks handy for them to grab when we're on our way out the door for errands or to sports.
Here is what I put in our snack bin (listed as they appear left to right in the photo above):
Sun-Maid raisins   I buy the mini boxes, 14 in a package. Cost per serving: 10¢
"Nut Bars" as we call them. They are Mrs. May's Trio bars. I buy an 18-pack at Costco for $15.59.   Cost per serving: 78¢
Fruit Leather. I buy at Costco ($10.59 for 48).    Cost per serving: 22¢
Dried Mangoes. I buy a bag at Costco ($11.99 for 30 oz.)and then repackage into snack size bags with about 6 pieces per bag. Cost per serving: 60¢
Cashew Clusters. These are Kirkland brand and available only at Costco ($ 9.49 for 32 oz.) I repackage into snack size bags with 7 cubes per bag. Cost per serving: 41¢
Popcorn. I air-pop a batch of organic popcorn, add 2 Tbsp butter, margarine, or oil, and sprinkle with sea salt. I package into snack size bags. Cost per serving: unknown but guessing under 20¢
Homemade snack mix. The contents of these little snack bags vary, but this time I have dried bananas, craisins, and some gluten-free pretzels.  Cost per serving varies: about 20¢
I hope this gives you some ideas for making your own healthy snack bin. If you have one already, please comment to let me know what healthy snacks you include.
Related posts: