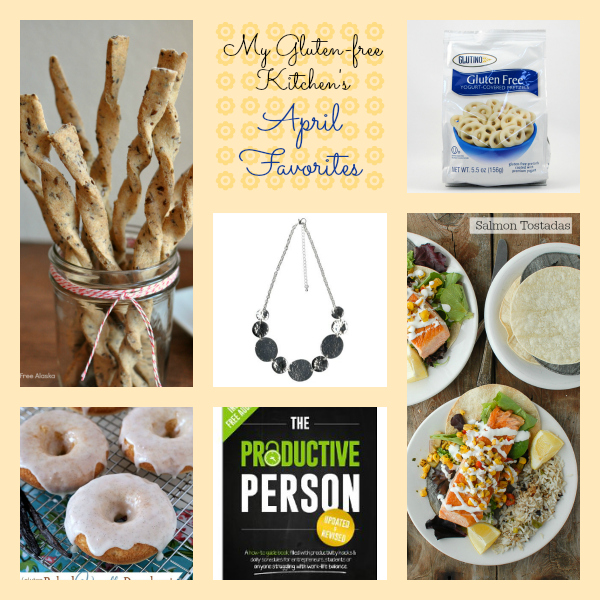 5 gluten-free recipes I drooled over this month:
5 favorite things I bought this month:
Prior to making my gluten-free Spring Snack Mix, I had never purchased Glutino Gluten Free Yogurt Covered Pretzels. After trying them, they are definitely a new favorite indulgence! Pretty sure you'll find a bag of these in my car on all future road trips!
My newest cookbook purchase is Breakfast Beauties: 25 gluten-free breakfast and brunch recipes. Full of beautiful pictures and delicious recipes, this is one you will want to get!
I joined the Spring Style Challenge from Get Your Pretty On and bought all sorts of new spring clothes as a result. It has been helpful and fun! I'm so glad I paid the $10 to join. She'll be starting a summer challenge soon and I'll definitely be joining that too!
As part of the challenge, I bought wedges, and fell in love with how comfortable and cute wedges from Kohl's are. I ended up liking them so much, I bought them in both the tan color and the black color.
I bought this silver necklace at Target and have loved how it goes with so many outfits!
5 favorite things I read this month:
If you have any favorites from April to share with me, I'd love if you would comment so I can check them out!
I'm linking this post up over at I'm Lovin' It at TidyMom's blog.
The thing I miss most (so far), are my pillsbury cinnamon rolls! Is there a good GF recipe for these? I've tried the Udi's ones, not even close :-( Please help a newbie out!!!!
Thank you so much for linking up to my nachos!!
Totally! I can't wait to make them for my family!
Even better than coming to my house would be to go to El Tovar at the Grand Canyon and have them there! The view is much nicer! They are delish.
I will definitely keep that place in mind if I'm ever that way, Toni!