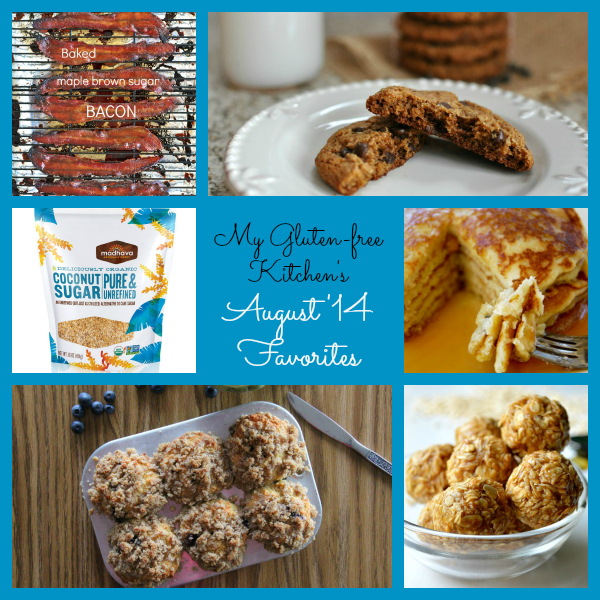 I'm just wrapping up 21 days of eating grain-free and refined sugar free. It was a big adjustment for me, but wasn't as bad as I thought it would be. I am so looking forward to a bowl of (organic) popcorn this weekend! It is funny that out of everything, air-popped popcorn is the food I missed most.
For meals for my family, I'm trying to follow the September Gluten-free Meal Plan that I put together for you all. We've already had the pulled pork, the nachos and the spaghetti this week, which are all always a hit with my family!
My kids started school last week, so we restocked our gluten-free snack bin. Boy does this make mornings and after school go smoother! They don't take any of the snacks with nuts to school – we save those for eating in the car on the way to practices/games.
This weekend we're planning on working our way through the many many peaches we've picked from our backyard trees this week. Hoping to make some jam and maybe some sweet treats too!
My favorite finds:
Boulder Locavore has some good tips in this post: Back-to-School: 5 Success Strategies for Gluten-free Kids
Thanks to my friend Megan's tip, I discovered and started using this organic coconut sugar
. It was much finer ground than the brand I'd used before so I've been happier with the results in recipes.
If you saw my computer screen full of icons, my internet browser full of open tabs, or my email with thousands of unread emails, you'd know I really need to follow these digital decluttering tips (no longer available online)!
This is totally random, I know, but if any of you have neck issues or get migraines, this ice pack
is the best thing ever. I bought a second one this month so that I always have two to rotate between if I've got a migraine. It is long and skinny so I can position it however I want to do really get the cold where I need it.
I found several new-to-me blogs this month that I want to mention. I found the blog The Pleated Poppy and ended up loving what I found. I love her style! I spent an hour looking through all of her What I Wore posts and pinning many of the outfits to my Style board on Pinterest. I'll be following this blog now for sure.
With my experiment with eating grain-free, I found the blog Life Made Full. The video about her family, including her hubby's celiac diagnosis drew me right in. I'll be pinning, and trying, many of her recipes!
I picked up a copy of Against All Grain: Delectable Paleo Recipes
finally and have so many recipes earmarked to try. Her story of recovering her health through diet changes is so inspiring!
5 recipes I tried or want to try soon:
Grain-free Blueberry Muffins with Crumb Topping – I made these and was pleasantly surprised with how they turned out. These are best on the first day though, but I still managed to eat 3 on day 2!
Ultimate Paleo Chocolate Chip Cookies – For my first experiment with grain-free cookies, I knew to start with these. Definitely a different texture than what I'm used to with the gluten-free cookies I usually make, since these are almost all almond flour, but good. Thumbs up all around from my family!
Grain-free, Dairy-free Pancakes – I made these with just a few changes and really liked them! Best grain-free pancakes I've tried!
Peanut Butter Granola Bites – As long as you use certified gluten-free oats, this recipe is gluten-free! Looking forward to making these! I think my kids will love them!
Baked Maple Brown Sugar Bacon – This is seriously on my menu plan to have this week with our favorite Buttermilk Pancakes!
How about you? Any fun new things you found recently?