If you're like me, scouring the web for deals today on Cyber Monday, I think you'd like to know about these top 4 deals! These are the best of the deals I found that I wanted to be sure you didn't miss out on!
I did the work checking all around for my favorite deals that are perfect for gluten-free shoppers for you! I hope these help you! None of these brands have asked or paid to be included in this. I found all of these on my own through email newsletters and searching online. I have used affiliate links for most of these, meaning I receive a small commission if you purchase through my link.
1) Gluten-free Living Magazine for $12.50/year! Buy here and enter code: GLUTENFREE at checkout! This is such a good price and an exclusive deal for my readers!!! Deal available through Sunday, December 2, at midnight ET.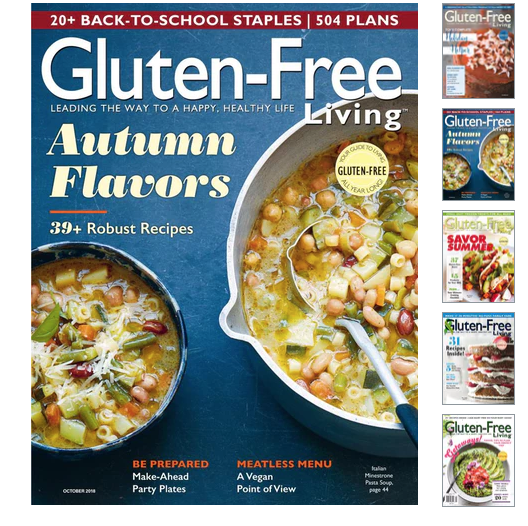 2) GF Jules Flour and mixes for 10% off! Buy HERE with code: MGFKcyberMon and only today, Cyber Monday! Enter code at checkout. Valid one time per customer. Valid on any purchase of $20 or more. If you've followed my blog for any amount of time, you know I LOVE GF Jules flour! I test just about every recipe on this blog with it! Her mixes are awesome too – I love the pizza crust and the bread mix! MMM! You won't find this deal anywhere else!
3) Enjoy Life Foods products for 30% off! You know I love this brand and partner with them throughout the year to bring new recipes! Now through 11/27, save 30% on all orders and enjoy free shipping on orders over $30 with code THANKFUL2018.
Buy here!
4) Good Karma Flaxmilk for 30% off – this is the milk-alternative that I use every day! I buy cartons of it at local stores, but I like to keep these bottles to have on hand for when I travel. I can bring them in my suitcase since they don't have to be refrigerated. I use this vanilla one to make hot cocoa with!
Right now on Amazon, you can save 30% on your multi-pack purchase! Click to apply the discount and then buy these bottles here! As far as I can tell, this ends sometime on Monday, November 26.