Gluten-free Pistachio Pudding Dessert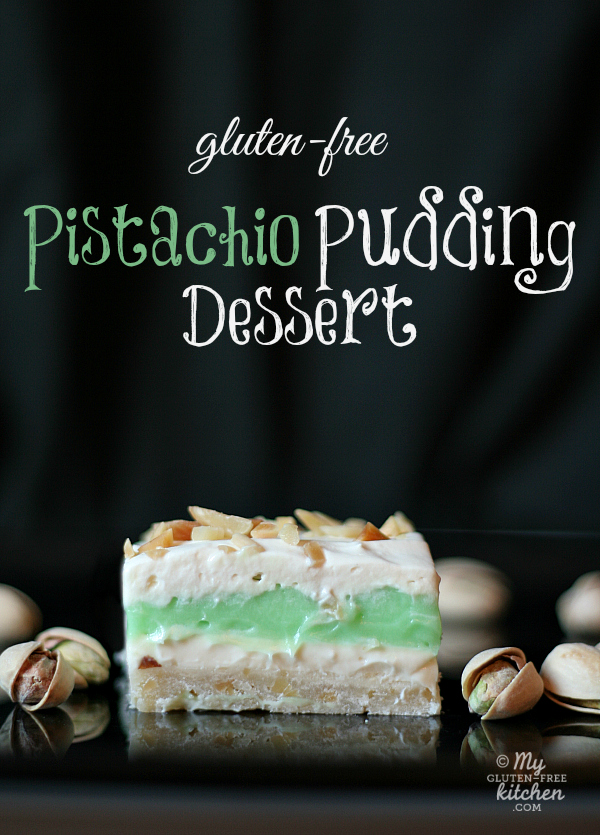 Recipe from:
Michelle @ MyGluten-freeKitchen.com
Recipe type:
Pudding Desserts
1/2 package of Gluten Free Mama's pie crust mix
1/2 cup (1 stick) of butter, dairy-free margarine, or Spectrum shortening
1/2 egg white
6-8 Tbsp. water
1/2 cup roasted chopped almonds or walnuts
8 oz. cream cheese (I use Neufchâtel)
1 cup powdered sugar
1/2 of 8 oz. carton of Cool Whip
3 cups milk (or non-dairy alternative like almond milk)
2 pkgs. Jell-o instant pistachio pudding
1/2 tsp almond extract
1/2 of 8 oz. carton of Cool Whip
1/4-1/2 cup roasted chopped almonds or walnuts
Preheat oven to 350°.
In the bowl of a food processor, add 1/2 of the Gluten Free Mama's pie crust mix, the butter (or shortening), 1/2 of an egg white, and 4 Tbsp. of water. Pulse in food processor until mealy (see photo 1 below).
Add 2 more tablespoons of water and 1/2 cup roasted, chopped almonds. Pulse until starts to form a more solid dough that squishes together easily. You an add up to an additional 2 more tablespoons as needed until you get to the right consistency. (see photo 2 below)
Wearing a plastic glove sprayed lightly with cooking spray, (or just using some Saran Wrap), pat out the dough into an ungreased 9x13" pan.
Bake in a 350° oven for 15-17 minutes. Set on cooling rack to cool for about an hour before adding next layer.
In a small bowl, use a stand mixer or hand mixer to blend together the cream cheese, powdered sugar, and 1/2 of the carton of Cool Whip.
Spread in an even layer over the cooled crust. Place in refrigerator to chill while you prepare next layer.
In a medium/large bowl, whisk together the milk, pistachio pudding mix and almond extract until smooth. I whisk for about 2 minutes.
Gently spread in an even layer over the first layer.
Gently spread the remaining Cool Whip over the top of the previous layers.
Sprinkle with an additional 1/4-1/2 cup chopped roasted almonds.
Cover pan with a lid or Saran Wrap and place in refrigerator to chill at least 2 hours before serving. This desserts holds up very well in the refrigerator for several days, so it is great to make this the day before serving.
Serve chilled and enjoy!
As always, verify all of your ingredients are gluten-free.
Recipe by
My Gluten-free Kitchen
at https://mygluten-freekitchen.com/pistachio-pudding-dessert-gluten-free/