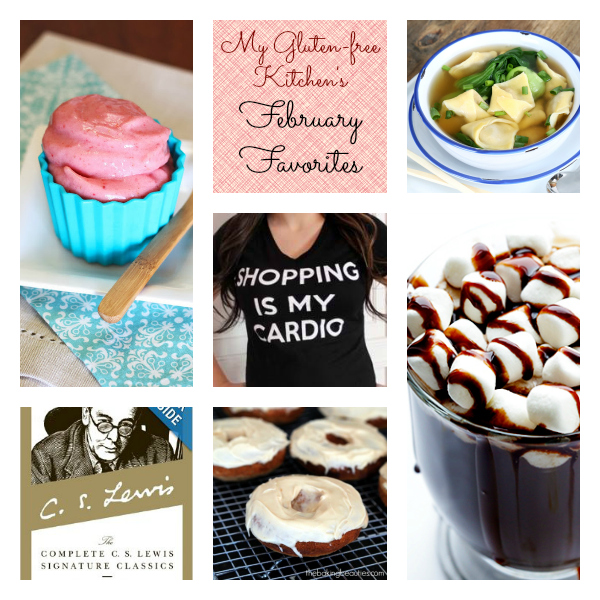 Highlights of February: my trip to Salt Lake City with a friend for a blog conference, with a lot of shopping and gluten-free treats, Valentine's Day, and my oldest son's 10th birthday party (Lego Movie theme)
Unfortunately the rest of February was filled with sickness in our house. What is it with February that wipes everyone out every year? My hubby is down and out right now with what I think is influenza, I'm typing while slumped in the chair with body aches, and my youngest has double ear infections and just got over bronchitis. All I can say is, "Bring on March!" I can't wait until I can open up windows and do some spring cleaning!
To cheer me up, I enjoyed looking back at some of my favorite things from the month. I hope you enjoy reading them too!
5 gluten-free recipes I drooled over this month:
5 favorite things I bought this month:
This super cute shirt that I'd been wanting for a while that says "Shopping is My Cardio".
My hubby is in a book club where they are reading through a different C.S. Lewis book each month, so I bought him The Complete C. S. Lewis Signature Classics. It is a great way to get 6 of his classic books for a great price.
My boys, and even my hubby, are huge fans of the video game Minecraft, so I bought this book for my son's birthday and they've all been reading it: Minecraft: Essential Handbook: An Official Mojang Book. They all gave it a thumbs up!
I stocked up on my favorite gluten-free pizza crusts this month. I buy my crusts from a dedicated gluten-free bakery that is a couple of hours away from me called Cloverstone Bakery. Their products are available in my town at Whole Foods and Rosauers. Their pizza crusts are really good, but they do have dairy and almond flour, so not suitable for those of you with those allergies. I pull out two frozen crusts to make Friday nights be pizza night at our house. I love the ease and the taste/texture of these crusts!
My kids are crazy about the new Lego Movie minifigures. I bought at least a dozen this month so far to give as presents, party favors and rewards. They LOVED the Lego Movie too! We definitely recommend it! I'm finding them at local stores for about $2.50-$3.00.
5 favorite things I read this month:
5 Most viewed recipes on my blog this month:
If you have any favorites from February to share with me, I'd love if you would comment! I'd love to check them out!
Hey Michelle! Thank you for stopping by my blog and commenting! I'm new to your site as well. I really love this post and hearing about your top 5 various things of the month. What a fun idea! My husband took a CS Lewis class in college, so we have most of his work too. That would be an awesome bookclub. Also I am eyeing that pillow talk book. great idea.
Karen, Thanks so much for swinging by my blog too. I look forward to getting to know you virtually! :)
Tuesday 4th of March 2014
We made homemade hot chocolate recently using almond milk as the base, and it was really good! Definitely worth the, what, five seconds of preparation? Thanks for sharing those "10 words that erase most online hate"! I tend to choose relatively positive online discussions to participate in, and as a blogger have been fortunate (or boring) enough not to attract hatred for my posts, but it's still a really good reminder.
Molly, I bet almond milk would be great in this too. Glad you liked that article. I try to avoid the more controversial posts as I do not have a very thick skin! Thanks for stopping by and commenting!
Saturday 1st of March 2014
Thank you so much for including my doughnuts, Michelle! LOVE all the other things you chose too, and off to read some of your favourite reads. :)
I always find something to love that you post Jeanine! Hope you enjoyed some of the articles too!