Occasionally, I will share a favorite item from my gluten-free kitchen: a book, cookbook, gluten-free food or kitchen gadget or a roundup of favorite things from around the web. Hopefully you'll find some new favorites to add to your gluten-free kitchen! While they may contain affiliate links, all Favorites posts reflect my own opinion and are not sponsored by any individual or company.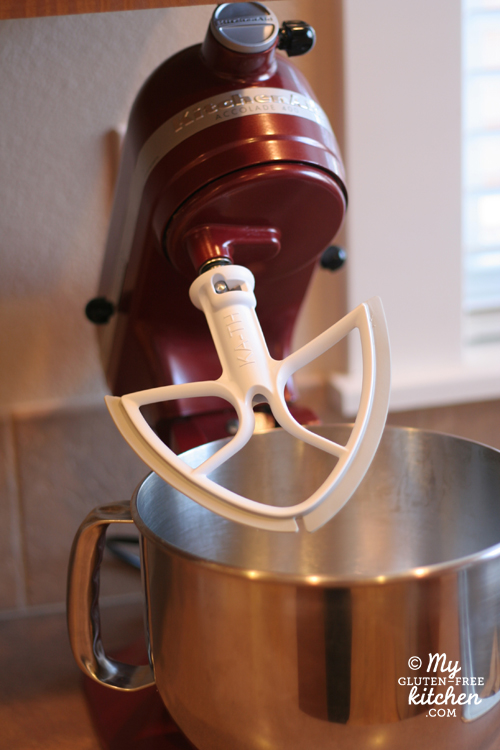 For today's Friday Favorite, I'm sharing with you a new little gadget that I discovered this past year. See that cool new blade on my mixer? That's called a BeaterBlade! It makes mixing cake and brownie batters a breeze because the rubber edges clean the sides of the bowl as you mix. I no longer have to stop the mixer and use a spatula to scrape down the sides of my mixing bowl.
These BeaterBlades are not very expensive, and are definitely handy if you have a KitchenAid. They are made in a variety of styles made to fit exactly your type of KitchenAid mixer. I'd recommend you first go to their website and figure out exactly which one you need for your type of mixer. Then you can head over to Amazon to see the choices of BeaterBlades
they have there. KitchenAid makes their own similar product, which you can see on that same Amazon link, but I didn't go for that one because the rubber scraper is only on half of the blade.
While the body of this is plastic, I can tell you that mine has held up very well. They do not recommend you put the blade in the dishwasher, so I always hand-wash mine. I believe I've had mine for about 6 months now, and use it every time I make cake, and it still looks like brand new!