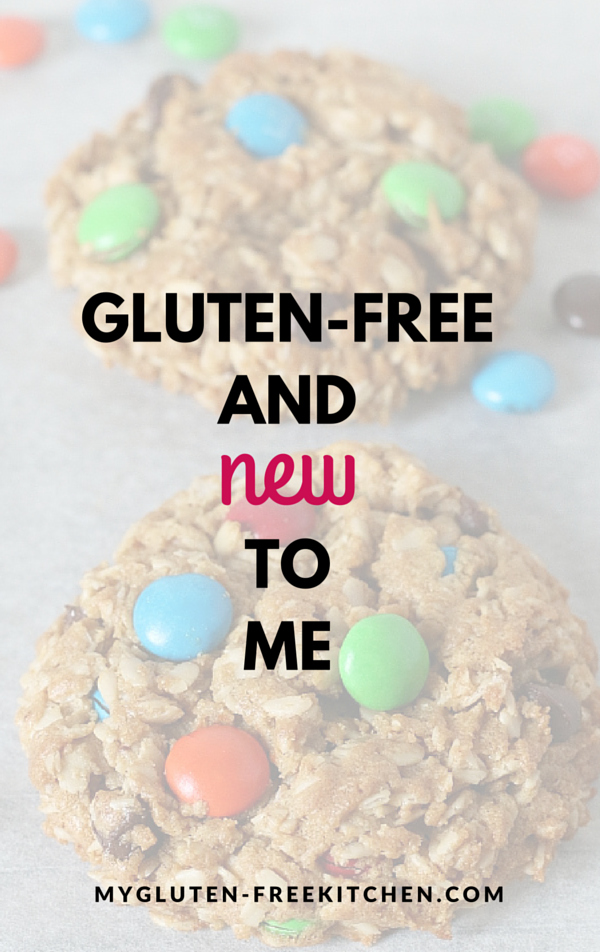 I've come across a number of gluten-free products that are new to me. I thought I'd share with you what I've tried and what I thought of them! I've been meaning to post these all year for quite a while, but kept pushing this post to the backburner. In going through the results so far from my reader survey, you all have let me know that you really do want to hear about new products, so here's my new regular feature. I'll try to post these about once a month or every 6 weeks or so.
Some of these products were sent to me for my honest opinion, the others I purchased myself. All opinions are my own and can't be bought! 🙂 Just so you know, there were quite a few products I tried that were so bad they did not make this post! I will not recommend something that no one in my family likes! Also, forgive the photo quality, as most of these pics are just quick snapshots with my phone so I'd remember to tell you about the products!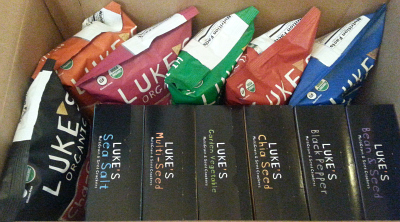 Luke's Organic Crackers and Chips – I met the owners of Luke's Organic at a conference last year and enjoyed hearing the story of how they started this company. They sent me a box of every one of their crackers and chips. I wasn't a huge fan of the crackers, but my youngest son LOVES them and ate his way through every single box! I did love the chips though. My surprising favorite: the ones with Kale! Who knew? I've enjoyed them crunched up in a salad, served alongside a sandwich, or dipped in guacamole or hummus. We used up all of these and I've bought several more bags of the Kale variety since. I buy them at my local Rosauers or Fred Meyer stores.
Trader Joe's Halibut – This has quickly become one of my favorite finds. No, it isn't cheap, but really tastes great. I oven bake them according to package directions, then squeeze fresh lemon juice on them before serving. Quick, easy, and delicious. Be very careful to buy the box that is clearly labeled gluten-free. They sell a regular version that is in identical sized box and the halibut pieces look and taste identical. (Yes, I know because hubby accidentally bought the wrong box one time and I ate it with terrible results as you can imagine.) Sells at Trader Joe's stores for $8.99 for a 10 oz. box which has about 7 pieces of halibut.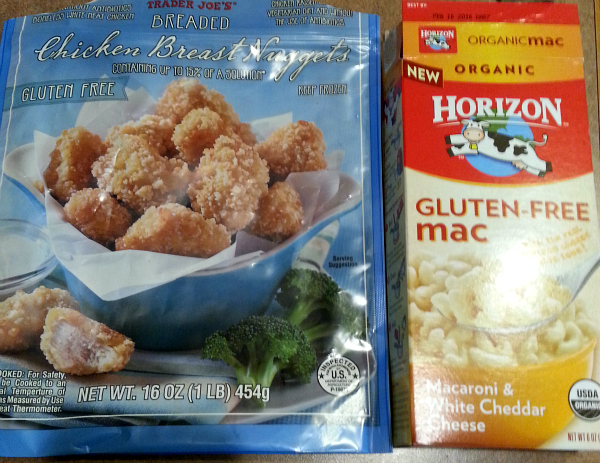 Trader Joe's gluten-free Chicken Nuggets – Another great TJ's find and definitely my kids' favorite pre-made gluten-free chicken nuggets that we've tried so far! I usually bake up the whole bag of these and the whole bag of halibut and serve both for a meal. Everyone enjoys having a bit of each one. These aren't too expensive either at $5.99 for 16 oz. bag. Sells at Trader Joe's stores only. I almost always serve alongside the Horizon gluten-free mac, which I've raved to you about before and is our favorite gluten-free macaroni and cheese. This is a favorite busy night meal that we enjoy about once a month.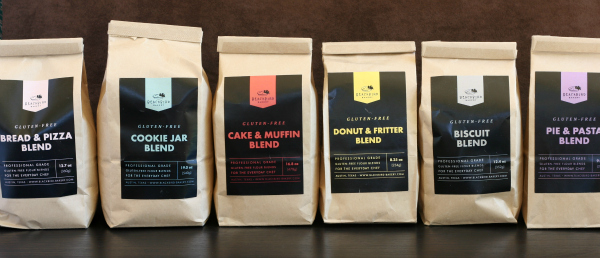 Blackbird Bakery Mixes – I'm a big fan of the creator, Karen Morgan's first cookbook so I was excited to try out the mixes. The options for what you can make with these mixes are endless – in fact she just came out with another cookbook, The Everyday Art of Gluten-free, that has all sorts of creative recipes using them. I tried out the blend to make a deep dark chocolate cake for my birthday. It looked beautiful and had perfect texture. Unfortunately for me, the mixes all contain guar gum, which my body just doesn't do well with. I ended up passing all of the mixes onto some fellow celiacs that appreciated getting them! I so wish I could have tried them all, especially that donut and fritter blend that I was excited about! You can buy these online.

Udi's frozen meals – Udi's sent me a variety of their frozen meals to try. I'll be honest that I didn't have high expectations for these, as I was never a frozen dinner fan, even when I could have gluten. I was pleasantly surprised by these! Several in particular were hits and my family wants to buy again: the macaroni and cheese, lasagna, and ziti with meatballs. The price is a little much for buying weekly, but these are definitely something I could see buying in advance of me leaving town, when my hubby and the boys have to fend for themselves! Also a great choice for a night we have a sitter with the kids, as I can just pop one or two of these in the oven on the way out! These are available in the freezer section at many stores nationwide.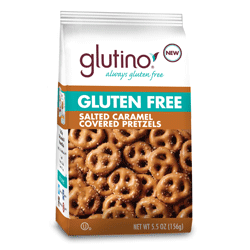 Glutino Salted Caramel Pretzels – Seriously addicting. I had my eye on these ever since I first heard about them. Since I couldn't find them locally, Glutino sent some to me and boy did I have to practice self-control around these. I'm a sucker for salted caramel anything, so I could easily eat the whole bag of these. I'm one to pass on the savory versions of pretzels like buffalo wings and such, but I'd eat these sweet and salty salted carmel pretzels anyday. I've been wanting to incorporate them into some desserts, if I can have the self-control to not eat them all before putting them in a recipe! Look for these in the gluten-free section at your favorite store.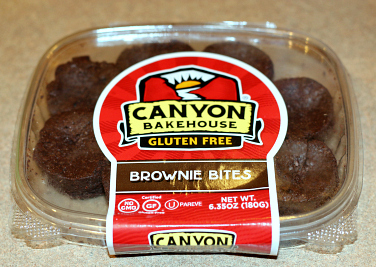 Canyon Bakehouse Brownie Bites – These are a new product for Canyon Bakehouse. As much as I bake around here, I really have no need for buying pre-made brownies. But, let me tell you what I loved these for. I took one of these and stirred it into two scoops of ice cream for a "Cold Stone Creamery" style dessert. Oh my yum! I love that I can keep these in the freezer and pull just one or a few of them out to mix in ice cream for the whole family. Definitely a nice treat! I've heard of others finding these at their local Target, but haven't spotted them at mine yet.
Chef Shamy Garlic Butter – Last one! You haven't had a great grilled cheese until you've used this garlic butter to butter your bread before grilling it. My boys talked me into buying this at Costco after they sampled a regular grilled cheese there with it. I was skeptical but they were raving about it. Our whole family loves garlic, so I figured it would probably get used up. Now this is the only way we'll have grilled cheese! I've also spread this on gluten-free french bread to make a good garlic bread to go with dinner. This will be a regular purchase for us at Costco now!
I'd love to hear what you thought of this format! If you like hearing about new products this way, let me know with a quick comment here or on my Facebook page or twitter! I want to bring you the info you want to see!