We were traveling at the end of June/beginning of July, so I decided to put my favorites from both months together in one recap post.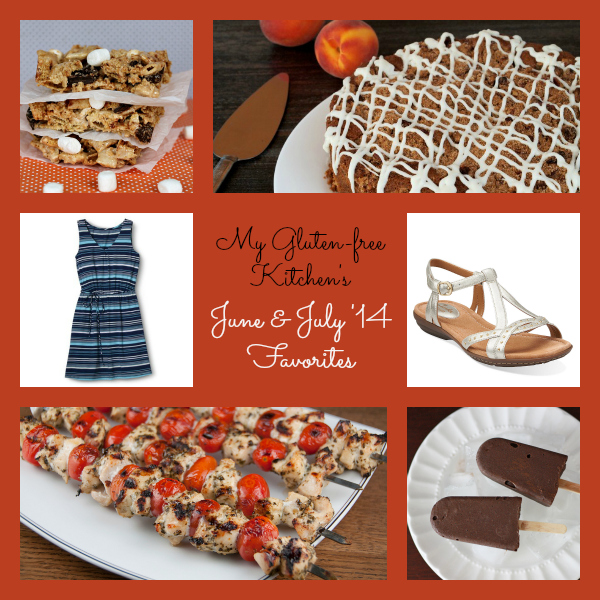 My favorite finds:
I found so many yummy gluten-free treats during the Bay Area gluten-free bakery hop that I did in June. Ready to go again!
Newly gluten-free? Check out these 10 tips for starting a gluten-free diet.
Hubby and I had an amazing time on our very first trip to the eastern part of the US. I particularly loved Pennsylvania and will post about all of the yummy places we ate there soon. I can tell you that I'm still thinking about how much I enjoyed my first ever cannoli at Grandma's Grotto. It was so incredible!
I've already told my hubby that I REALLY want one of these gluten-detection dogs
or one of these portable gluten scanners (Can you imagine how handy this would be?!)
I bought these sandals
before our trip and love them!
This dress from Target is perfect for summer travel. I was super comfortable in it and got so many compliments too!
This Lego representation of the 50 states is one of the coolest things I've seen!
I need to try out some of these: 6 Things the Most Productive People Do Every Day.
On these very hot summer afternoons, my kids have been watching these 3 movies over and over: The LEGO Movie
, Rio
, and Rio 2
This article served up just the right mix of conviction and encouragement for me as a mom.
4 recipes I want to try soon:
Grilled Pesto Chicken and Tomato Kabobs – Perfect for using up our cherry tomatoes!
Gluten-free No Bake Cinnamon S'mores Bars – I can make these and not smell like a campfire!
Homemade Fudgecicles – I love chocolate!
Gluten-free Blueberry Peach Coffee Cake – Our peach trees are full of peaches so I can make this soon!
Sunday 3rd of August 2014
Thanks for mentioning my blog post with the tips! Much appreciated. I loved the Lego 50 states!!
Sunday 17th of August 2014
Definitely Amy! Great post!
Sunday 3rd of August 2014
Thank you so much for linking to my kabobs!!!
Sunday 17th of August 2014
Ashley, I've printed the recipe off to try this week actually!