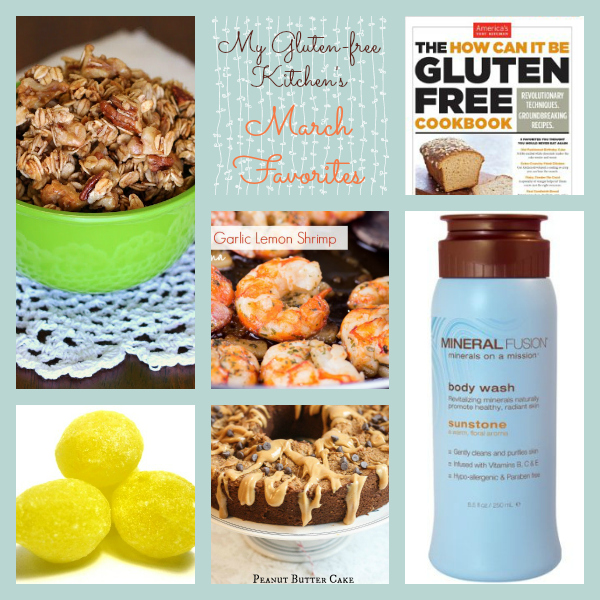 5 gluten-free recipes I drooled over this month:
Peanut Butter Cake with Peanut Butter Drizzle from Lauren Kelly Nutrition – Seriously craving this one! I love peanut butter treats!
Garlic Lemon Shrimp by Don't Mess with Mama – I haven't had shrimp in years. I think I'll make this, even if the rest of my family isn't willing to. It just looks sooooo good!
Gluten-free Banana Nut Granola from Sarah Bakes Gluten-free Treats – We love homemade granola and we're banana fans, so this sounds perfect!
Green Mint Desserts Round-up at All Gluten-free Desserts (unavailable online) – I love chocolate and mint together as evidenced by having 3 of my recipes featured in this round-up. I loved all of the other entries and can't wait to try them! Those doughnuts!!!
Coffee Cake Muffins from Celiac in the City – Aren't these pretty?! I'm sure I'd love these!
5 favorite things I bought this month:
5 favorite things I read this month:
If you have any favorites from March to share with me, I'd love if you would comment so I can check them out!
Saturday 5th of April 2014
Stopping by from the Spring Style Challenge. I am going to have to check out that body wash. I am still trying to get rid of gluten from all of my makeup/bathroom products. Just when I think I have gotten it all out I find a little more. Your recipes look amazing, I see some peanut butter cake in my future.
Saturday 5th of April 2014
Melissa, Thanks for stopping by. I really do love that body wash. The Sunstone scent is very lemony and refreshing. It can be so hard to find good gluten-free bathroom products. For make-up, I really like Mineral Fusion and Red Apple Lipstick (ad for them on my sidebar because I love them!) If you love peanut butter, you've got to check out my peanut butter brownies - my fave! Thanks for your comments Melissa!
Monday 31st of March 2014
My happy little find was Goldfish Puffs. Used to love those little cheddar Goldfish. Now they have a Gluten Free version called puffs. Ahhh memories
Saturday 5th of April 2014
Tamara, Glad you found those! I reviewed those here on the blog last year too. I'm really hoping they will make gluten-free Goldfish crackers too!
Monday 31st of March 2014
Does the body wash you use have a scent? I can't use anything with perfume, or a fragrance.
Saturday 5th of April 2014
Jennessa, Yes, the body wash does. They have several varieties, all scented. I have to be careful of scents with my migraines, and this lemony scent (Sunstone) works for me. Hope you can find something unscented for you.
Monday 31st of March 2014
Thank you for including my recipe! These all look amazing :)
Saturday 5th of April 2014
Definitely! Can't wait to try it Lauren!