Did September and October just fly by for you all too? Man, this fall has been so busy! I can't believe we're already in November now!
I traveled to the Food Allergy Bloggers Conference at the end of September where I had a blast hanging with all my old and new blogger friends. Early October found my family making the drive over to Salt Lake City where we had a blast eating ALL the gluten-free food and checking out the National Gluten-free Expo that is held there every October. Always lots of fun trying new products. I helped out at Gluten Free Mama's booth there and even got to meet a few of my blog readers! So so cool!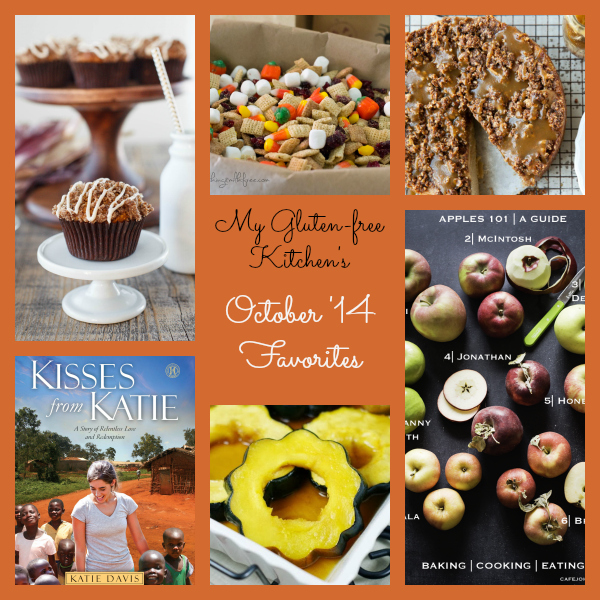 Hopefully you'll find some new favorites to add to your gluten-free kitchen or buy for your gluten-free loved one! While this post contains affiliate links, all opinions are my own and are not sponsored by any individual or company.
My favorite finds in October:
I finally got to read an inspirational book that had been on my must-read list for a long time, Kisses from Katie: A Story of Relentless Love and Redemption
and boy was it good! I definitely recommend you add this to your stack of books to read!
Overwhelmed by all the varieties of apples at the store and wondering which kind is best for what purpose? This Fall Apple Variety Guide from Cafe Johnsonia is so helpful!
One of my favorite evening snacks is air-popped popcorn. I buy Trader Joe's Organic Popping Corn.
Best new app for my phone: Buzzer (by naRRu). I pull this out at the end of dinner and if my boys forget to put their dirty dish in the dishwasher, I give it a buzz. The best! I don't have to nag remind them every time, it gets everyone smiling, and it is working at making my boys realize how often they forget!
I'm a little embarrassed to admit this, but before this month, I'd never tried hummus before. I know, crazy right?! Now one of my favorite lunches includes Sabra hummus topped with freshly made guacamole, eaten with gluten-free crackers or chips. Yum!
I laughed so hard at this article "Do Not Sass Talk Your Mother" and laugh every time I re-read it!
Totally in agreement with this article: Sometime I ignore my children, and that's okay.
I found out this fall that I have something in common with Venus Williams. Who'd have thought?! I was diagnosed with Sjogren's Disease, something she has too. What a relief to have a diagnosis!
Another funny find: Funniest Parenting Tweets. Especially loved the last one!
5 gluten-free recipes I want to try soon:
I started a few new Pinterest boards I think you'll like! Check out:
Gluten-free Thanksgiving Recipes.
How about you? Any fun new things you found recently?
Friday 14th of November 2014
OO YAY! I now have tons of links to check out ;) YAY for my Friday night! LOL!