What a delicious treat this gluten-free and dairy-free chocolate raspberry smoothie is! We can all use more dairy-free smoothie recipes! Whether you enjoy it for breakfast, a snack or even dessert, I think you're going to love it! This recipe is sponsored by Silk, who I'm glad to partner with to tell you about their new yogurt alternative!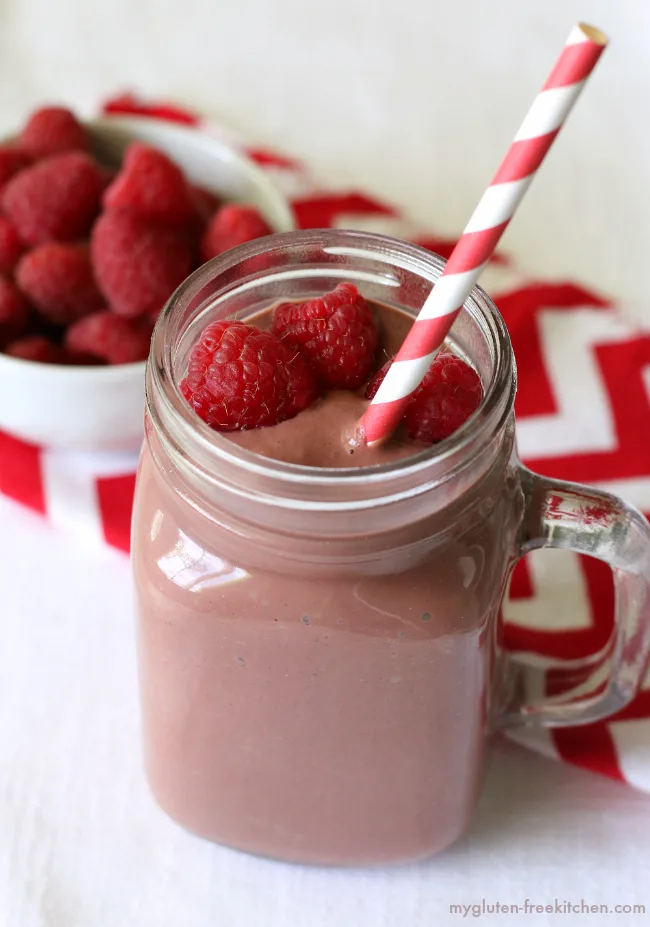 I know you love hearing about new gluten-free products, and there are sure lots of them. I feel like I hear about new dairy-free products much less often. So when I heard Silk came out with a new yogurt alternative, I knew I needed to try it out and spread the word!
I'm super excited about the new Silk Almond Dairy-free Yogurt Alternatives! Silk's new almond dairy-free yogurt alternative comes in 5 flavors: peach, strawberry, vanilla, plain, and dark chocolate coconut. My local Winco store carries both the vanilla and dark chocolate coconut right now, but I'm hoping they'll have the other flavors soon!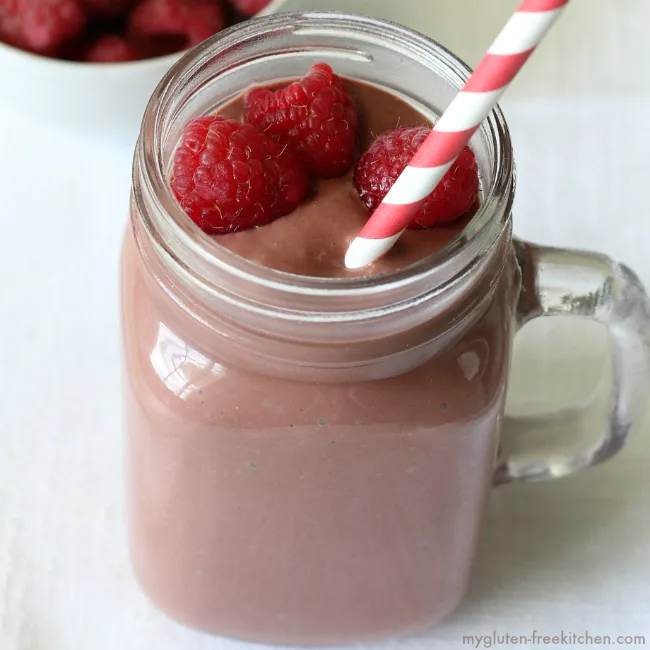 I found both the vanilla and the dark chocolate coconut to be rich and creamy. I love that they're high in protein too, with 5-6 grams of protein from almond butter. While I enjoy mixing in raspberries into my vanilla yogurt often, this time I decided to mix it in with the dark chocolate coconut and boy was that a great idea!!
This smoothie is super simple to make, even simpler than most smoothie recipes out there. Just 4 ingredients is all you need!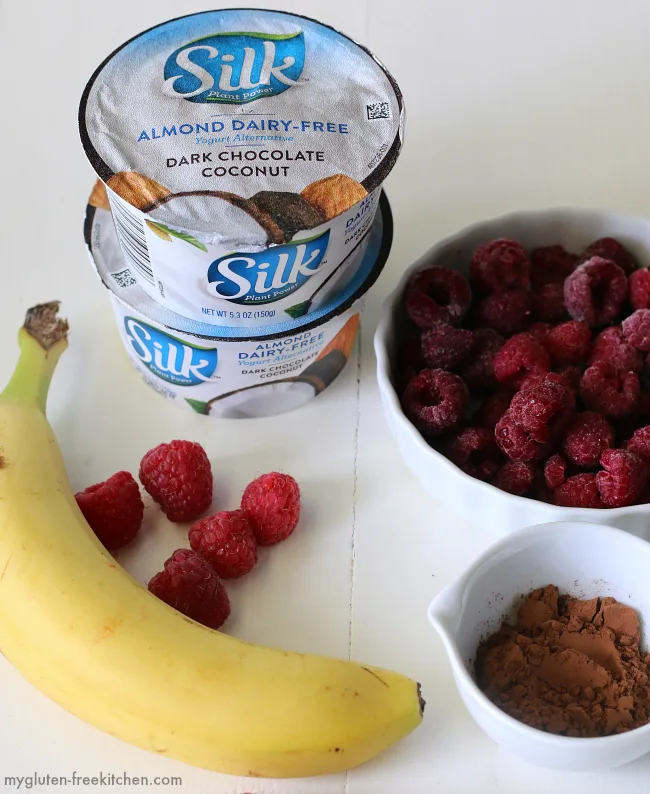 Notes on Ingredients:
Yogurt: I used the dark chocolate coconut flavor Silk Almond Dairy-free Yogurt Alternative. This flavor is sooooo good! Use Silk's store locator to find it in your area.
Banana: I add a banana to every smoothie I make. I just like the creaminess that it provides. You can sure omit if you prefer.
Raspberries: I used frozen raspberries that I thawed just about 20 seconds in the microwave. This helps the raspberries really release their juices, but still staying cold enough to not warm up the smoothie. I topped the smoothie with fresh raspberries because I can never get enough raspberries!
Cocoa: Just grab regular cocoa powder– the kind you use to make brownies!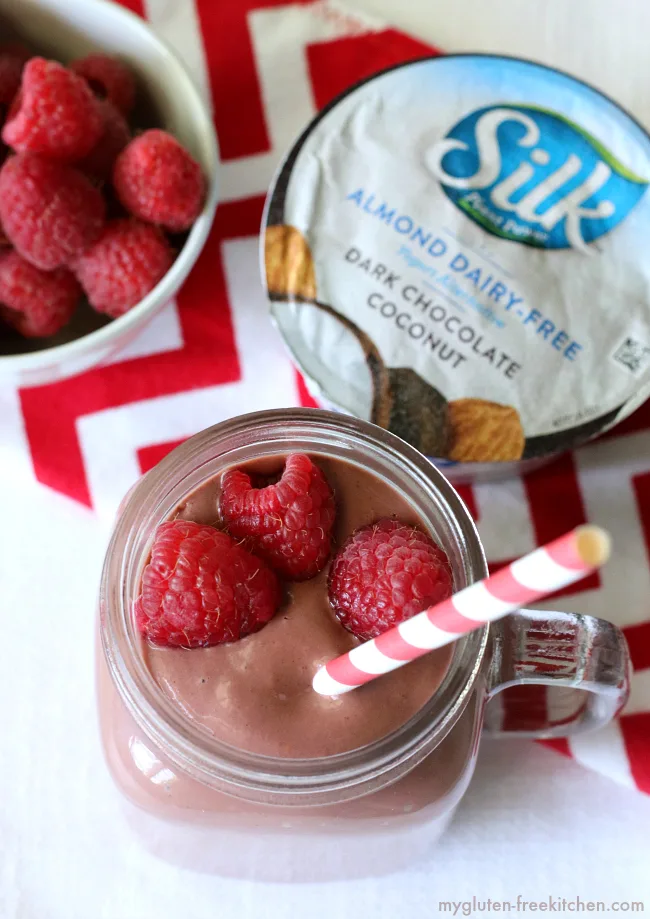 I really loved how this smoothie turned out! It makes one large, creamy smoothie or two smaller ones. I decided to be sweet and share mine with my oldest son for him to enjoy when he got home from school. He loved it! He doesn't usually like chocolate and fruit together, but really enjoyed the flavors of this smoothie. While I could taste the coconut when I ate the dark chocolate coconut straight from the container, I couldn't taste it in the finished smoothie at all. So if you're not a big coconut fan, don't let that turn you off from trying the smoothie.
If you're looking for some other gluten-free breakfast options to enjoy along with these smoothies, here are some you should try! This paleo protein bars recipe looks easy and delicious! These gluten-free pumpkin chocolate chip oatmeal breakfast bars look like a decadent choice! I've been known to make these gluten-free maple donuts to enjoy with a smoothie too!
The only thing I'll do differently next time is make two batches of this! (A double batch won't fit in my blender, so I would just do two batches back to back.) I will be making this again!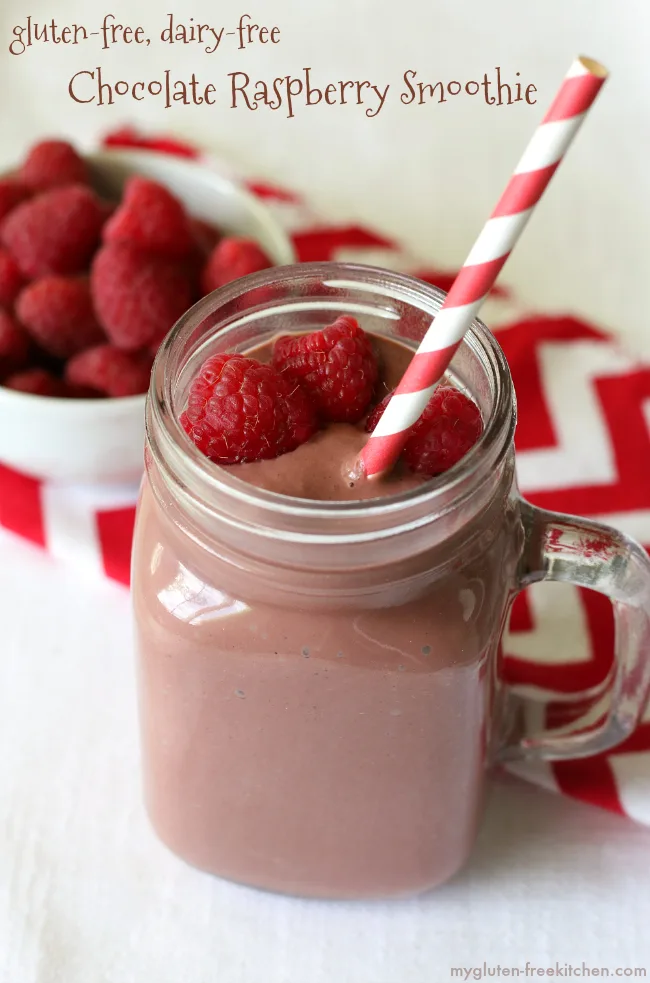 Gluten-free Chocolate Raspberry Smoothie Recipe:
Yield: 2 servings
Dairy-free Chocolate Raspberry Smoothie (Gluten-free)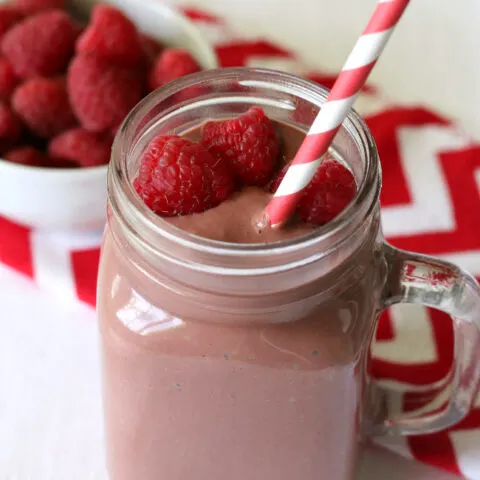 Just 4 ingredients for this creamy chocolate raspberry smoothie that no one would guess is dairy-free!
Ingredients
2 containers (5.3 oz. each) Silk Dark Chocolate Coconut Almond Dairy-free Yogurt Alternative
1 cup frozen raspberries, slightly thawed
1 ripe banana
1 Tbsp. unsweetened baking cocoa
Instructions
Combine all ingredients in blender and blend on the smoothie setting, or until well blended.
Pour into one large or two small glasses. Add fresh raspberries to the top if desired. Enjoy immediately or keep refrigerated until ready to drink.
Notes
I used frozen raspberries that I thawed just about 20 seconds in the microwave. This helps the raspberries really release their juices, but still staying cold enough to not warm up the smoothie.
Recommended Products
As an Amazon Associate and member of other affiliate programs, I earn from qualifying purchases.

This is a sponsored conversation written by me on behalf of Silk. The opinions and text are all mine.