Welcome to my gluten-free kitchen! Here's a little about me:
My name is Michelle.
I'm a 40-something wife, mother of two teenage boys, and have lived in Idaho for the past 20 years.
I was saved by grace 30 years ago and attend a non-denominational Christian church in Boise.
I have a super sweet dog named Cookie that is a border collie/corgi cross. She's a great companion while I work at home alone and definitely reduces my stress.
My hobbies are baking and collecting cookbooks and recipes.
I've always loved baking, starting with my first cooking class in 7th grade. I've been reading and learning from cooking magazines, blogs, America's Test Kitchen tv programs, and cooking classes and finally can say I feel comfortable and more confident in the kitchen. I never accept a so-so recipe; I prefer to keep trying until I find the absolute BEST of each recipe. I hope some of my favorite recipes will become your family's favorites as well.
I was diagnosed in 2010 with Celiac Disease. Telling someone that loves baking and has a serious sweet tooth for cookies and cupcakes, that they can no longer consume gluten is just, well… mean! I was determined to learn how to bake gluten-free and make foods so delicious no one would know they were gluten-free. I had a fellow celiac baker take me under her wing, teach me the basics, and get me started by recommending great products.
Now I hope to help others that are new to gluten-free. I promise, you can enjoy pretty much all of the delicious foods you used to enjoy before going gluten-free!
I encourage all to be tested for celiac disease before going gluten-free. All of my years as an undiagnosed celiac wreaked havoc on my body and I hope others can avoid that. I was found to have osteopenia just after my celiac diagnosis, due to the malabsorption of nutrients like calcium and vitamin D for all those years. I've now begun treatment to freeze my bone density as I'm just shy of osteoporosis.
Since my celiac diagnosis, I've also been diagnosed with Hashimotos, Sjogrens, Rheumatoid Arthritis, Ehlers Danlos and dysautonomia.
Join me in making lemonade out of lemons, or more likely, baking up some gluten-free lemonies or gluten-free lemon cupcakes!!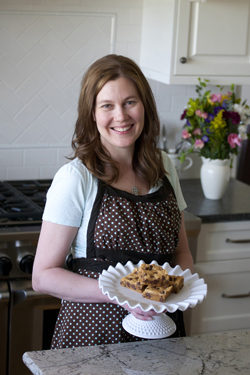 Pictured with one of my absolute favorite recipes ever – one that I make over and over, many times a year, my gluten-free peanut butter brownies.