Welcome to My Gluten-free Kitchen®! Here's a little about me:
My name is Michelle.
I've been happily married to my college sweetheart for 20 years.
I'm the mom of two teenage boys.
I've lived in Idaho for the past 20 years. My husband and I moved here right after graduation from Montana State.
I was saved by grace 30 years ago and attend a non-denominational Christian church in Boise.
I have a super sweet dog named Cookie that is a border collie/corgi cross. She's a great companion while I work at home alone.
My favorite drink is lemonade. My favorite dessert changes daily but always involves chocolate. My favorite meal is gluten-free sweet and sour chicken.
My hobbies have always been baking and collecting cookbooks and recipes. And shopping – I've always loved shopping!
I've always loved baking, starting with my first cooking class in 7th grade. My whole adult life I've been reading and learning from cooking magazines, blogs, America's Test Kitchen tv programs, and attending cooking classes so that I can feel comfortable and more confident in the kitchen.
I was diagnosed in 2010 with Celiac Disease. Telling someone that loves baking and has a serious sweet tooth for cookies and cupcakes, that they can no longer consume gluten is just, well… mean! I was determined to learn how to bake gluten-free and make foods so delicious no one would know they were gluten-free. I had a fellow celiac baker take me under her wing, teach me the basics, and get me started by recommending great products.
Now I hope to help others that are new to gluten-free. I promise, you can enjoy pretty much all of the delicious foods you used to enjoy before going gluten-free!
I never accept a so-so recipe; I prefer to keep trying until I find the absolute BEST of each recipe. I hope some of my favorite recipes will become your family's favorites as well.
I encourage all to be tested for celiac disease before going gluten-free. All of my years as an undiagnosed celiac wreaked havoc on my body and I hope others can avoid that. I was found to have osteopenia just after my celiac diagnosis, due to the malabsorption of nutrients like calcium and vitamin D for all those years. I've now begun treatment to freeze my bone density as I'm now at the cutoff line of the numbers for osteoporosis.
In the years since my celiac diagnosis, I've also been diagnosed with Hashimotos, Sjogrens, Rheumatoid Arthritis, Ehlers Danlos and Dysautonomia.
Join me in making lemonade out of lemons, or more likely, baking up some gluten-free lemon cupcakes!!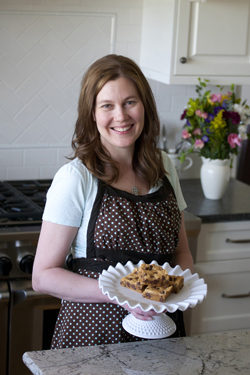 Pictured with one of my absolute favorite recipes ever – one that I make over and over, at least once a month, my gluten-free peanut butter brownies.
How My Website is my Job:
I'm often asked what I do for a living, to which I always respond that I run an online business. People are usually intrigued and want further clarification, which is when I tell them I have a recipe website.
Of course, multiple questions ensue about how I make money having a recipe website. Well, in a nutshell, I primarily make money through ads, affiliate income, and through partnering with brands for sponsored work. Yes, those ads that you see between paragraphs or popping up before videos – those pay for my site to keep running, for ALL the ingredients I need for testing recipes, for photography equipment, all the cute props in my photos (and boy do I love shopping for props), and pay me a monthly paycheck!
I'm also often asked how to get started blogging.
I've got four main tips for how to start a blog/website and make it a successful business:
Choose a topic that you can write a lot about. This could be a topic you're passionate about, but could also be any sort of topic you have experience in. I recommend a well-defined niche topic, but it has to be something you can write at least 200 posts about. Think about topics other people have asked you about recently – obviously they see you as someone knowledgeable on that topic, so could you see yourself writing regularly about that? Or think about something you have personally researched recently and couldn't really find what you were looking for. Could you provide that solution or those answers for other people? For me, I started my first blog, a local and online deals blog, because my friends were always asking me about the deals and freebies I was finding. I started my second blog, a recipe blog, because my friends were asking me for the recipes for things I was bringing to church potlucks and parties. I used what I learned from both of those blogs to launch this gluten-free recipe website.
Learn how to set your website and business up correctly at the beginning. I took two online classes (sometimes called adult education or auditing a class for no credit) before I launched this blog/business. One class was on starting your own business, and was very helpful in walking me through all that is involved, from setting up an LLC with my state, to filing for a Federal Tax ID number, opening a separate business bank account and basic accounting for it. The other was a basic class on WordPress, which is the blogging platform this site is run on. It was very helpful to me as well. Then I discovered Food Blogger Pro which is an excellent online membership course. It has videos that walk you through every single step of setting up a website. Every single step! It walked me through how to add plugins, which ones to add, how to configure the settings in them, etc. I did a year-long membership and found myself referring back to it often throughout the year as I wanted to learn something new or be reminded of how to do something. Whether you want to start a food blog, a travel blog, a lifestyle blog, a golf blog, or any other topic, I highly recommend joining, if for nothing else than for these videos that walk you through setting up your website well from the get-go. My site would be a mess if it weren't for the help of Food Blogger Pro. You can sign up for Food Blogger Pro here if you are interested, and note that I did sign up to be an affiliate for them since I was already recommending them to friends asking how to set up a blog, so I earn a little commission if you join through my link, but no pressure of course!
You have to make a clear choice: is this website going to be a hobby blog or a business? If you choose that this is going to be your job, then commit to that, have that mindset, and treat it like one. Do the things I mention in step 2 like setting up the second bank account, LLC, etc. Get business cards. Invest some money in your business for things like camera equipment, software or online subscriptions you need, web designers, etc. Look for conferences on your topic or general blogging conferences and buy a ticket and go! Network! Make friends in the industry.
Make goals for your business. I feel strongly about this being a key to my business being successful. I was a guest on a podcast where I spoke about this topic. If you'd like to give it a listen, you can listen to the podcast on goal-setting here.
I hope that info helps answer the questions I regularly get about my job or how to start your own website.