Hopefully you'll find some new favorites to add to your gluten-free kitchen or buy for your gluten-free loved one! While this post contains affiliate links, all opinions are my own and are not sponsored by any individual or company.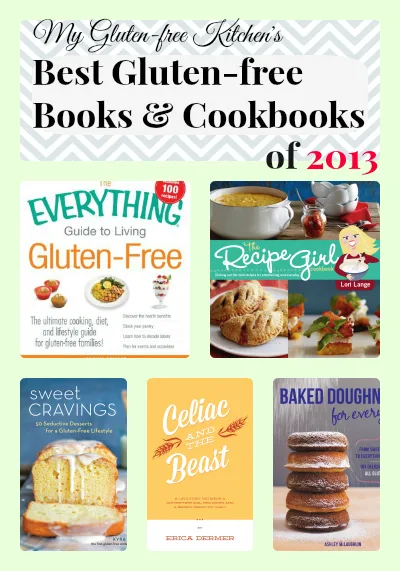 I LOVE to read, and cookbooks are my favorite reading material. I haven't had a chance to write up review posts for all of the books and cookbooks I've found this year, but want to do a quick recap for you all. If you are looking for something to buy yourself, put on your Christmas wish list, or buy for another gluten-free friend, these are all great bets!
Celiac and the Beast: A Love Story Between a Gluten-Free Girl, Her Genes, and a Broken Digestive Tract
is definitely the funniest, most entertaining book I read all year. I got to meet author Erica Dermer this year at the National Gluten-free Expo in Salt Lake City, and then got to know her more at a blogging conference in November. She is very fun to be around. I enjoy her sense of humor but also really appreciate all she does as an advocate for celiac disease through her blog, Celiac and the Beast. If you have a great sense of humor, and are looking for a mix of funny storytelling, empathy, medical info, tips, and a little bathroom humor, you'll love this book.
*****************************************************************************
Have you watched Cupcake Wars on Food Network? If you do, you may have seen Kyra Bussanich win with her gluten-free cupcakes. Kyra also runs a bakery that I'm just dying to go to in Portland (Kyra's Bake Shop). This year she published a beautiful cookbook, Sweet Cravings: 50 Seductive Desserts for a Gluten-Free Lifestyle
, and it is full of amazing recipes for everything from scones to Boston Cream Pie cupcakes. The book is full of beautiful photos of almost every recipe, something I LOVE for cookbooks to have. I'm dying to make that Lemon Pound Cake on the cover!
*****************************************************************************
One of the gluten-filled foods I miss most is doughnuts. I rarely ate doughnuts, but did enjoy taking my boys out for a doughnut run a few times a year or treating myself to a good old maple bar once in a while. I am super excited to start baking from Baked Doughnuts For Everyone: From Sweet to Savory to Everything in Between, 101 Delicious Recipes, All Gluten-Free
. Full of beautiful photos of almost all of the 101 recipes, this has been one of those cookbooks that I practically drool while I'm browsing. I haven't had a chance to make any of the doughnuts yet, but on looks alone, I've got to recommend it! The Apple Fritter Doughnuts are calling my name!
*****************************************************************************
My friend Jeanine (the lovely woman behind the blog Faithfully Gluten Free) came out with a super helpful cookbook/guide this year. The Everything Guide to Living Gluten-Free: The Ultimate Cooking, Diet, and Lifestyle Guide for Gluten-Free Families would be perfect for anyone that is new to gluten-free. You can read my full review of this book and a recipe from it on my post here.
*****************************************************************************
You all know that I love using my slow cooker/Crock Pot so I had to pick up The Everything Gluten-Free Slow Cooker Cookbook

earlier this year. It was published last fall, but since I got it this year, I thought I'd include it here. The drawback is there are no photos at all in this cookbook. However, there are 300 recipes that are simple to make and help you save time! How about some Roast Chicken with Lemon and Artichokes or maybe Sausage and Shrimp Jambalaya? You are sure to find some new family favorites in this one!
*****************************************************************************
My biggest surprise of the year was this cookbook: The Recipe Girl Cookbook: Dishing Out the Best Recipes for Entertaining and Every Day
. I picked this up because I love Lori Lange's blog and figured I could find some great recipes to adapt in it. I was so pleased when I opened it up and found that the recipe indexes at the beginning of each section actually clearly label which recipes are gluten-free or can be adapted to gluten-free. On the recipes that have the GF symbol, Lori gives clear directions on how to make the recipe gluten-free. How cool is that?! My other favorite part about this cookbook is the 20 themed menu plans in the back of the book. She gives menu plans for a variety of parties, from Super Bowl parties to ladies' luncheons, which I found super helpful.
*****************************************************************************
Lastly, let me tell you about 2 cookbooks that I don't own yet, but am just sure are going to be awesome!

This cookbook from Nicole Hunn of the blog Gluten on a Shoestring promises to be as good as her other cookbooks. Gluten-Free on a Shoestring Bakes Bread: (Biscuits, Bagels, Buns, and More)
was just released last week, but I don't have my copy yet because I asked for it for Christmas! Let me tell you, if it isn't under my tree, I'll be ordering my copy on Christmas Day!
I've mentioned before about how much I LOVE America's Test Kitchen and have learned so much from them. Now they are FINALLY publishing a gluten-free cookbook: The How Can It Be Gluten Free Cookbook
. The cookbook won't be out until March 2014, but you can pre-order now from Amazon, which also locks in the price. America's Test Kitchen cooks are the perfectionists of the cooking and baking world. They don't stop recipe testing until they have the perfect recipe, so I know the recipes in this book will be great. Their tips and techniques are always helpful, so I can't wait to see what gluten-free tips they've come up with.
Did I miss one of your favorites? Let me know what your favorite gluten-free cookbook or book was in 2013. I'd love to hear about it!
***************************************************************************