Occasionally, I will share a favorite item from my gluten-free kitchen: a book, cookbook, gluten-free food or kitchen gadget or a roundup of favorite things from around the web. Hopefully you'll find some new favorites to add to your gluten-free kitchen! While they may contain affiliate links, all Favorites posts reflect my own opinion and are not sponsored by any individual or company.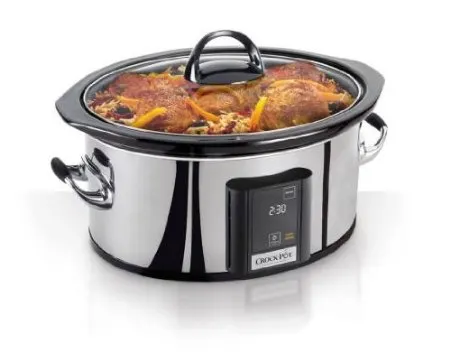 There is nothing like the feeling of coming home at the end of a long day, throwing open the door, and being greeted by the heavenly aromas of dinner already cooked! Since I don't have a personal chef, household help, or even a hubby that cooks, the only way I'm having dinner ready and waiting when I get home is if I use my slow cooker!
I had a faithful and reliable Crock-pot for a number of years and was so sad when it got dropped and cracked in half. For 3 years, I tried a variety of new slow cookers and was disappointed in all of them. With every single one I tried, the temperature ran way too hot, even on the low setting, leaving me with burned, dried-out food at the end of the day. Finally America's Test Kitchen tested a bunch of slow cookers and gave their best recommendation in their book Slow Cooker Revolution
.
The winner of their performance testing was the Crock-Pot SCVT650-PS 6-1/2-Quart Programmable Touchscreen Slow Cooker
. After reading their review, I knew I just needed to stop wasting $30-$35 on cheap slow cookers that weren't working well for me, and instead splurge to get this good one. I've been so happy I did.
Features I like:
It doesn't run overly hot. My chicken recipes cook in about 4 hours, just like they always used to, pork & beef recipes are ready in about 8-9 hours.
Very easy to program – I can set how many hours and what temp I want it to cook at.
Visible countdown so you can be sure you actually hit the start button! There is nothing worse than coming home at the end of the day to an uncooked slow cooker meal because you forgot to turn it on or plug it in!
If you are in the market for a reliable slow cooker, I definitely recommend this one!
Also, be sure to check out my gluten-free slow cooker recipes!