Be ready for spring and summer grilling with this recipe for gluten-free Hawaiian Turkey Kabobs. This flavorful and healthy gluten-free dinner recipe brought to you through my partnership with Honeysuckle White as an ambassador for 2017. They're an awesome company that works with more than 700 independent family farmers throughout the U.S., and I'm proud to partner with them!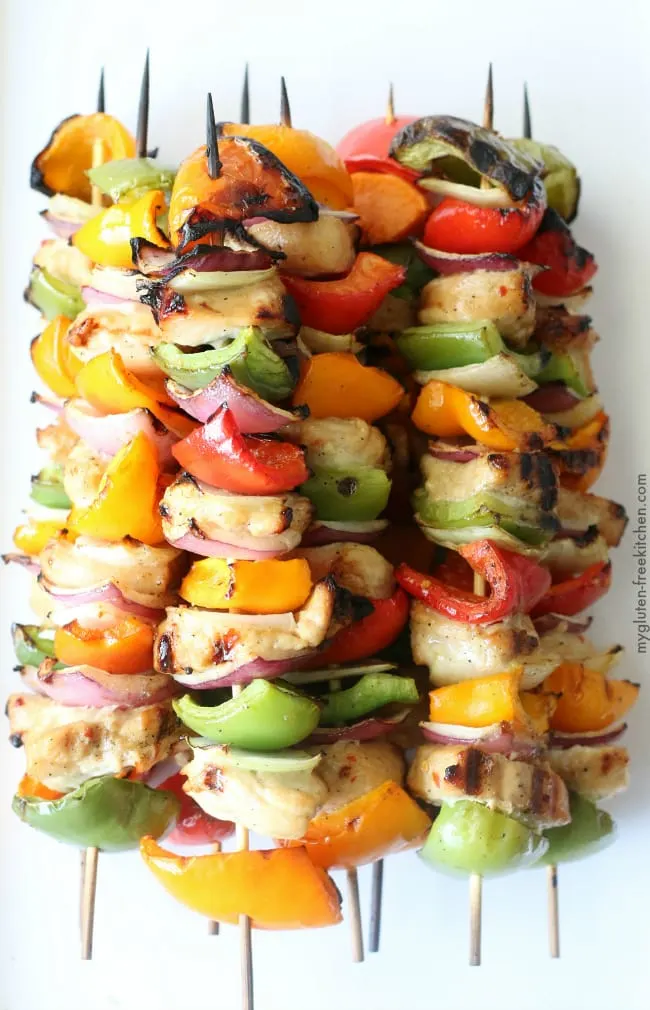 We had a record winter in Idaho this year. So so much snow! Since the snow stopped, it's been more rainy than usual as well. Unfortunately, that's meant very little grilling so far this spring. These past couple of weeks, we've finally had some sunny days here and there, and we've been so anxious to get outside and grill again! After a winter of hearty soups and heavy meals, I love the lighter, fresh meals that we can grill. Plus the clean-up is always a breeze!
I absolutely love kabobs. I don't remember having them ever when I was growing up, so I think there was just always this appeal. In the past, when we've made any kabobs, my husband has remarked that they're a lot of work and difficult to get everything to cook evenly. Well this recipe won him over! He loved these!
Here are the ingredients for these delicious gluten-free turkey kabobs as well as some photos of the kabobs before they were cooked. I can't get over how bright and pretty these are!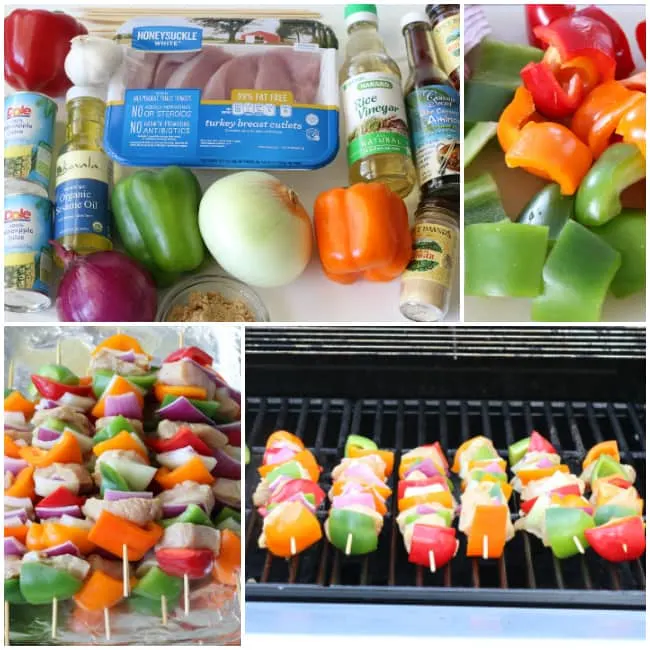 Notes on ingredients for these turkey skewers:
Turkey: I used Honeysuckle White turkey breast cutlets. The cutlets were the perfect thickness for kabobs. One package of turkey breast cutlets was about 1.5 pounds which was just the right amount of meat for kabobs for our family of four. Just grab more packages of turkey cutlets if you need to feed more people.
Bell Peppers: I loved the color variation from choosing a variety of colors of bell peppers. Choose your favorites for this!
Onions: I used both a red onion and a sweet yellow onion for color and flavor. You can't see it, but I even did one without onions for me since I can't have onions, and it was still pretty!
Pineapple juice: this is key for the amazing Hawaiian flavor! I just picked up a few little cans of it to use.
Coconut aminos: I love the flavor from using coconut aminos. If you can't find this locally, use gluten-free soy sauce instead.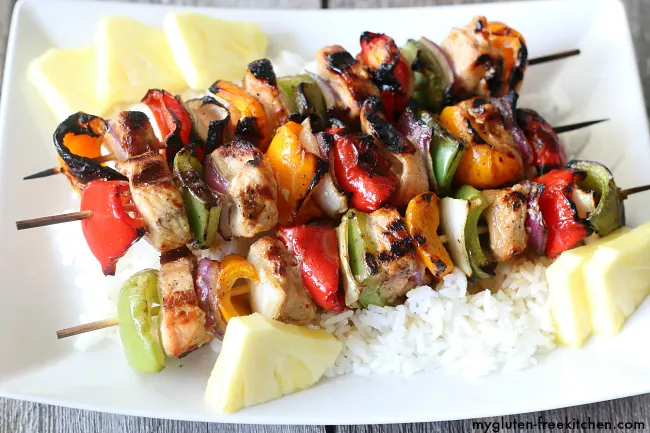 I chose turkey cutlets for these because of their thinness. I've used a variety of turkey products from Honeysuckle White and they've all been great, but this was my first time choosing the cutlets. I thought they would cook at about the same rate as the fresh veggies, and I was right! The turkey cutlets were just the right thickness and the veggies complemented them perfectly. The marinade made the turkey amazingly delicious! The overall result: thumbs up all around!
These were so easy to grill! Just oil the grill so that the kabobs won't stick. You'll cook them in a hot grill (400˚) for a total of about 20 minutes, depending on your grill and weather. You just want to make sure you get the turkey cooked to 165˚ to be safe! You'll be rotating them and basting them with the delicious marinade as they cook. So easy though!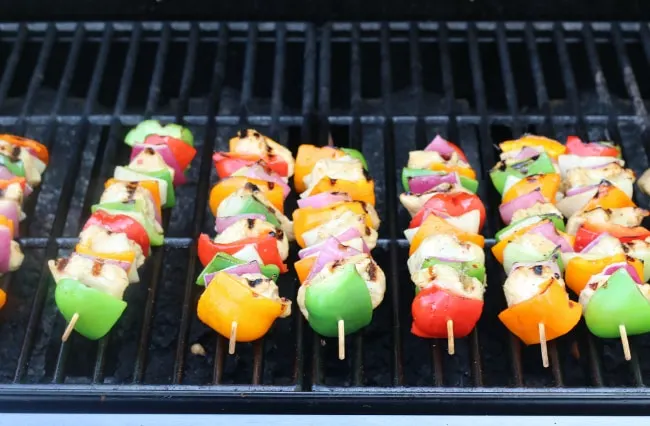 I served these over jasmine rice that I quickly cooked on the stovetop. The reserved marinade was so good drizzled over the cooked kabobs and rice! This is a recipe we'll be making again and again! My husband enjoyed taking the leftovers to work too! We just removed everything off the skewers and added it to a container with rice and drizzled some of the extra sauce over it. Mmm mmm!
Turkey Kabobs Recipe:
Yield: 4 servings
Gluten-free Hawaiian Turkey Kabobs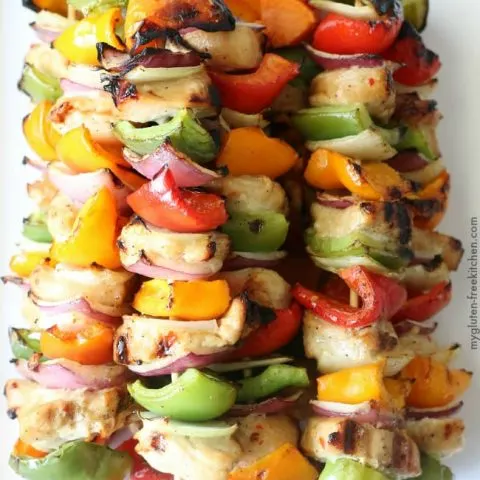 This recipe for gluten-free turkey kabobs yields 8-10 kabobs, the perfect amount of kabobs for our family of 4 to enjoy over jasmine rice. Just double or triple the recipe for bigger families!

Prep Time 1 hour

Cook Time 20 minutes

Additional Time 4 hours

Total Time 5 hours 20 minutes
Ingredients
1.5 lbs. turkey breast cutlets
12 oz. pineapple juice
1/3 cup coconut aminos or gluten-free soy sauce
1/3 cup brown sugar
2 Tbsp. rice wine vinegar
2 Tbsp. sesame oil
5 cloves garlic, minced
1/2 tsp. garlic powder
1/2 tsp. red pepper flakes
1/2 tsp. black pepper
1/2 tsp. sea salt
1/4 tsp. ground ginger
5-6 bell peppers (variety of red, orange, green or yellow)
1 large purple onion
1 sweet onion
Pineapple slices (optional for kabobs or having as a side)
3 cups cooked Jasmine rice
Instructions
Line a bowl with a ziploc freezer bag. Place the turkey cutlet pieces in the freezer bag. Set aside while you make marinade.
In a large bowl, whisk together pineapple juice, coconut aminos, brown sugar, rice wine vinegar, sesame oil, minced garlic, garlic powder, red pepper flakes, black pepper, sea salt, and ground ginger until mixed.
This will yield about 2 cups of marinade.
Pour 3/4 cup of the marinade over the turkey. Seal the bag and massage to get marinade all over turkey. Place sealed bag in bowl in refrigerator for 4 hours or up to 24 hours to marinate.
Cover and store remainder of marinade at room temp until needed. (This portion is reserved for basting and for using as extra sauce over cooked kabobs and rice.)
Before assembling kabobs, soak wooden skewers in water for at least 30 minutes or more. (I only did 20 minutes, resulting in some ends getting burnt).
Chop peppers and onions into slices about the same size as your turkey pieces (1.5-2" pieces).
Remove turkey from refrigerator and from marinade. Discard the turkey marinade.
Alternately thread peppers, onions, and marinated turkey pieces on each skewer. Hint: I found the peppers to be the best for the ends of each skewer, as they kept anything else from sliding off. Leave 1" to 1.5" at each end of skewer free of food so that you can grab the ends for rotating easily.
Make 3 cups of jasmine rice according to instructions as you heat up your grill.
Preheat grill to 400˚. Lightly oil grill grates so that kabobs won't stick.
Grill kabobs for 5 minutes. Brush (baste) with reserved marinade, flip, then baste second side. Grill for 5 minutes. Baste, check meat temp and continue grilling until turkey registers 165˚ on a meat thermometer. Our kabobs took about 20 minutes, but total cooking time will vary depending on grill and weather variations.
Remove to a platter.
Before serving, I like to bring the remaining marinade left over from brushing to a boil on the stove. Then serve alongside kabobs and jasmine rice. It's super yummy over rice!
Notes
Be sure to plan ahead for the turkey to marinate!
Recommended Products
As an Amazon Associate and member of other affiliate programs, I earn from qualifying purchases.

Pin this to your gluten-free meals board on Pinterest: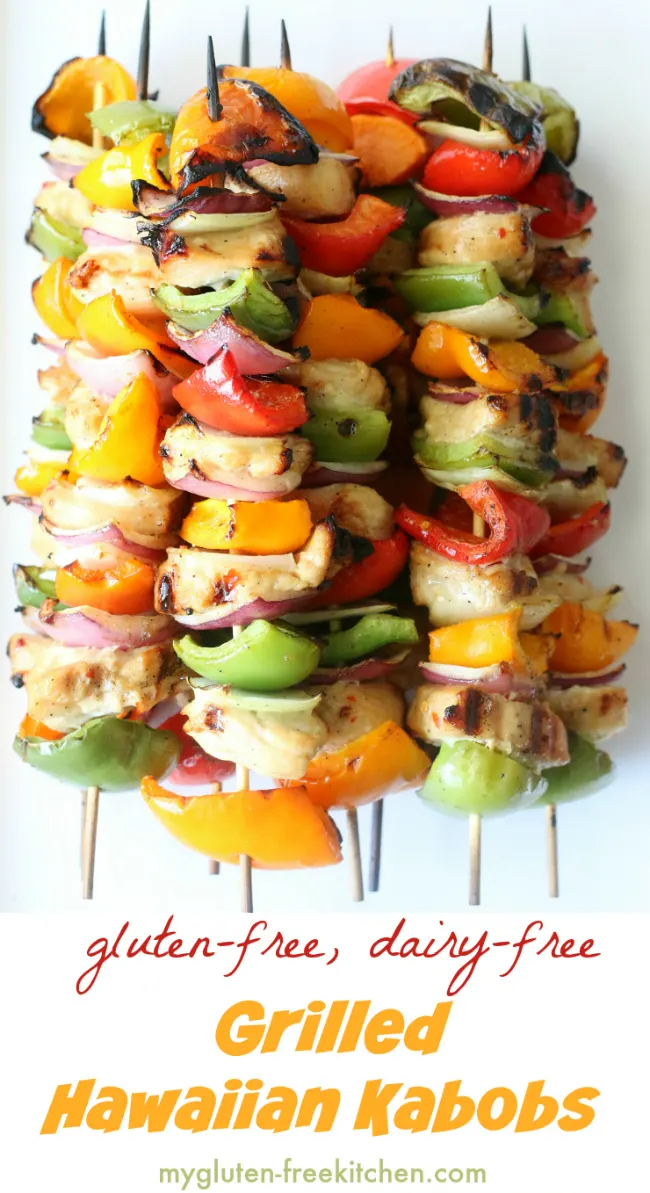 I hope you and your family enjoy these turkey skewers as much as my family does!
This sponsored post was created through my partnership with Honeysuckle White as an ambassador for 2017. For those on the East Coast, be sure to look for their sister brand, Shady Brook Farms. As always, all opinions are my own. Collaborating with brands I love allows me to keep bringing you new and varied recipes! Thanks for your support!