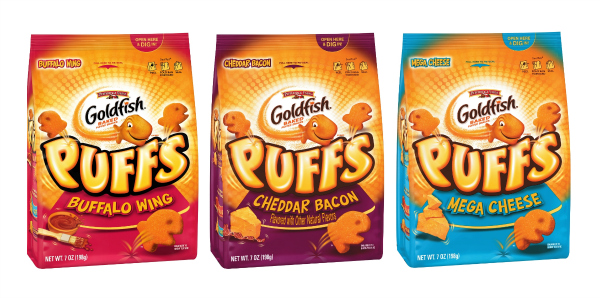 Please note that this is from September of 2013. As of 2019, it appears Goldfish Puffs have been discontinued as I'm unable to find it in any stores or online.
This summer, Pepperidge Farm came out with a new Goldfish snack that is gluten-free. I was contacted by them and given the opportunity to review these three new products and give away some for my readers to try! I couldn't pass up that opportunity!
So many kids miss out on getting to eat regular Goldfish crackers because of the gluten in them. While these new Goldfish Puffs aren't meant to be the same as regular Goldfish crackers, they certainly provide a safe and yummy alternative. Goldfish Puffs are made in a certified gluten-free facility which is certified gluten-free by the GFCO. Reading that definitely put my mind (and stomach) at ease.
I planned snack time one night last weekend for our family to review all three flavors of the Goldfish Puffs. I made some little scoring sheets so we could all include our opinions of the flavors. Out of the 5 of us that tried them, 2 loved the Buffalo Wing flavor the best, 1 loved the Cheddar Bacon flavor best, and I liked the Mega Cheese flavor best. I wasn't really sure what to expect the texture to be like, but they were somewhere between a cracker and those puffy Cheetos. The flavors were really bold.
I can really see gluten-free kids and teens liking these more than adults. While we eat snacks like this sparingly at home, these are definitely something I'll buy for a treat, road trip, or to bring for all of the kids to eat at football or soccer practice. I love that a snack item like this can be found easily at the local store, bought for a reasonable price, and served to a whole group of kids, without leaving any gluten-free kids out. None of the kids would turn their noses up at these or even notice they are gluten-free. Your gluten-free kid or teen can finally bring a fun, cool snack to share! Thank you Pepperidge Farm for making a snack like this! I'm really hoping their next product will be gluten-free Goldfish crackers.
Pepperidge Farm® Goldfish® Puffs are available in major supermarkets, grocery stores and mass merchandisers nationwide for a suggested retail price of $2.99 for a 7oz bag. A 2oz bag is also available in convenience stores for a suggested retail price of $.99.
*Disclosure: I did receive this product to facilitate my review. These opinions are my own and were in no way influenced by another person.