Crispy edges, chewy centers, and yummy cinnamon flavor makes these gluten-free snickerdoodles a delicious treat to enjoy fall, winter and really, year-round.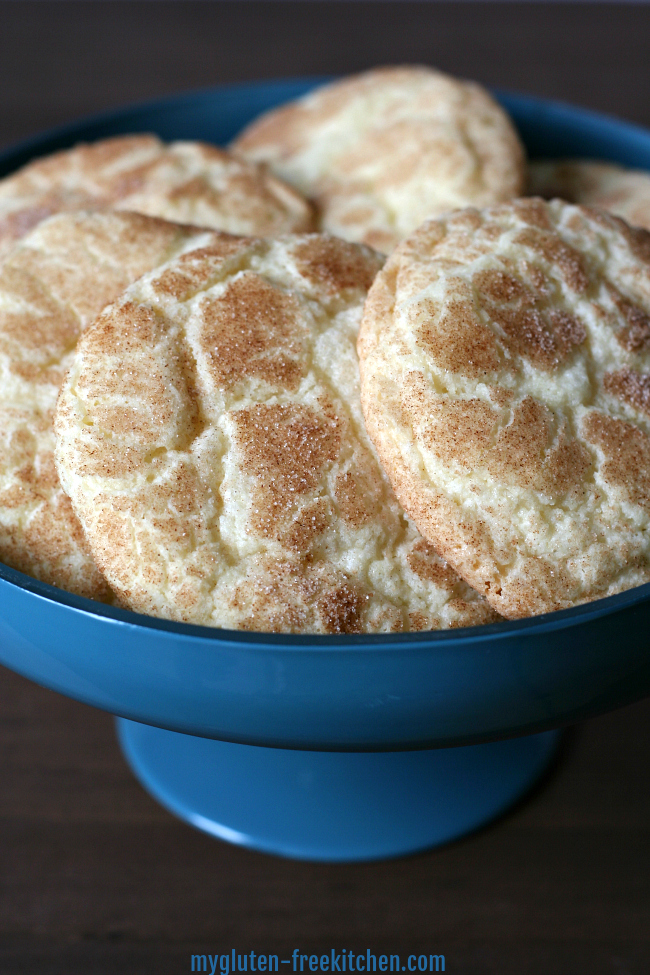 Cooler weather, turning leaves, the smells of autumn… I'm dreaming of those things being here soon. We're still having high temps in the 80s and 90s but I'm ready to pack up swimsuits and summer clothes, put out the fall decorations, and fill my house with baked goods that smell of cinnamon. These gluten-free cinnamon sugar Snickerdoodles were the first on my fall baking list and I had to make them right away, despite the hot weather!
I've been making this snickerdoodle recipe for several years, so it is my tried and true recipe. I made these last week for my boys to take to their new teachers for meet the teacher night.
I shared the photo on Instagram, which reminds me, are you on Instagram? I often post photos of breakfast, lunches, things I'm baking, and a few family pics too. You can follow me on Instagram here. I'm pretty addicted to it and love interacting with gluten-free friends on there.
Back to these gluten-free snickerdoodle cookies… I prefer the results when I have time to chill the dough at least an hour, versus using right away.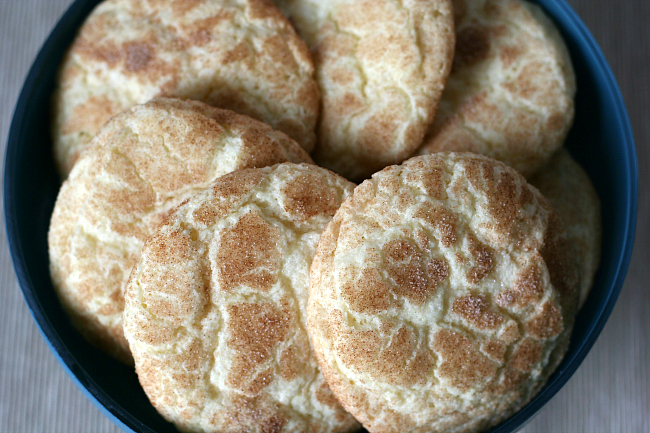 One helpful thing about this dough is that you can make it ahead and let it sit in your fridge for up to 2 days! I love recipes that I can make in steps so I can work on them a bit as I have time. Last month, I made a batch of this dough and then only cooked up a cookie sheet full each day for 3 days so we could enjoy them warm each day!
You can also make these gluten-free snickerdoodle cookies as small 2-bite cookies if you're wanting to bring them to a potluck style gathering. I made them this way using my small cookie scoop and got 4 dozen cookies from one batch. Here's a pic of them smaller like that (also made dairy-free which caused them not to spread as much):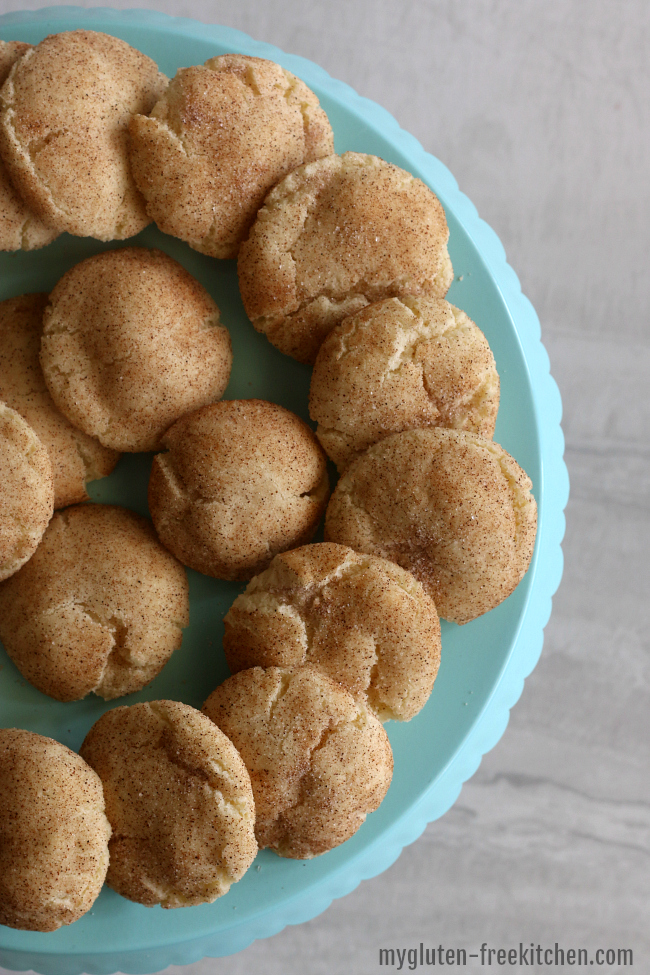 Notes on ingredients and substitutions for these gluten-free snickedoodle cookies:
Can you make these gluten-free snickerdoodles dairy-free too? Yes! Try different dairy-free alternatives for the butter. Some just don't melt as good as others. I wish I could remember which dairy-free butter alternative I used in these cookies above. I'll definitely try with some different ones and report back. But if you try this dairy-free, please comment with your substitution and how it worked.
I'd love if you would comment if you have a chance to try these! I hope they satisfy your craving!
Gluten-free Snickerdoodle Recipe:
Yield: 3 dozen
Gluten-free Snickerdoodles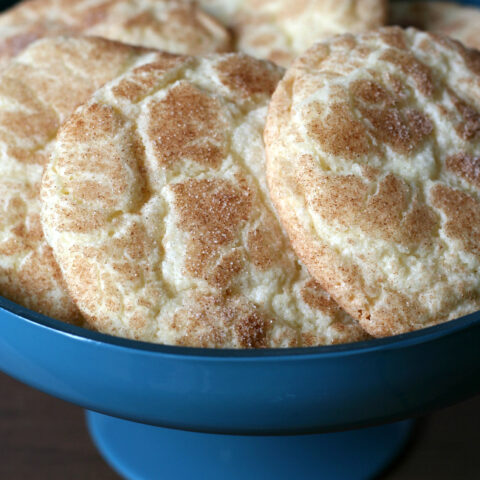 Crispy edges, chewy centers, and yummy cinnamon flavor makes these gluten-free snickerdoodles a delicious treat to enjoy year-round. Everyone goes for seconds of these gluten-free snickerdoodle cookies.

Prep Time 10 minutes

Cook Time 8 minutes

Additional Time 1 hour

Total Time 1 hour 18 minutes
Ingredients
2 3/4 cup (345 grams) good all-purpose gluten-free flour
3/4 tsp. xanthan gum
1 tsp. cream of tartar
1/2 tsp. baking soda
1/4 tsp. salt
1 1/2 cups white sugar
1/2 cup (=8 Tbsp. or 1 stick) butter or dairy-free alternative, softened
1 tsp. pure vanilla extract
2 eggs
for rolling:
2 Tbsp. white sugar
1 1/2 tsp. cinnamon
Instructions
In a small bowl, whisk together the flour, xanthan gum (if needed), cream of tartar, baking soda, and salt.
In the bowl of your standing mixer, beat the sugar, butter or margarine, vanilla and eggs until well mixed.
Dump the bowl of dry ingredients into your mixing bowl and mix on low until all combined. Don't overmix.
Cover the dough and place in fridge to chill for one hour or up to 2 days.
When ready to use, remove from fridge to soften until you can roll easily.
Preheat oven to 400°. Line baking sheets with parchment paper or silicone liners.
In a small bowl, combine 2 Tablespoons sugar and 1 1/2 tsp. cinnamon together.
Roll dough into about 1 inch balls, or your desired size. Roll dough balls in sugar/cinnamon mixture and place 2 inches apart on parchment or silicone-lined baking sheets. If your dough feels tough, I recommend flattening the dough ball some.
Bake 8-10 minutes or until set. For crispier cookies, cook longer; for chewier cookies, remove while cracks look just a bit "wet" still, but edges are set.
Slide cookies off onto a cooling rack. I just slide the whole sheet of parchment right off so I don't have to worry about cracking any cookies.
Notes
If the gluten-free flour blend you use already has xanthan gum or guar gum in it, then omit the xanthan gum called for in this recipe.

I almost always make these with gfJules flour but see blog post for other flour recommendations and information about other ingredients.

The texture of these cookies will be affected by the type of flour you use and the type of butter/alternative you use. I recommend baking a test cookie, and then adjusting from there. If the test cookie is too thick and puffy, then push the dough balls down to flatten for the rest of the cookies.
Recommended Products
As an Amazon Associate and member of other affiliate programs, I earn from qualifying purchases.

Pin these to your gluten-free cookies board on Pinterest: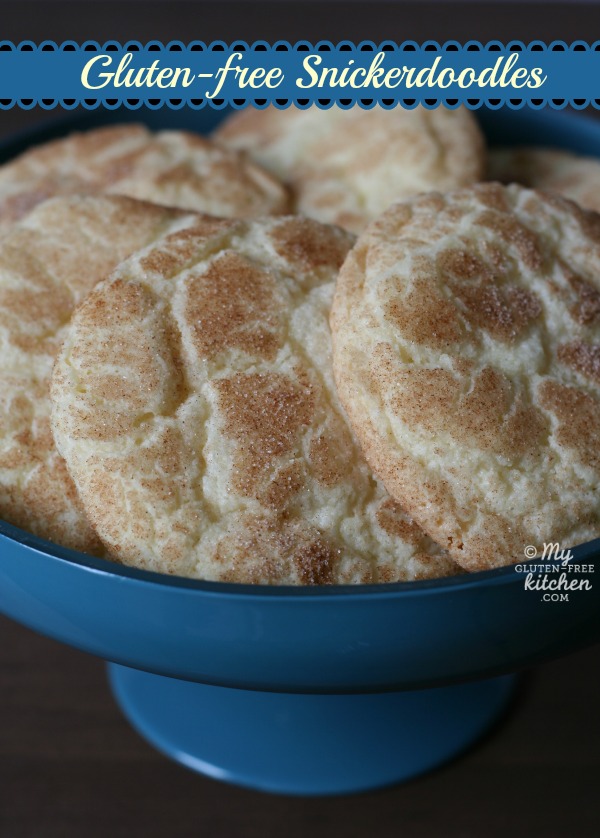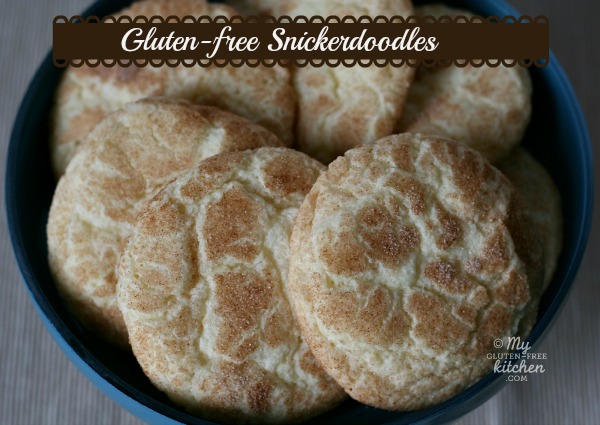 I hope you and your loved ones enjoy this gluten-free snickerdoodle cookie recipe as much as we do!
Monday 7th of September 2020
I used Pamela's all purpose gluten free flour and country crocks plant based butter with olive oil and these cookies were delicious and my family loved them!!
Hello, is half a cup of butter when it is melted or softened? any idea of a weight measurement when it's hard?
Thursday 28th of May 2020
Hi - I'm sorry for that being unclear. Half a cup of butter is the same as one stick of butter or 8 Tbsp of butter or 4 ounces of butter. Measure it first, then soften it (either by setting out on counter or microwave for 10 seconds), but don't melt it.
Saturday 25th of April 2020
Wow! Wow. These are incredible. I wasn't expecting them to be as amazing as they were. Usually when I make gluten free recipes, they end up chalky and just unsatisfactory. But these blew me away.
I used Red Mill 1 to 1 gluten free all purpose flour and Earth Balance vegan butter sticks. I only ran in to one minor issue, which was that the butter was not combining with the sugar and egg. I just left the mixer on a medium-high speed for around 5 minutes, and the butter dissolved nicely. I chilled the dough for around two hours, and it was lovely and soft so I could roll the balls right away. I baked them for 7 minutes at 400 degrees and they turned out very chewy and perfectly colored. I sprinkled a little bit of the cinnamon sugar on too while they were still hot, and wow were they excellent. I highly recommend these cookies - especially if you are gluten -free dairy -free.
Sunday 22nd of December 2019
Thank you for all your wonderful recipes. The taste of the Snickerdoodle cookies were wonderful.I do have a question about the texture. I used Authentic foods Milti-blend four as recommend but it came out like c Porn meal. I then looked more closely at the bag and it says "replaces wheat four in most recipes 3/4 cup = 1 cup all purpose wheat flour." Should I have only used 1 1/2 cups plus 3 tablespoons? I do
Thursday 12th of December 2019
[…] The sweet, ancient grain has a lighter texture and taste than modern day wheat (making it perfect for making einkorn snickerdoodle cookies) and contains a more favorable gluten ratio. People with minor gluten sensitives may be able to consume einkorn without the issues associated with modern wheat due the lack of D-genome; however, einkorn is NOT gluten-free. (If you need gluten-free sugar cookies, I recommend this gluten-free snickerdoodle recipe). […]