So pretty they can be at a wedding, (they have), so photogenic they can appear in a magazine (they have), and so delicious you'll want to make again – gluten-free lemon cupcakes with blackberry buttercream! This is truly one of the best gluten-free lemon desserts there is!
These beautiful and delicious gluten-free lemon cupcakes with fresh blackberry buttercream might look familiar to those of you that have been following me for a while. Last year, they appeared in an issue of the magazine Gluten Free Living. I promised that I would put them on the blog and then completely forgot! I was looking through photos for upcoming posts and saw these and thought I'd better get this recipe up!
These gluten-free lemon cupcakes have quickly become one of my favorite cupcakes. I've made them several times now, sometimes with this fresh blackberry buttercream, sometimes with fresh raspberry buttercream (same recipe, just using raspberries).
I've mentioned before that we grow raspberries and blackberries in our backyard. They grow really well here with our hot Idaho summers. Frankly, they are pretty much the only thing I like about living in Idaho in July and August! I'm not lying when I say that about the only time I head outside during those two hot months is when I'm going out to pick our fresh berries.
In the spring, before our berries are producing, I buy fresh California berries at our Costco. They are always delicious too! This buttercream frosting is so good, you'll be looking for more things to put it on! I could eat spoonfuls of it, not that I have (ahem) before!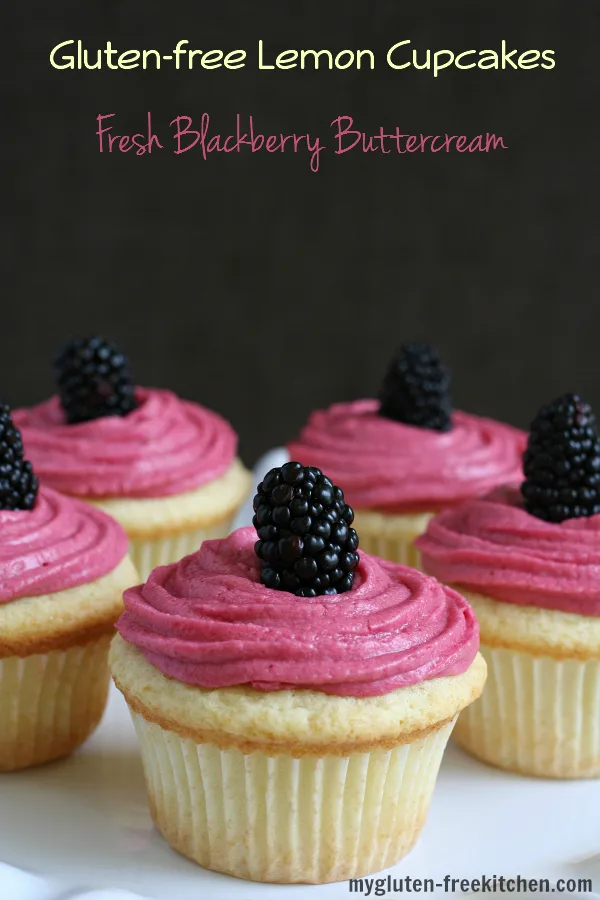 If you have to avoid dairy, try my gluten-free lemon coconut cake recipe.
Last summer, my boys' first ever babysitter got married. Her new husband has found that he's gluten intolerant, so she asked if I would make cupcakes for her wedding reception to serve alongside of their wedding cake. While I knew these cupcakes rock, I was nervous about making them for a wedding. It all turned out well.
I transported them in a cake box with these cupcake dividers (bought at Hobby Lobby I think).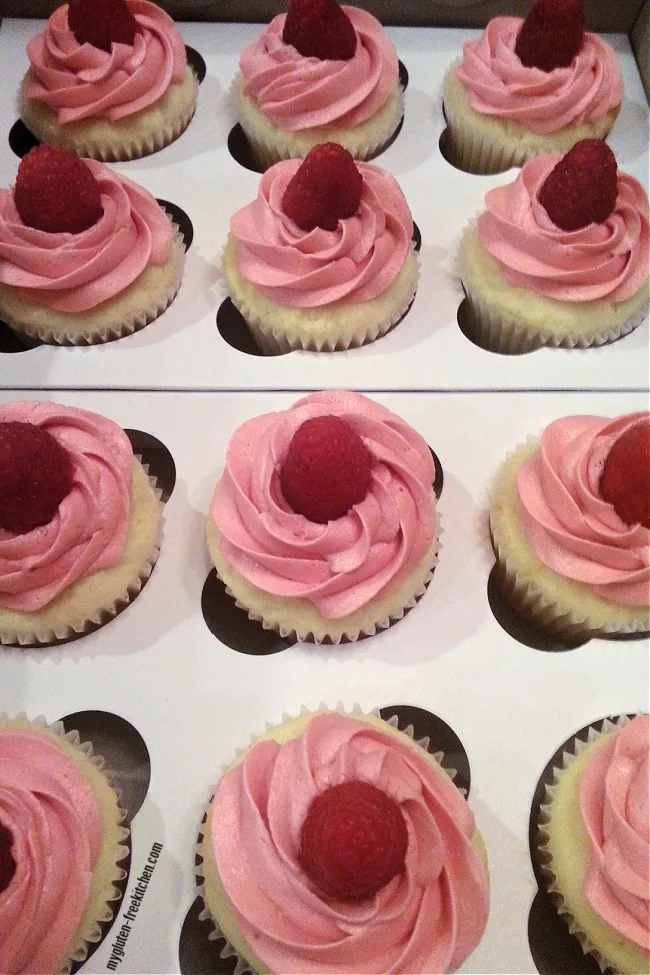 The cupcakes came out delicious, survived the curvy hour drive up in the mountains and sitting outside on a hot summer day.
Here's a picture of these gluten-free lemon cupcakes with the raspberry frosting at the wedding reception where they were displayed on a cool tree trunk stand: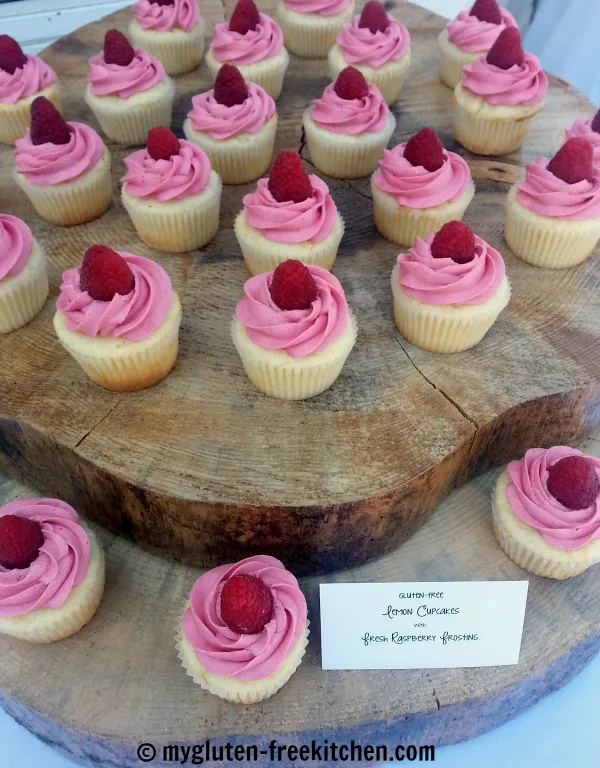 As with most of my recipes, I've tested these cupcakes with gfJules flour and also Authentic Foods Multi-Blend flour and also Gluten Free Mama's Almond Blend Flour
, and recommend any of them. Feel free to use your favorite gluten-free flour blend and let me know in the comments how it works for you in this recipe! Hope you can make these soon!
I absolutely love gluten-free lemon desserts! Here are some more to try, like my gluten-free lemonies – they're similar to a brownie in texture and are so good! Or how about gluten-free lemon cookies?
I so want to make this gluten-free lemon tart from my friend Megan. This gluten-free lemon poke cake looks easy and yummy and I bet would be fun for my boys to help make.
If you make these and love them, please come back and give this recipe a 5 star rating in the recipe card! Feel free to comment with tips or to share any successful substitutions you made.
Gluten-free Lemon Cupcakes Recipe:
Yield: 24 cupcakes
Gluten-free Lemon Cupcakes with Fresh Berry Buttercream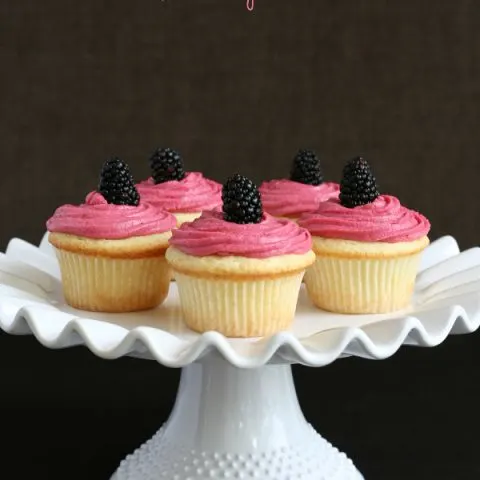 Gluten-free lemon cupcakes with blackberry buttercream! This is truly one of the best gluten-free lemon desserts there is! You can use raspberries instead of blackberries too.
Additional Time
20 minutes
Total Time
1 hour
23 minutes
Ingredients
Cupcakes:
3 cups all-purpose gluten-free flour *(see note below)
1 ½ teaspoon xanthan gum (*If needed, see note below)
1 Tablespoon baking powder
½ teaspoon salt
1 cup (2 sticks) unsalted butter, room temp.
2 cups sugar
4 large eggs
2 Tablespoons grated lemon zest
1 teaspoon pure vanilla extract
3 Tablespoons fresh lemon juice
1 cup buttermilk
Fresh Berry Buttercream:
1 cup (2 sticks) butter, softened
6 cups powdered sugar (also called confectioners' sugar)
7 T. strained berry puree (made from about 1 ½ cup of fresh blackberries or raspberries)
1 tsp. pure vanilla extract
Instructions
Cupcakes:
Preheat oven to 325°. Line standard muffin tins with paper liners.
In a small bowl, whisk together flour, xanthan gum, baking powder & salt. Set aside.
In the large bowl of your electric mixer, cream butter & sugar until pale & fluffy.
Add eggs, one at a time, beating until each is incorporated, scraping down the sides as needed.
Beat in the zest & vanilla.
Add flour mixture in three batches, alternating with two additions of buttermilk & lemon juice, beating until just combined after each addition.
Divide batter among lined cups, filling each ¾ full. I use a large cookie scoop/ice cream scoop to ensure equal sized cupcakes.
Bake at 325° for about 23-25 minutes, or until a toothpick inserted in center of cupcake comes out clean and edges have just started to brown. Transfer tins to wire racks to cool. After about 10 minutes, remove the cupcakes from tins and allow to cool on wire rack.
Buttercream:
Using a blender or food processor, thoroughly puree the blackberries. Strain the pureed blackberries through cheesecloth or a fine strainer/sieve to remove the seeds. (Discard seeds) You will use 7 tablespoons of this puree.
In a mixing bowl, beat butter on medium speed until fluffy, about 2 minutes.
Slowly add 1 cup powdered sugar and beat until smooth.
Add blackberry puree and pure vanilla extract and beat.
Gradually add in the remaining powdered sugar, beating on low speed until combined. Then beat on medium high until light and fluffy, about 3 minutes.
Notes
*I have tested this recipe with gfJules Flour and also Gluten-free Mama's Almond blend and Authentic Foods Multi-Blend. If you use a gluten-free flour blend that contains xanthan gum in it already, then omit the additional xanthan gum listed in this recipe.

I hope you and your family enjoy these as much as mine did!