Gluten-free peanut butter brownies are so easy to whip up, that I make them twice a month, and have been for many years! I LOVE them when they're still warm and gooey! These are what I make when I'm craving a treat, but want to make something super easy!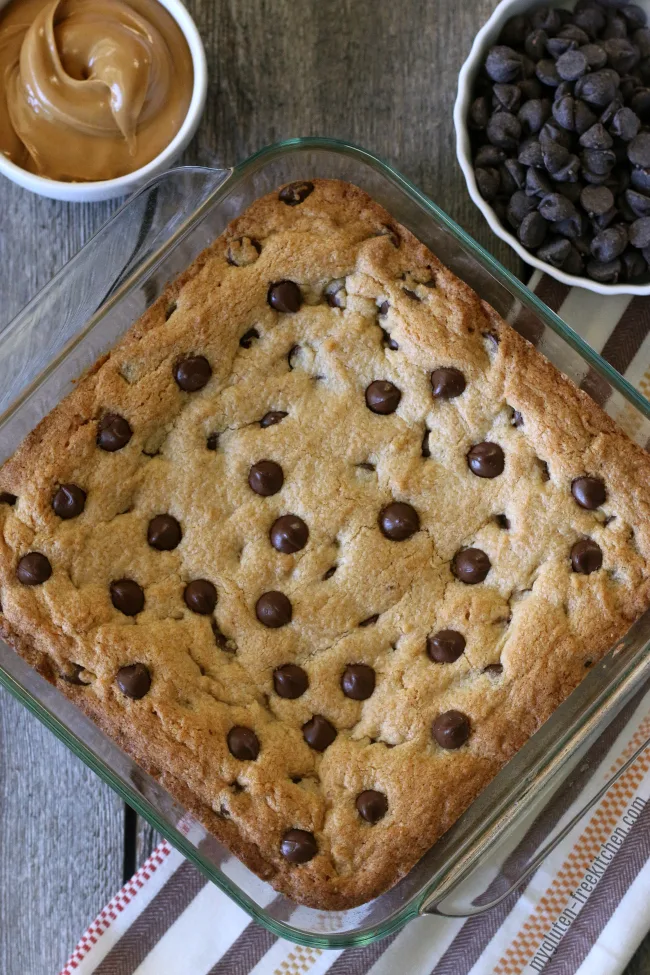 These gluten-free peanut butter brownies are truly unlike any others I've come across in the 30-some years I've been baking. The peanut butter flavor serves as a great base flavor but is not overwhelming and the predominant flavor is the chocolate.
Loaded with chocolate chips, these brownies are gooey and melty chocolatey just out of the oven. After they set, they become perfectly chewy. I enjoy them both ways.
I'm relentless in my pursuit of the "perfect" version of any recipe I try. If I try a recipe and it doesn't turn out, I try another one and another one. Often, I'll end up combining the best parts of several recipes to come up with my own perfect version. This recipe I'm sharing today came about exactly opposite!
I actually started with this perfect recipe for peanut butter brownies, and trying other versions over the years has only solidified this one as my favorite! Similar recipes are usually called "Blondies", and I find the dough base is lacking in flavor. The peanut butter in this base really makes these so good!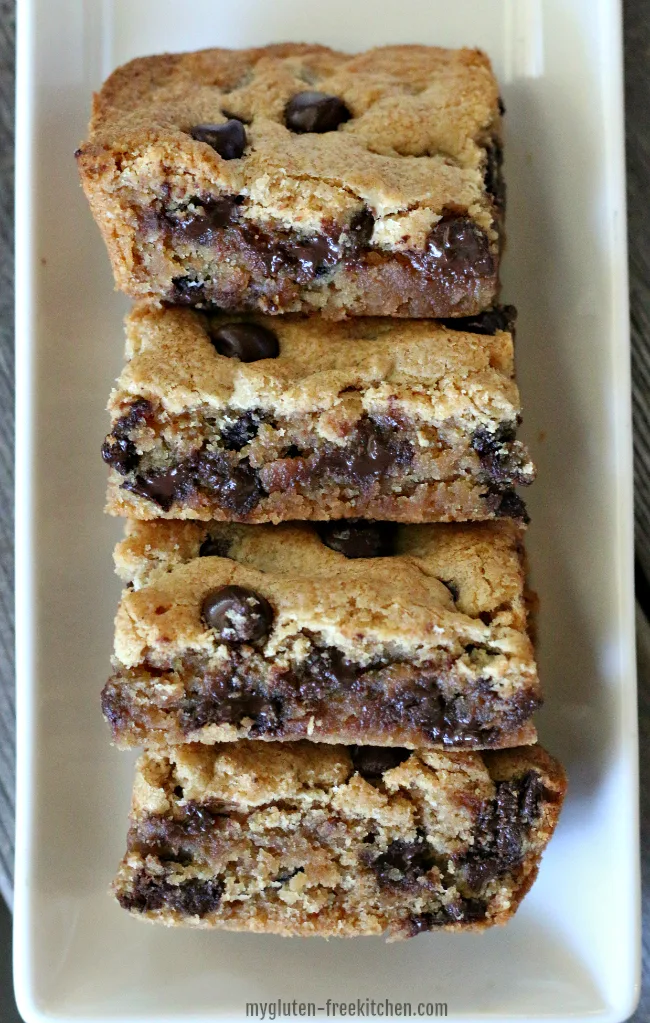 The recipe for peanut butter brownies found its way to me via my 7th grade cooking class at junior high school! Surprised? Me too! I only wish I still could remember who my teacher was that year so I could send her a link to this blog post. That class really sparked my interest in baking and I cherished all of the recipes I was given in class, keeping several to this day.
I can still remember just as class was ending the day we made these! It was the day we were learning about using a mixer, and what it meant to cream butter and sugar. When they were finished, we pulled the brownies out of the oven, cut them very quickly, and headed out of class with our still-hot brownies on a napkin. It is one of the very few good memories I have of those years.
I am trying to block out the memory of what I looked like as I carried that yummy brownie: a 13 year old awkward girl with braces, mall bangs and pegged pants. I'd like to think that a lot has improved since I was 13 – my appearance and my cooking/baking skills sure have!
Notes on ingredients for these gluten-free peanut butter brownies:
Gluten-free flour: I've tested these with several flour blends over the years. I love results I've gotten using gfJules gluten-free flour, Gluten-free Mama's almond blend, and King Arthur Gluten-free Measure for Measure flour and would recommend any of those.
Use your favorite peanut butter – natural peanut butter is fine too! I've tested this with many kinds over the years and they've all worked well. I usually reach for Jif Natural as that's one of my favorites.
For the chocolate, I reach for my usual favorites: Guittard semi-sweet morsels, Enjoy Life mega-chunks, or Trader Joe's chocolate chips. Feel free to use your favorite – even milk chocolate chips or dark chocolate chips if you prefer those!
To make these dairy-free, just replace the butter with your favorite non-dairy butter alternative and use Enjoy Life chocolate.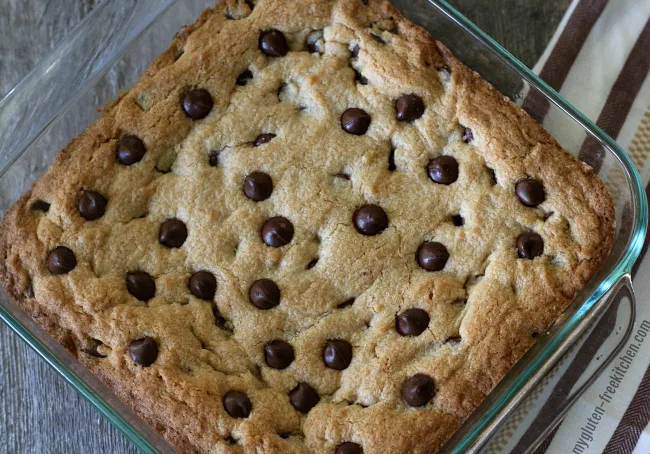 And if you love this peanut butter and chocolate combo, be sure to make my gluten-free Buckeye Brownies next! Or try my gluten-free peanut butter pie recipe for a cool, creamy dessert. I've got my eye on these gluten-free brownie cookies from my friend Celeste and hope to make them soon!
I hope you'll give these gluten-free brownies a try. They were easy enough for 7th graders, and with just a little adaptation for gluten-free, they are easy enough for gluten-free bakers of all levels! Enjoy!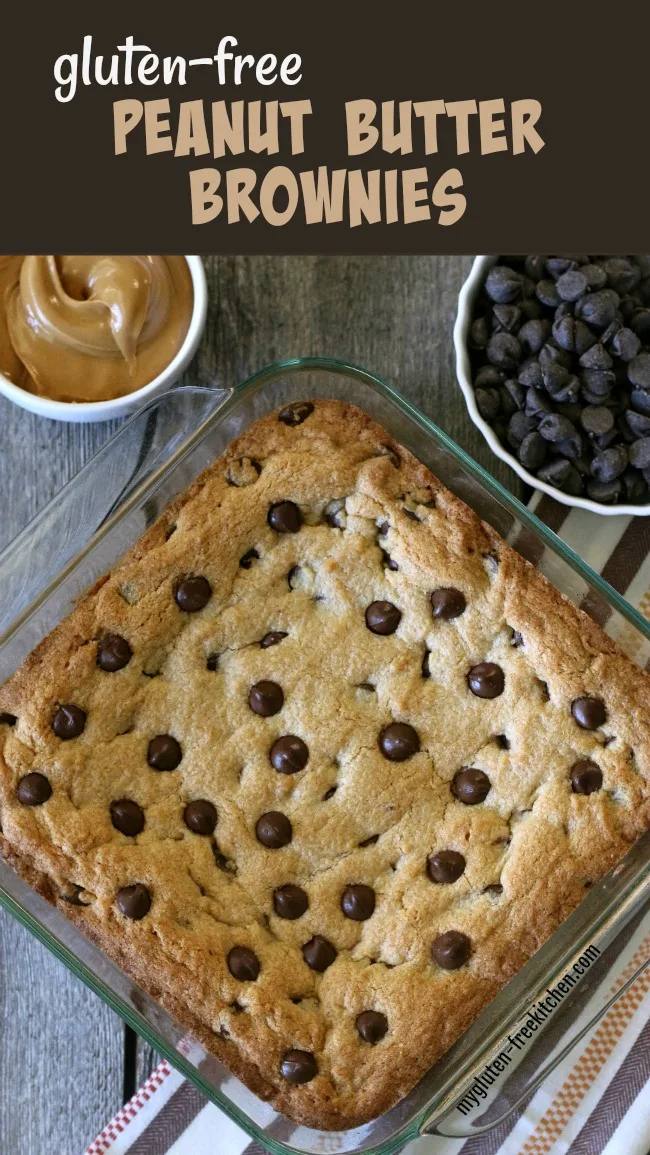 If you make these and love them, please come back and give this recipe a 5 star rating in the recipe card! Feel free to comment with tips or to share any successful substitutions you made.
Gluten-free Peanut Butter Brownies Recipe:
Yield: 12 brownies
Gluten-free Peanut Butter Brownies
I've been making these gluten-free peanut butter brownies a couple times a month for 9 years! See notes for easy dairy-free substitutions.
Ingredients
1 cup all-purpose gluten-free flour blend
1/2 tsp. xanthan gum
1 tsp. baking powder
1/8 tsp. salt
1/3 cup butter or non-dairy alternative, softened
1/2 cup creamy peanut butter
1 cup sugar
1/4 cup firmly packed brown sugar
2 eggs
1/2 tsp. vanilla
1 cup (6 oz.) semi-sweet chocolate chips
Instructions
In a small bowl, whisk together the flour, xanthan gum, baking powder and salt. Set aside.
In the bowl of your electric mixer, use the paddle blade to beat butter & peanut butter together until light and fluffy.
Gradually add sugar and brown sugar, creaming well.
Add eggs, one at a time, beating well after each.
Add vanilla extract and beat just until mixed in.
Add the flour mixture in 3 additions.
Beat until well mixed.
Stir in the chocolate chips.
Spread in a well greased 9" square baking pan. I usually use a glass 9" square Pyrex pan for this.
Bake at 350° for 30-40 minutes or until it looks set in the middle.
Enjoy a warm gooey brownie, or let cool completely and enjoy a chewy brownie!
Notes
*If your gluten-free flour blend contains xanthan or guar gum then omit the xanthan gum called for in this recipe.
To make dairy-free, just use your favorite non-dairy butter alternative, and use dairy-free chocolate chips or chunks from Enjoy Life.
As always, be sure to double-check all of your ingredients to ensure they are gluten-free.
Pin this
to your Gluten-free Dessert Pinterest board: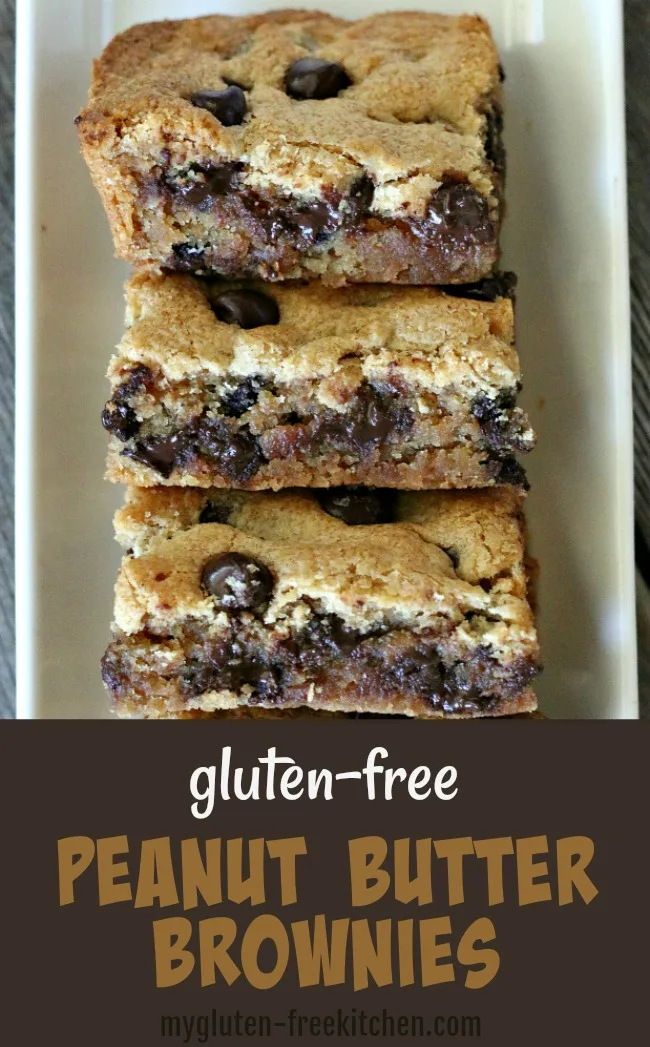 If you're looking for more yummy gluten-free brownie recipes, be sure to check out my Gluten-free Brownies Pinterest Board.
Previous photo: