I loved these gluten-free butterscotch cookies! Favorite flavors of butterscotch and white chocolate come together in these chewy, buttery cookies.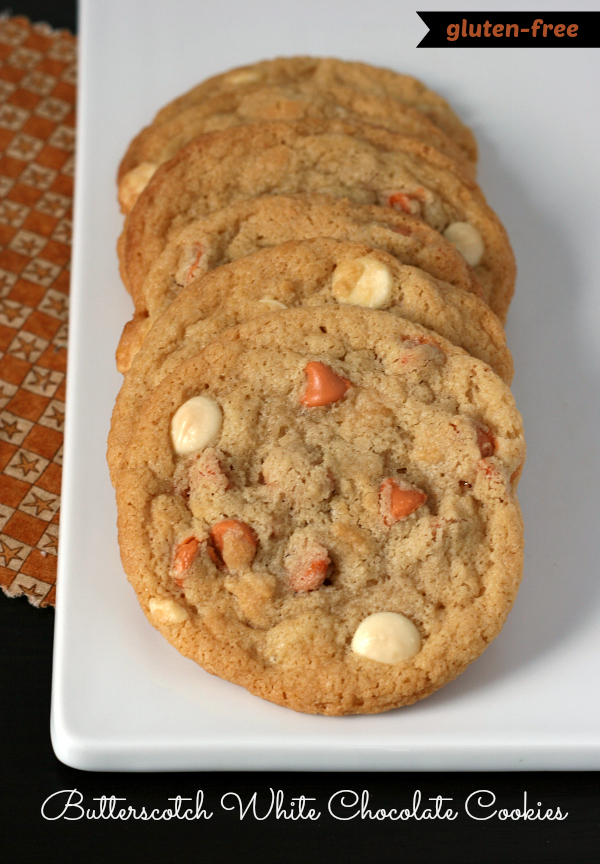 One of the flour blends I've used for years, with great success, is from my friend Jules Shepard. I had been using Jules' flour for several years before getting to meet her in person. I first met her back before I was blogging, at a Gluten-free Expo, where I volunteered to help her in her booth and she took me up on my offer.
I was a bit starstruck when I finally got to meet her – total fan girl moment! You all can have your celebrity autographs, I was excited to come home with an apron from her! 🙂 She is a fun combination of easy-going and energetic. Over the years, she's become a treasured friend as well.
After an unfortunate situation with her former business partners, my friend Jules had the opportunity to start fresh, founding a new company called gfJules, where she sells her one-of-a-kind gluten-free mixes, oats, and all-purpose gluten-free flour.
Jules has been a passionate advocate for celiac research and gluten-free labeling laws for many years, and was very instrumental in bringing about the gluten-free labeling guidelines that the FDA implemented.
Jules' goal has always been to help families gather for safe, economical and delicious meals, which is the same goal I have for my blog. Hmm, maybe that's one reason we get along so well!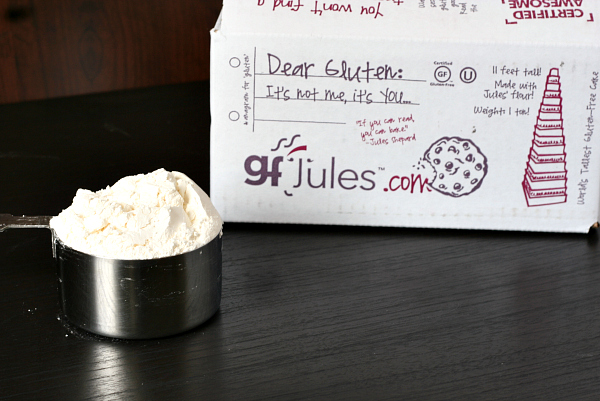 I love that gfJules all-purpose gluten-free flour can be used as a cup for cup replacement for regular flour in your favorite recipes. It already contains xanthan gum, so if a recipe calls for that as well, just omit adding it, as it won't be needed.
I've had great success in using gfJules gluten-free flour in my cookies, brownies, cakes, and quick breads. gfJules flour is one of the best gluten-free flour blends on the market!
Did you know that I test every recipe on my site with two flour blends before posting? One of the brands is gfJules. For yeast bread recipes, I recommend you try one of Jules tried and true recipes, available on the gfJules blog.
In addition to her ebooks, Jules has also authored 3 books. I own all of them and find them very helpful! You can find her books on Amazon (affiliate link) here: Jules' books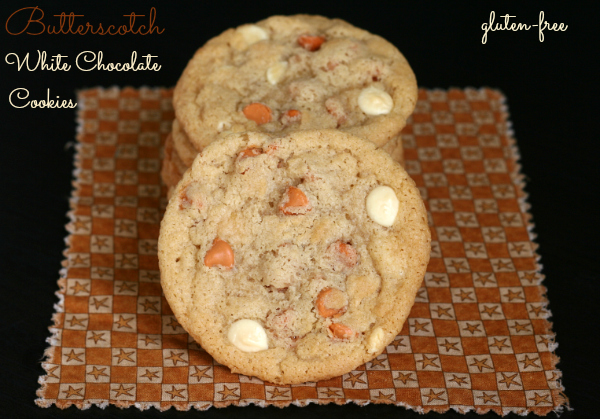 Now on to the new gluten-free butterscotch cookie recipe! You all know I love my sweets, and I love white chocolate in them! I decided to try combining white chocolate with butterscotch chips, which my family loves too, and add them to a buttery cookie.
These gluten-free butterscotch cookies have a crispy edge and chewy center and are so so delicious! I froze half of them and pulled them out later to enjoy and they were just as good after being frozen too! While I made these with butter, I believe you could definitely substitute your favorite non-dairy substitute, even coconut oil (measured solid) should work, but I haven't tried that yet.
Make sure you triple check your packages of butterscotch chips as some brands contain gluten (usually in the form of barley). Nestle butterscotch chips were not gluten-free, but they recently reformulated them. Double check the bags because the old bags are still in circulation – if barley is listed, avoid!
I always use Guittard butterscotch chips as they are made in a dedicated gluten-free facility.
Gluten-free Butterscotch White Chocolate Chip Cookies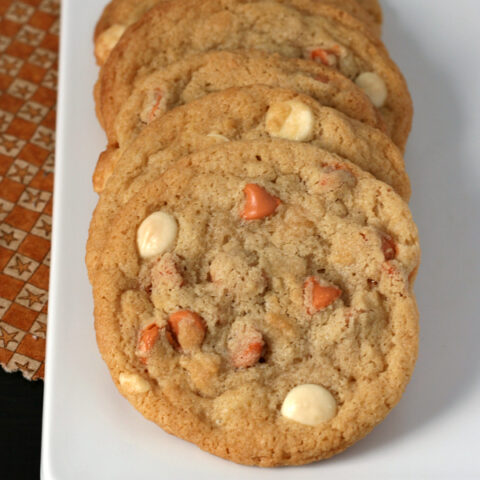 These gluten-free butterscotch cookies have both butterscotch chips and white chocolate chips in them. They're so yummy! They freeze well too if you want to bake a batch of them and then pull out a few to enjoy as an after-school treat!

Prep Time 15 minutes

Cook Time 11 minutes

Additional Time 5 minutes

Total Time 31 minutes
Ingredients
3 cups gfJules all-purpose gluten-free flour
1 tsp. baking soda
1 tsp. baking powder
1 tsp. salt
1 cup sugar
1 cup brown sugar
1 cup butter or non-dairy alternative like Earth Balance
2 eggs
2 tsp. pure vanilla extract
8 oz. butterscotch chips* (verify gluten-free)
4 oz. white chocolate or vanilla chunks or chips
Instructions
Preheat oven to 350°. Line baking sheet with parchment paper or silicone baking liners.
In a medium bowl, whisk gfJules all-purpose flour, baking soda, baking powder and salt. Set aside.
In the bowl of your mixer, cream together sugar, brown sugar and butter (or non-dairy alternative).
Add eggs and vanilla and beat until fluffy.
With the mixer on low, slowly add dry ingredients until just mixed.
With a spatula, stir in butterscotch chips and white chocolate chips/chunks.
Use a medium cookie scoop to scoop balls of dough onto parchment or silicon lined baking sheets. My dough balls weighed 1 1/8 oz. each. and I had 12 per cookie sheet.
Bake at 350° for 10-11 minutes. Leave cookies on pan for 3-5 minutes, then move to cooling rack.
If your cookies spread too much during baking, try the following:
Chill dough for an hour before baking.
Make sure to let your pan cool well between batches.
Consider adding an additional 1/4 tsp xanthan gum to the recipe.
Notes
*I recommend Guittard brand for the butterscotch chips and white chips as they are made in a dedicated gluten-free factory. A chopped up Baker's white chocolate bar would work as well and tastes great!
*Avoid older versions of Nestle butterscotch chips as they contain gluten.
If you aren't using gfJules flour, or another flour that already has xanthan gum in it, you'll need to add 1 tsp xanthan gum to the recipe.
Recommended Products
As an Amazon Associate and member of other affiliate programs, I earn from qualifying purchases.


This is not a sponsored post. I just adore Jules and wanted to write more about her and her awesome gluten-free flour.
As an affiliate of gfJules, I receive a small commission when you purchase gfJules flour or cookbooks after following my links.