Foster Farms has sponsored today's post to share about their new Gluten-free Corn Dogs– available now at a store near you!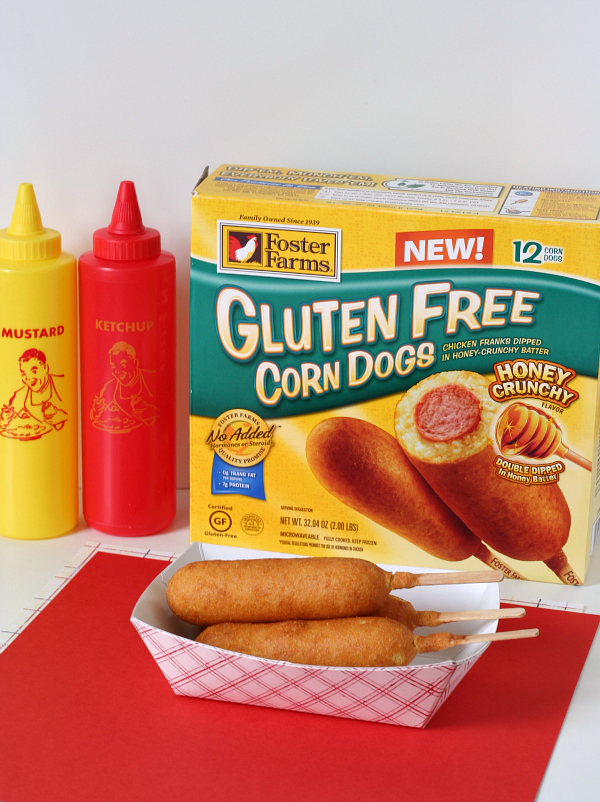 Sometimes I feel bad that my kids miss out on some of the traditional "kid foods" that are fun to enjoy once in a while since we don't allow gluten in our kitchen. One of those meals that my kids have NEVER had in our home is corn dogs. That changed this week! Foster Farms just came out with gluten-free corn dogs that you can enjoy at home. I baked these up this week as part of a "Carnival Food Night" for the whole family to enjoy. We enjoyed oven baked fries and caramel apples alongside our corn dogs!
The verdict: Thumbs up all around! My boys and hubby had a regular corn dog at the fair this summer, so they had something more recent to compare this with, yet they all thought these were really good! My boys were already asking me to go buy these once our free box ran out! I haven't eaten a corn dog in years, and thought the breading was really good. I thought the honey flavor was just right. I honestly couldn't think of how they could improve the breading. I'm hoping that they'll come out with a nitrate-free version of the chicken hot dogs next.
I love that Foster Farms went about this the right way, in pursuing gluten-free certification from the Gluten Intolerance Group for these, versus just doing their own testing and calling them "gluten-free". I always prefer to buy a product that I see this certified gluten-free symbol on. They are actually testing to make sure that the final product tests at less than 10ppm of gluten per serving.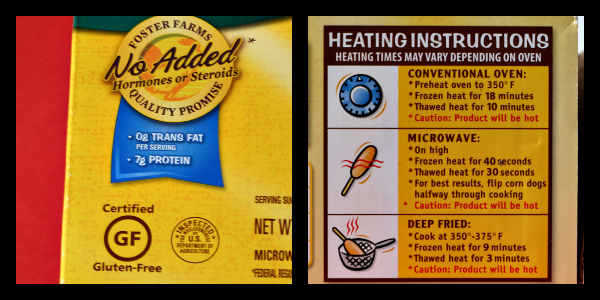 I also appreciate the easy cooking options. This is definitely a product I can keep in the freezer for hubby to pull out on one of his nights to "cook". Trust me, this is right up his alley! We did prefer the ones we baked over the ones we microwaved, but you'd probably expect that. The breading cracked when we microwaved them, but they still tasted great. The ones we baked stayed just perfect, as seen in the photo below! Definitely recommend baking them.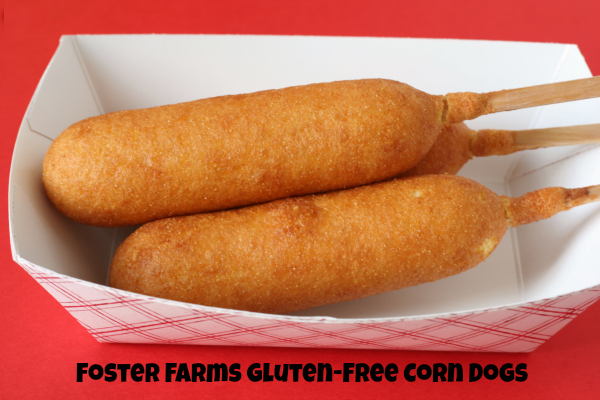 Find these Foster Farms gluten-free corn dogs at your local Safeway, Kroger, Raley's, Lucky, Albertsons, Giant Eagle, Woodman's, Copps/Roundy's, Schnucks, Food Lion, HyVee and Marsh stores. You can also call Foster Farms at 800-255-7227 for help finding a retailer in your area.
Foster Farms is giving away a voucher for a free box of the gluten-free corn dogs to 5 of my readers. Just enter below for your chance to win one!
a Rafflecopter giveaway

Open to U.S. residents 18 and older. Winners will be notified within 48 hours of giveaway ending and will have 48 hours to reply with their mailing address. Good luck! I was provided compensation for sharing about Foster Farms new gluten-free corn dogs. I only work with companies and share products I personally love, so you can trust that all opinions here are my own. See my disclosure policy here.