I already told you how great the Celiac Disease Foundation's National Conference was, now I get to tell you about the awesome Expo! The Expo started immediately after the conference on Saturday and continued on Sunday as well. There were so many gluten-free companies represented as well as great speakers. Some highlights: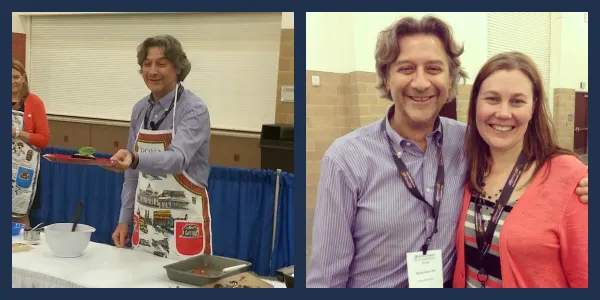 Dr. Fasano gave a very entertaining demo on cooking Eggplant Parmesan. He didn't have a stove or oven, so he was totally winging it and did a great job. The crowd was laughing throughout his demo. I am looking forward to trying out his tips and making Eggplant Parmesan myself! (If I can get his recipe, I'll share it!) I was thrilled to get a photo with him later too!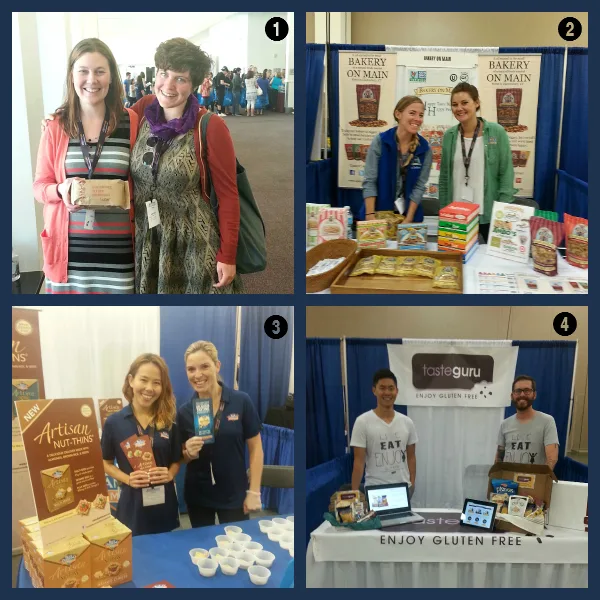 I follow so many wonderful people and companies on Instagram and Twitter and finally got to meet some of my favorites in person at CDF! Here are a few:
Sadie from Bread Srsly. Can you tell I was a little excited that Sadie gave me a loaf of her infamous sourdough bread?!! Being a former California girl, I totally miss good San Francisco sourdough bread. I've tried several gluten-free varieties but have always been disappointed. This sourdough from Bread Srsly is the real deal – just gluten-free! I will be ordering more!
I finally got to meet the gals behind Bakery on Main! Whitney & Carling always had a big smile and were generous with samples!
I'll admit that I went by the Blue Diamond Nut Thins booth a few times! I've always loved these crackers – especially the Sea Salt ones. These sweet gals were kind enough to give me a box to take with me to the airport on my way out from the conference when I told them I wouldn't have time for dinner! With the plane delays we had, I was so glad to have these to munch on.
I've heard that the guys from Taste Guru were very cool, but hadn't met them before last weekend. Andrew & Matt were super cool and they even let me borrow one of their products to use in my talk. Thanks guys! Definitely check out their subscription boxes full of new gluten-free items each month!
The gals from Sea Salt Candy Company are responsible for my newest craving! I LOVED the toffee samples at their booth, especially the white chocolate coated macadamia nut toffee! Gretchen and Mandi hooked me up with some chocolate covered caramels for the trip home and boy were they amazing! I'll be working with them this fall on a giveaway and deal. In the meantime, I definitely recommend you order some if you have a sweet tooth like me or have some gifts to buy.
I've followed Gluten free Prairie on Facebook for a long time. They've had quite the roller coaster of a year with the opening of their storefront location in small town Montana to the tragic flooding of it this winter. I was thrilled to get to meet Deb & Rick, the owners, at the Expo and let them know I'd been following their journey. As a former Montanan, I love supporting them, plus they have great products! This is another company I'll be working with this year so stay tuned.
Brittany & Meg from Two Moms in the Raw were very fun! I had the pleasure of sitting next to them and visiting during the CDF dinner Saturday night. These two are not only fun, they are passionate about the company they work for!
Out of all the speakers I heard this weekend, I found the story of how Lucy started her namesake company to be the most inspirational. It was so interesting and motivating to listen to her story of her motivation to make cookies safe for her son's allergies and other kids with food allergies so they wouldn't be left out.
I tried so many new products at the Expo and honestly there were many I didn't even get to because I was just SO FULL! Here are some of my favorite finds that I wanted to share with you: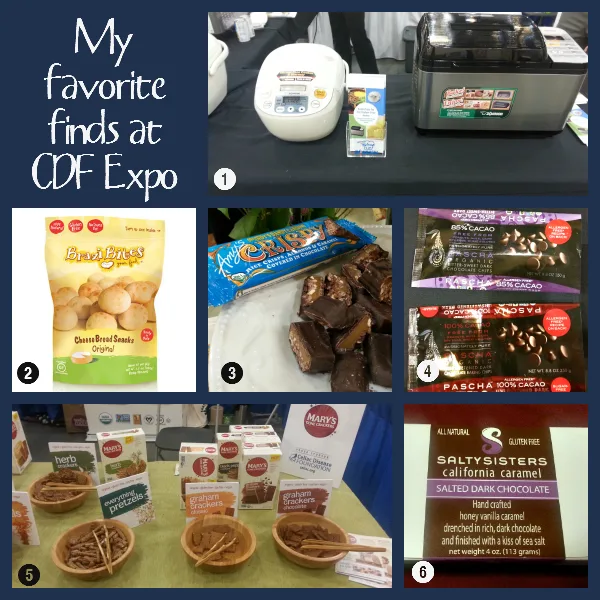 Zojirushi had a booth where they definitely had me drooling over their awesome bread machine. You know I love using my bread machine to make my gluten-free sandwich bread recipe each week, and while my machine works just great, I sure did like the Zojirushi Virtuoso Breadmaker with its dual mixing blades and more options for programming. This is going on my "someday" wish list! I was impressed with the Zojirushi Micom Rice Cookers too and thought it would be great to program one to cook my rice while a meal is in the crock-pot someday.
I think I'm the last person to get to try Brazi Bites but boy am I glad I finally did. I've had other brands before and thought they were just "meh" but I really liked these. Their booth was right next to our "bloggers booth" and I got to smell these all day. I'm definitely going to be purchasing these for our family to have with dinner!
Amy's came out with some gluten-free candy bars that taste great! I really liked this crispy one with rice crisps, caramel and almonds.
I liked the intense, rich flavor of the Pascha organic chocolate that I tried and am excited that they now carry chocolate chips for baking. I'm looking forward to trying them out! I love that these are made in a facility that is free from peanuts, nuts, dairy, soy, eggs, wheat, shellfish and fish.
Mary's Gone Crackers was sampling a variety of new and coming soon products. The "Everything pretzels" will be available July 1st, while their graham crackers will be for sale next spring. I would love to play with those graham crackers for some pie crusts!
I already mentioned Sea Salt Candy Company, but had to show you these Salted Dark Chocolate Caramels. Really, get some of these! You won't regret it!
Finally, I just have to mention the speakers and bloggers at the event. It was so much fun to be a part of the team of official bloggers for Celiac Disease Foundation. I already knew Charissa (Zest Bakery), Amy (The Warm Kitchen), and Erica (Celiac and the Beast), so it was great to see them all again. It was great to meet Alison (A Girl Defloured), April (Gluten is my Bitch), Kirsten (Gluten free Gal), and Bailey (Gluten-free Best Friends). It was just so much fun to meet all of them. When you blog as your "job" you don't get the day to day adult interaction that you get in most other jobs. It was fun to have a whole weekend of conversation and to support each other. I felt like I made friendships that I'll have for many years.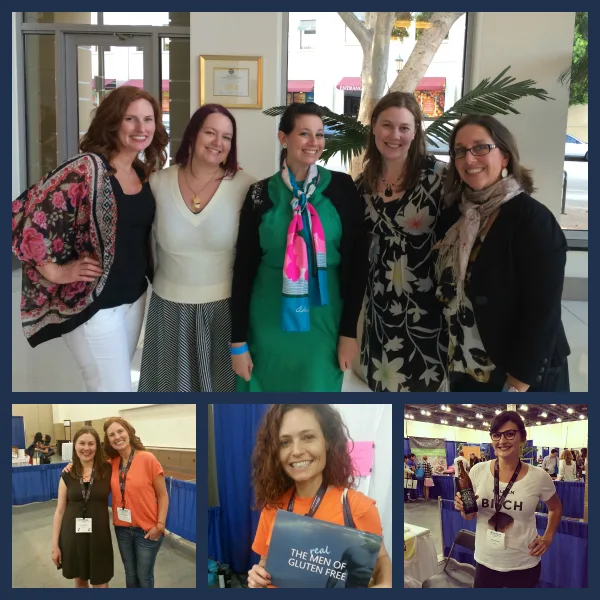 Several of us also spoke throughout the day at the CDF Expo. Erica of Celiac and the Beast shared "Common Mistakes Celiacs Make". Charissa from Zest Bakery shared her story of starting her own gluten-free bakery along with lots of helpful tips. Alison from A Girl Defloured shared tips and her favorite pizza crust recipe.
I shared some tips on "Converting your family-favorite recipes to gluten-free". The other bloggers knew I was feeling way out of my element in getting up to speak in front of a crowd (I'm much more comfortable in the kitchen baking or at my computer blogging!) and they all came over to support me during my talk. As I looked out at them smiling at me from the audience or on the sidelines taking pics of me and giving me a thumbs up, I was touched and encouraged by the support. I just really felt such a sense of community with these gals. Thanks, girls!
I received a free press pass to the conference but wasn't compensated for this post.