I was blessed to be one of the official bloggers for the Celiac Disease Foundation (CDF) National Conference and Expo this past weekend. This is an annual event that I've wanted to attend ever since my diagnosis in 2010, but the first year it worked out for me to actually go. I am so glad that I finally got to go. I learned so much at the conference and had a lot of fun meeting people at the expo. I wouldn't be a food blogger if I didn't include that fabulous chocolate dessert in my pictures, would I?! (Seriously, I wanted seconds on dessert!)
The conference line-up on Saturday was excellent. Let me share some highlights from some of my favorite speakers at the conference:
Dr. Alessio Fasano was the first speaker. I've long admired and respected Dr. Fasano, but this was my first time seeing him in person. Not only is he a world-renowned expert in celiac disease, he is hilarious! He had us all laughing many times. In describing his new book, Gluten Freedom
, he said, "A few people that read my book said it's like a romance, they can't put it down!"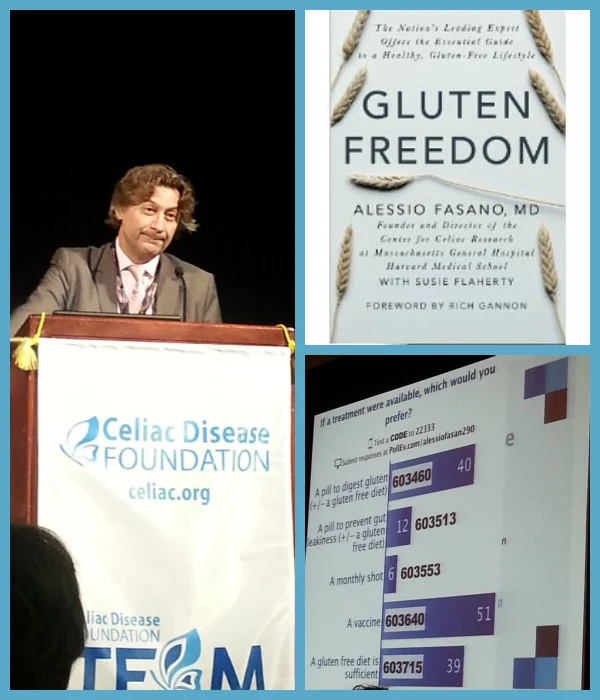 Some takeaways from his talk:
The vast majority of people with celiac disease are undiagnosed.
We are not born celiacs.
During the past 35 years, the true prevalence of celiac disease in the USA has doubled every 15 years.
The gluten-free diet for celiacs is like insulin for diabetics.
His live polls were very interesting as well! It was very interesting to see what type of treatment most people would prefer.
Emily Walsh from LabCorp was another speaker at the conference. I had the pleasure of sitting by her at dinner later that day as well and just appreciated how knowledgeable and friendly she was. Emily spoke about celiac genetic testing, something I've had done on my children to determine their risk for developing celiac disease. Unfortunately, I didn't snap any pics of Emily or her slides! I was intently taking notes instead!
Some facts from LabCorp:
Fewer than 20% of patients with celiac disease have been formally diagnosed. (This goes along exactly with Fasano's 1st point.)
The average time between onset of symptoms and celiac diagnosis is 11 years.
What can you do for celiac testing if you are already on a gluten-free diet? 1) a gluten challenge then antibody testing, or 2) celiac genetic testing.
Pamela Cureton, a clinical and research dietitian from Boston's Center for Celiac Research spoke on how to "Be prepared for any nutrition challenge that comes your gluten-free way".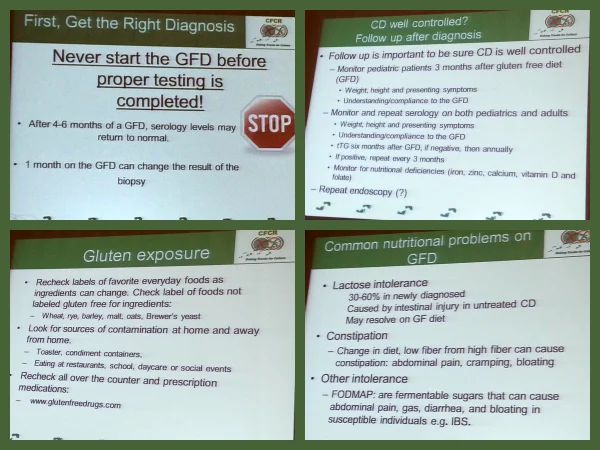 Some notable points from Pam Cureton, RD:
Never start the gluten-free diet before proper testing is completed! Even just one month on the gluten-free diet can change the result of the biopsy.
If you are gluten-free and still not feeling better, make sure to follow up with your gastroenterologist after your celiac diagnosis for appropriate follow-up testing.
Recheck labels of your favorite everyday foods as ingredients can change.
Recheck all over the counter and prescription medications. She recommends the same website that I do.
30-60% of newly diagnosed celiacs also have lactose intolerance, which may resolve after being on the gluten-free diet.
That's a wrap on the CDF Conference. I definitely recommend that you try to attend next year! I'm planning to!
Check back in the next couple of days for Part 2: The Expo!
I received a free press pass to the conference but wasn't compensated for this post.