For a healthy breakfast on the go, make this dairy-free orange creamsicle smoothie! This orange smoothie is easy to make, with only 5 ingredients! No frozen orange juice involved, only fresh orange! Thanks to Albertsons for sponsoring this recipe as part of their focus on healthy eating in the new year!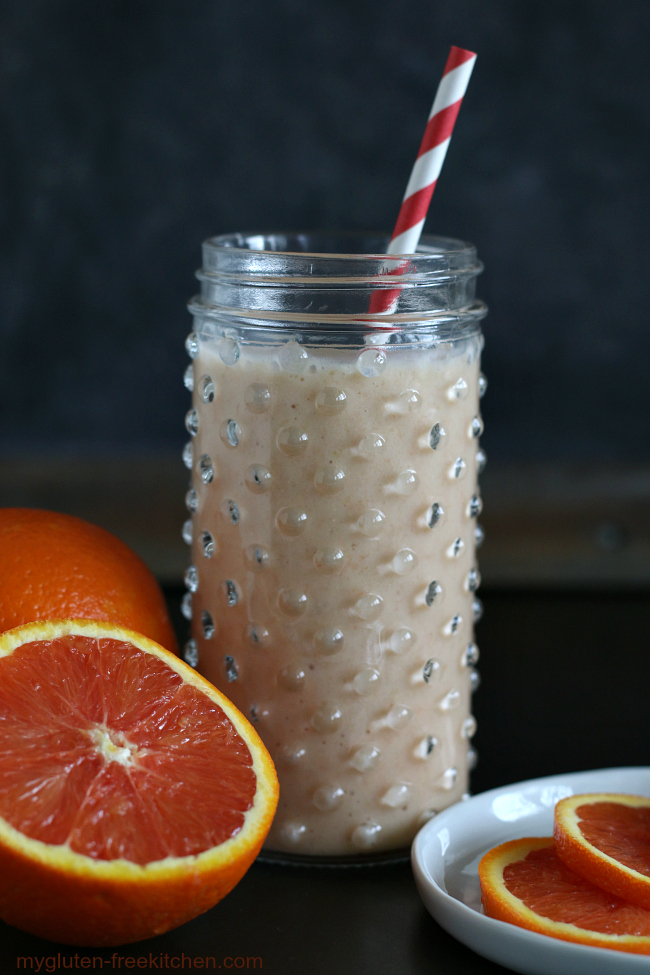 I'm sure you've heard by now that if you're trying to eat healthier, you should focus on shopping the perimeter of the store. It's a good practice for general healthy eating, but also for those on a gluten-free diet, as that's where the naturally gluten-free food is!
I love shopping the perimeter at my Albertsons on Broadway store because it's huge! The produce section is the largest of any store around here, and always draws me over. Even though it's the middle of winter, the store was full of in-season produce like citrus fruits, pears, and leafy greens.
For my January recipe, I wanted to not only focus on something on the healthier but also incorporate produce that's in season. Non only does in-season produce taste great, it's typically on sale, which sure helps the pocketbook for us gluten-free and dairy-free folks that are spending more on other ingredients!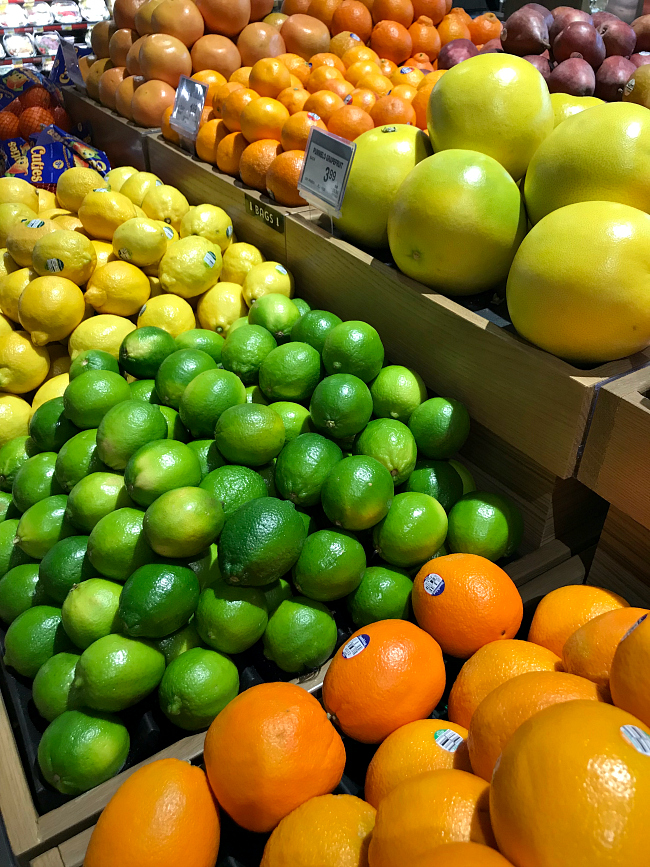 When I saw all these citrus varieties on display at my store, I knew I had to make something with them! I ended up buying multiple varieties of oranges for my family to eat, including the sweet Cara Cara oranges that I used in this recipe. I bought my favorite citrus fruit, Minneola Tangelos to have as a snack, and I also bought Blood Oranges for us to try for the first time!
A single orange can meet your daily recommendation for Vitamin C, so that's what I included in this smoothie! They also have are high in potassium, fiber, and folate. I chose a fresh orange over orange juice to get the maximum benefit of an orange's nutrition without a lot of extra sugar.
I decided an Orange Creamsicle Smoothie sounded good so I bought the fresh oranges, then headed to the dairy department and selected a variety of dairy-free ingredients for it. Of course, if you prefer dairy, you could use the dairy equivalents of these ingredients. But a growing number of us have to avoid it or choose to avoid it, so it's great that there's these other options.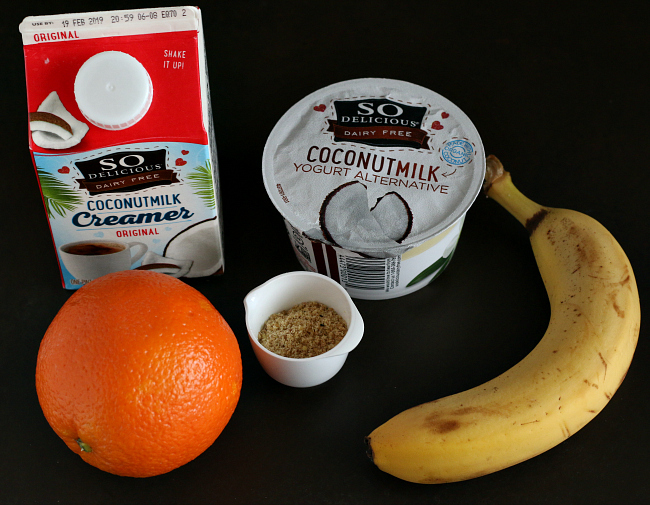 Notes on ingredients and substitutions for this Dairy-free Orange Creamsicle Smoothie:
Yogurt: There are many good dairy-free yogurt alternatives available! I've used So Delicious, Silk, and Good Karma and my Albertsons store had all three. The dairy-free yogurt alternatives are usually 5-6 ounce containers, thus the range I listed in the recipe. Don't worry whether yours is 5 or yours is 6. It'll be fine! I went with the So Delicious Coconutmilk Vanilla yogurt this time. I liked the hint of vanilla and sweetness it lent. I didn't feel like it made this taste coconut-like.
Orange: This time I used Cara Cara Oranges, but any orange variety should work just fine! Just be sure to peel it, remove the seeds, and remove the center white pith.
Banana: Many people prefer to use a frozen banana in their smoothies. I think it's a great idea, but I never remember to freeze any! If you have one, go ahead and use it in this! Otherwise, just use a fresh, ripe banana.
Non-dairy creamer: There were multiple brands that offer non-dairy creamers. I chose So Delicious original creamer. It really lent that creaminess to this smoothie that I was looking for!
Flaxseed: This is optional but bumps up the nutrition and it helps to thicken the smoothie a bit. You can leave it out though if you prefer! I personally can't tell it's in there, so it's a great way to get the added benefits!
According to the Mayo Clinic, flaxseed is commonly used to improve digestive health or relieve constipation. Flaxseed may also help lower total blood cholesterol and low-density lipoprotein (LDL, or "bad") cholesterol levels, which may help reduce the risk of heart disease.
It's definitely worth considering adding a bit of flaxseed here and there into your diet, and slipping some in a smoothie is a great way to do it!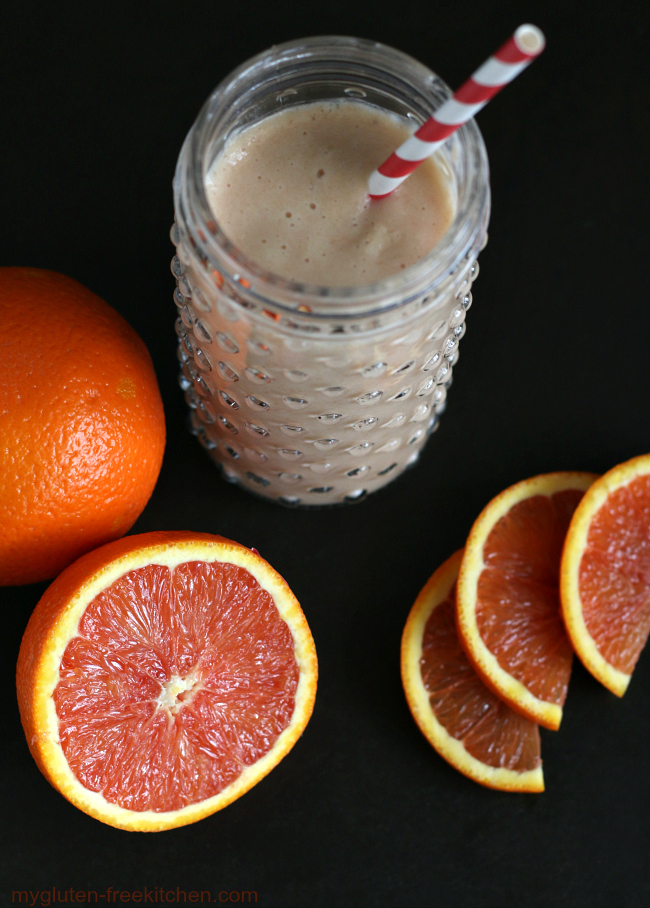 If you wanted to, you can definitely add in a handful of fresh spinach in your smoothie. I sometimes do that too! You could also add a scoop of your favorite protein powder. I use spinach and protein powder in my raspberry peach smoothie recipe.
I hope you enjoy this smoothie too! I thought it made a great meal replacement. While I had it for lunch, I think most would love making this for a breakfast to go!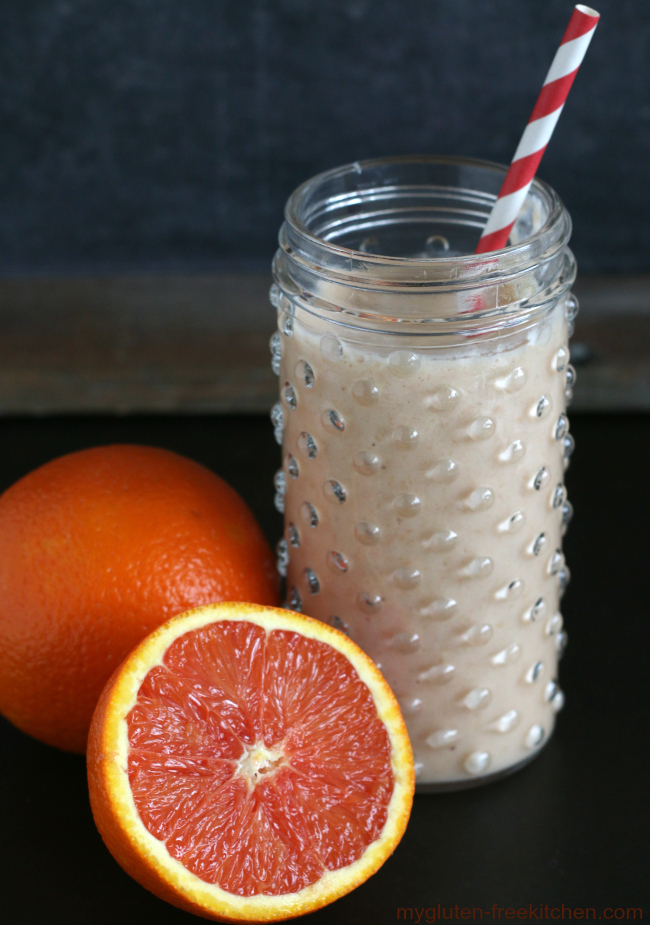 Dairy-free Orange Creamsicle Smoothie Recipe:
Yield: 1 large smoothie
Dairy-free Orange Creamsicle Smoothie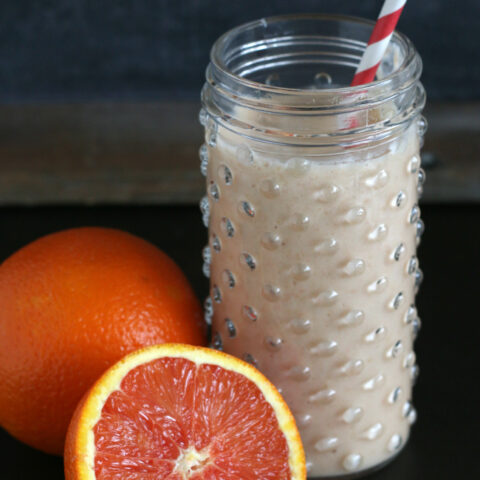 Dairy-free Orange Creamsicle Smoothie makes a delicious and healthy breakfast on the go!

Prep Time 4 minutes

Total Time 4 minutes
Ingredients
5-6 ounces of vanilla flavored non-dairy yogurt alternative
1 large orange
1 banana
1/4 cup liquid non-dairy creamer (plain or vanilla)
2 tsp. ground flaxseed
1-4 ice cubes, if desired
Instructions
Add non-dairy yogurt alternative to blender. Containers of non-dairy yogurt typically range from 5-6 ounces, thus the range listed. Use your preferred kind!
Peel the orange, remove seeds and center pith. Add orange to blender.
Peel the banana and add to blender.
Add 1/4 cup liquid non-dairy creamer.
Add 2 teaspoons flaxseed.
Place lid on blender and blend about 1 minute, or until well blended. If you'd like it colder, add 1-4 ice cubes, place lid on again and blend about 30 more seconds.
Serve! This makes one large smoothie - perfect for breakfast to go!
Recommended Products
As an Amazon Associate and member of other affiliate programs, I earn from qualifying purchases.

Pin this to your Beverages board on Pinterest: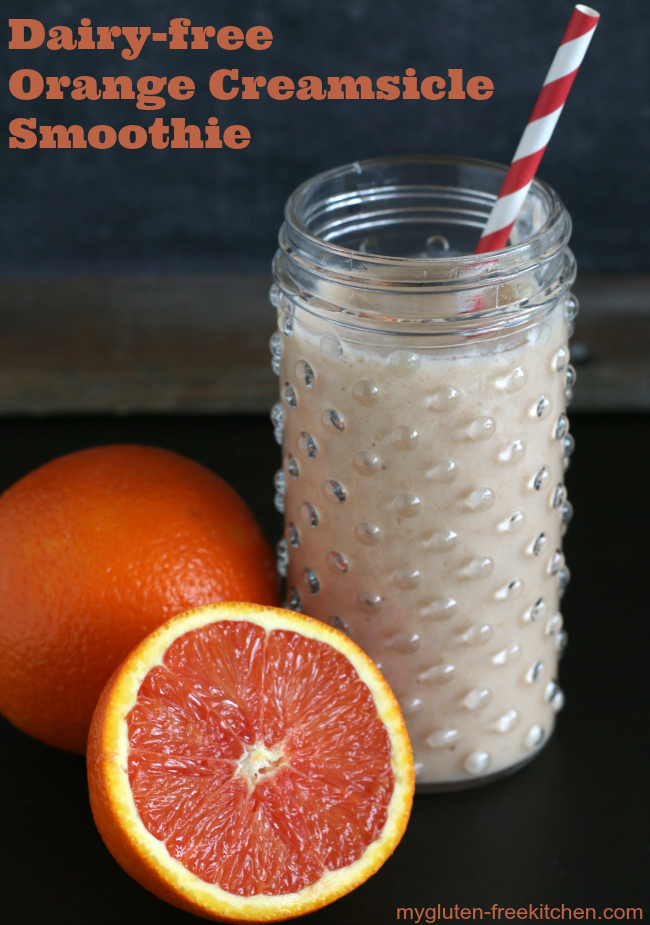 Thanks again to Albertsons for sponsoring this post! As always, all opinions are my own. Collaborating with brands I love allows me to keep bringing you new and varied recipes! Thanks for your support!