Everyone loved the gluten-free desserts I shared this year, and they make up the majority of this year's top ten best gluten-free recipes of 2018! I'm always happy to share the best sweet treats for your gluten-free family!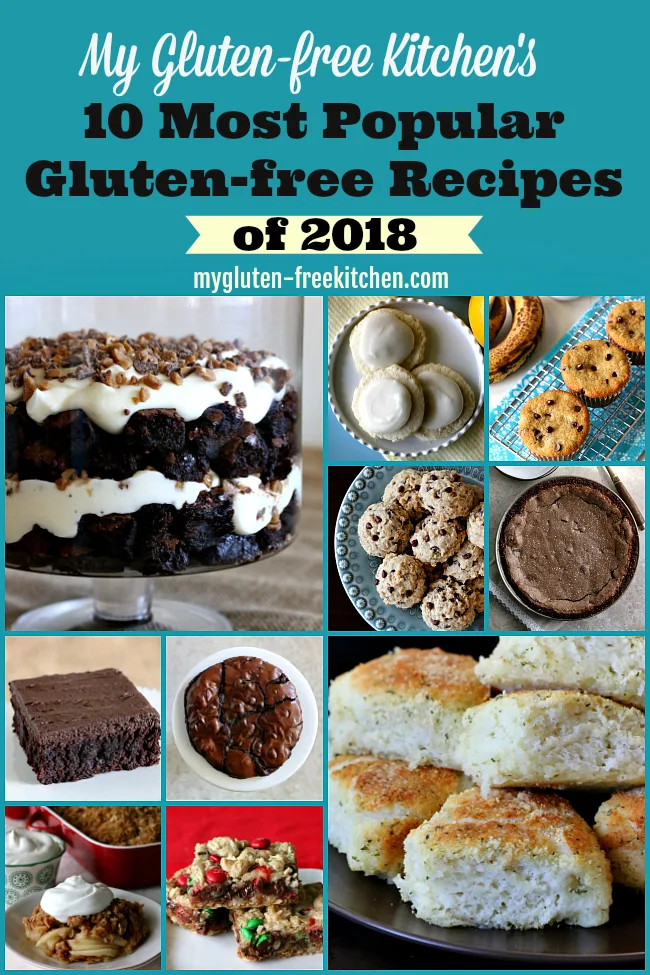 While the top 10 most popular gluten-free recipes of 2017 included a real mix of sweet and savory, with many easy family dinners in the mix, this year everyone loved the desserts the most! Of course, that's a bit due to me sharing a lot more desserts than meals this year. I'll try to have more balance in 2019, and actually already have several new family dinner recipes ready to share in these next few months!
I've been sharing recipes here on My Gluten-free Kitchen for 6 full years now! Last year, 1.4 million individuals visited my site to find gluten-free family-friendly recipes. I'm so thankful for each one of you!
Thank you all for another delicious year of trying my recipes. I so appreciate the feedback you all give me – whether it be rating and commenting on recipes here on my blog, commenting on Facebook, or tagging me in pics of your finished baked goods on Instagram.
It's an honor to share my family recipes with your gluten-free family. Here's to another delicious year together!
If you want to see them, here's where you can find the top gluten-free recipes of 2019, top gluten-free recipes of 2016, top gluten-free recipes of 2015, top gluten-free recipes of 2014, and top gluten-free recipes of 2013!
While you can always see the current top 5 popular posts on my blog by looking off to the right side of my blog (or scrolling to bottom on mobile), those 5 mostly stay the same, and are made up of all-time most popular recipes – most several years old. For this yearly post, I just look at the recipes I published in the previous year. So looking at all the new recipes from 2018, here are the top 10 that you, my awesome readers, visited the most: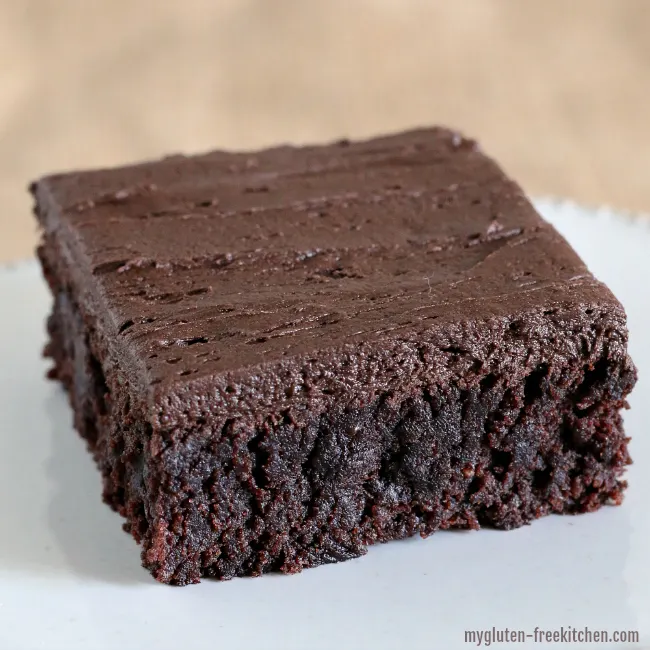 10. Sneaking in at the number 10 spot is these AMAZING gluten-free chocolate frosted brownies. I worked so hard to get these just right. Lots of testing brownies to come up with these! These are simple enough for weekday baking, and you can jazz them up a bit with sprinkles. Great bake-sale treat!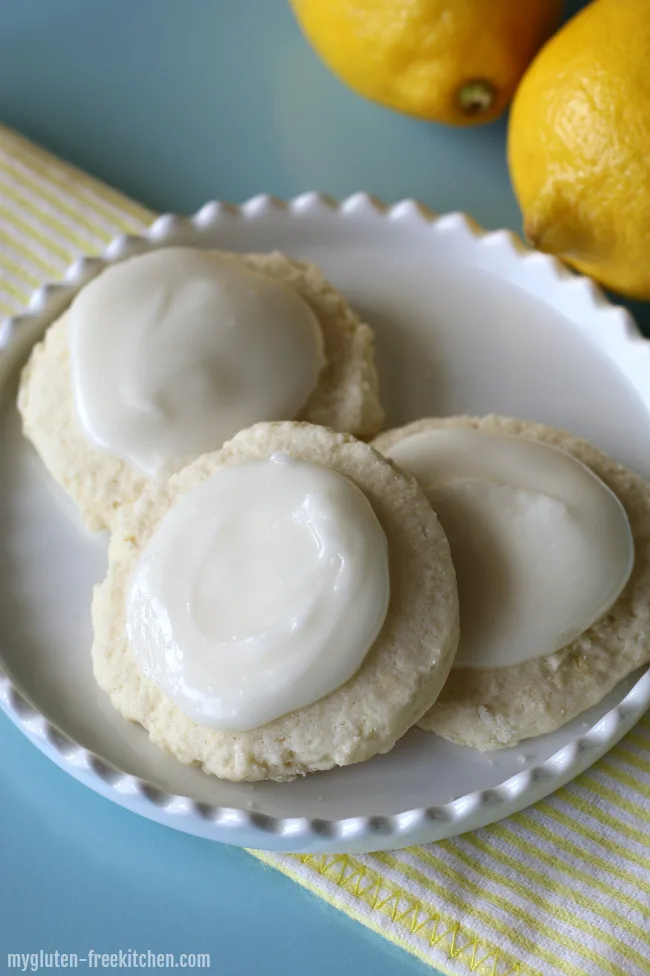 9. If chocolate isn't your favorite, then do you love lemon desserts instead? If so, these gluten-free iced lemon cookies should be on your must-try list. They're light, delicate cookies with a flavorful lemon icing. They were such a hit served alongside coffee and tea to a group of ladies that were gluten-free and dairy-free.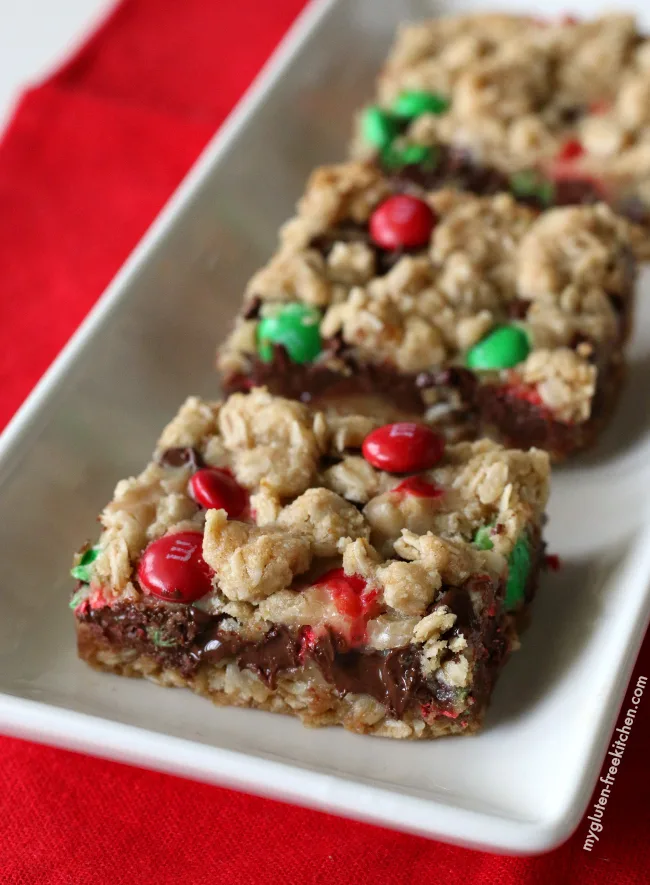 8. I posted these Gluten-free Christmas Bars just before Christmas of 2017, but they really took off in 2018 and snagged the 8th most popular spot this year. If you like peanut butter, chocolate, M & Ms, and oats, you'll love these!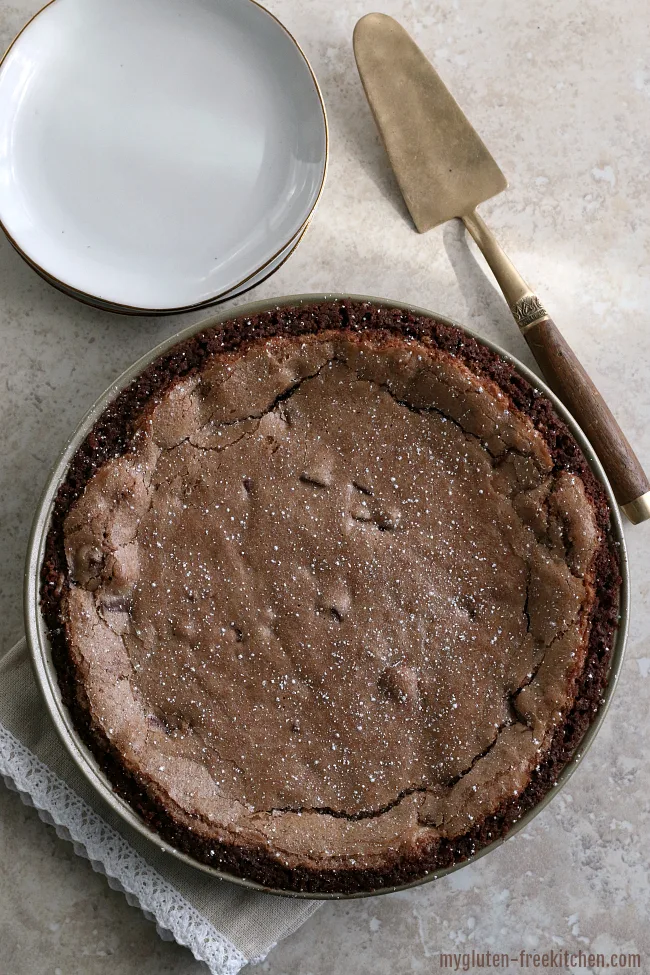 7. Gluten-free Fudge Pie was one of the final recipes I shared in 2018 and it was an instant hit! It's pretty and oh so chocolatey! This gluten-free fudge pie is perfect for any special occasions or to top off holiday meals. Any chocoholics in your life will be fighting for slices of this one!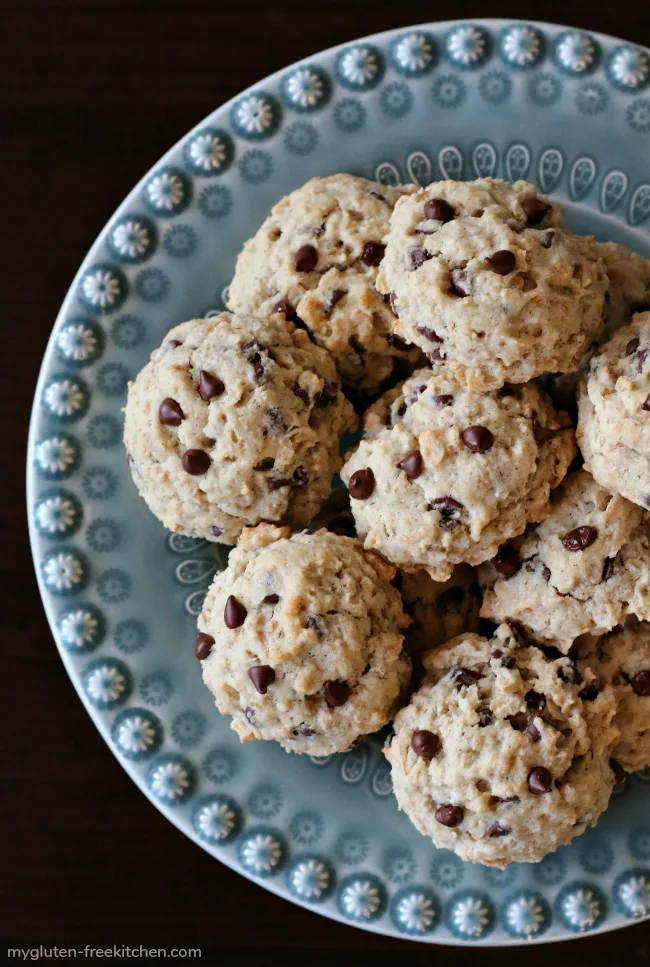 6. Gluten-free Banana Oatmeal Chocolate Chip Cookies were an adaptation of a recipe I found on a recipe card from my grandma. I share the story in that blog post. If Grandma was still alive, I think she'd be proud of my business and she'd gladly eat some cookies with me!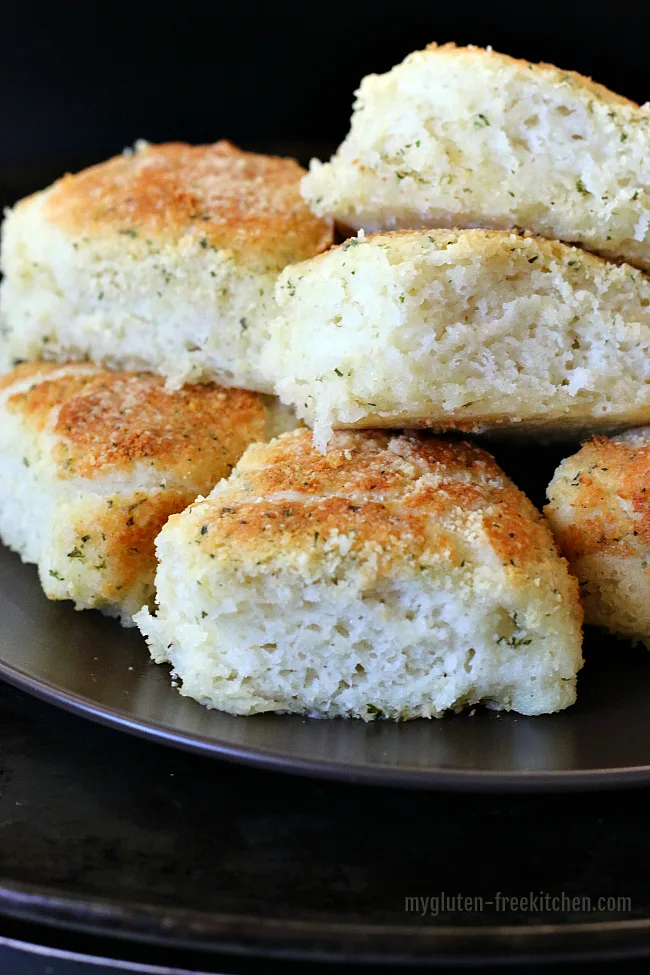 5. Only one savory recipe made it to the top 10 and it was this gluten-free garlic Parmesan rolls recipe. They're sooooo good! I should have shared this one with you all years ago, as my boys have been having me make them for several years now! But I finally did this year and I've loved seeing what a hit they've been with some of your families too!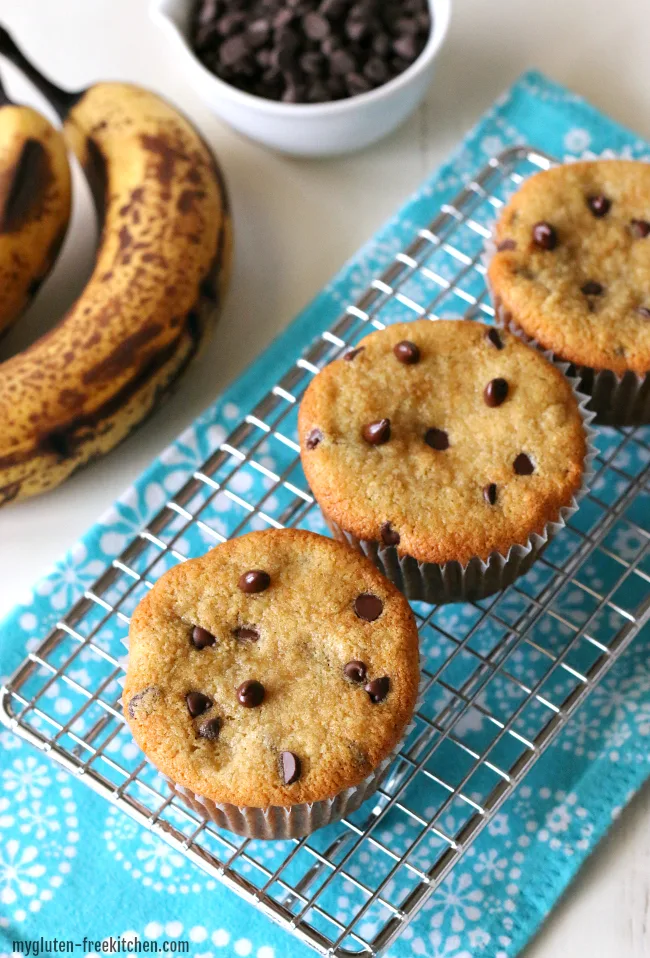 4. Here's another kid favorite! My boys always want me to make these gluten-free banana chocolate chip muffins for them! I freeze most of them so they can pull out two at a time to include in their lunch.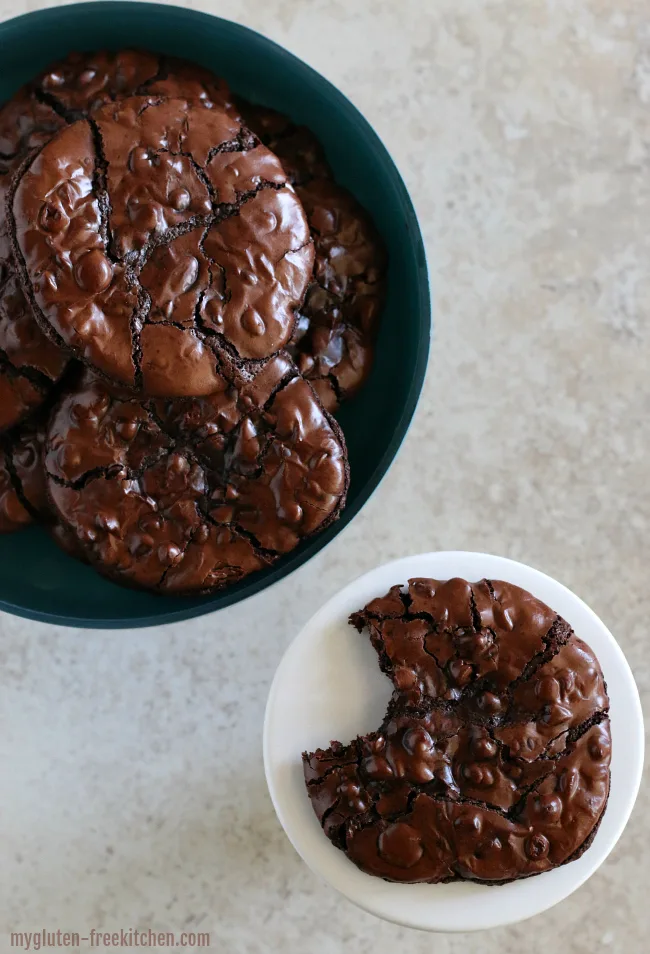 3. Talk about chocolatey, these gluten-free flourless mudslide cookies were an instant chocolate hit at my house and with friends! They're sooo rich and sweet and everything that's right in this world! 🙂 If you have someone that complains things aren't chocolatey enough, make them these! So easy since you don't need any flour either!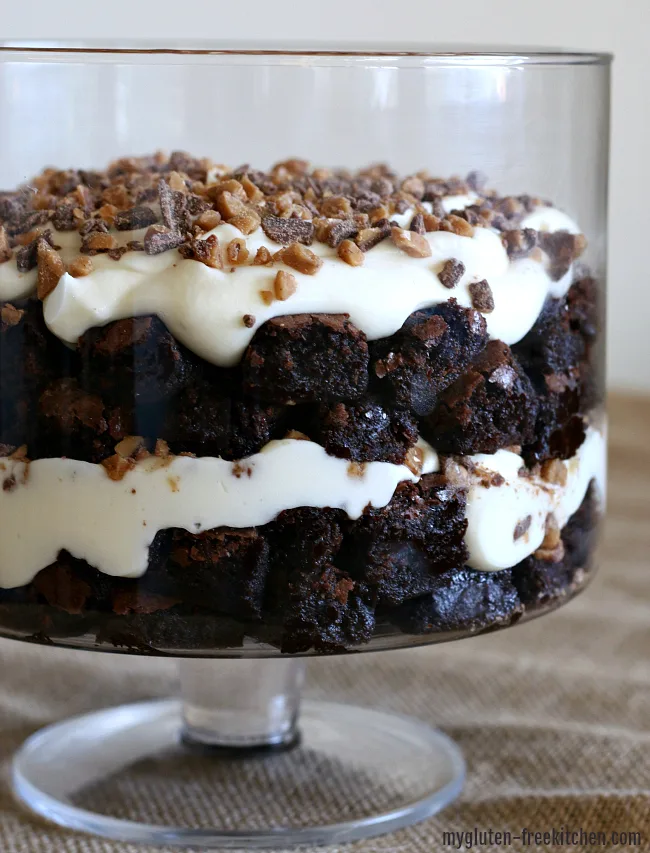 2. This recipe for gluten-free brownie toffee trifle has been around on my site for years, but needed a refresh with new photos and instructions this fall. I make it with homemade whipped cream now instead of Cool Whip and it's so good that way! Many of you made this over the holidays and loved it too! It's quite easy, looks pretty, and feeds a group!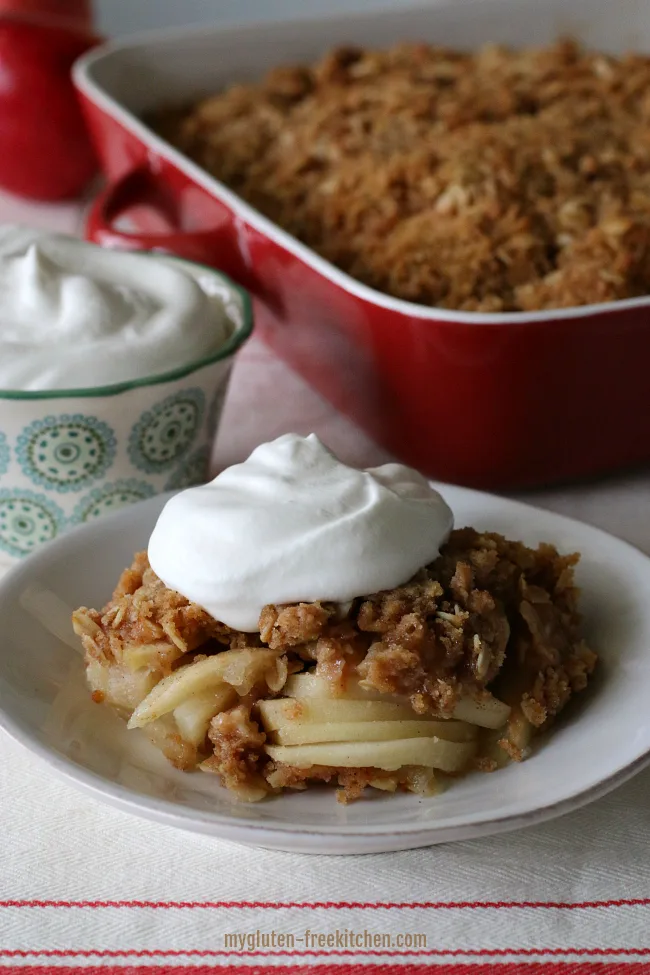 1. Coming in at number 1, the most popular new gluten-free recipe of 2018 was my gluten-free apple crisp recipe. Who doesn't love apple crisp? So many of you do, and this easy recipe was a hit in your houses too and that makes me so happy!
While some of my family's favorites of the year already appeared above, I have to include two more favorites that didn't make it in the top 10 for my site, but sure made it in the top 10 for my family's votes!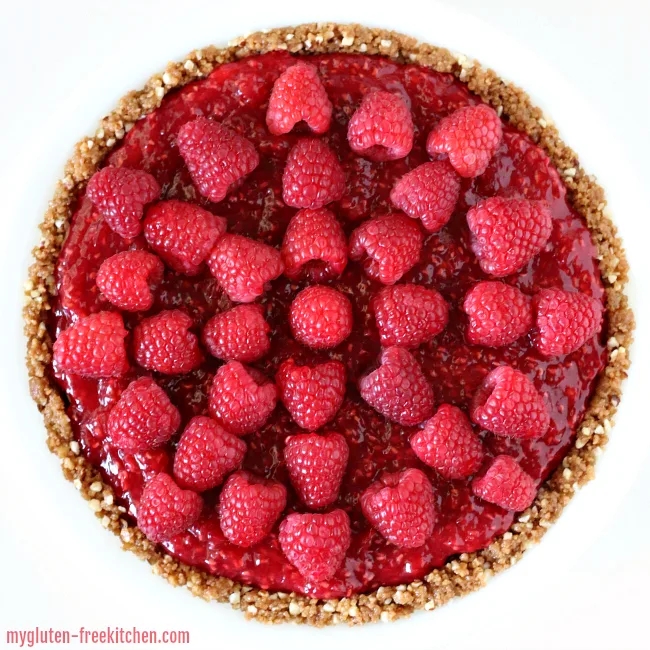 Gluten-free Raspberry Cream Pie was one of the best eye-catching desserts I made in 2018! And beyond that, it was delicious! We loved the creamy filling hiding underneath the raspberry topping, all in the perfect crust. I know I'll be making this again every summer!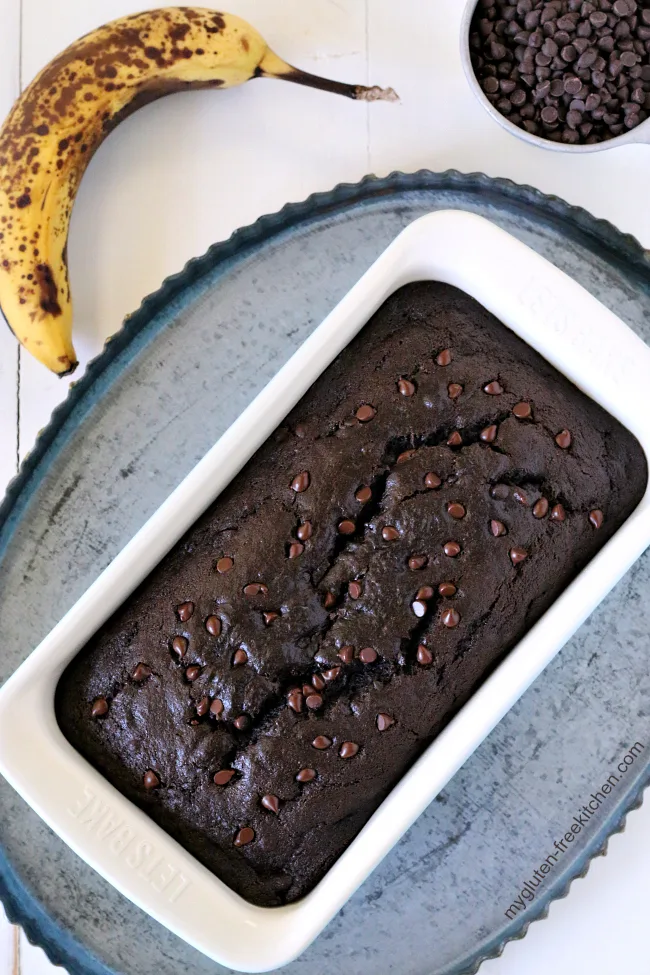 And finally, this gluten-free chocolate banana bread now competes with my banana muffins for what to make with those overripe bananas! Try it!
Thanks again for a very sweet 2018!!