Occasionally, I will share a favorite item from my gluten-free kitchen: a book, cookbook, gluten-free food or kitchen gadget or a roundup of favorite things from around the web. Hopefully you'll find some new favorites to add to your gluten-free kitchen! While they may contain affiliate links, all Favorites posts reflect my own opinion and are not sponsored by any individual or company.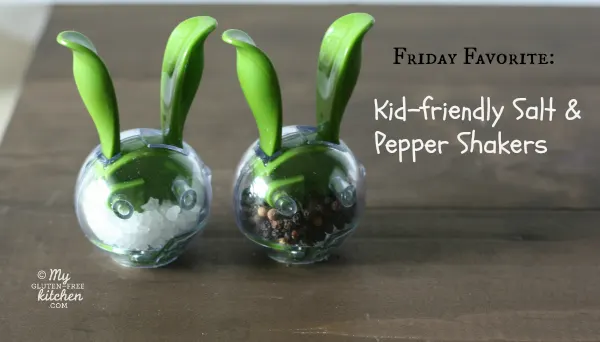 A few years ago, I attended a Taste of Home Cooking School night with a bunch of friends. It was a lot of fun and I picked up a number of little tips and new recipes. One thing that caught my eye was when the instructor was using these salt and pepper shakers. They looked fun, but I'm so frugal, I figured I'd just stick with the ones I have.
Fast forward to this summer, and we were really working at trying to get our boys to be more self-sufficient at the table – getting their own drinks, cutting their own food, adding their own seasonings, etc. We quickly found that when they tried to add their own salt it would go like this: none would come out… none would come out… half the jar poured out! Yikes!
When we were traveling, I stopped in to a Sur la Table store and spotted these on the table. I snatched them up and brought them home. It has been the best purchase! My kids LOVE using these. They just squeeze the "bunny ears" together to get the salt or pepper out. It is so easy for them to dispense an appropriate amount because they can feel how many squeezes they are doing. I love that they can do it themselves without putting their bodies into sodium overload!
These cute salt and pepper shakers are called Chef'n Mini Magnetic PepperBall and Salt Ball .
They are magnetic in case you'd like to put them on your fridge, but I don't see why anyone keeps their salt and pepper on their fridge door. My boys have found that the advantage to them being magnetic is that they can pass them to each other stuck together instead of one at a time.
I checked around online and could only find them in black. They are about $15.00 for the set at each of the stores that carry them. Amazon
has them for $14.95 with free shipping if you have Amazon Prime. I also found them online at Sur la Table and Bed, Bath and Beyond.
If you have kids, splurge and pick up a set of these!