A favorite fall potluck treat, these gluten-free pumpkin bars are cake-like and covered with a delicious cream cheese frosting! Just like gluten-free pumpkin cake, only in an easily hand-held version! One of the best gluten-free pumpkin desserts I've ever had!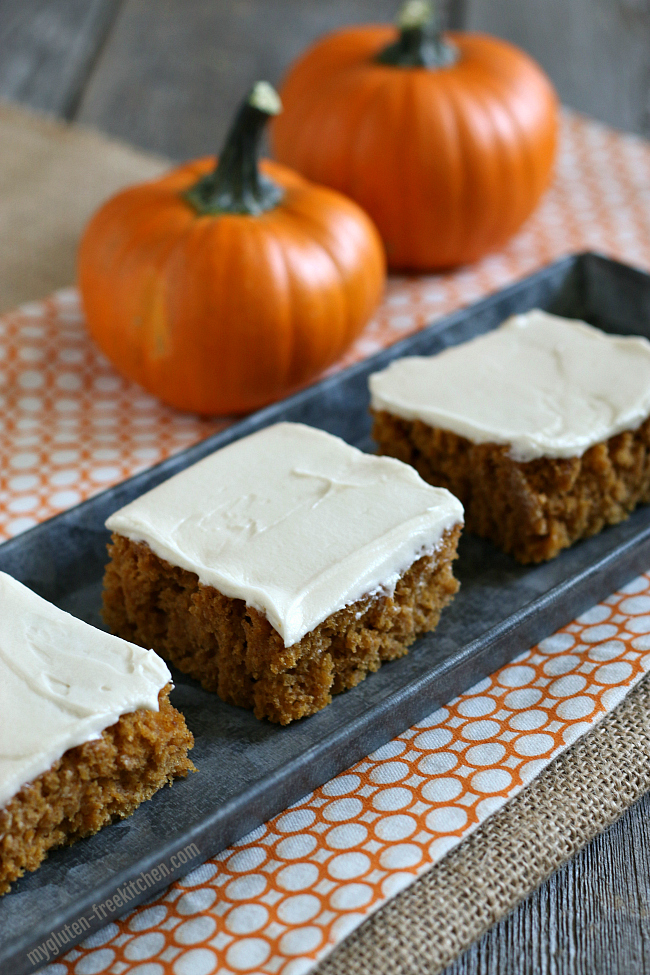 Every October, I pick up a few cans of pumpkin so that I can make these yummy gluten-free pumpkin bars with their delicious cream cheese frosting. These and my gluten-free apple crisp are my two go-to fall recipes that I bring to parties and potlucks!
These spiced, cake-like pumpkin bars taste exactly the same and have the same texture as when I made them with regular flour. No one can tell they are gluten-free bars, which is always my goal in baking gluten-free.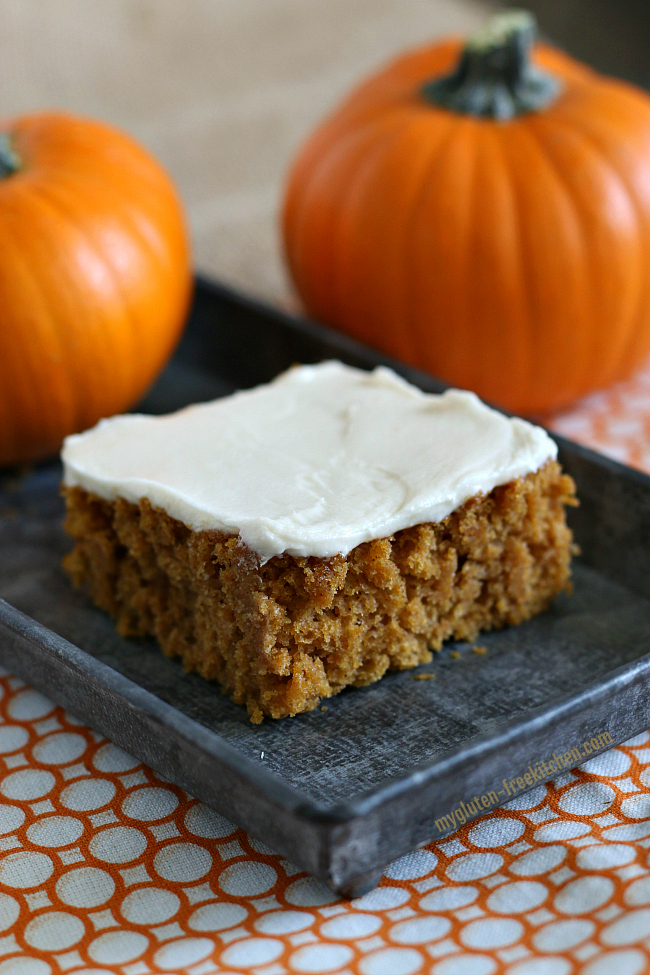 I love that this recipe makes a large pan of treats, and I frequently make them in the fall to take to group gatherings.
I brought these each of the past two weeks to our small group meeting from our church. We have gathered with the same 5 families for several years now, every Sunday night, in a friend's home. It is a wonderful time of fellowship, and always involves yummy food. This group of friends have always been willing to be testers of my latest baking creation. Two of the gals have to eat wheat-free, so they are glad that I'm bringing desserts they can have.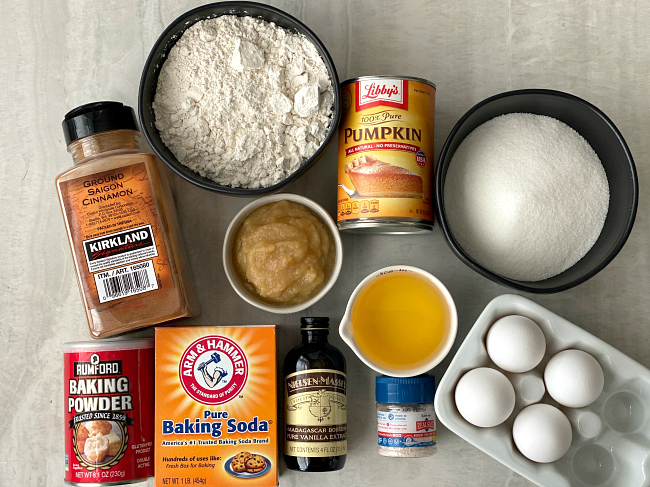 Notes on Ingredients and Substitutions for these gluten-free pumpkin bars:
If you need to eat dairy-free, you could definitely leave off the icing recipe and use your own non-dairy icing. The bars themselves are dairy-free already, if you choose to use oil in them. I have made these with corn oil, vegetable oil, and melted butter, and have really not noticed any difference in how they turn out. So feel free to use your favorite oil, stick butter alternative, or butter.
Applesauce: I use a homemade, unsweetened applesauce or store-bought unsweetened applesauce. I wouldn't recommend chunky applesauce. If you don't have any applesauce on hand, you can replace the amount called for with an equal amount of oil.
Pumpkin: You're using a small 15 ounce, can of pure pumpkin. Not pumpkin pie filling. Not the large cans. As brands vary and pumpkins vary, you'll find that the color of these bars can vary. If I get a particularly orange can of pumpkin, my bars are more orange. When I use Trader Joe's organic canned pumpkin, my bars are much lighter colored. Tastes the same either way though!
As always, I only recommend baking with a good quality all-purpose gluten-free flour blend. All flour blends are not created equal! I recommend avoiding flour blends that contain any bean flours or that are primarily rice flour, as you'll get a more gritty result. This recipe, like pretty much all of my recipes, has been tested with successful results with both gfJules gluten-free flour or Gluten Free Mama's Almond Flour Blend and I recommend either one. Other good flour blends to use for this recipe are Cup4Cup and King Arthur's Measure for Measure gluten-free flour blend.
Xanthan gum – Some gluten-free flour blends contain xanthan or guar gum. If the flour blend you use for this recipe does have xanthan or guar, then omit the xanthan listed in the recipe. If your flour blend doesn't have either, then you need to add xanthan gum. I order this xanthan gum from Amazon and each bag lasts me a year or more, even with as much baking as I do!
You can see in this photo, that the pumpkin bars are more orange from the canned pumpkin I used that time. Again, taste is still the same, just color can vary depending on your pumpkin can!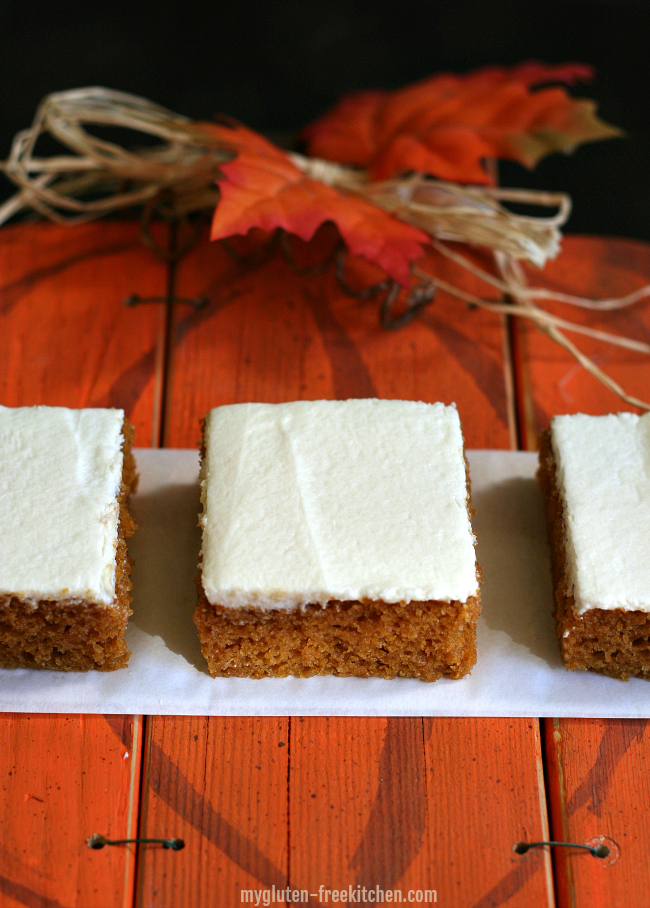 These pumpkin bars are made in a large rimmed jelly roll pan. Jelly roll pans come in a variety of sizes. As you use different sized pans, just be sure to watch the baking time, and check for doneness. Obviously a smaller pan will yield taller bars, and require a little longer to bake than a bigger pan that's yielding thinner bars. The main thing is to make sure the sides of your pan are 1″ or more.
I recently bought this USA Pan half sheet pan with lid to use for this recipe and it worked very well. I loved having the raised lid on it so I could transport the treats to another house and nothing was touching the frosting. It is 17.25 x 12.25″ and I wouldn't recommend going any bigger than those dimensions, as your bars will get very thin. The bars made using this pan are thinner than the bars you see pictured above as those were done in a 11×15″ pan that I have, that doesn't have a lid for transporting. So take your pick on sizes and just adjust cooking time accordingly.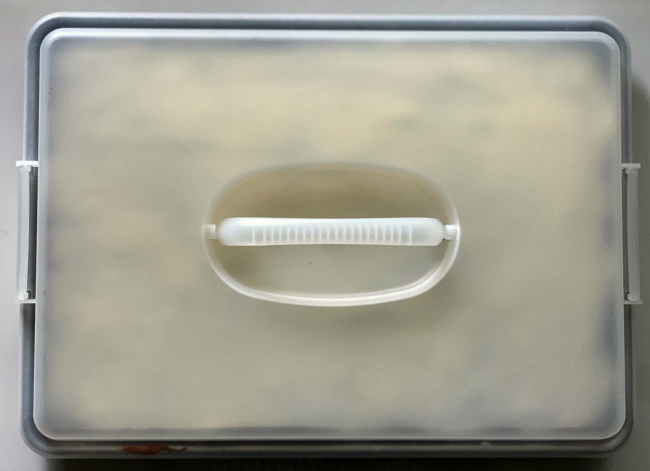 You can cut these whatever size you prefer. The gluten-free pumpkin squares pictured here are actually a little larger than I usually cut them when I bring to events. I often go a little smaller, people can always come back for seconds!
Looking for more recipes that use canned pumpkin? Try my gluten-free snickerdoodle pumpkin muffin recipe – a favorite here for breakfast! This gluten-free pumpkin bread recipe from my friend Cindy looks like one my kids would like slices of in the morning! My favorite fall cookies are these gluten-free pumpkin oatmeal cookies. These gluten-free pumpkin spice beignets have been on my want to make list for a while now!! And how fun are these gluten-free pumpkin cake pops?!
I hope you'll try these gluten-free pumpkin bars! Please come back and rate them and leave a comment after you try them! Enjoy!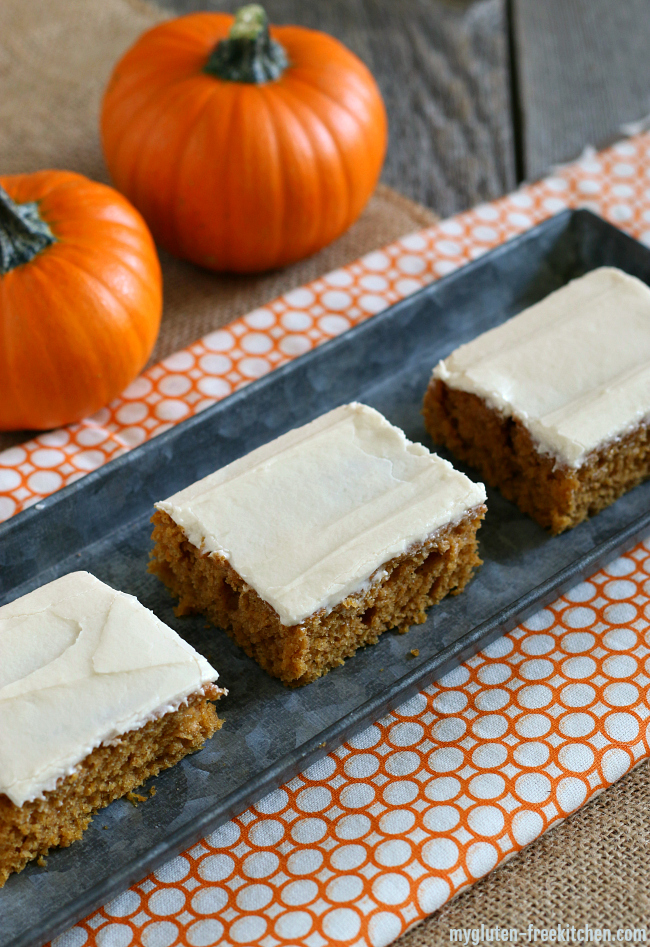 Gluten-free Pumpkin Bars Recipe:
Yield: 28-32 servings
Gluten-free Pumpkin Bars with Cream Cheese Frosting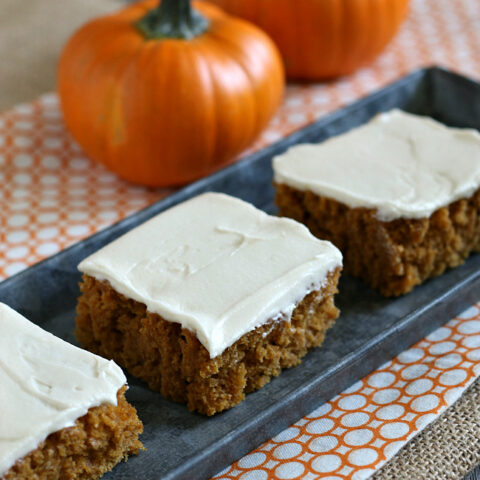 These cake-like spiced gluten-free pumpkin bars are frosted with a delicious cream cheese frosting.

Prep Time 10 minutes

Cook Time 30 minutes

Total Time 40 minutes
Ingredients
2 cups good all-purpose gluten-free flour blend*
1 tsp. xanthan gum*
3 tsp. cinnamon
2 tsp. baking powder
1 tsp. salt
1 tsp. baking soda
4 eggs
1 2/3 cup sugar
1 small can (15 oz.) pumpkin puree (not pumpkin pie filling)
1/2 cup oil or melted unsalted butter
1/2 cup unsweetened applesauce
1/2 tsp. pure vanilla extract
Frosting:
1/2 cup butter, softened
3 oz. cream cheese, softened
1 tsp. vanilla extract
2 cups powdered sugar
Instructions
In a small bowl, whisk together flour, xanthan gum (*if needed), cinnamon, baking powder, salt, and baking soda. Set aside.
In the bowl of your mixer, beat the eggs, sugar, oil or melted butter, applesauce, pumpkin, and vanilla extract until light and fluffy, about 3 minutes.
With the mixer on low, add the flour mixture. Mix just until the flour is mixed in.
Spread in an ungreased rimmed pan, called a jelly roll pan. See note below.
Bake at 350° for 25-30 minutes or until toothpick inserted in the center comes out with moist crumbs or clean. Cool on wire rack.
In a small mixing bowl, use a hand mixer or stand mixer to beat together the frosting ingredients until well mixed. (I typically add the powdered sugar a half cup at a time so it doesn't all blow up in my face.)
Frost the bars once they have cooled completely.
Refrigerate until ready to serve.
Notes
*This recipe has been tested numerous times successfully with each of these flours: gfJules flour, King Arthur Measure for Measure Flour, and Gluten Free Mama's almond flour blend.

*If your gluten-free flour blend has xanthan gum or guar gum in it already, then omit the xanthan gum called for in this recipe.

See blog post for substitutions and notes on ingredients.

Jelly roll pans come in a variety of sizes. Just be sure it has at least 1" sides. I've linked the pan I'm using and liking below.
Recommended Products
As an Amazon Associate and member of other affiliate programs, I earn from qualifying purchases.

Pin these to your gluten-free desserts Pinterest board: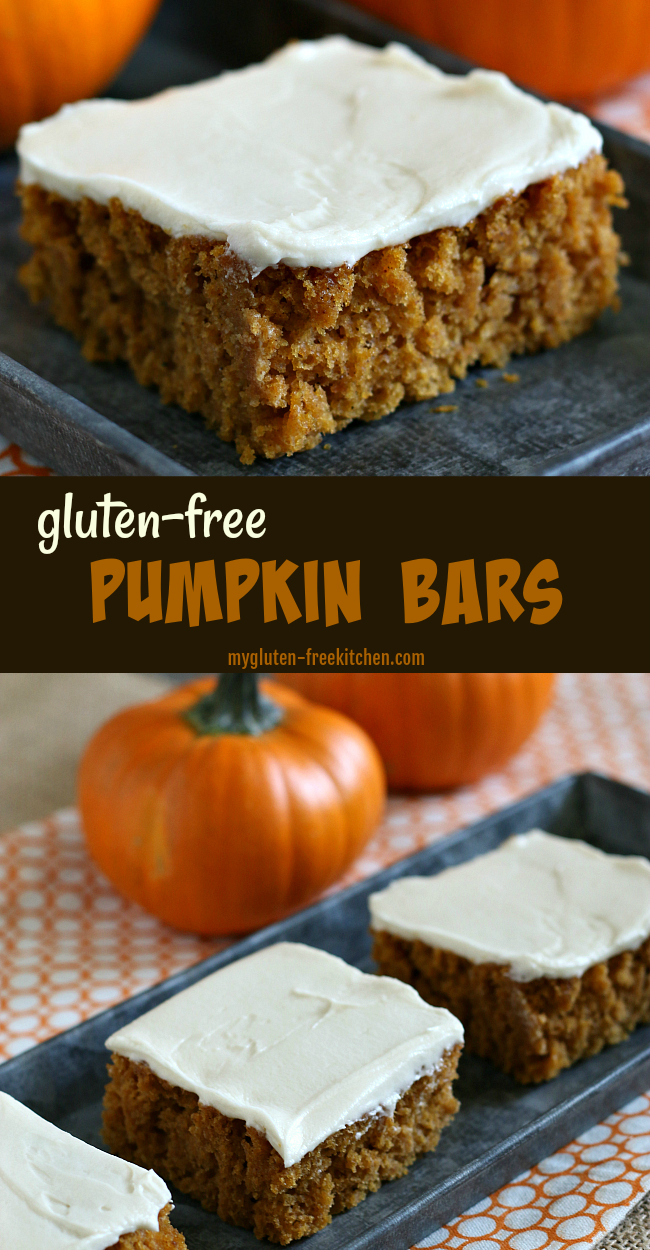 I've also got an entire board of gluten-free pumpkin recipes on Pinterest!
I hope you and your friends and family enjoy these gf pumpkin bars as much as mine!