While these gluten-free almond biscotti make a fun gift for the holidays, it's also a year round treat! Gluten-free biscotti is a crunchy, flavorful cookie that's perfect with a hot cup of coffee or tea. This gluten-free, dairy-free recipe is sponsored by Enjoy Life Foods as part of my ongoing partnership with them.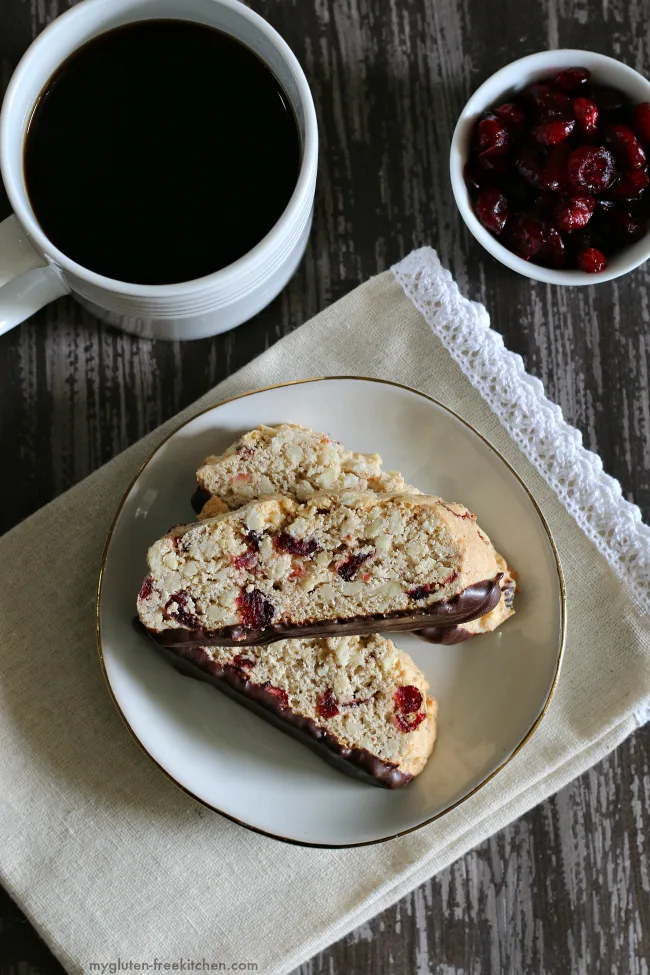 Have you ever had biscotti? I first tried it as an adult. Biscotti are a twice baked cookie. The dough is formed into a log, baked, cooled, then sliced and baked again. This results in a very crunchy cookie that's perfect for dunking in tea or coffee (or my kids' choice: milk)!
The almond flavor of this gluten-free biscotti is complemented by the hint of fruity sweetness from the dried cranberries. The melted semi-sweet chocolate gives the finishing touch and adds a little more sweetness to an otherwise not super sweet cookie.
The roasted almonds make these higher in protein than a normal cookie too. Having a few of these with a cup of coffee or tea will hold you over until lunch or dinner for sure!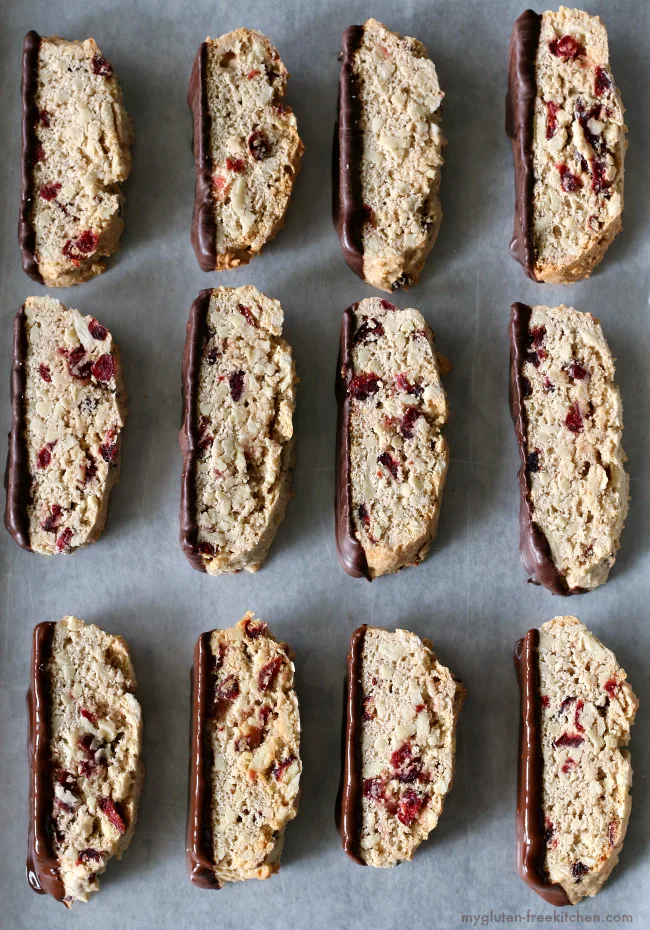 I was browsing through my old recipe notebook full of gluten recipes the other day and this biscotti recipe was in there. I couldn't believe I hadn't made this one gluten-free yet, meaning I hadn't made biscotti at all in 7 years! I remembered how good it was and got to it right away! I'd had some very dry, flavorless biscotti before, so when I had my friend Angie's biscotti, I fell in love!
It's so crunchy and flavorful! I was so glad that this converted over to gluten-free easily. Is it exactly the same as the gluten-full version? No not exactly, but so close, I don't think anyone could tell. The only real difference I saw is that my gluten-free version didn't brown as much.
There isn't any dairy in this recipe at all, making it a perfect dairy-free biscotti for those of us avoiding dairy. I definitely didn't want to add in dairy by using a chocolate with it, so I opted for my go-to Enjoy Life Semi-Sweet Chocolate Mega Chunks. They're certified gluten-free, dairy-free and delicious!
If you're more of a milk chocolate fan, you could use their RiceMilk Chocolate Bars instead. If you're a dark chocolate fan, then you can use their Dark Chocolate Morsels. Any of those options would be yummy! I'm just a big semi-sweet fan, so I opted for that.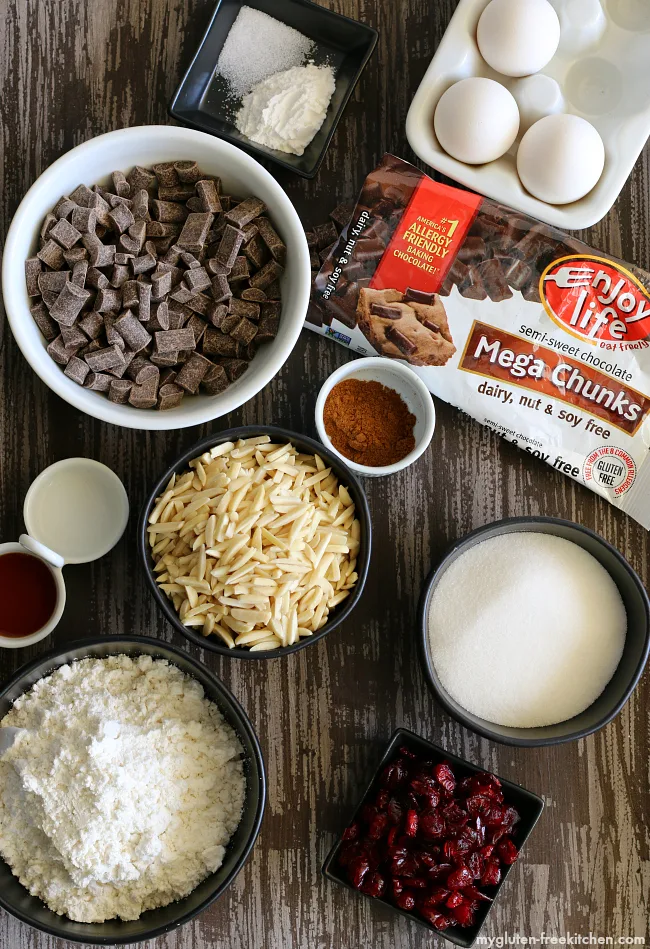 Notes on Ingredients for this gluten-free biscotti recipe:
Gluten-free flour: Use a good quality blend that doesn't have bean flours for best results. If your flour blend has xanthan or guar gum in it already, then omit the xanthan called for in my recipe. Like most of my recipes, I tested this with both gfJules gluten-free flour and Gluten Free Mama's Almond flour with great results with both.
Slivered almonds: I prefer blanched slivered almonds for these. Roasted almond chunks would be great as well. You could swap the almonds for your favorite nut also.
Chocolate: I used Enjoy Life Semi-Sweet Chocolate Chunks. As stated above, feel free to use milk, dark, or semi-sweet chocolate. I buy the Enjoy Life chocolates at my local Natural Grocers, Wal-Mart, and Fred Meyer stores. Hopefully they're easy to fine in your area too! Otherwise, buy these chocolate chunks on Amazon here.
Dried cranberries: While these can be omitted, I think they're perfect in here! You could also swap out for dried cherries or raisins if you prefer.
Almond Extract: I bumped up the almond flavor in these with a bit of almond extract. I love almond extract and feel just a bit of it adds so much flavor! Highly recommend you include this!
While I actually really like these gluten-free biscotti just plain, since they're already flavorful, I do like dipping a portion in chocolate to give them a finished look. It makes them so pretty for packaging!
Dipping these biscotti is so easy! I just melted half a bag worth of Enjoy Life Semi-Sweet Chocolate Mega Chunks.
You can really dip them however you'd like. You can dip just an end, halfway up, the tops or the bottoms of them all. I chose to dip the bottoms of mine in the melted chocolate, then just laid each on it's side to set.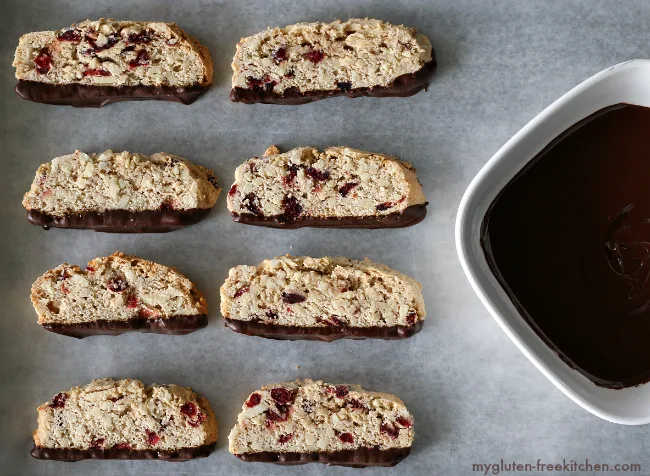 This gluten-free almond biscotti is perfect for gift-giving! Sometimes, I've put some in cellophane bags that I tie with a bow and add a gift tag to. Because they're such a firm, sturdy cookie, they hold up well for transporting or mailing to others. They easily stay yummy for a few weeks!
I packed them up for Christmas gifts in some boxes that I lined with wax paper this time: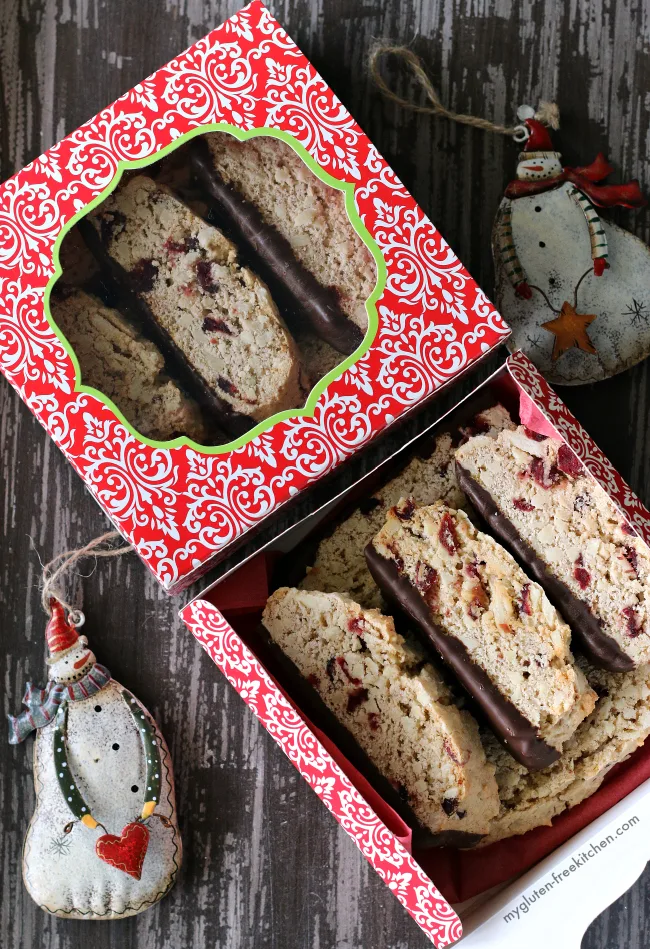 Another yummy gluten-free, dairy-free treat to make for the holidays is this gluten-free puppy chow. I also love making and giving these gluten-free peanut butter chocolate cookie cups that are dairy-free too. They're so yummy too! I'm also wanting to make these paleo chocolate chip fudge bars; I think they'd be fun for gifting too!
Gluten-free Almond Biscotti Recipe:
Yield: 16 cookies
Gluten-free Almond Biscotti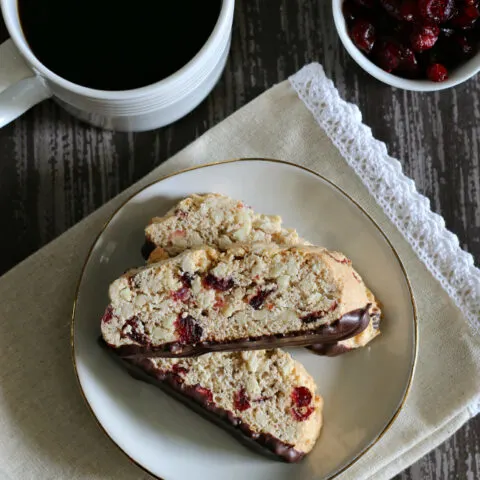 Gluten-free biscotti is a very crunchy cookie that is perfectly appropriate to enjoy at breakfast or anytime and totally dunk-able!

Prep Time 45 minutes

Cook Time 43 minutes

Additional Time 1 hour

Total Time 2 hours 28 minutes
Ingredients
2 cups good all-purpose gluten-free flour blend
1/2 tsp. xanthan gum* (see note)
3/4 cup sugar
2 tsp. baking powder
1 1/2 tsp. cinnamon
1/4 tsp. salt
1 1/2 cups slivered almonds
3 large eggs
2 tsp. pure vanilla extract
1/4 tsp. almond extract
2/3 cup dried cranberries
5 oz. (1/2 a bag) Enjoy Life Semi-Sweet Chocolate Chunks
Instructions
Preheat oven to 350°.
In a large mixing bowl, whisk gluten-free flour blend, xanthan gum (if blend doesn't have it), sugar, baking powder, cinnamon and salt. Stir in slivered almonds.
In a small, separate bowl, whisk together eggs, pure vanilla extract, and almond extract. Add to flour mixture. Mix by hand or with mixer on low speed until combined.
Add dried cranberries and stir just until mixed in.
Line a baking sheet with parchment paper. Divide dough in half. Pat 1/2 the dough into a log shape by hand on the parchment paper. Repeat with other half of dough. I made two logs that were about 1" thick by 2.5" wide. They fit side by side on one parchment paper lined baking sheet.
Bake at 350° for 30 minutes. The logs will have slightly risen and be firm.
Slide parchment paper onto cooling rack and let logs cool about 20-30 minutes or as long as you need them to.
Place a cooled cookie log onto a cutting board. Using a sharp knife, cut diagonal slices about 1/2" to 3/4" thick. Lay slices on another parchment paper lined cookie sheet. I ended up with 16 slices plus the ends total.
Bake at 350° for 13 more minutes. Remove from oven and place on cooling rack. Cool completely before dipping.
When ready to dip the biscotti, pour half a bag of Enjoy Life Semi-Sweet Chunks (or your choice of dark morsels or chocolate bars) into a microwave safe bowl. Microwave for 30 seconds, then stir. Continue to microwave in 15 second intervals, stirring after each, until all chocolate is melted.
Choose whether you want to dip the tops, bottoms, sides, or ends of the biscotti. Dip the chosen side of each biscotti into the melted chocolate, then lay on cookie sheet to set. Once chocolate is completely dry, you can package these for gifting or mailing. Otherwise, these can sit out at room temperature and be enjoyed for up to 2 weeks.
Notes
* If the gluten-free flour blend you use already has xanthan gum or guar gum in it, then omit the xanthan gum called for in this recipe.

*Note, these loose some of their crunch if you store in an airtight container, so I prefer to leave them out on a plate, or placed in a gift container that isn't air tight.

*Some have mentioned that their dough was way too dry to come together into logs. This would be due to variations in gluten-free flour blends and even humidity. If you need to add a Tbsp or two of water in order to make this come together, go ahead.

Pin this to your gluten-free treats board on Pinterest:


This sponsored post was created through my partnership with Enjoy Life Foods. As always, all opinions are my own. Collaborating with brands I love allows me to keep bringing you new and varied recipes! Thanks for your support!
I hope you and your family enjoy this gf biscotti recipe!