These bars are the stuff dreams are made of! I decided to call them gluten-free Peanut Butter Christmas Dream Bars. I love these gluten-free Christmas treats and think you and your loved ones will too! If you love peanut butter, chocolate, and oats, you'll love these. These bars are a fun gluten-free Christmas treat to add to your plates of gluten-free Christmas goodies each year!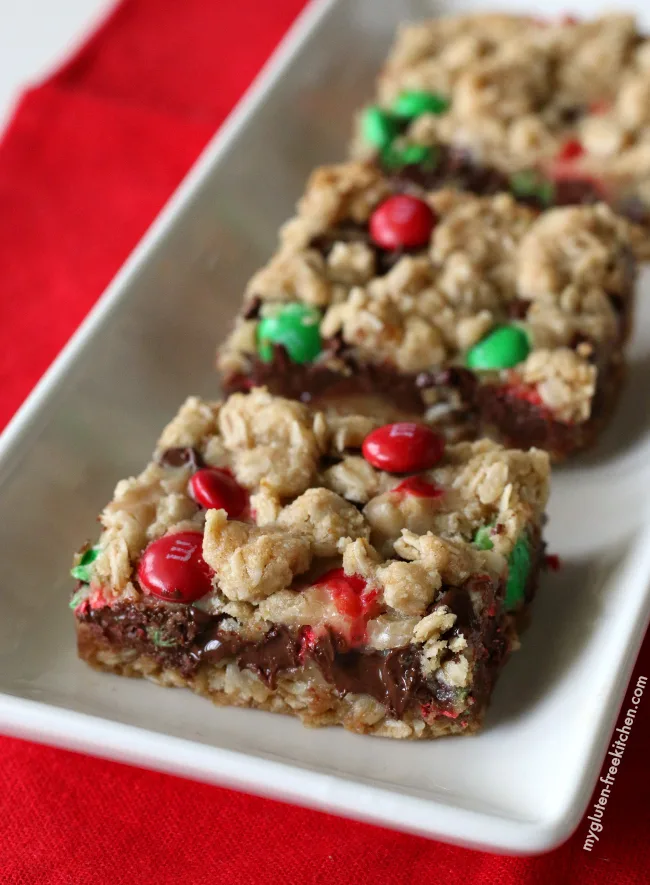 These remind me a bit of my gluten-free monster cookies, but they're much more rich and gooey. They have that same peanut butter and chocolate flavor, but also this creamy gooey layer in them too. They're so good!
This is a very old recipe of mine that I found in my old recipe box a few weeks ago. My notes on it were that I last made it back in 2008 and everyone liked it! But that was way back before I had to start eating gluten-free! I was excited to pull this one out and see if it converted over easily and it sure did!
I regularly have gluten-eating friends and family test every single recipe to make sure it meets their standards. I don't want anything to just be good for gluten-free, I want it to be good!!
If you've been following my blog for long, you know that my goal is for gluten-eaters to love my baked goods as much as gluten-free eaters.
These bars were a huge hit with the gluten eaters I shared this with, and I have already been asked to share the recipe!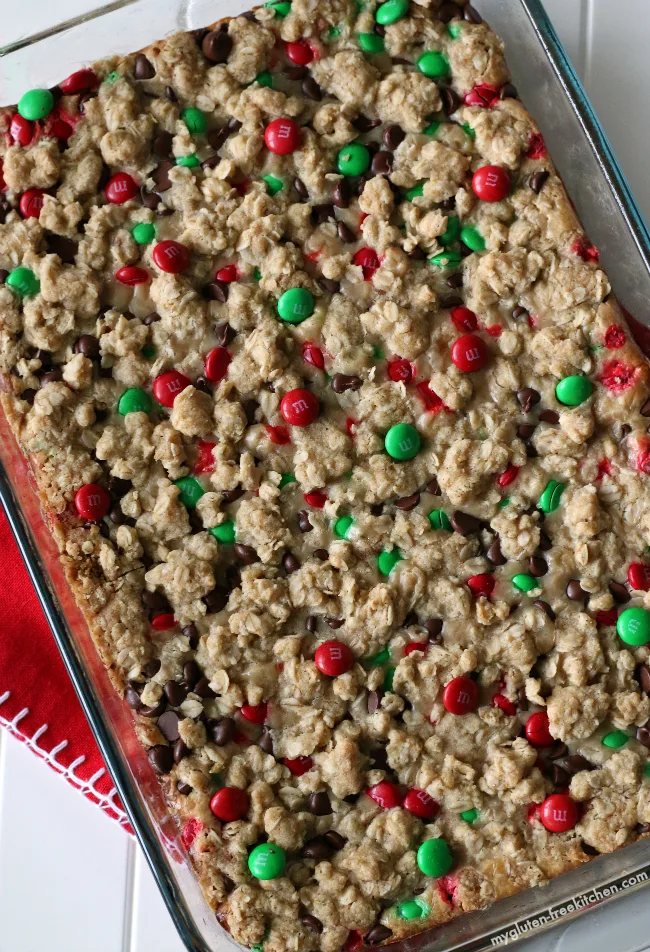 These gluten-free peanut butter bars are made in a 9×13 pan. I used my trusty glass Pyrex pan, so that I could put the lid on it for transporting, but you can use any 9×13 pan.
These bars are very rich, so I recommend cut them into 24 or 30 bars, depending on whether other treats are being served as well.
Notes on ingredients for these gluten-free Christmas dream bars:
If you make these for your gluten-free holiday cookie trays, cookies for Santa, or gifts for friends and neighbors, I think they'll all be happy with this gluten-free Christmas dessert!
My other favorite thing to make and bring to holiday parties are these gluten-free gingersnaps that are dipped in white chocolate. You've got to try those too!
Enjoy and happy holiday baking to you!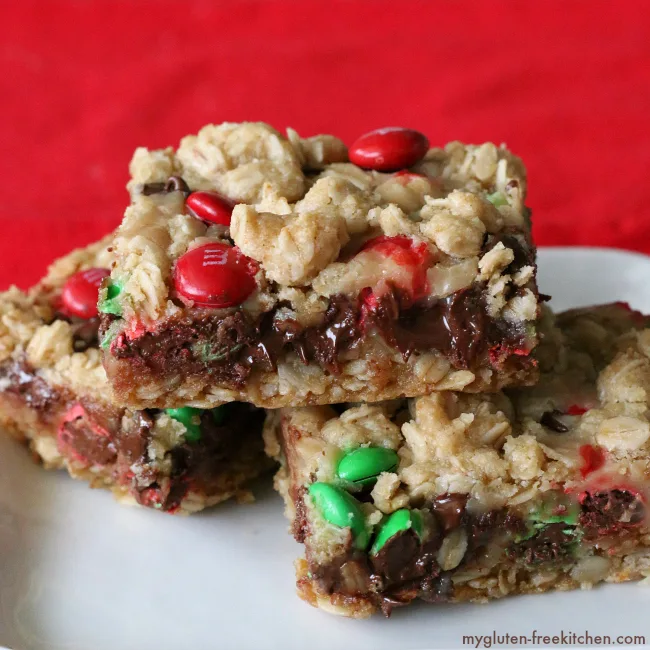 If you make these and love them, please come back and give this recipe a 5 star rating in the recipe card! Feel free to comment with tips or to share any successful substitutions you made.
Gluten-free Christmas Treats Recipe:
Yield: 24-28 bars
Gluten-free Peanut Butter Dream Bars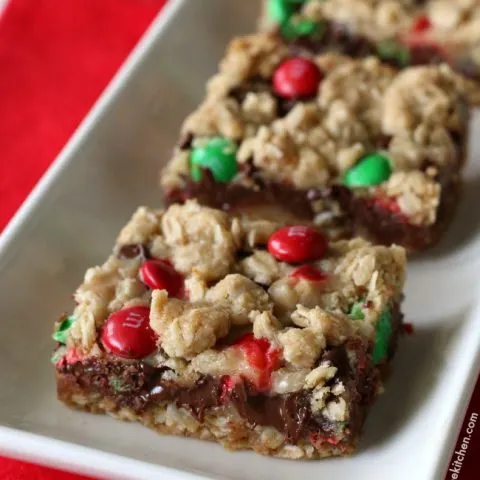 This is a favorite gluten-free Christmas dessert to add to gluten-free cookie trays! Everyone loves these gluten-free dream bars!
Total Time
1 hour
57 minutes
Ingredients
2 cups certified gluten-free rolled oats
3/4 cup firmly packed brown sugar
1 1/2 cups gluten-free all-purpose flour*
1/2 tsp. xanthan gum*
1 tsp. baking soda
1/2 tsp. salt
1 cup melted salted butter
1/2 tsp. pure vanilla extract
1 (14 oz.) can sweetened condensed milk
1/2 cup creamy salted peanut butter
1 cup M&M's - use holiday colors for holiday
1 cup semi-sweet chocolate chips or chunks
Instructions
You can make this using your stand mixer, a hand mixer, or just mix by hand in a large bowl.
In a large bowl, combine gluten-free oats, brown sugar, gluten-free flour, xanthan (if needed), baking soda, and salt.
Stir in melted butter and pure vanilla extract until you have a moist, crumbly mixture.
Measure out 1 cup of this crumble mixture and set aside to use as the topping later.
Spray a 9x13 baking pan with cooking spray. Press oat mixture evenly into bottom of pan. I like to use some plastic wrap or a plastic glove sprayed with cooking oil to help me do this easily.
Bake at 375° for 12 minutes. Remove from oven and let rest on cooling rack or hot pads for 5 minutes.
In a small bowl, whisk together the sweetened condensed milk and creamy peanut butter until well mixed. Carefully spread over the baked crust.
Sprinkle with M&M's and chocolate chips.
Drop small pieces of the reserved 1 cup of oat mixture all over the top of chocolate. My dough pieces were roughly dime-sized and smaller. You'll still be able to see much of the layers underneath.
Bake 24-25 minutes at 375° or until some parts are turning golden brown. Remove from oven to cooling rack. Let cool completely before cutting. I cut mine in a 4x6 grid, yielding 24 bars. But these are very rich, so you can definitely cut even smaller if you want to feed more people!
Notes
I tested these with gfJules and Gluten-free Mama's almond flour blend. Both worked well. If using gfJules, or another blend with xanthan already in it, then omit the additional xanthan called for.
Recommended Products
As an Amazon Associate and member of other affiliate programs, I earn from qualifying purchases.
Pin this to your gluten-free Christmas board on Pinterest: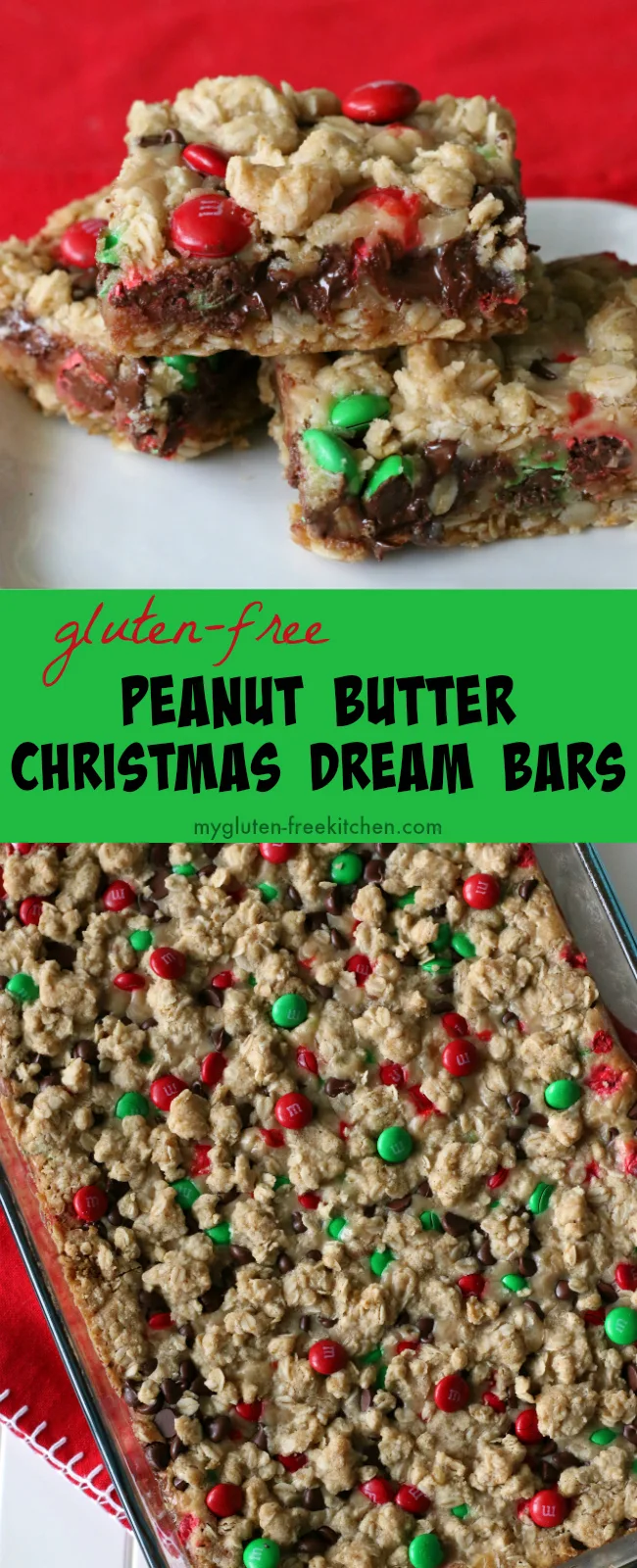 I hope you and your loved ones enjoy these gf Christmas treats too!