Perfect for using up a ripe banana, these gluten-free banana oatmeal chocolate chip cookies are a delicious treat! Not only are these gluten-free, they're free of 14 allergens! The recipe for these yummy gluten-free banana oatmeal cookies is sponsored by Enjoy Life as part of my ongoing partnership with them! Thanks Enjoy Life!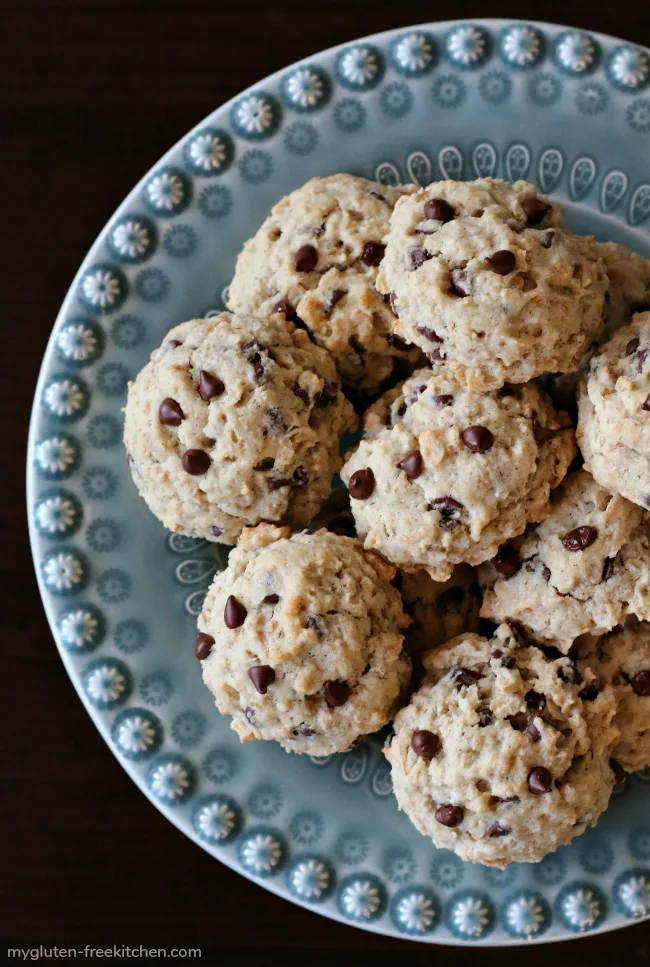 My friends at Enjoy Life challenged me to take an old family recipe and convert it to be free of 14 allergens- talk about a challenge! The 14 allergens I was asked to avoid were: wheat, dairy, soy, egg, peanut, tree nut, fish, shellfish, crustaceans, sulfites, sesame, lupin, mustard, and casein. Did you know that all Enjoy Life Foods products are free of these 14 allergens?
Let me tell you, this was a big challenge! I spent two hours learning about some of these that I wasn't knowledgeable about previously, like sulfite allergies! Wow! It made me appreciate that I only have to avoid gluten and most dairy.
These cookies are good no matter if you're trying to avoid gluten, or dairy, or any or no other allergens! They're just good cookies! I shared them with friends that don't have allergies and they all enjoyed these healthy banana cookies.
My boys, who don't have to avoid any foods, polished off ALL of these gluten-free banana cookies in just a few days. I didn't feel bad about them having for an evening snack as overall, they're pretty wholesome cookies!
Before I get into the ingredients, I want to tell you a bit about this handed down recipe!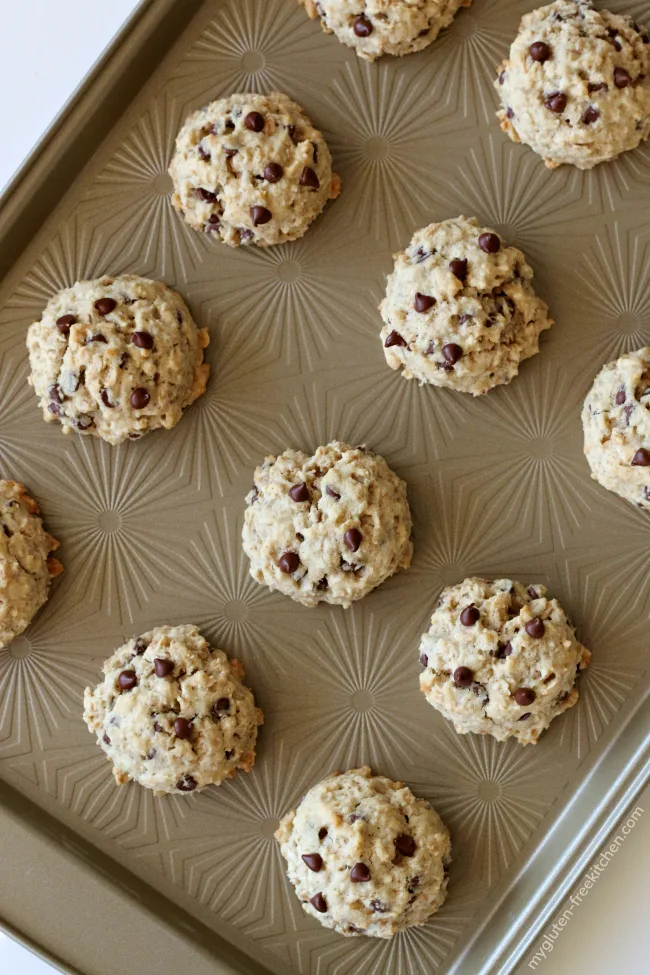 I have sweet memories of my maternal grandmother, Elda, coming to visit us and always doing a lot of cooking and baking when she visited. She would always make pasta noodles from scratch for chicken noodle soup. She would make pie crust from scratch, and while I don't remember the pies, I do remember the little cinnamon treats she'd make with the scraps.
When my grandma passed away some years back, my mother asked me if there was anything I'd like to inherit from my grandma's house. There was one thing I wanted: Grandma's recipes.
My mom soon shipped me a ziploc storage bag full of recipes. Some are recipes clipped from boxes and packages over the years but many are written in my grandmother's handwriting. They really are a treasured keepsake.
My plan is to frame some of these to display in my kitchen or office soon.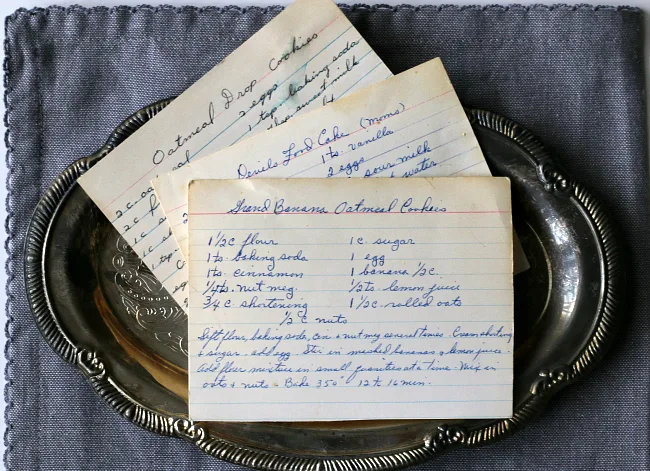 I enjoyed looking through all of the recipes and picking which one I wanted to remake free of gluten and the top allergens. I chose this one called Grand Banana Oatmeal Cookies.
I figured I could swap out the flour with a gluten-free flour blend. But then my research showed me that those with sulfite allergies can't have some starches like corn starch, which is in most gluten-free flour blends. So instead, I replaced it with a mixture of brown rice flour and glutinous rice flour (which, despite how it sounds, doesn't have gluten).
I knew I could swap the oats for certified gluten-free oats. It was already dairy-free, so that part was easy!
I took a chance on swapping out the egg with a flax egg, and yay, it totally worked! A flax egg is made by combining 3 Tablespoons or water and 1 Tablespoon of ground flaxseed. Once you set it aside, it becomes thick in a few minutes, and can be used to replace one whole egg in a recipe.
The final swap was to replace the nuts with mini chocolate chips. Of course, this was a very yummy swap! I'd always choose chocolate over nuts in my cookies! I used Enjoy Life semi-sweet mini chips, though you could also use their dark chocolate morsels instead too.
Since these don't have any dairy or eggs in them, these are actually vegan banana oatmeal cookies too – so they're suitable to make for any of your vegan friends or family.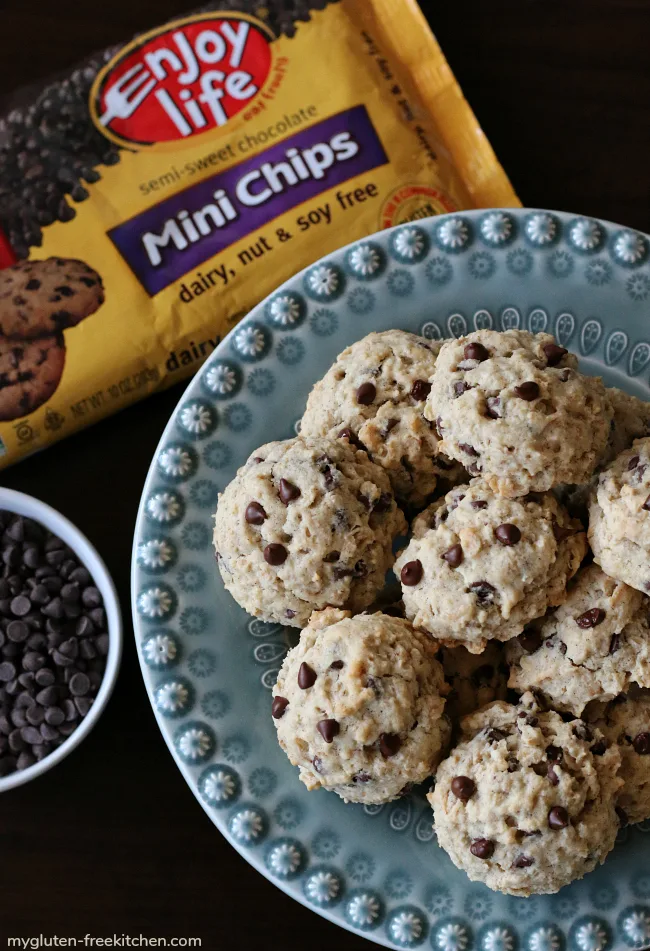 The banana makes these moist and flavorful. These gluten-free banana cookies are a great treat to make when you have just one overripe banana on hand.
I hope you'll try this new take on my grandma's recipe. This is one I'll be making again and again! It went right into my tried and true favorites binder!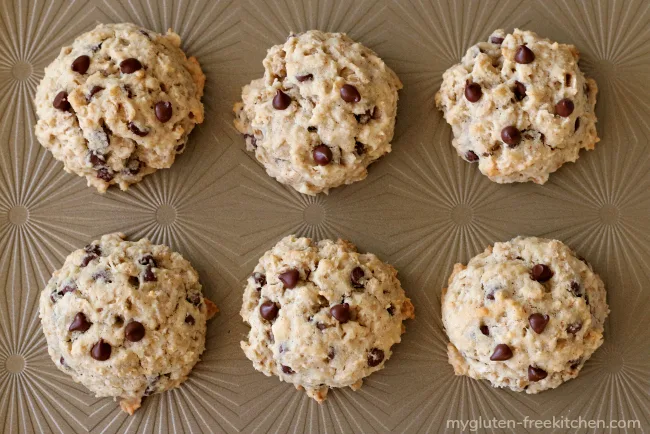 Gluten-free Banana Oatmeal Cookies Recipe:
Yield: 36 cookies
Gluten-free Banana Oatmeal Chocolate Chip Cookies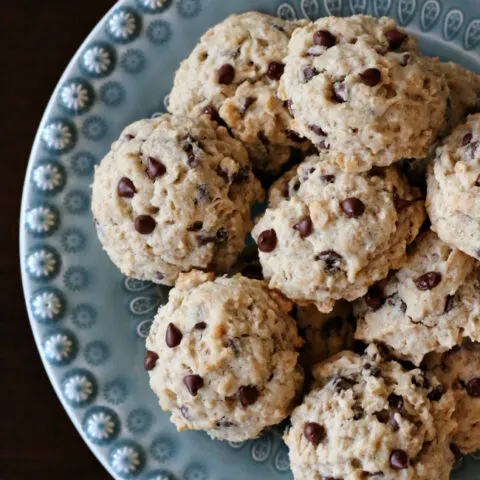 Perfect for using up one ripe banana, these gluten-free banana oatmeal chocolate chip cookies are a delicious treat! Not only are these gluten-free, they're free of 14 allergens!
Ingredients
3 Tbsp warm water
1 Tbsp. ground flaxseed
1 cup brown rice flour
1/2 cup glutinous rice flour or sweet rice flour
1 tsp. baking soda
1 tsp. cinnamon
1/4 tsp. nutmeg
1/4 tsp. salt
3/4 cup organic shortening
1 cup sugar
1 overripe banana (= 1/2 cup mashed banana)
1/2 tsp. fresh squeezed lemon juice
1 1/2 cups certified gluten-free Old Fashioned rolled oats
1/2 cup semi-sweet chocolate mini chips
Instructions
Start by making the flax egg replacement. In a small bowl, combine 3 Tablespoons warm water with 1 Tablespoon ground flaxseed. Stir together and set aside. It will become thick within a few minutes. (If you can have eggs, you can skip this step and instead just use one egg later in the recipe where it calls for this flax egg).
In a medium bowl, whisk together rice flours, baking soda, cinnamon, nutmeg, and salt. Set aside.
In the bowl of your mixer, cream shortening and sugar until fluffy. Add the flax egg replacement and beat until mixed in.
With mixer on low, slowly mix in mashed banana and fresh lemon juice. Add flour mixture in small quantities at a time just until mixed in.
Add oats and mini chips and mix on low just until mixed together.
Using a medium cookie scoop, scoop cookies onto parchment paper lined cookie sheets. Bake at 350° for 12-13 minutes or until they're set and just barely start to brown in some spots. Remove from oven and let cool on cooling rack.
Notes
If you can have egg, feel free to replace the water/flaxseed mixture with one egg.
You can replace the total amount of rice flours with your favorite gluten-free flour blend.
Store leftovers in airtight container at room temp or place in a freezer bag for later!
Recommended Products
As an Amazon Associate and member of other affiliate programs, I earn from qualifying purchases.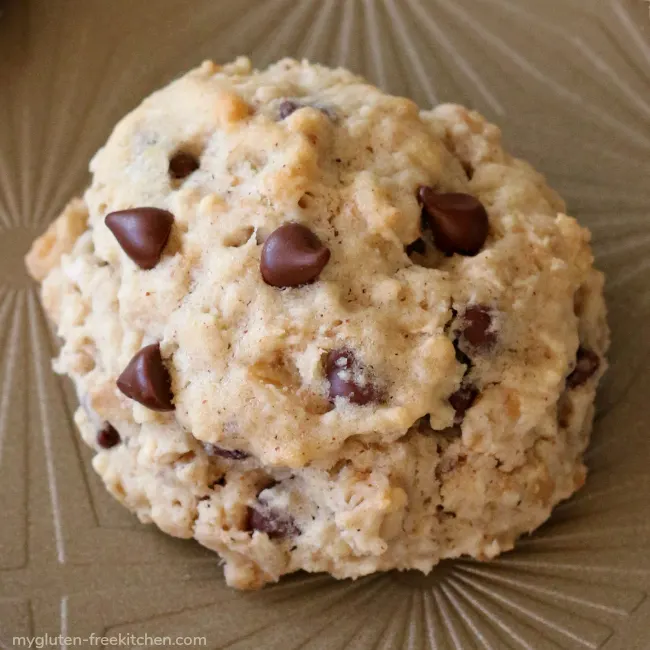 For more gluten-free desserts, make sure to check out my Gluten-free Goodies Pinterest board!
Pin this one to your own Gluten-free recipes board!

This sponsored post was created through my partnership with Enjoy Life Foods. As always, all opinions are my own. Collaborating with brands I love allows me to keep bringing you new and varied recipes! Thanks for your support!
I hope you and your family enjoy these gluten-free and vegan banana cookies!