No one will miss the gluten or dairy in these gluten-free, dairy-free banana chocolate chip muffins! They're perfect for breakfast, a snack, or even in your kids' lunch boxes! This recipe is sponsored by Enjoy Life as part of my ongoing partnership with them.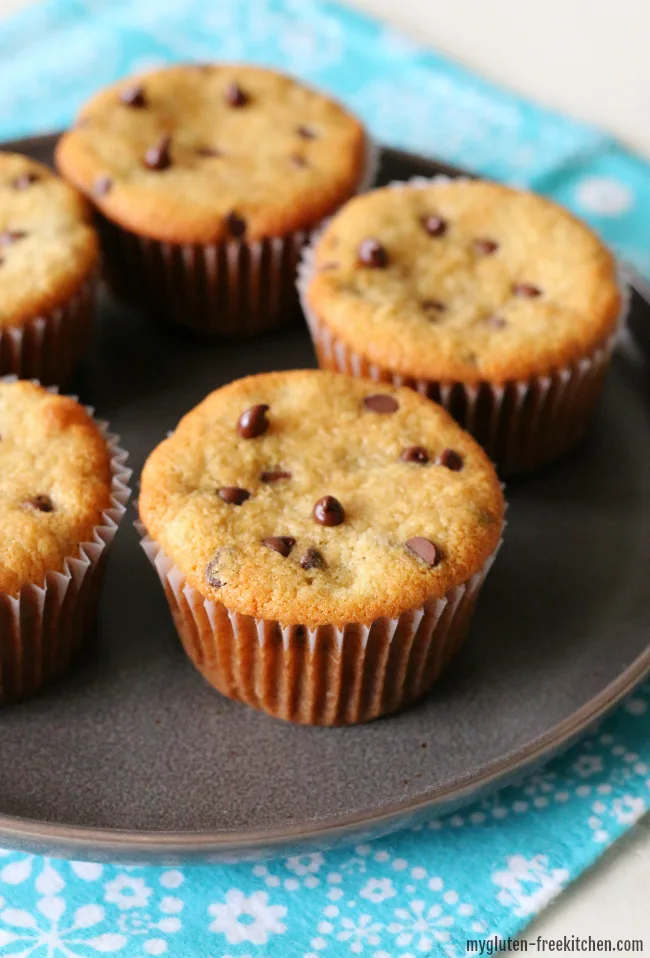 I've been making gluten-free banana muffins for years for my kids, but I wanted to switch it up a little bit. I have so many readers that are dairy-free too, that I wanted to make them dairy-free and I thought I'd add chocolate chips to them for fun!
I chose to use Enjoy Life semi-sweet chocolate mini chips so there's always a little chocolate in every bite! Order your gluten-free chocolate here.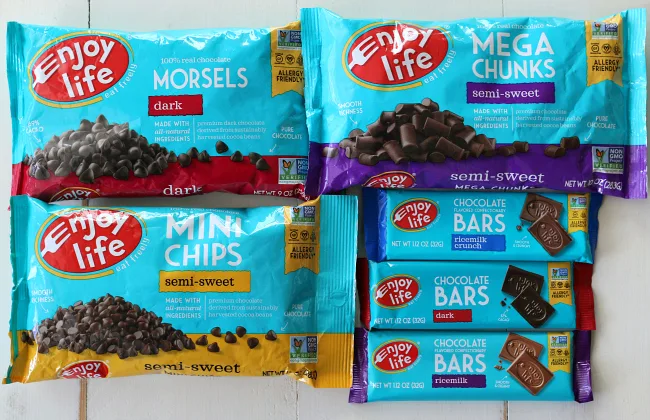 I just received my shipment of all of their certified gluten-free and top allergen free chocolates in their new Teal packaging. I love the new packaging as it will make it so easy to spot all Enjoy Life products at my stores now! It seems every store near me stocks these in a different spot, so once they get these new packages in stock here locally, I'll be able to find them easier!
While I chose to use the semi-sweet mini chips, you can definitely use the dark chocolate morsels if you prefer dark chocolate!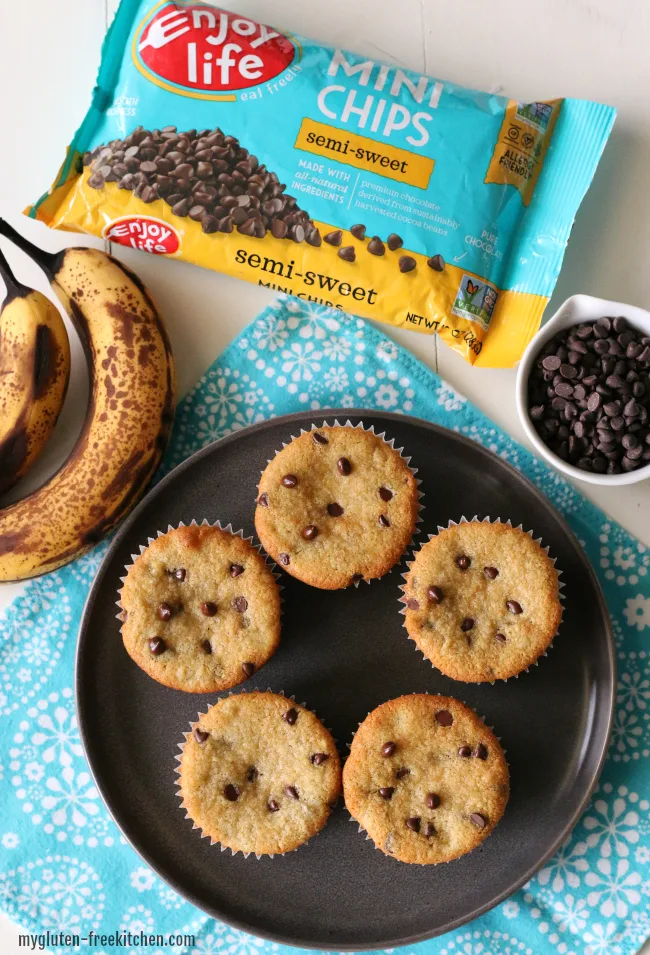 My gluten-free banana muffin recipe calls for buttermilk. I knew there were ways to make a dairy-free buttermilk substitution, but I hadn't tried it myself before this. I just added 1 tsp. lemon juice to my dairy-free milk. You can use any dairy-free milk that works with your specific allergens. Go Dairy Free recommends this dairy-free buttermilk recipe: using 2-3 teaspoons of lemon juice for each cup of dairy-free milk. Once you mix them together, you just let it sit while you get the rest of your ingredients ready.
Notes on ingredients for these gluten-free banana muffins with chocolate chips:
Chocolate chips: For chocolate, my go-to is Enjoy Life Foods baking chocolates. They're not only certified gluten-free, but free of many top allergens. You can buy from their website, from Amazon, or find at many stores.
Gluten-free flour: If your gluten-free flour blend already contains xanthan or guar gum, then omit the xanthan gum called for in my recipe.
Dairy-free milk: Use your favorite dairy-free milk. Whether you use sweetened or unsweetened shouldn't make a difference, as there isn't much milk in this recipe. I chose to use a vanilla nut milk that is only slightly sweetened. I've also been loving flax milk lately. Rice milk should work fine as well.
Bananas: You want these to be nice and ripe. At least as ripe as the ones in my photo, and it's fine if even darker!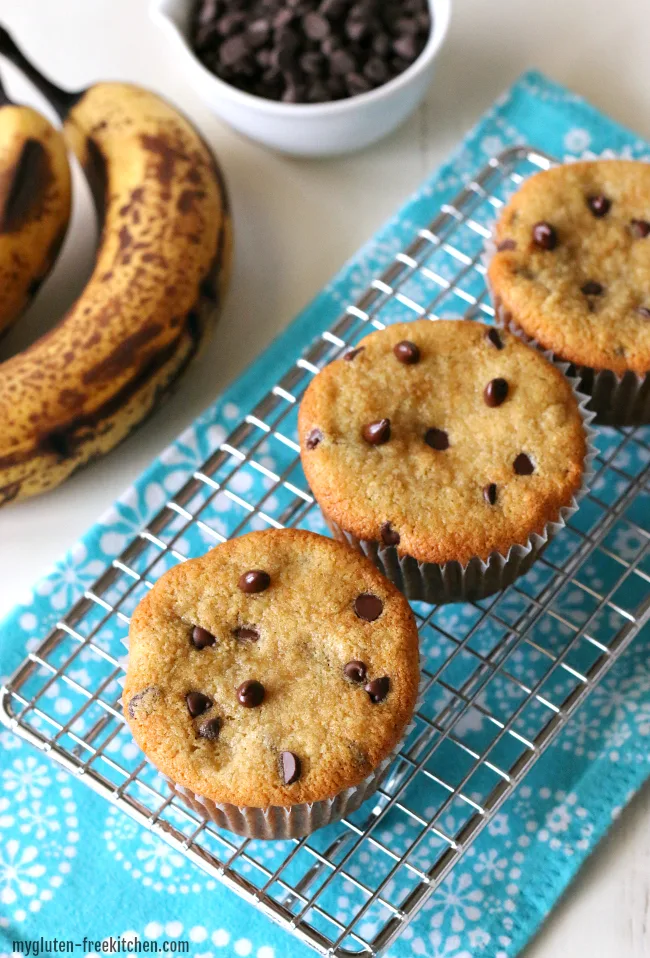 I've mentioned before that my kids love having muffins for lunch. I used to pack a "muffin lunch" for them a couple times a week, and now they do it themselves. They'll pull out two muffins from the freezer, microwave for 30 seconds, then add to their lunch container with fruit or dried fruit, nuts or a granola bar, and a yogurt tube. Super quick and easy!
If you're looking for more gluten-free and dairy-free muffin or quick bread recipes that use Enjoy Life semi-sweet mini chocolate chips, be sure to try my gluten-free pumpkin chocolate chip muffins. If you're in the mood for some cookies, check out my gluten-free banana oatmeal chocolate chip cookies, or my low fodmap gluten-free peanut butter oatmeal chocolate chip cookies or my friend Brianna's gluten-free dairy-free S'mores cookies.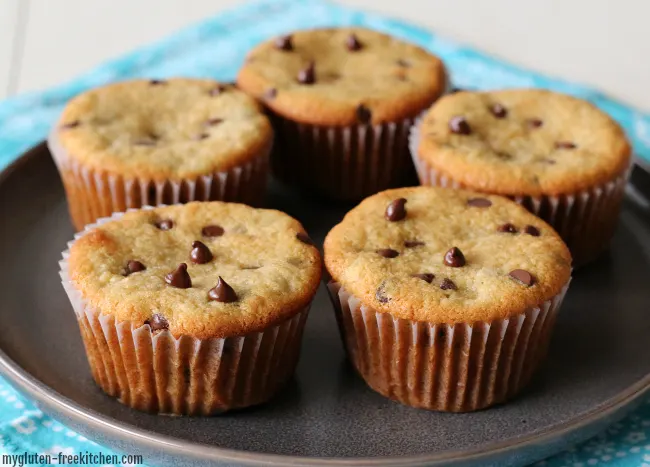 You can also bake these muffins in a heart-shaped mini cake pan. The one I have bakes six heart shaped muffins at a time and you can get it on Amazon here. I used the same amount of batter (one large cookie scoop full) whether I was making a regular muffin or a heart-shaped muffin. Just grease the pan well for the heart shaped muffins, since you aren't using muffin liners!
My kids loved these muffins as regular muffins and as heart shaped ones. I always bake some heart-shaped muffins for Valentine's day as it's quick and easy and makes the kids happy! I love that I can make them the night before, since I'm not a morning person!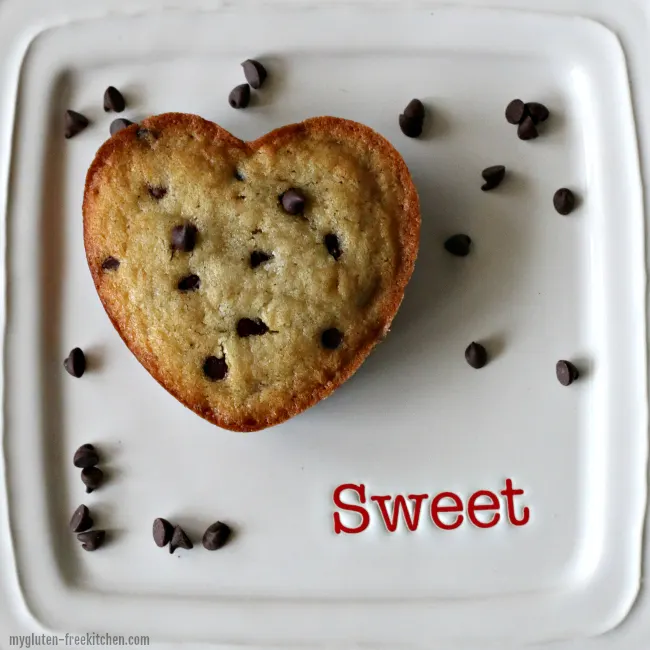 Gluten-free Banana Chocolate Chip Muffin Recipe:
Yield: 18 muffins
Gluten-free Dairy-free Banana Chocolate Chip Muffins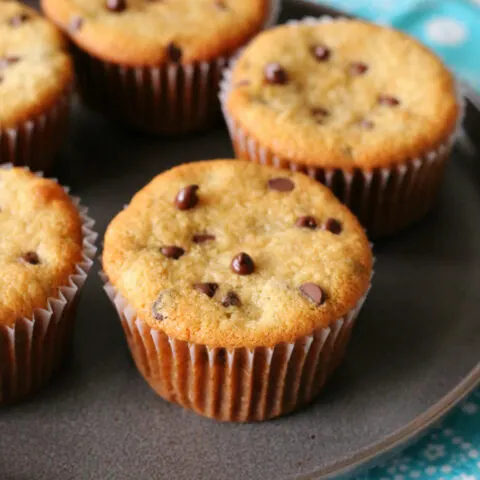 No one will miss the gluten or dairy in these gluten-free, dairy-free banana chocolate chip muffins! They're perfect for breakfast, a snack, or even in your kids' lunch boxes!

Prep Time 20 minutes

Cook Time 22 minutes

Total Time 42 minutes
Ingredients
1/2 cup dairy-free milk alternative (like flax milk, rice milk, nut milk, etc.)
1 tsp. lemon juice
2 cups good quality all-purpose gluten-free flour blend
1/2 tsp. xanthan gum (omit if flour blend contains a gum)
1 1/2 tsp. baking soda
1 tsp. salt
1/2 cup dairy-free butter alternative like organic shortening or Melt buttery sticks
1 cup sugar
2 large eggs
2 large overripe bananas, mashed (= about 1 cup)
1/2 cup Enjoy Life semi-sweet mini chocolate chips + additional for sprinkling on top if desired
Instructions
Preheat oven to 325°. Line muffin pan cavities with paper liners and set aside.
In a glass measuring cup, measure 1/2 cup of your choice of dairy-free milk alternative. Add one teaspoon lemon juice and stir. Set aside while you prepare the rest.
In a medium bowl, whisk together gluten-free flour, xanthan gum (*if needed), baking soda, and salt. Set aside.
In the bowl of your stand mixer, cream the dairy-free butter alternative and sugar for 1 minute on medium-high speed.
With mixer running on low speed, add the eggs one at a time, until all mixed in.
Add mashed bananas, and dairy-free milk/lemon juice mixture and beat on high for 1 minute.
Add half of the flour mixture into the banana mixture and mix on low speed until mixed in. Repeat with remaining flour mixture. Mix for another 30 seconds, or until dry ingredients are mixed in.
Stir in 1/2 cup semi-sweet mini chips. Be sure to scrape bottom and sides of bowl as you do this to make sure all of your batter is well mixed.
Use a large cookie or ice cream scoop to fill muffin cavities 3/4 full. Using my scoop, I usually get around 18 muffins. If desired, sprinkle additional chocolate chips on top before baking.
Bake at 325° for about 22 minutes, until tops have browned and muffins check done. Depending on the size you make them and how hot your oven runs, the baking temperature will vary. Use the toothpick test to check for doneness. A toothpick inserted in the center of a fully cooked muffin will come out with moist crumbs attached.
Cool in muffin pan for 5 minutes, then remove muffins to cool on a cooling rack. When muffins are room temperature, you can store in an airtight container or place in freezer in a gallon freezer bag.
Notes
Omit the xanthan gum if your flour blend includes xanthan or guar gum already.
Recommended Products
As an Amazon Associate and member of other affiliate programs, I earn from qualifying purchases.


This sponsored post was created through my partnership with Enjoy Life Foods. As always, all opinions are my own. Collaborating with brands I love allows me to keep bringing you new and varied recipes! Thanks for your support!
Pin this to your gluten-free muffins board on Pinterest:

I hope you enjoy these too! Happy baking!