I know how much you like hearing about new certified gluten-free snacks, so I'm sharing with you some new gluten-free chocolate protein bites from Enjoy Life. Thanks to Enjoy Life for sponsoring this post so I could share the scoop with you!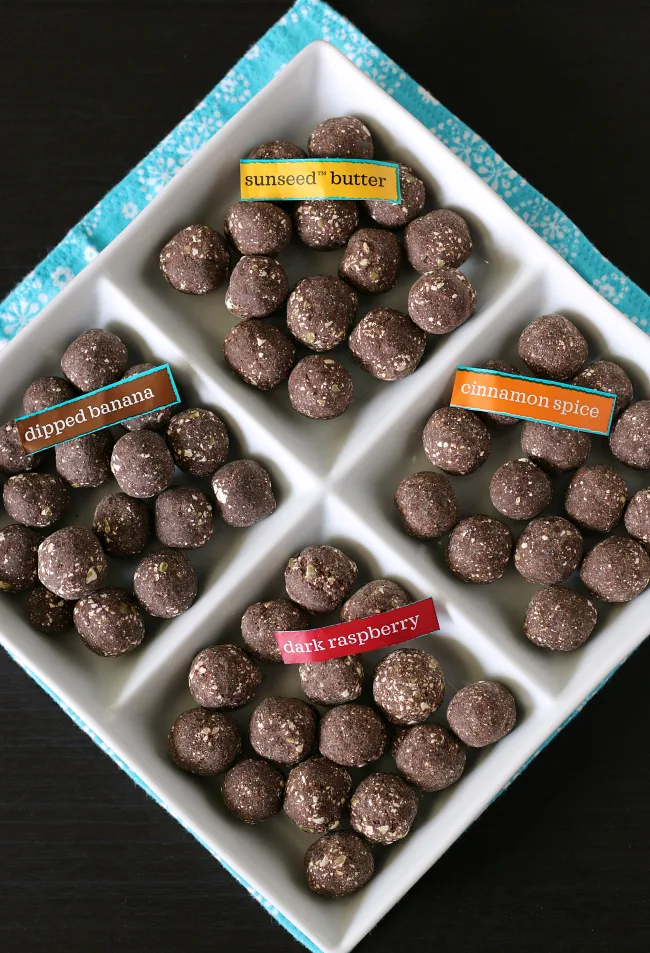 Enjoy Life has just come out with two new flavors of Chocolate Protein Bites: dipped banana and dark raspberry. Last year, Enjoy Life launched ProBurst Bites which I shared with you then. Based on feedback, they reformulated a couple of the flavors (Sunseed butter and cinnamon spice) and also created these two new flavors They're also calling them chocolate protein bites, which explains better what they are. I love that they're chocolatey!!
These are yummy chocolate snacks that are high in plant-based protein, while being free of most top allergens! What are they free of? They're free from gluten, wheat, peanuts, tree nuts, dairy, casein, soy, egg, sesame, sulfites, lupin, mustard, fish, shellfish and crustaceans. You just try to find me other good tasting snacks that are high in protein while free of all of those allergens! I don't think you'll find many!
My middle school son just started playing tackle football, and is in need of a hearty snack to have during the 15 minutes between school getting out and football practice starting. I think these protein bites will be a perfect part of that, so I've actually already set his favorite flavors aside so I can create after school snacks including these for him.
While my son doesn't need to eat top allergen free, some of his teammates might, so some ideas I had to add to his snack tin are: fresh fruit like berries or apple slices, dried fruit like cranberries, raisins, or banana chips, carbs like rice cakes or gluten-free crackers, and since my son loves beef jerky, I'll include that sometimes too.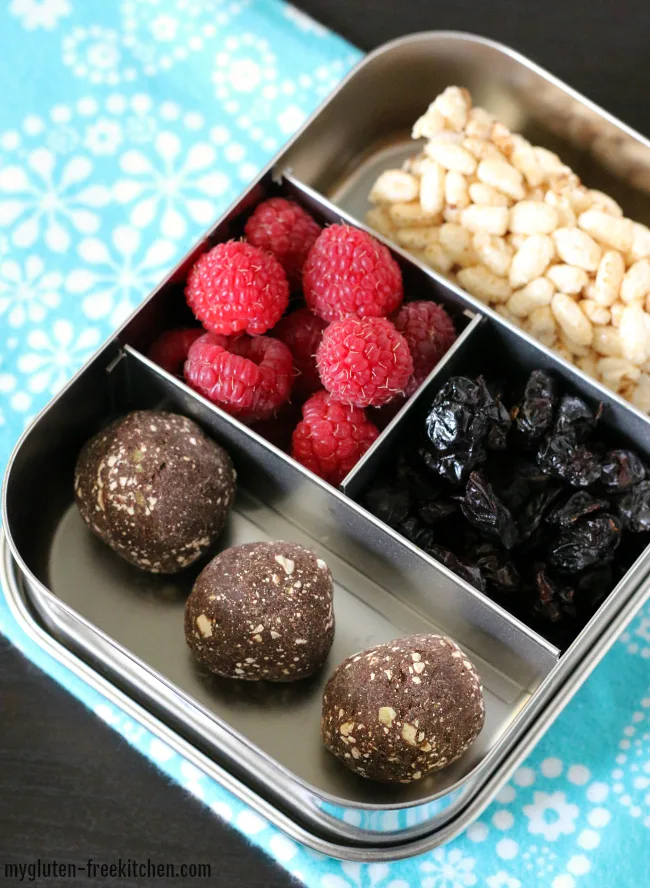 If you or your child likes raw veggies, you could include those in your snack bin too!
I'm also going to pack little snacks like this for my errand day each week. I'll probably add rice crackers and dried blueberries alongside my chocolate protein bites!
You can buy the protein bites here!
Our favorite flavors:
Mine: SunSeed Butter Protein Bites – if you love the flavor of peanut butter or nut butter with chocolate, you'll find that SunSeed Butter and chocolate has a similar flavor profile. Definitely my fav!
My hubby: Cinnamon Spice and Dipped Banana. He liked these both and could see bringing them along on a hike.
Youngest son: As I stated above, he likes the SunSeed butter bites the best too so I'm going to order more of those for him.
Some of my friends tried these out and reviewed them too. Check out their posts here: Chrystal of Gluten-free Palate loves the cinnamon spice protein bites. Cindy of Vegetarian Mamma loves the dark raspberry, Brianna of Flippin' Delicious loves the dark raspberry, and Erica of Celiac and the Beast loves the SunSeed Butter Bites.