When you want a cool, fresh, flavorful dessert without heating up the stove or oven, you can make this easy berry trifle recipe! In less than 30 minutes, you can have these gluten-free berry trifles ready to share with family and friends. They're great to bring to summer brunches and dinner parties too! This recipe is sponsored by Nielsen-Massey because all of their products are certified gluten-free!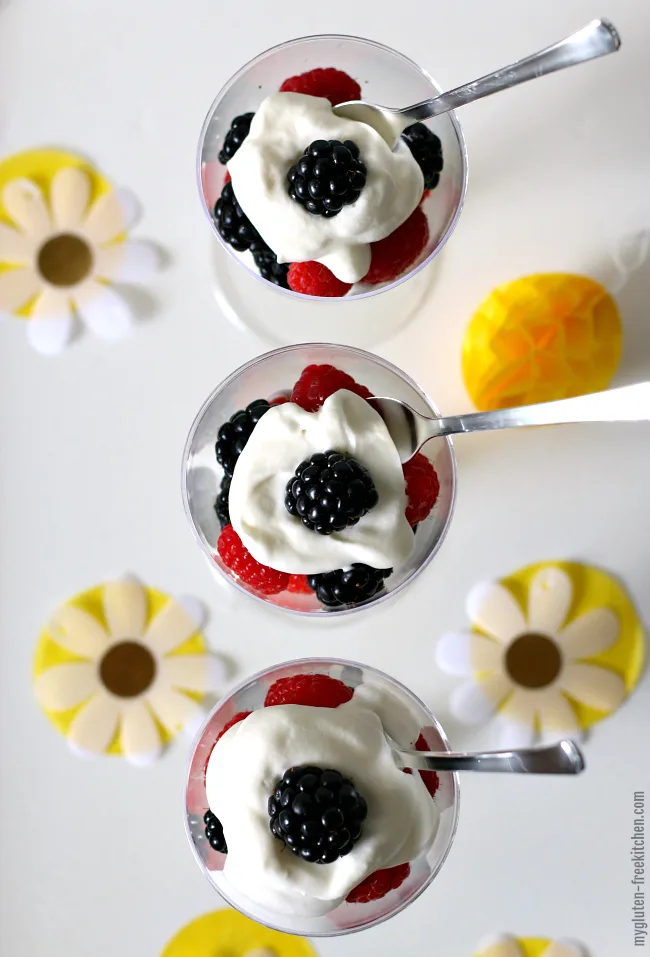 It's been over 100 degrees here in Boise this week and the last thing I want to do is heat up my stove to cook anything, or my oven to bake anything! I'm sure a lot of you feel the same way! That's why desserts that are no-cook and no-bake are so handy!
The one perk of this hot weather is that my backyard garden loves the heat and everything is growing like crazy! This is the time of year when our blackberries, raspberries, tomatoes, and onions are all ripe and ready for picking! Here's a peek at just one section of our thornless blackberry bushes.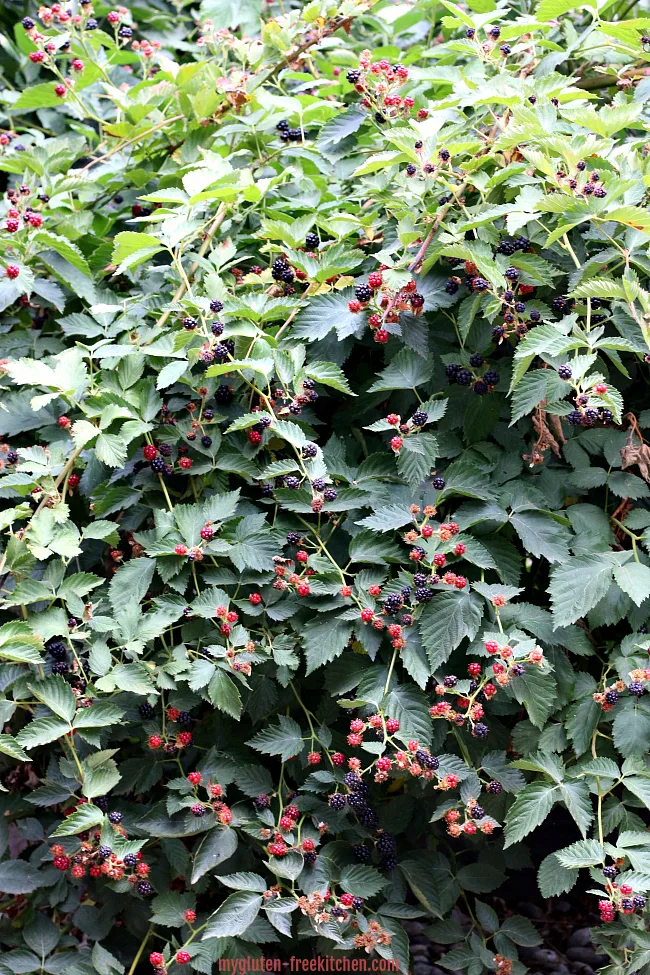 In thinking of an easy, no-bake dessert that would be pretty much garden to table, I wanted a dessert that would really let our homegrown blackberries and raspberries shine. I decided to pair the berries with an easy to make homemade whipped cream that has just a hint of lemon flavor to make this a flavorful dessert.
I knew this would be the perfect dessert to use the new pure lemon paste from Nielsen-Massey. By having this ingredient in your pantry, you can make desserts like this one lemon-flavored without having to juice and zest fresh lemons. It's a great time-saver! Plus I loved not having the extra dishes to wash that I'd usually have after juicing and zesting lemons.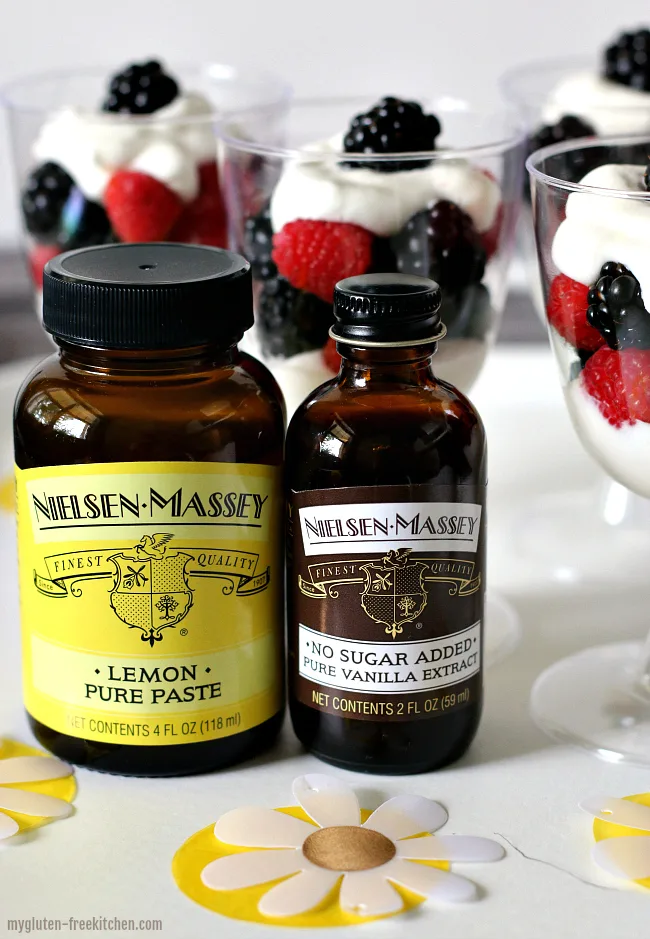 This pure lemon paste gave this whipped cream just the hint of lemon I was looking for to give this dessert a flavorful, finishing touch of lemon! Nielsen-Massey's Pure Lemon Paste is made with their pure lemon extract, and contains oil drawn from the natural essence of high quality California lemons. You know what I love about Nielsen-Massey products? They're all all-natural, GMO-free, certified gluten-free, certified Kosher, and allergen-free!
I also included pure vanilla extract, because, well, I pretty much add vanilla extract to every dessert! It's my favorite flavoring! This time I tested out Nielsen-Massey's new No Sugar Added Pure Vanilla Extract which is produced from a proprietary blend of premium, hand selected beans. This new vanilla extract offers an alternative for people seeking products with no added sugar. It has the same rich flavor as classic varieties and can be used interchangeably with them. It is certified gluten-free as well and it lent just the perfect hint of vanilla.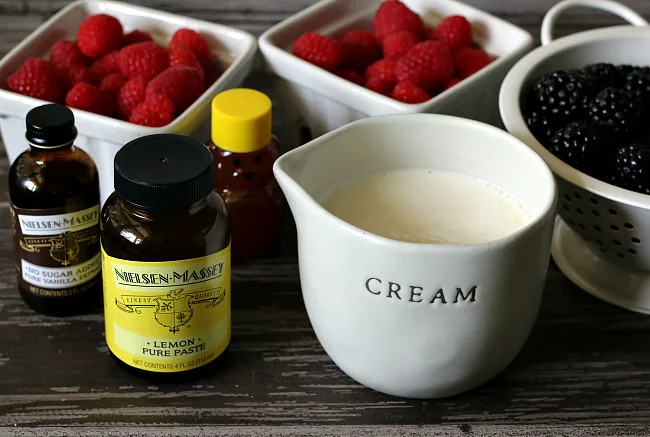 Notes on ingredients and substitutions for these Easy Berry Trifles:
Whipping Cream – Choose the carton labeled Heavy Whipping Cream. You'll be using 1 cup of this for every 9 trifles you want to make, so scale accordingly if you're wanting to make more of them. (i.e. buy a pint if you want to make 18, a quart if you want to make 36.)
Pure Lemon Paste – this is a new product just hitting stores this summer! If you don't see it at your local store, you can buy it directly from Nielsen-Massey here. Chefs recommend using one tablespoon, of pure lemon paste in place of one teaspoon of lemon extract.
No Sugar Added Pure Vanilla Extract – If you'd like to try this new no sugar version of pure vanilla extract, you can buy it online here. If you aren't worried about the sugar content in your vanilla, you can substitute any of Nielsen-Massey's other pure vanilla extracts for this as well.
Honey – To sweeten the freshly whipped cream, I chose to use honey. I felt that the flavor played well with the hint of lemon and the berries, so I definitely recommend it. You could also use powdered sugar if you'd prefer instead of lemon.
Berries- While I used raspberries and blackberries since we grow them, you can definitely swap them out for your favorite berries like blueberries, boysenberries, or dewberries. You could also do just one kind of berry instead of using two like I did, if you happen to have a favorite!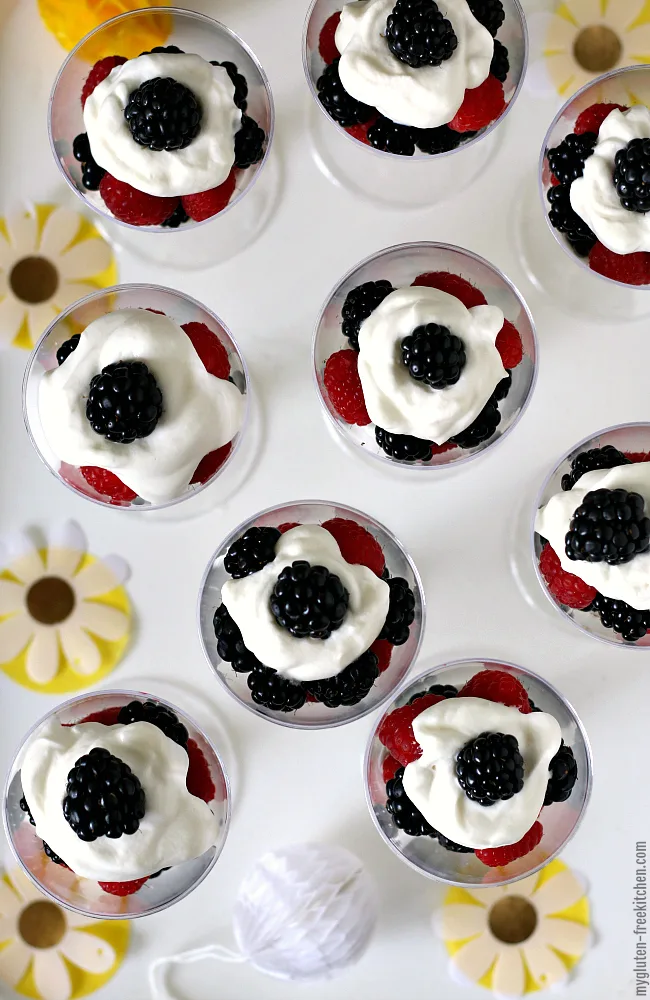 As written, this recipe makes 9 of these cute trifles that I put in plastic wine glasses. The wine glasses made them fun and portable, perfect for a summer party, brunch, or a bridal or baby shower. There's a bit of extra whipped cream so that you can taste test to make sure you like the level of lemon flavor and sweetness or if you want to add more of either before assembling the trifles.
It takes just 4-5 minutes to make this flavored whipped cream. Then, as long as your berries are clean and ready to go, it takes about 2 minutes to assemble each trifle. That's if you're a bit of a perfectionist like me and don't want a bunch of whipped cream smudges on the inside. But I thought I'd provide that as a guide if you're estimating how much time to allow yourself to prepare these.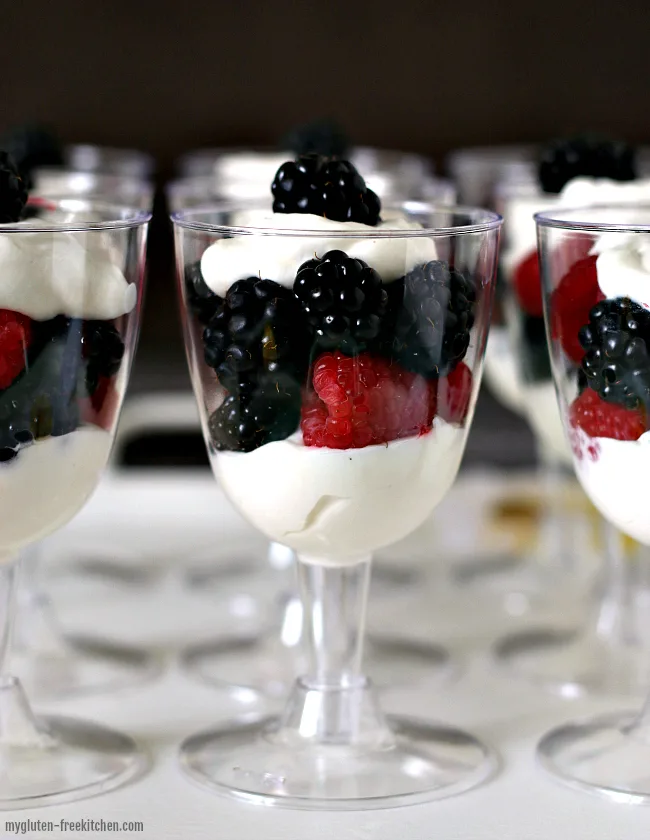 I hope you'll make these soon! I'm already brainstorming what else to use this new lemon paste in and I'm thinking a lemon cream pie might be next! Let me know what you'd try it in!
Recipe for Easy Gluten-free Berry Trifles:
Yield: 9
Easy Gluten-free Berry Trifles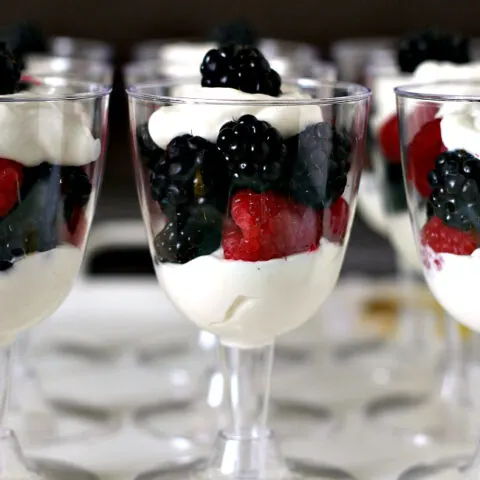 In less than 30 minutes, you can have these gluten-free berry trifles ready to share with family and friends.

Prep Time 23 minutes

Total Time 23 minutes
Ingredients
1 cup heavy whipping cream
1 Tbsp. honey
1 tsp. lemon extract
1 Tbsp. pure lemon paste OR 1 tsp. pure vanilla extract
2 cups fresh blackberries
2 cups fresh raspberries
Instructions
To a mixing bowl, add whipping cream, honey, lemon extract, pure vanilla extract and beat on medium-high speed until soft peaks form. What that means is, when you lift up the beater from the mixture, the whipped cream will look like a soft mountain peak that will flop over a bit at the top. It won't hurt anything in this recipe if you go a bit past the soft peaks stage, just definitely don't go past the stiff peaks stage and overwhip!
In the bottom of each cup, add 2 tablespoons of the lemon whipped cream. Next add two layers of berries. For these wine glasses, this meant about 10 berries, but that will vary based on the size of your glasses/cups and the sizes of your berries.
Next add 1 tablespoon of lemon whipped cream on top of the berries.
Finally, top with one pretty blackberry or raspberry for the finishing touch.
If not serving within the hour, place these in refrigerator. Remove from refrigerator about 15 minutes before serving, as the inside of the glasses can get some condensation from the cold and will need time to clear.
Serve with small spoons and enjoy!
Notes
Assembling each trifle takes about 2 minutes if you're trying to be careful to keep the sides clean for presentation.

There is a bit more whipped cream here than is needed for the 9 trifles so that you can taste test and add more of any of the flavorings if you'd like or just so you can sneak a few bites without guilt!

You can double this recipe to make 18 trifles, buying a pint of whipping cream for that. You can quadruple this recipe to make 36 trifles, buying a quart of whipping cream for that.


This sponsored post was created through my partnership with Nielsen-Massey. Nielsen-Massey is a family owned business that I'm proud to partner with! As always, all opinions are my own. Collaborating with brands I love allows me to keep bringing you new and varied recipes! Thanks for your support!
Pin this to your gluten-free desserts board: