If you're fortunate enough to get yours hands on some huckleberries set aside some to use to make these gluten-free huckleberry muffins! I think they're better than blueberry muffins even! Thanks to Albertsons on Broadway for sponsoring this new huckleberry muffin recipe!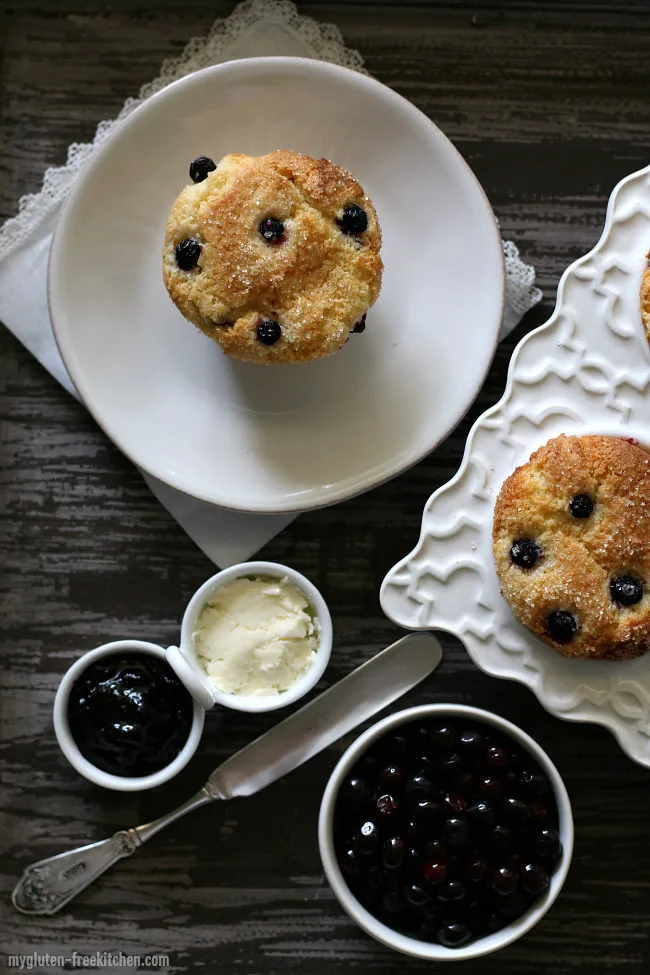 Are huckleberries new to you? Many of my online friends are saying they've never heard of huckleberries before!
Living over half of my life in Montana and Idaho, I'm very familiar with them, even if they're often elusive. Finding huckleberries involves two things: trekking into the mountains and knowing the secret locations that locals usually won't share!
Even though I know there are huckleberries within an hours drive of me, I don't usually go pick them. People are so secretive about where exactly to find them that I know it would be an hour drive each way, hiking around for a few hours, and sometimes coming back empty handed if we don't find a great spot or someone already beat us to picking them.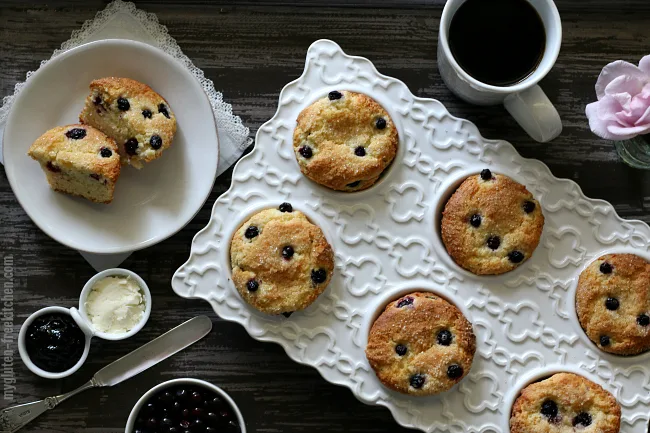 I'd rather buy them already picked really! I often keep an eye on local buy/sale sites and friend's Facebook pages, hoping to find some for sale because huckleberries are THAT good!
This year, I was so excited to find that Boise's new Albertsons on Broadway is having a Hooray for Huckleberries event, showcasing this northwest fruit that I love! Since huckleberry season is quite short, the season of picking them and in this case, buying them in store is quite short too, but it's so nice to go and buy them here locally! I stocked up on them and will put most in the freezer so we can keep enjoying them in our muffins, pancakes, and waffles for a few months!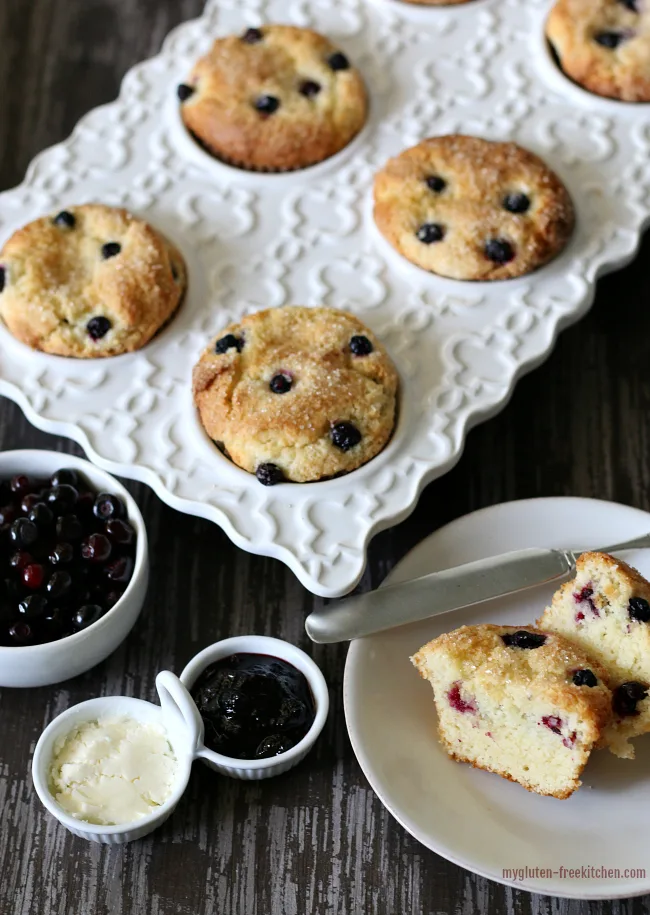 A bit more information about huckleberries for those of you interested:
They're red, blue, or black, or any variation in between!
They're much smaller than most blueberries, and a little tarter than blueberries.
They grow in the mid-mountain regions of the northwest and British Columbia.
They're found in forests, mountain slopes and alpine lake basins. One of my friends used to walk right out the back door of her Montana cabin to pick huckleberries a cup at a time for her recipes!
They're the state fruit of Idaho, where I live now!
Huckleberries make some of the best fruit pies I've ever had (back in my gluten-eating days). Also, I feel like you haven't lived until you've had some scoops of huckleberry ice cream or a huckleberry milkshake! I bought huckleberry ice cream there last night because my husband and son were saying they're craving huckleberry milkshakes!
During this Hooray for Huckleberries event at Albertsons of Broadway, they are also showcasing all sorts of local Northwest or Idaho made huckleberry products. Seriously everything from kombucha to bbq sauce to huckleberry wine! You've got to swing by if you're in the greater Boise area. It's worth the drive even if you're out a ways! If you've never been, be sure to read my post about their grand opening! It's such a unique store, where local farmers, producers and makers are highlighted throughout the store.
Here's a peak at just one section full of huckleberry products that were gluten-free: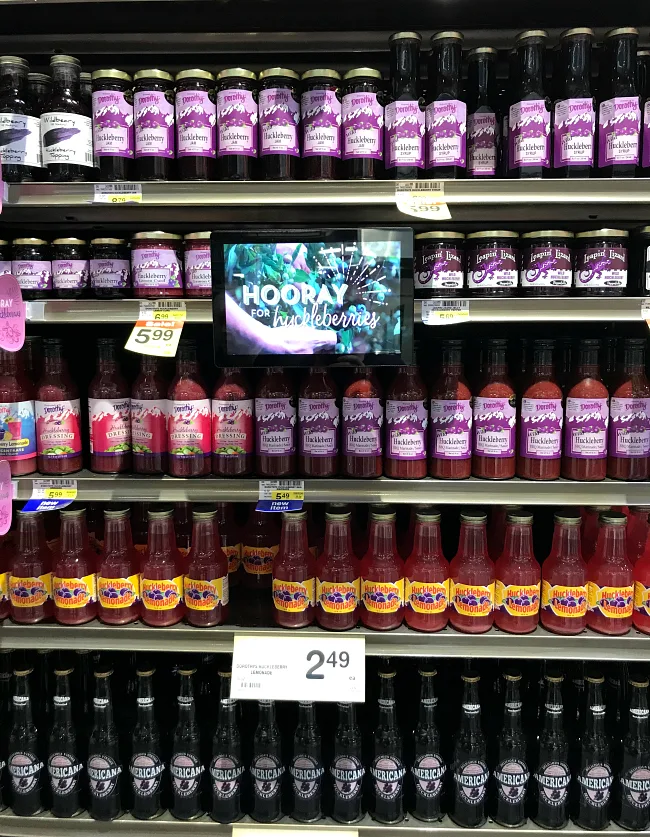 The favorite huckleberry items that I bought, besides multiple containers of the actual berries were huckleberry lemonade and huckleberry jam bought from those shelves in the photo. I went back and bought 12 more bottles of this huckleberry lemonade yesterday since I love it so much!
The huckleberry jam goes great on this new recipe for gluten-free huckleberry muffins!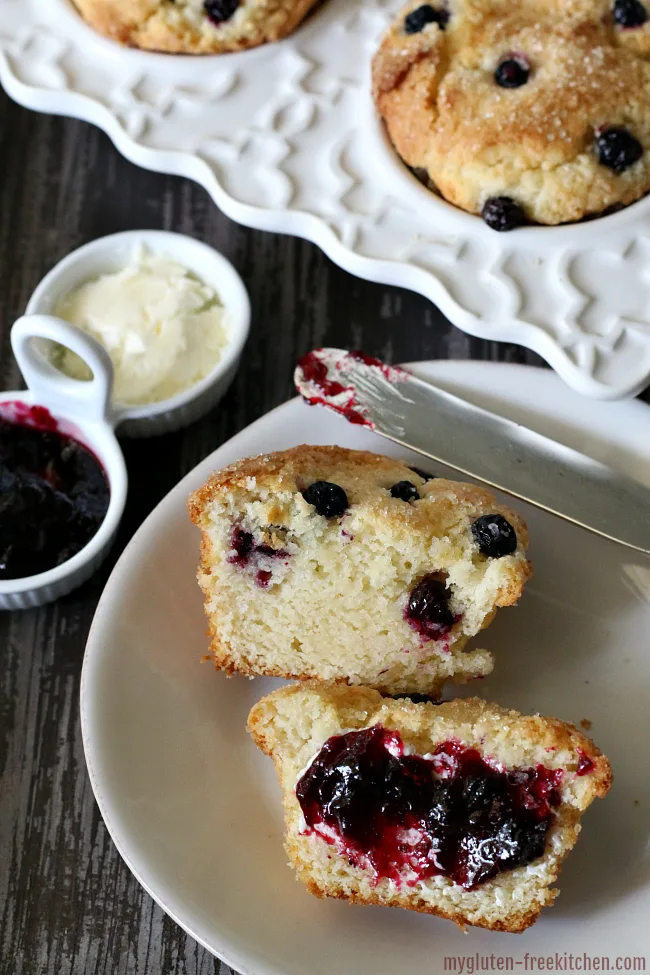 Notes on ingredients and substitutions for these gluten-free huckleberry muffins:
Gluten-free flour blend: Albertsons stores in my area carry several gluten-free flour blends, but this is the one they carry that I like the most: Cup4Cup. It already contains xanthan gum, so no additional xanthan gum is needed. If you're using a different gluten-free blend that doesn't have xanthan or guar gum already in it, then you'll need to add 1 teaspoon of it.
Sugar: Because I really wanted a coarser sugar that I could use as a topping too, I used the Wholesome Organic Cane Sugar. I love the texture of it sprinkled on top!
Butter: This recipe uses both butter and oil to create the perfect texture. I used salted butter since that's what so many of you have said you buy most regularly. I used Darigold butter, a Northwest favorite!
Eggs: You'll use 2 large eggs. This time I tried out these cage free organic brown eggs.
Oil: Feel free to use the oil you usually prefer for baking: vegetable, corn, canola, melted coconut oil, etc.
Buttermilk: I LOVE using buttermilk in my muffins and coffee cakes. It just helps give the perfect texture and flavor!
Huckleberries: Obviously essential for this recipe! I included a range for the amount to use since some people like their muffins to just have a few berries, and some like their muffins jam packed!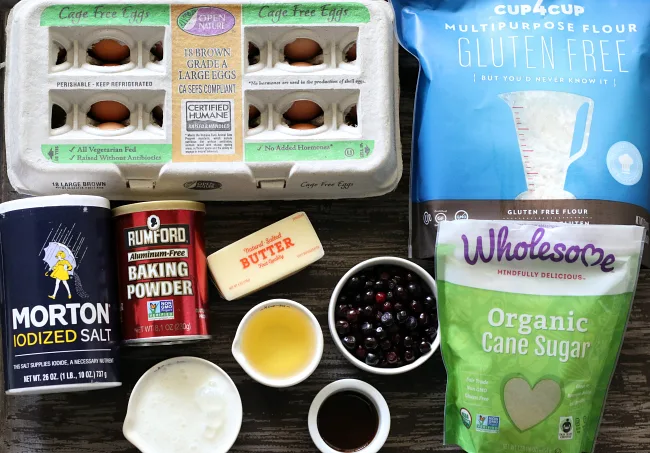 Looking for more recipes that use huckleberries? Try this huckleberry vinaigrette salad dressing that I've shared here on my site – it's really good! You know what else looks good is these gluten-free huckleberry scones! Must try these huckleberry recipes soon!
I hope you love these muffins as much as my family did! Enjoy!
Gluten-free Huckleberry Muffin Recipe:
Yield: 12 muffins
Gluten-free Huckleberry Muffins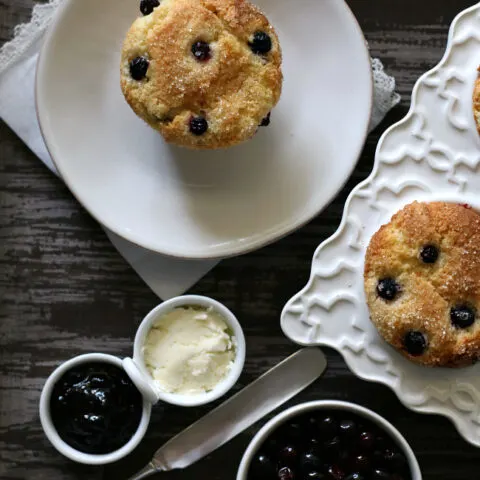 If you're fortunate enough to get yours hands on some huckleberries set aside some to use to make these gluten-free huckleberry muffins!

Prep Time 20 minutes

Cook Time 28 minutes

Total Time 48 minutes
Ingredients
2 1/2 cups Cup4Cup gluten-free flour
2 tsp. baking powder
1/2 tsp. salt
1 1/3 cup sugar (can use same coarse sugar as topping)
6 Tbsp. salted butter, room temperature
1/4 cup oil (vegetable, corn, canola, melted coconut, etc.)
2 large eggs, room temperature
2 tsp. pure vanilla extract
1/2 cup buttermilk
1/2 to 3/4 cup fresh or frozen huckleberries
1/4 cup coarse sugar for sprinkling
Instructions
Line your muffin pan with 12 paper liners and set aside.
Preheat your oven to 375°.
In a medium bowl, whisk together the flour, baking powder, and salt. Set aside.
To the bowl of your stand mixer, add the sugar and butter, then beat on high speed for 2 minutes, or until it looks sandy and light. Gradually beat in the oil until blended in.
Add the eggs, one at a time, beating on low until mixed in. Add the pure vanilla extract and beat just until mixed in.
With the mixer on low speed, alternate adding some of the flour mixture and some of the buttermilk, mixing just until combined, until you've added all of both.
Using a large cookie scoop (#20) or a 1/4 cup measuring cup, scoop the batter into each of the 12 muffin liners. Hand place or sprinkle 7-10 berries onto each. Next use a #40 scoop or 1 1/2 Tablespoon to scoop batter on top of berries. Top with another 5-7 berries. Again, this varies depending on how full of berries you like your muffins!
Sprinkle with coarse sugar.
Bake in preheated 375° oven for 25-28 minutes or until browned nicely and muffin springs back to slight finger press.
Let cool in pan for a few minutes, then remove to a wire rack.
These are delicious spread with butter and/or topped with huckleberry jam!
Store leftovers in airtight container and enjoy within 3 days, or move to Ziploc freezer bag and freeze.
Notes
*The gluten-free flour blend I used, Cup4Cup, has xanthan gum already in it. If your gluten-free flour blend has xanthan or guar gum in it already just follow my recipe here as is. If your flour blend does not have xanthan gum, then I suggest adding 1 tsp. xanthan to the dry ingredients when you make this.

I included a range of huckleberry amounts because everyone really does have their own preference for the number of berries in each muffin! I made my batch with 1/2 cup huckleberries, but my husband and I thought they needed more. However, my kids thought they were just right!


Pin this to your gluten-free muffins board!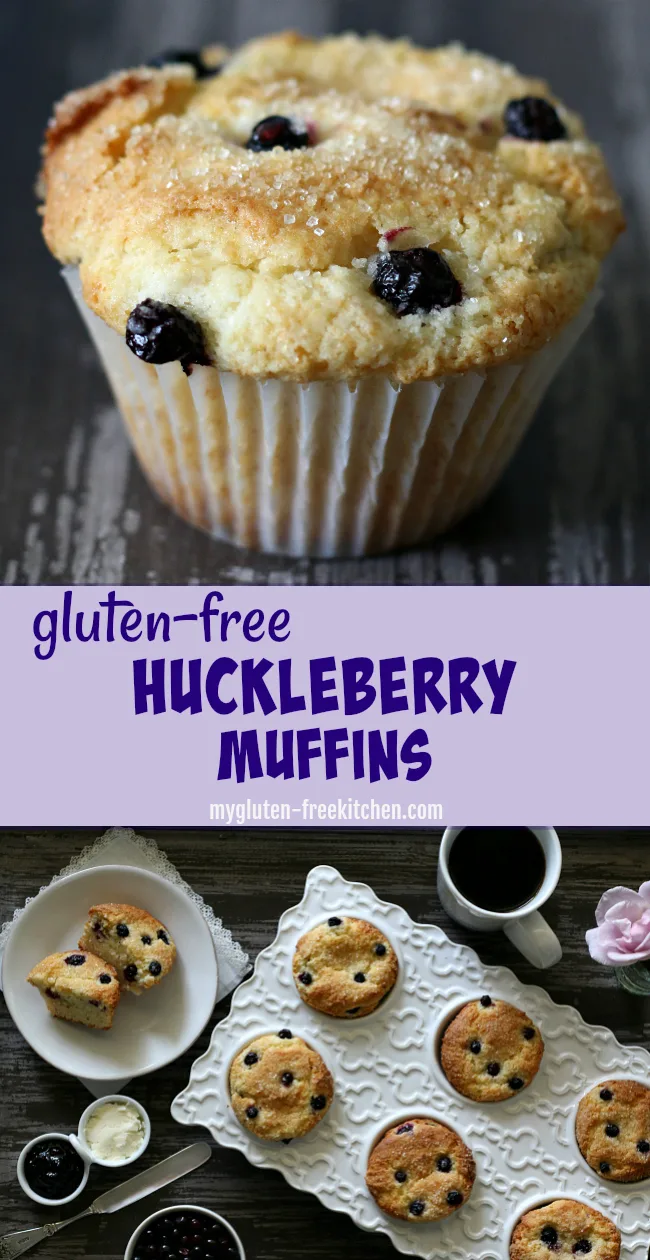 This is a sponsored conversation written by me on behalf of Albertsons. The opinions and text are all mine.