If you like your brownies with frosting, you'll love this gluten-free frosted brownies recipe!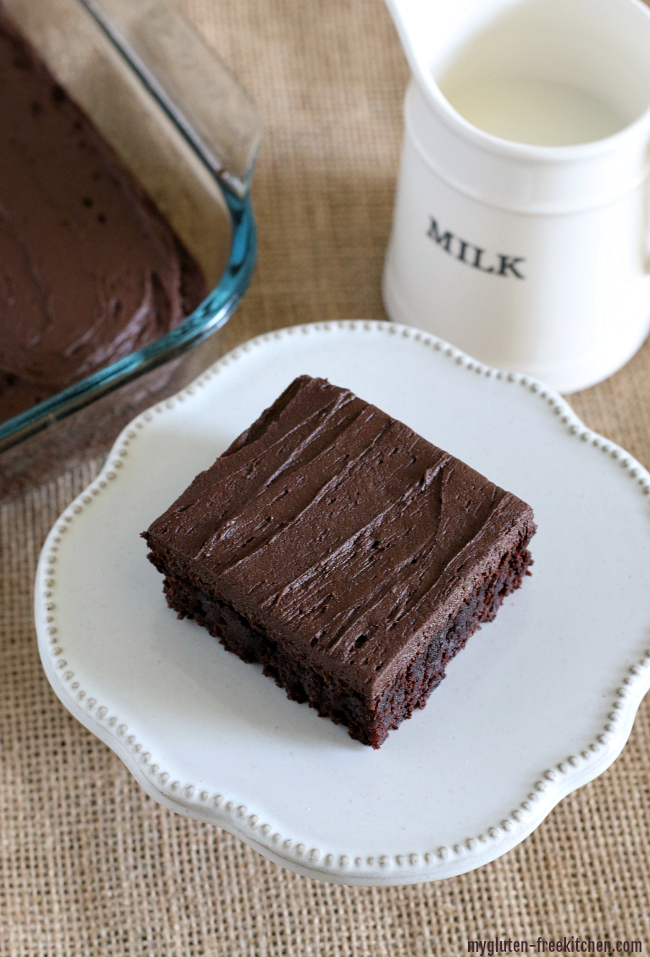 While my family, and many of you, love my popular gluten-free fudgy brownies, I know some of you love frosted brownies too! So I spent a few weeks working on a recipe to get these just right. My notes say that my 5th try in two weeks was the perfect one, but I know that a year or so ago, I tried a few times too and was never happy with the results. I'm glad I revisited this recipe idea and stuck with it until I got it perfect!
I felt like the base for these frosted brownies needed to not be a fudgy brownie, – instead something more on the chewy or cakey side. I've never been a huge frosted brownie fan, but way back when I worked in an Albertsons store bakery in college, we used to sell these frosted brownies in the cooler that I just loved.
I tried my best to test and tweak until I came up with one that I loved as much as that frosted brownie over 20 (ahem) years ago!
After trying a variety of new recipes for lunch lady brownies and other frosted cake brownies, and making adaptations, I ended up going back to one of my own recipes that's already here on the blog, and making some adaptations to it. Success!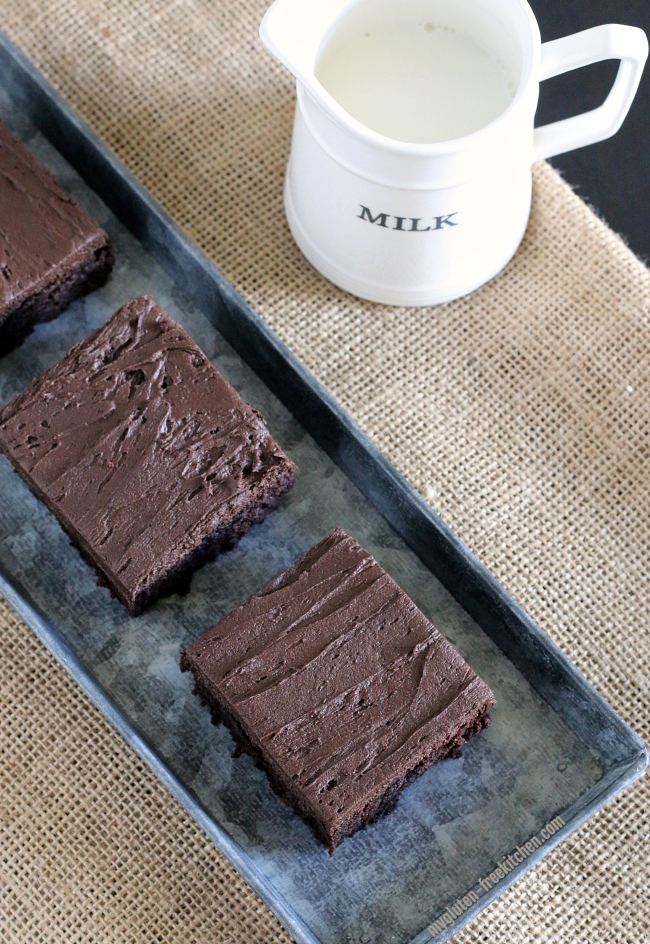 I adapted my gluten-free Reese's brownies recipe a bit, and came up with the perfect base for these gluten-free brownies. I left out all the peanut butter chips and Reese's, of course, and I decreased the sugar in them since there is a sweet chocolate frosting going on top.
For the frosting, I used all the normal frosting ingredients, just adjusting until I got it just right. Doesn't it look perfect?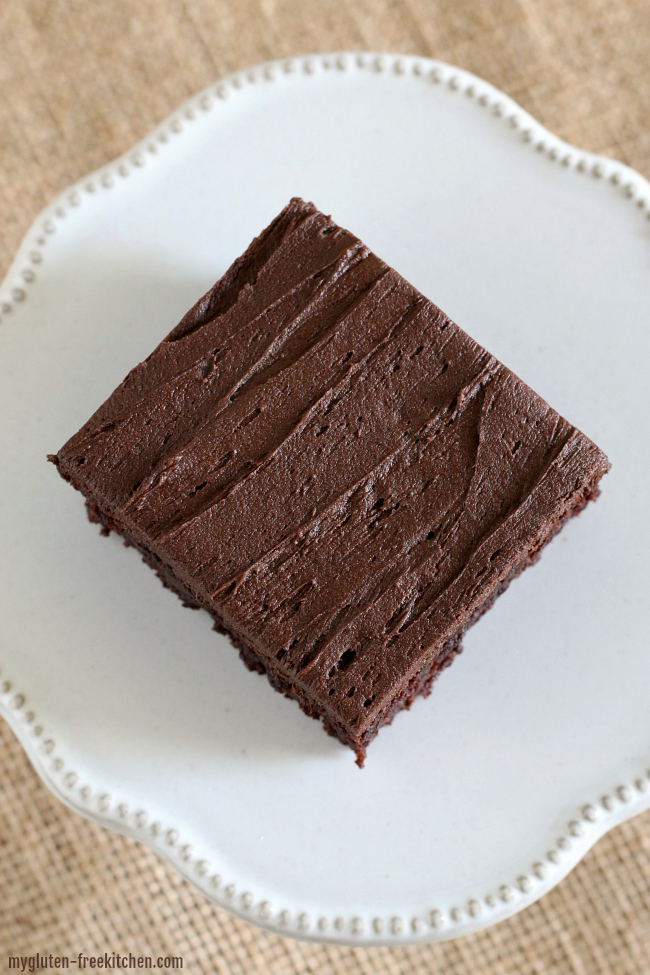 The frosting is my typical 5 ingredient chocolate frosting of butter, powdered sugar, cocoa powder, vanilla extract and milk. All things that you probably have on hand and they make this delicious frosting!
Notes on ingredients and substitutions for these gluten-free frosted brownies:
Gluten-free flour: I tested it with several of my go-to flour blends: gfJules, King Arthur Measure for Measure, and Gluten-free Mama with great results with either one. You can buy gfJules gluten-free flour blend directly or from Amazon. You can buy Gluten-free Mama's on Amazon or sometimes get lucky and find it at TJMaxx or HomeGoods stores. You can buy King Arthur Measure for Measure here on Amazon or here from Target.
Cocoa Powder: I like to use Saco cocoa powder, Hershey's cocoa, or Guittard Cocoa Rouge. I often will use half of one of those regular cocoas that I listed and half of the Hershey's dark cocoa. That's how to get a deeper brown color without changing the flavor.
Butter: While I haven't tested it yet, I feel that you could swap the butter in the brownies for your favorite non-dairy butter alternative for baking, whether that be coconut oil, Melt buttery sticks, Earth Balance buttery sticks, or oil. The resulting texture won't be exactly the same, but they'll still be yummy! In the frosting, I would recommend any of the stick butter alternatives like Melt or Earth Balance.
Milk: While I used 2% milk in this frosting, feel free to substitute for your favorite milk or milk alternative.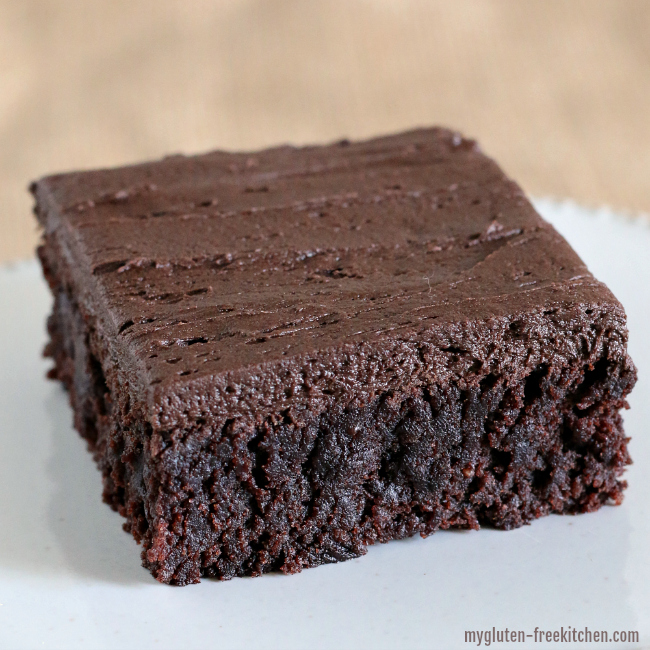 Looking for a brownie with some peanut butter too? Try my gluten-free peanut butter brownies – I make them twice a month! Or maybe my gluten-free buckeye brownies will be up your alley. They take a while to make, but they're worth it too! If you're looking for a great low-carb brownie, try these keto brownies.
If you love all things frosted, make sure you check out these frosted gluten-free sugar cookies from my friend Chrystal too.
I hope you'll make these brownies soon! Pour yourself a glass of milk and enjoy with your family or friends! If you want to make these for a birthday, feel free to add sprinkles!
If you make these and love them, please come back and give this recipe a 5 star rating in the recipe card! Feel free to comment with tips or to share any successful substitutions you made.
Gluten-free Frosted Brownies Recipe:
Yield: 20 brownies
Gluten-free Frosted Brownies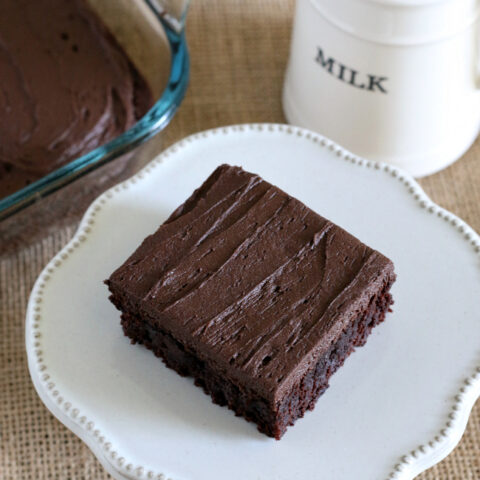 If you like your brownies with frosting, you'll love this gluten-free frosted brownies recipe! These are the best!

Prep Time 20 minutes

Cook Time 30 minutes

Additional Time 20 minutes

Total Time 1 hour 10 minutes
Ingredients
Brownies:
1 cup butter
2 cups sugar
1 Tbsp. pure vanilla extract
4 eggs
1 1/2 cups gluten-free all-purpose flour
1/2 tsp. xanthan gum (*if needed)
1 cup cocoa powder
1 tsp. salt
Frosting:
6 Tbsp. salted butter
1/2 c. cocoa powder (see note)
2 2/3 cups powdered sugar
1/4 c. milk
1 tsp. pure vanilla extract
Instructions
Brownies:
Preheat oven to 350. Lightly grease a 9x13 baking dish. I used a 9x13 glass Pyrex.

Note that you can use a hand mixer or a stand mixer for this recipe.

Melt the butter, then add to mixing bowl. Add the sugar and pure vanilla extract and mix until blended.

Beat in the eggs, one at a time, mixing well after each addition, until thoroughly blended.

In a separate bowl, whisk together the gluten-free flour, xanthan gum (if needed), cocoa powder, and salt.

Gradually stir the flour mixture into the butter mixture in the mixing bowl until blended.

Pour into greased 9x13" pan and place in preheated oven. Bake at 3500 for 30 minutes, or until a toothpick inserted near the center comes out clean or with moist crumbs only, no batter.

Remove from oven and cool pan on wire rack before frosting.
Frosting:
Using a medium glass bowl, beat the room temperature butter and the cocoa powder together. Add powdered sugar and milk alternately, beating with a hand mixer until creamy. Add vanilla last, beating in until mixed well.
Spread over the completely cooled brownies. For nice cutting, chill the completed frosted brownies for at least 30 minutes before cutting.
Notes
I have tested this with gfJules flour and with Gluten Free Mama's almond blend with great results with both. Feel free to test with your favorite blend!

Check to see if your gluten-free flour blend has xanthan or guar gum already in it. If it does, no need to add the xanthan called for in this recipe. If it doesn't, add the 1/2 tsp. called for.

For the cocoa powder, I like to use about a mix of about half of dutch-processed or Saco blend cocoa and half of Hershey's special dark cocoa. That is how I achieve a nice darker brown color.

See my blog post for the specific brands/kinds of everything I used if you have any questions!
Recommended Products
As an Amazon Associate and member of other affiliate programs, I earn from qualifying purchases.


Pin these to your Gluten-free Desserts Pinterest Board: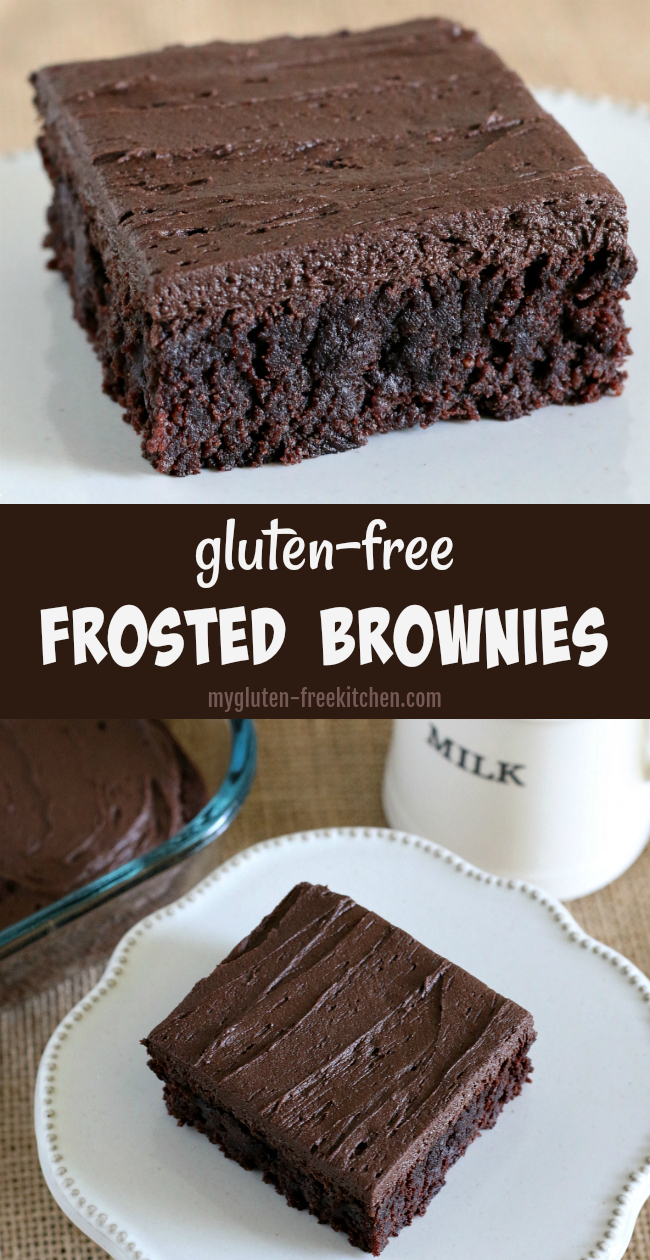 I've also got an entire Pinterest board of gluten-free brownies here!
Saturday 17th of October 2020
Your brownie recipe turned out great! I made them for our 2-year-old's birthday in a couple Pampered Chef's brownie pans. I used Bob's Red Mill 1-to-1 flour (no xanathan gum needed). Yum!
Thursday 13th of February 2020
These look great! Would anyone describe these as similar to Little Debbie brownies (2 in a little package with the colorful sprinkles or nuts)? I am desperate for something like Little Debbie brownies!
Sunday 18th of November 2018
Had a craving this evening. Remembered your recipe, trying to make them now. ????????Yours look delicious.
Wednesday 24th of October 2018
These look phenomenal, trying them this weekend! Thanks for the recipe ❤️
Saturday 15th of September 2018
You've got 4 eggs in this recipe, why in the world would you need xantham gum. Xantham gum is a laxative and also messes with your microbiome.
No science hasn't completely nailed this down yet, but it's suspected in exacerbating inflammatory bowel disease.
Monday 17th of September 2018
Hi Paul, Thanks for your comment. I actually did try these without xanthan gum but they did fall apart. You can sure make them that way if you'd prefer! I'm sorry that xanthan gum bothers your body. Guar gum bothers mine, so I can understand that, but haven't found too many of my readers bothered by the bit of xanthan gum called for in my recipes. I'm always experimenting to see which recipes I can use less of it in. I hope you can try these in a way that works for you, and then come back and let us know!! Happy baking!