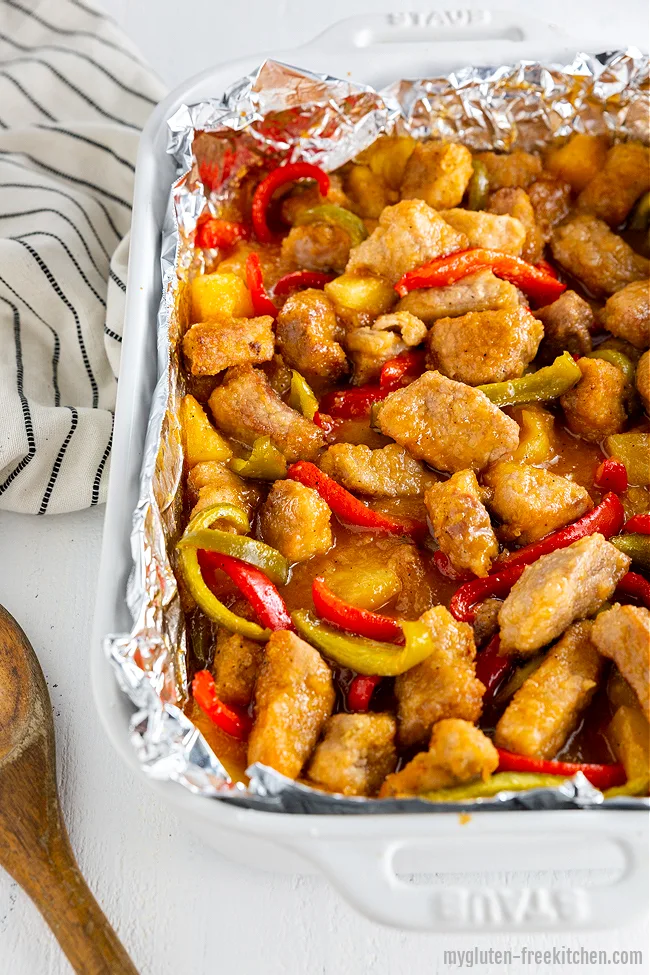 My gluten-free sweet and sour chicken recipe has been so popular with many of you! I figured it was time to test it out with pork! Thankfully, the recipe worked just as well with pork as with chicken!
I also love that this gluten-free sweet and sour pork bakes like a casserole, giving you plenty of time to clean up while it's in the oven, making for easy after dinner clean up!
I didn't think I should just make sweet and sour pork with pineapple but thought it needed peppers in it too like I remember my favorite Chinese restaurant always putting in. They were a great addition!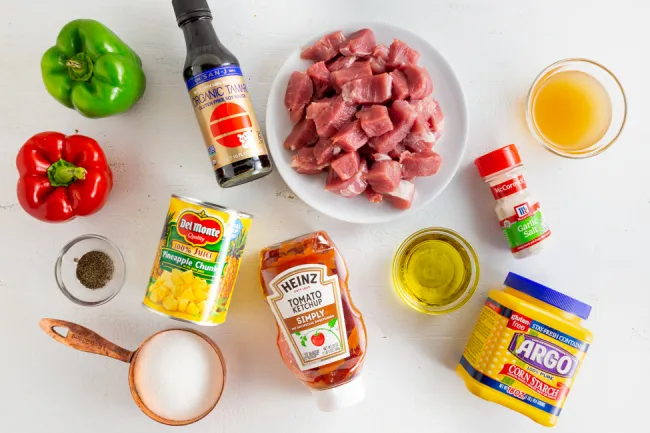 Notes on ingredients for this gluten-free sweet and sour pork recipe:
Pineapple Chunks: I do not recommend getting the pineapple chunks that are in a syrup. Get the kind that's in 100% juice. I usually grab Del Monte 100% juice pineapple chunks. Make sure you drain the can of pineapple chunks. You can just drink the pineapple juice, you won't be using it in the recipe. Of course if you have fresh pineapple on hand, feel free to use that instead!
If you are using a fresh, strong smelling apple cider vinegar, I would recommend cutting the amount slightly so it isn't overpowering. When I use store-bought apple cider vinegar, the 1/2 cup called for is perfect. When I use the freshly made, local apple cider vinegar that I get from an orchard, I definitely need to decrease it to 1/3 cup total.
Soy sauce has wheat in it, so be sure to use a certified gluten-free soy sauce. The certified gluten-free soy sauce I prefer to use is San-J Tamari gluten-free soy sauce.
If you don't like your meals so sweet, feel free to cut the amount of sugar a bit. I like mine more on the sweet side than the sour side.
Corn starch is naturally gluten-free, but I do prefer to buy containers of it from brands that actually claim it is gluten-free, such as Argo cornstarch. I do not recommend buying from a bulk bin due to cross contamination.
If you'd prefer to use different vegetables than bell peppers, go right ahead! Some others that would be great include sweet onions, purple onions, green onions, water chestnuts, peas, sugar snap peas, or baby corn. I've seen many of these included in Chinese sweet and sour pork served at restaurants.
For the pork, I just used some pork tenderloin. If you have some boneless pork chops on hand, you could use those too. Even a boneless pork roast that you find in the back of your freezer will work! No matter which cut of pork you use, you'll just need 1.5 pounds and you'll cut it all up into cubes or strips that are between 1-2″.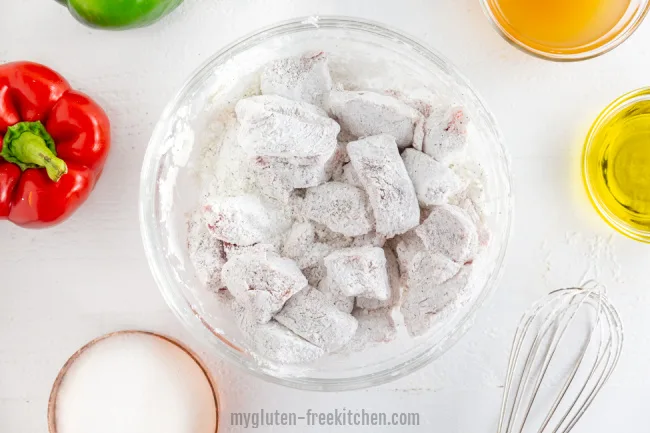 How to make gluten-free sweet and sour pork:
Cornstarch, salt, and pepper are whisked together. Then add the pork pieces and stir until they're all covered.
After browning the pork pieces in a skillet with oil, but not cooking fully, transfer it to an aluminum foil lined baking dish.
Add the sliced green bell pepper and red bell pepper and one can of pineapple chunks (drained) in with the pork.
Lining the pan is just for easy clean-up. I'm all about finding ways to make clean-up easier!
In a small bowl, combine the sauce ingredients. Then pour the sweet and sour sauce over the pork, pineapple, and peppers.
Here's a look at this now before you put it in the oven: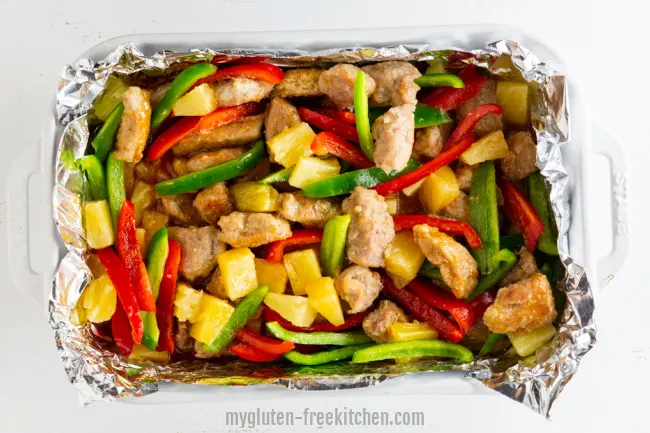 You're going to look at this and think that this is not saucy like you wanted. But trust me as it bakes, the sauce thickens up nicely. Since you'll be pulling it out of the oven to stir every 15 minutes, every piece of pork and vegetable will get coated with this yummy sticky sauce!
One hour in the oven, and you've got this amazing American Chinese gluten-free Sweet and Sour Pork ready to serve your family!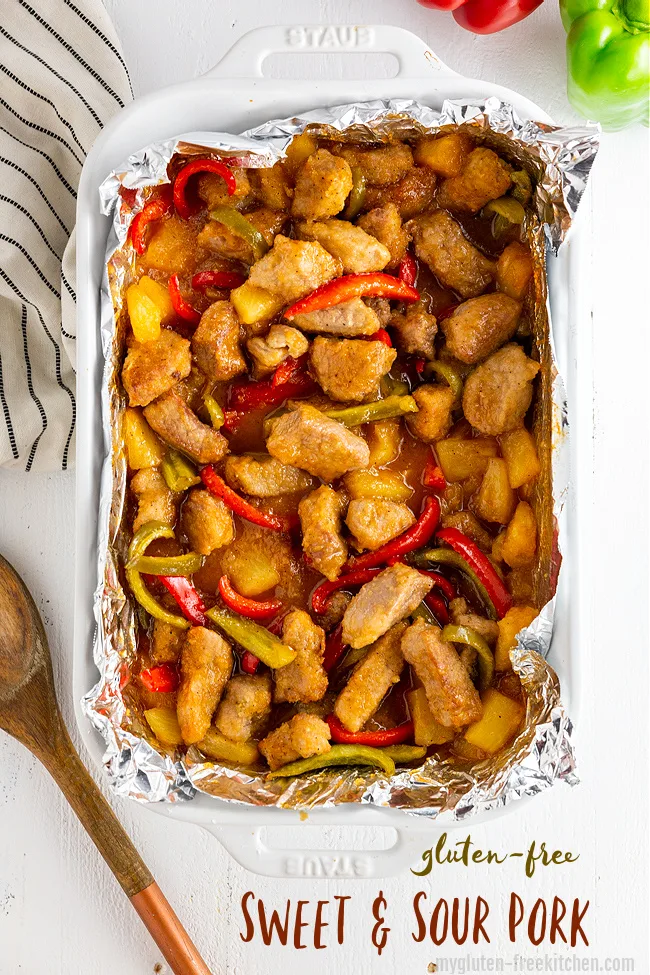 This is so good over rice. Jasmine rice, basmati rice, coconut rice, brown rice – whatever your favorite is! You can also serve it with fried rice! Since this already has your protein and your veggies, you've got a full meal once you make your rice!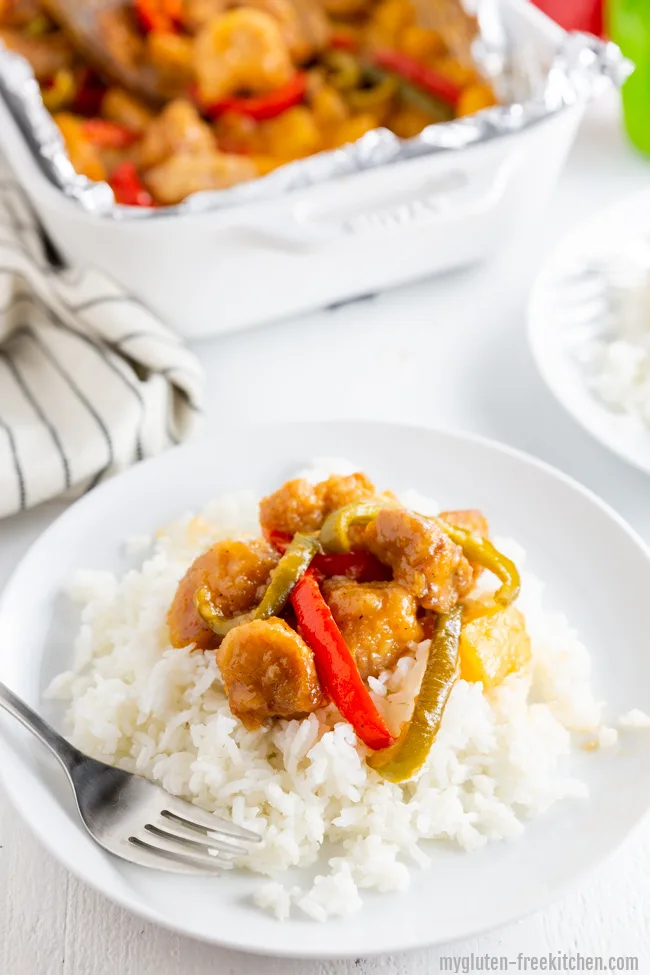 The sauce is so good! If you want extra sauce for drizzling over the rice too, then just make another batch of the sauce while this is in the oven. The directions are below in the recipe card.
If you're looking for other gluten-free pork recipes, be sure to check out my Crock-pot gluten-free pulled pork recipe too! And my friend Meg has a recipe for Crock Pot pineapple pork burrito bowl that looks like a delicious weeknight meal too! This easy oven-roasted pork loin looks like an easy and flavorful meal too!
Be sure to check out all this list of easy gluten-free meals too.
If you make this gluten-free sweet n sour pork and enjoy it, please come back and give this recipe a 5 star rating in the recipe card! Feel free to comment with tips or to share any successful substitutions you made.
Gluten-free Sweet and Sour Pork Recipe:
Yield: 6 servings
Gluten-free Sweet and Sour Pork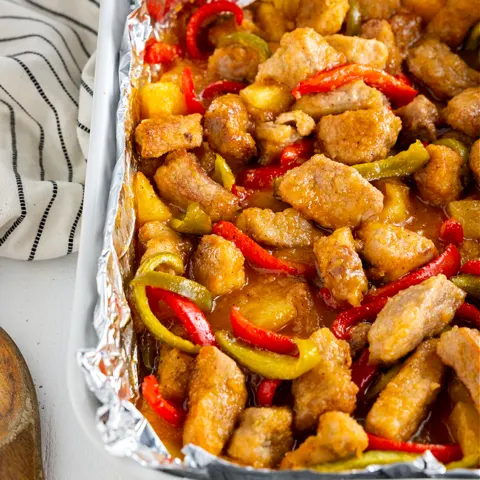 Make your own gluten-free Sweet and Sour Pork at home! This family-friendly, casserole style sweet and sour pork recipe is such a good weeknight meal! Serve with rice for a complete meal!
Total Time
1 hour
20 minutes
Ingredients
1 1/2 lbs. pork tenderloin, cut into 1-2 inch cubes
2/3 cup cornstarch
1/4 tsp. pepper
1/2 tsp. garlic salt
1/4 cup oil (your choice)
1 can (20 oz.) pineapple chunks, drained
1 green bell pepper, sliced
1 red bell pepper, sliced
Sauce:
3/4 cup sugar
1/4 cup ketchup
1/2 cup apple cider vinegar (use slightly less if using fresh, strong cider)
1 Tbsp. gluten-free soy sauce
1 tsp. garlic salt
Instructions
Cut the pork tenderloin into 1 to 2 inch cubes or strips.
Add cornstarch, pepper and garlic salt to a bowl and whisk together.
Add the pork chunks. Stir together until pork chunks are all coated with the cornstarch mixture .
In a large, non-stick skillet, add the oil. Once the oil is hot, add half of the pork pieces and cook just until brown, but not cooked through, flipping pieces to brown two sides.
Remove pork from pan and place into a 9x13 baking dish. I like to line mine with aluminum foil for easy clean-up.
Repeat with rest of pork.
Add one can of pineapple chunks (be sure to drain first), and the sliced bell peppers to the pork.
Set baking dish aside while you make the sauce.
In a medium sized bowl, whisk together the sugar, ketchup, apple cider vinegar, gluten-free soy sauce, and garlic salt. Pour over the pork, pineapple, pepper mixture.
Bake for one hour at 325°. Every 15 minutes, remove from oven and stir, flipping pork pieces.
Remove from oven and serve over rice.
Bonus: If you want extra sauce for drizzling, make a second batch of sauce and add to a small saucepan. Bring it to a boil. Whisk constantly and let it cook over medium heat until thickened and reduced, about 7 minutes. Then serve alongside the finished sweet and sour chicken for those that want additional sauce.
Notes
*Feel free to cut the amount of sugar called for if you like your meals a little less sweet.
*If using a fresh, strong apple cider vinegar, you may want to cut the amount slightly, to 1/3 cup instead of 1/2 cup.
*If you want your bell peppers to remain more firm, you can wait to add them until closer to the end. Just stir them in when you pull the dish out to stir at the 45 minute mark and allow them to bake for the final 15 minutes.
See blog post for ideas for other vegetables you can add or substitute with.
Recommended Products
As an Amazon Associate and member of other affiliate programs, I earn from qualifying purchases.
Pin this to your gluten-free dinners board on Pinterest so you can find it later: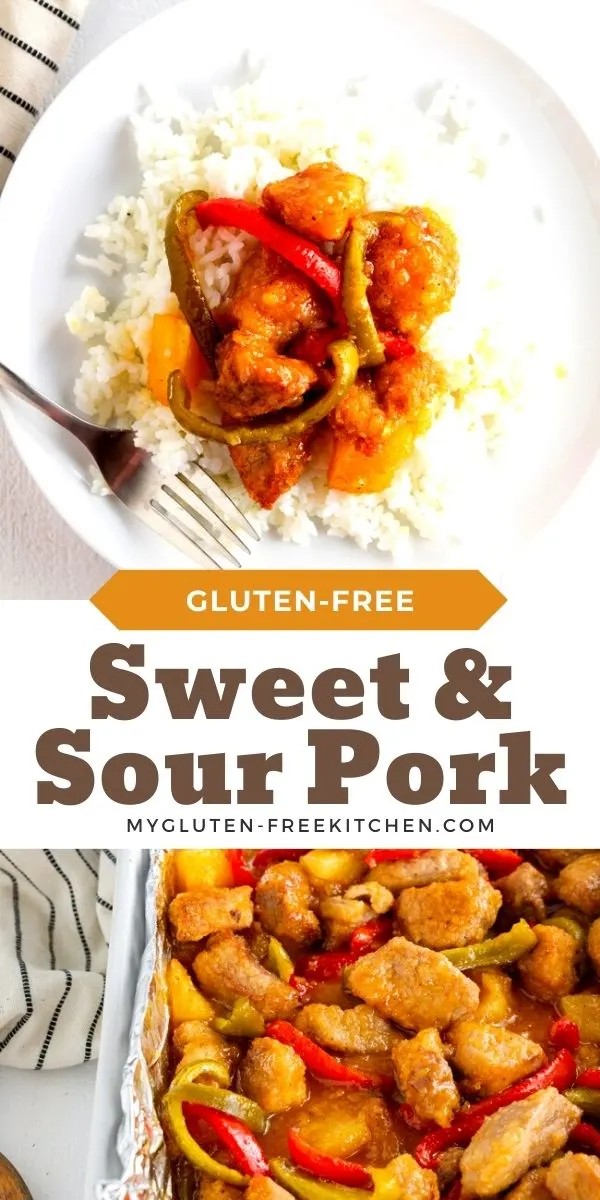 I hope you and your family enjoy this as much as mine did!