This slow cooked gluten-free BBQ pulled pork is a year-round favorite at our house, and with only four ingredients, it couldn't be easier! Gluten-free Pulled Pork is an easy weeknight dinner recipe that I make regularly here!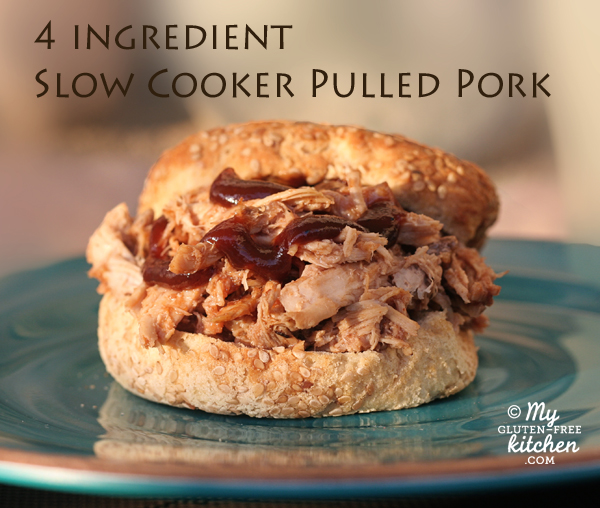 I always appreciate how much less stressful dinnertime is when dinner has been cooking all day in the slow cooker. When I have my act together and remember to meal plan, I try to use my Crock-Pot once a week. In the fall and winter, I'm more drawn to cooking comfort foods like gluten-free slow cooker pot roast, gluten-free chili, and gluten-free beef stew.
In this recipe, boneless pork roasts slow cook all day in a simple broth until they can be shredded very easily with just two forks. Adding your favorite gluten-free barbecue sauce to the slow cooker about an hour before serving allows the smoky sweet sauce to flavor the meat.
We prefer to enjoy this gluten-free pulled pork put on a gluten-free hamburger bun for gluten-free pulled pork sandwiches. I served this on regular hamburger buns for years, but now we enjoy this pork with one of the many gluten-free hamburger buns available.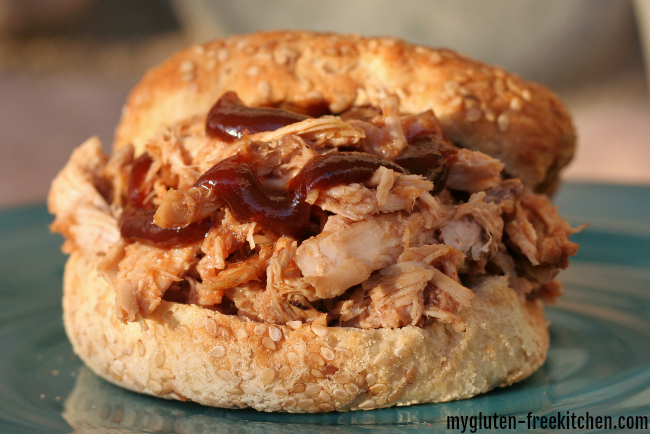 The buns in the photo are store-bought gluten-free hamburger buns made by Canyon Bakehouse. They are available at retailers nationwide; you can check to see where you can find them in your area.
I also find great gluten-free hamburger buns at local gluten-free bakeries, both where I live and when I travel.
Since I no longer have a local gluten-free bakery that makes buns, I've been buying Trader Joe's gluten-free hamburger buns and my family likes them a lot.
I usually stock up and keep them in the freezer until we need them. Then I defrost on the counter all day or quickly in the microwave. I'm known to pack half a suitcase with gluten-free hamburger buns and loaves of gluten-free bread when traveling home from somewhere with a great bakery!
You can also make your own gluten-free onion hamburger buns to have for these. Or if you're looking for a low carb option, check out this keto cloud bread recipe.
You can easily double this gluten-free shredded pork recipe if you have a large enough Crock-Pot. The leftovers freeze very well. I will often freeze half of this meal right away so that I have the meat all ready for another full night's dinner and leftovers.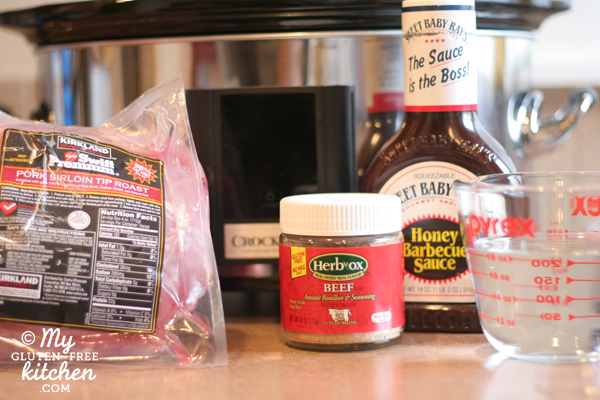 Notes on ingredients for gluten-free Crockpot BBQ Pulled Pork:
Make sure you closely study the ingredients of any bouillon you use for any hidden gluten. I use Herb-Ox brand bouillon, and it is clearly labeled Gluten Free.
There are so many brands of BBQ sauce that are now clearly labeled gluten-free. For years, I used Sweet Baby Ray's Honey Barbecue Sauce because we like the sweet flavor and it's so inexpensive. I've recently started using Stubb's Sticky Sweet BBQ sauce and LOVE it! Stubb's BBQ sauce is certified gluten-free too!
The beauty of this recipe is that you can change the flavor to suit your preference of sweet, tangy, spicy, or smoky, by using your favorite gluten-free BBQ sauce. I recommend checking the manufacturer's site of your favorite sauce to verify the gluten status.
If you want to spend a little more time in the kitchen, you could also make your own barbecue sauce. My friend Jeanine has this recipe for slow cooker BBQ sauce that looks delicious!
If you have two slow cookers, then use one to make a side dish like these baked beans. Or make these Crock Pot potatoes that would go so well with this pulled pork. Having both slow cookers going makes cooking so easy!
I also like to serve this with a side of apple grape salad and some sweet potato chips.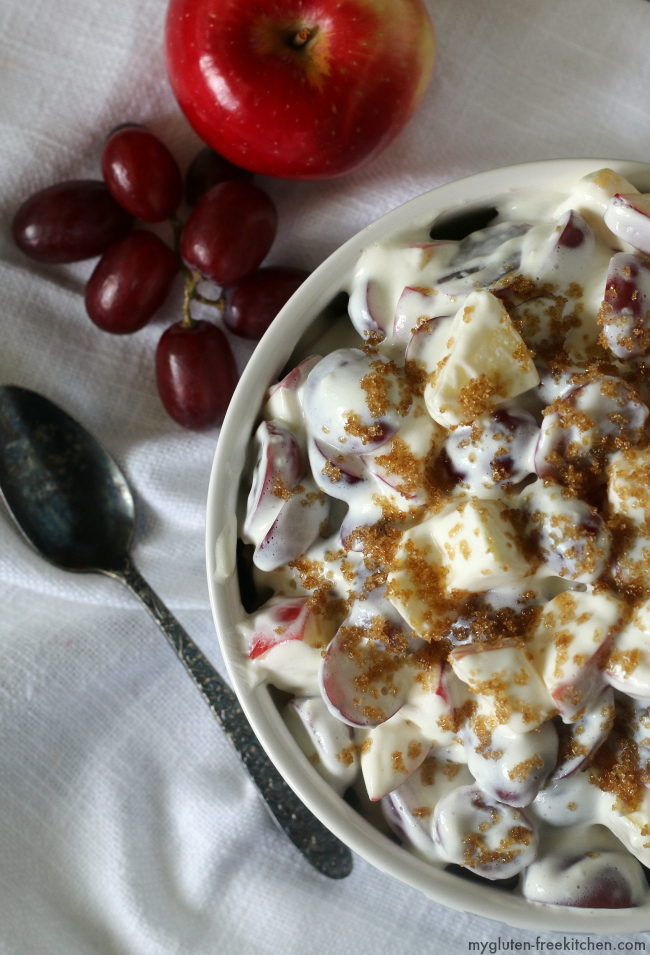 Looking for more pork recipes? These skillet pork chops with apples look so flavorful! These easy crockpot pork tacos are another meal that's easy for busy days!
If you make these and love them, please come back and give this recipe a 5 star rating in the recipe card! Feel free to comment with tips or to share any successful substitutions you made.
Gluten-free Crock Pot Pulled Pork Recipe:
Yield: 12 servings
Gluten-free Slow Cooker Pulled Pork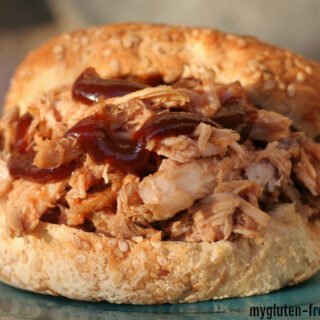 This gluten-free pulled pork is a year-round favorite at our house, and with only four ingredients, it couldn't be easier!

Prep Time 5 minutes

Cook Time 8 hours

Total Time 8 hours 5 minutes
Ingredients
3 lbs. boneless pork roast
1 cup warm water
1 cube or 1 tsp. beef bouillon
1 18oz. bottle barbecue sauce
Instructions
Trim any extra fat from pork roast and place in slow cooker.
Dissolve 1 cube or 1 teaspoon of beef bouillon in 1 cup warm water. Pour over pork roast.
Cook on low for 7-8 hours, or until meat shreds easily. Use a baster to remove most of the juices from the slow cooker. Set juices aside for adding back in as needed.
Use two forks to shred pork. I usually do this right in the slow cooker but you can also remove to shred on a cutting board.
If needed, add back in some of the reserved juices so that meat is moist, not dry. I rarely need to add back in more than a couple of tablespoons. Pour one bottle of barbeque sauce over meat and gently stir in. Place lid back on slow cooker and cook for an additional hour on low.
Serve as is or on a hamburger bun. Serve with additional bbq sauce.
Recommended Products
As an Amazon Associate and member of other affiliate programs, I earn from qualifying purchases.

Pin this to your Gluten-free Dinners board on Pinterest: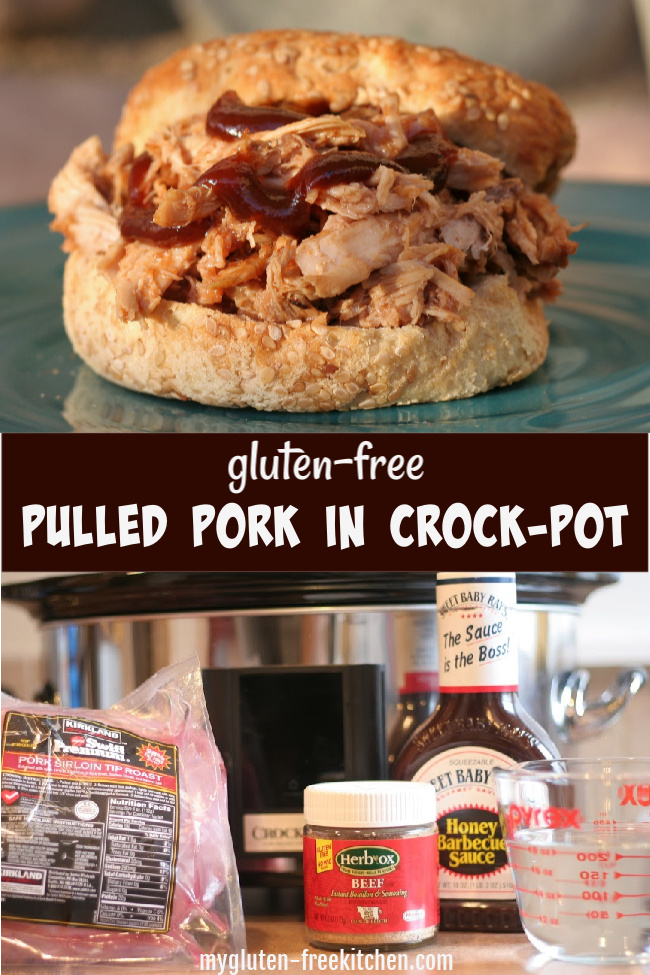 Looking for more Gluten-free Dinner Recipes? Check out my Pinterest board full of gluten-free dinner ideas!
I hope you and your family enjoy this gf pulled pork as much as my family does!
Monday 26th of January 2015
I am liking a lot of your recipes, although I try using less sugar. Unfortunately, msg has about 30 different names. Yeast extract, natural flavors, textured protein are just a couple. Unfortunately also, our country seems more interested in a dollar than our health. All that to say that I used to get that same beef bouillon until I found out it does have it under a different name. Hope this helps...
Friday 9th of January 2015
thank you for the extra work in finding a gluten free BBQ sauce!!! Our family recently went gluten free and we are finding that many of our regular meals we just can't eat anymore. This recipe however is a keeper!
How many people does your 3 lb roast feed. I think this would be a good idea to serve for Father's Day. I would have to feed 12 people.
Vicki, This would feed 12 people. Usually with things like this, you would plan on about 1/4lb of meat per person, so a 3 pound roast would serve 12, providing you have plenty of sides. You could definitely go for a 4lb. roast to be sure to have plenty too. No need to adjust the recipe ingredients, I'm sure everyone will enjoy it! It is a great choice for Father's Day!
Thursday 17th of April 2014
So being a vegetarian, this isn't something I'd eat HOWEVER, I found myself reading and drooling as I scrolled down! :) I used to eat meat and this would have been right up my alley! What a fantastic recipe, I know my readers will love it!! Thanks for linking up at our Gluten Free Fridays party! I have tweeted and pinned your entry to our Gluten Free Fridays board on Pinterest! :)
Can't wait to see what you link up this week! The party link up is open!
Cindy
Tuesday 25th of February 2014
I'm so glad you posted this on Facebook! I've been looking for a good brand of gf bread, buns, etc. I can't wait to try these and this delicious recipe! Thanks so much for all these amazing ideas/recipes!! They have saved me multiple times!