Heavy on the meat and cheese, light on the veggies, this gluten-free triple meat sandwich was a hit with the guys!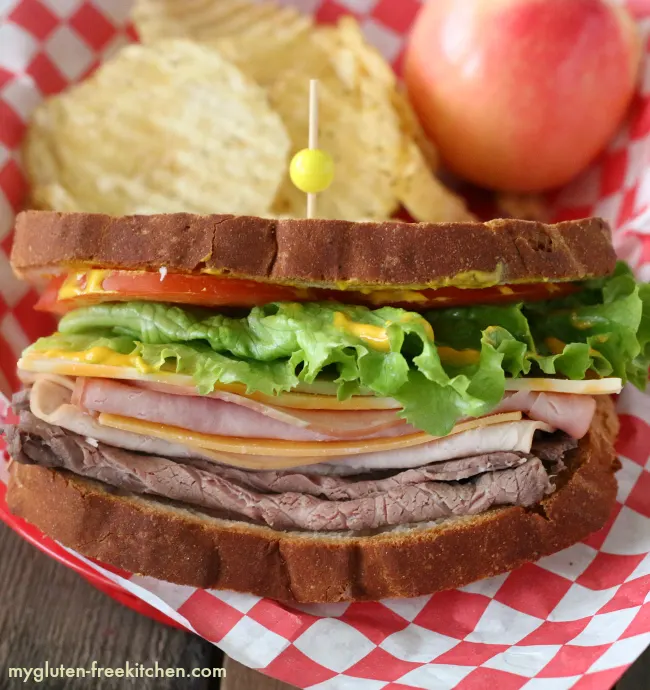 I remember the first time I bought a loaf of gluten-free bread at the store. After I made sandwiches for my hubby and kids, they all commented on how small the sandwiches were. My hubby told me he'd need two in his lunch if they were going to be that small!
Now finally, finally a good full-size gluten-free bread is hitting shelves nationwide this month! YAY!!! Canyon Bakehouse has sponsored this post for me to tell you all about the launch of their new Heritage Style Bread. It's available in two flavors – Honey White and Whole Grain. I'm so excited about this new full-size bread from Canyon Bakehouse!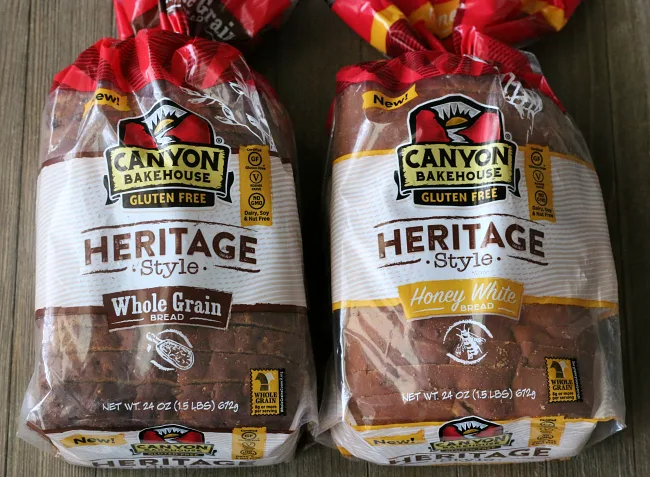 I love that this bread is not only huge, it's safe for those of us with celiac as it is certified gluten-free, as all of the products from Canyon Bakehouse are. These gluten-free sandwich bread loaves are also dairy-free and free of nuts, soy and sesame.
Since my husband and kids always complained about the size of the small gluten-free bread, I decided to make a sandwich that would be so big, they'd need 2 hands!
They're all about the deli meat and cheese, so I went with a triple meat sandwich, with two kinds of cheese. I wasn't really sure what to call this, maybe "Meat Lovers" Sandwich, but thought that might be trademarked and I don't want to get in trouble! So Triple Meat Sandwich it is!
The gluten-free sandwich meat that I chose was smoked ham, smoked turkey, and roast beef. I prefer to buy Boar's Head lunch meats as they're all gluten-free. The gluten-free deli meats are sandwiched with colby jack and sharp cheddar cheese.
My guys all prefer minimal veggies on their sandwiches so I went with just the classic lettuce and tomato. Mustard and mayo finished it off. I completely forgot pickle slices, but they didn't even notice since they were so focused on checking out the new gf bread.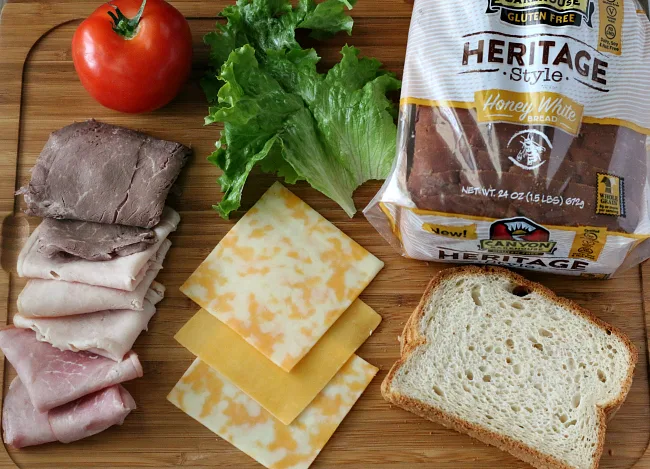 My oldest son was my hand model for this photo to show just how big this sandwich was! Actually, I asked him to be my hand model and then we decided to come up with a more manly term than hand model. He said he'll be my "MAN-nequin". 🙂
His reward was getting to eat this sandwich as soon as I was done with my photos. He was super excited about it and then while he was eating he just kept going on and on about how much he liked it. He said the texture is like regular bread (which he has sometimes, so he would know better than me at this point!)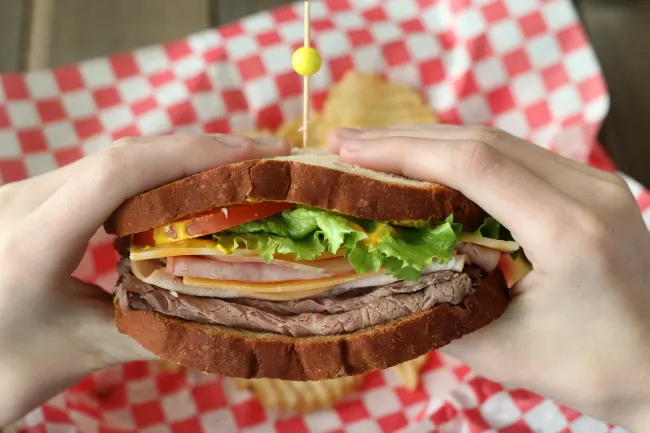 While I often make homemade gluten-free bread, it's always nice to have a go-to bread from the store that I can keep in the freezer to pull out when I haven't had time to bake. With our kitchen remodel, I know I'll be reaching for more products from the freezer. These loaves will be perfect to have on hand. I'll for sure be making my Gluten-free Club Sandwich on this bread this week too!
The Canyon Bakehouse Heritage loaves are available at select stores nationwide. I find these in the gluten-free freezer section at my local stores (Winco, Co-op, Whole Foods). You can also buy online straight from Canyon Bakehouse. The gluten-free honey white bread is here. And the gluten-free whole grain bread is here.
If you have extra slices of ham leftover, be sure to try out my gluten-free ham mac & cheese cups! They're a fun lunch idea too!
Other gluten-free sandwich options that you could make with these big slices of bread:
Gluten-free Avocado Bacon & Egg Sandwich
Gluten-free Buffalo Chicken Grilled Cheese Sandwich Dippers
Gluten-free Pepperoni Pizza Grilled Cheese Sandwich
Gluten-free Reuben Sandwich Dippers
Gluten-free Sandwiches Recipe:
Yield: 1 sandwich
Gluten-free Triple Meat Sandwich
Loaded with meat and cheese, this gluten-free sandwich was a big hit with the guys!
Ingredients
For each sandwich:
2 slices Canyon Bakehouse gluten-free Heritage Loaf Honey White or Whole Grain bread
3 thin slices smoked turkey
2 slices roast beef
2 slices smoked ham
2 slices colby jack cheese (or other favorite cheese)
1 slice sharp cheddar cheese
2-3 slices tomato
1-2 sections of green leaf lettuce
mustard and mayo as desired
Instructions
Layer all ingredients the way you like them between two slices of Heritage Loaf bread.
Enjoy!
Notes
I find the Canyon Heritage bread in the frozen section at my local stores.
The other gluten-free breads from Canyon Bakehouse are excellent too - they just don't have as large of slices.
This sponsored post was created through my partnership with Canyon Bakehouse. As always, all opinions are my own. Collaborating with brands I love allows me to keep bringing you new and varied recipes! Thanks for your support!