Mac and Cheese is a kid favorite, and an indulgence for many of us grown-ups too. Today, I'm sharing a fun gluten-free mac and cheese ham cups recipe that you and your kids will love. For this recipe, I recommend gluten-free mac and cheese from Trader Joe's or Annies gluten free mac and cheese.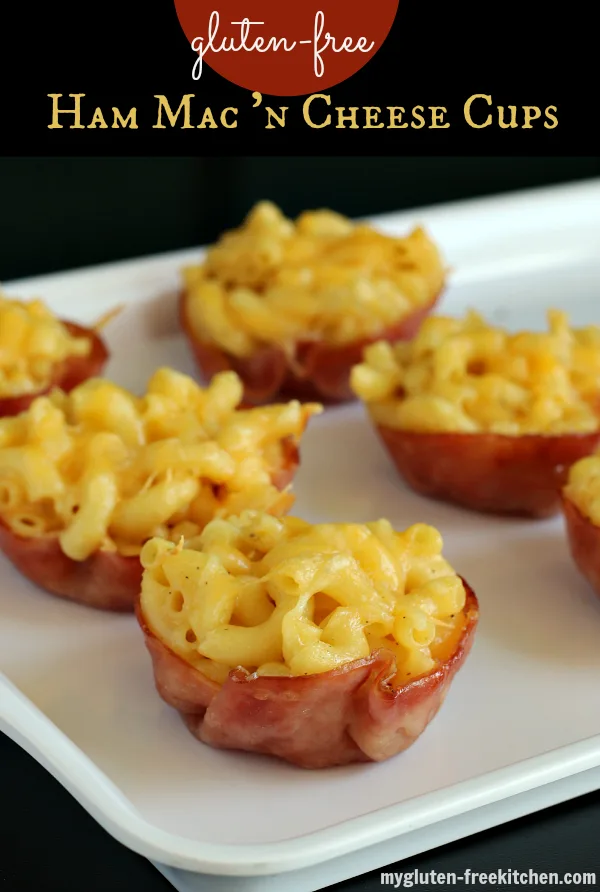 I wanted to use the gluten-free macaroni and cheese to create a meal that the kids could help make for an easy lunch.
While I was brainstorming one day (okay, okay, in the shower, if you must know – that's where I get all my recipe ideas), I had the idea to line a muffin pan with ham slices, fill with the cooked mac and cheese, top with extra cheese, then bake a bit. I was thinking this would be a fun meal for lunch at home or to put in my boys' lunches for school.
With a little trial and error, these worked just like I'd pictured in my mind. Better yet, the whole family enjoyed them!
This is definitely a meal your kids can help make, and soon be able to make on their own. My boys are always asking me teach them how to cook. This is a great recipe to get your kids in the kitchen with you.
Here's my youngest son helping with serving up the cooled gluten-free Ham Mac & Cheese Cups to everyone to enjoy for dinner. (Obviously if this pan was hot out of the oven, I'd have him wearing oven mitts and using a spatula to remove them.)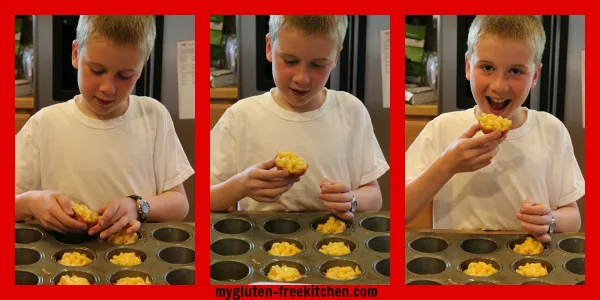 We enjoyed them with sides of green beans and apple grape salad, both of which my boys could help prepare. Honestly, I think after another practice run, this is a meal my kids could do start to finish by themselves while I kick back and relax nearby! With the recipe taking only 30 minutes start to finish, this is a great weeknight meal!
Note: I also froze a few and they were great reheated also. This makes them a great option for making ahead, freezing, and sending in school lunches like I did here: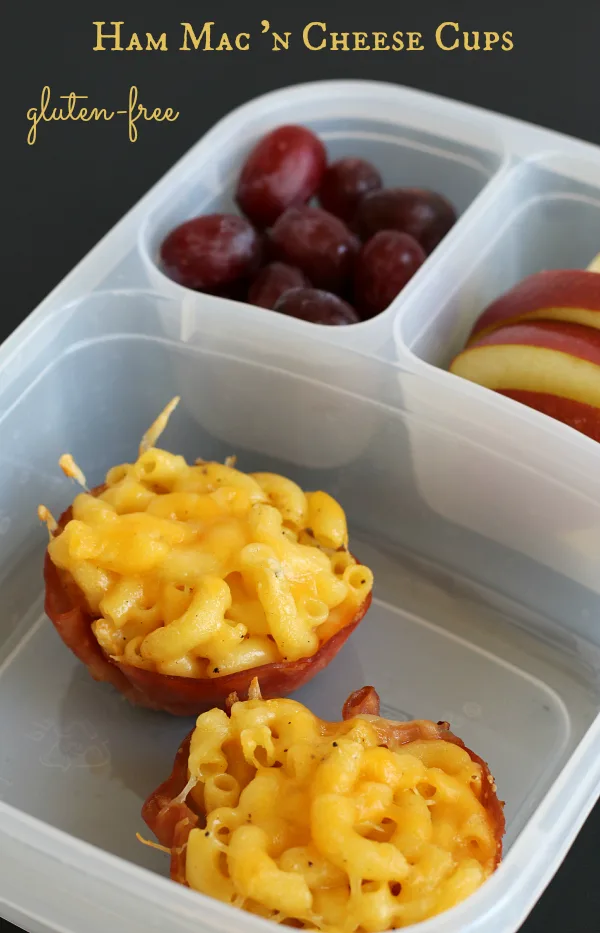 Yield: 10 ham cups
Gluten-free Ham Mac and Cheese Cups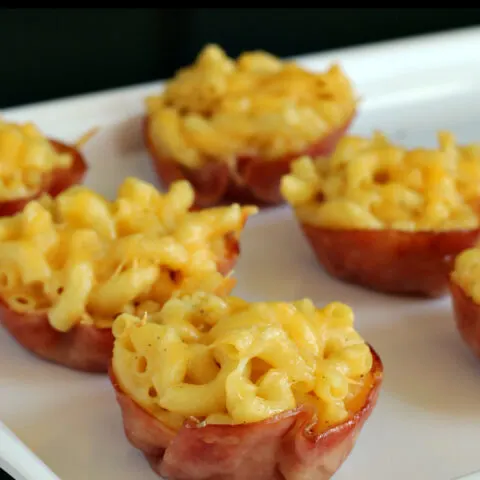 Easy dinner that the kids can help make! These gluten-free mac and cheese ham cups freeze and reheat well too!
Additional Time
3 minutes
Ingredients
1 box (6 oz.) Gluten-free Mac and cheese (includes cheese packet)
6 cups water
1/4 tsp salt
2 Tbsp. unsalted butter
1/4 cup milk
1/4 tsp. black pepper
1/4 tsp. garlic powder
10 round slices gluten-free deli ham
1/2 cup shredded cheddar cheese (I used mixture of white cheddar and sharp cheddar)
Instructions
Bring 6 cups water to boil in a large pot over high heat. Stir in macaroni noodles and 1/4 tsp salt. Cook 8-10 minutes or until done, stirring occasionally.
While macaroni is cooking, spray 10 cavities of a metal muffin tin. Line each cavity with a slice of deli ham.
Drain macaroni in colander/strainer, then put back in pot.
Add butter to macaroni. When butter is mostly melted, stir in milk and cheese sauce from packet. Stir until combined.
Add black pepper and garlic powder and stir until combined.
Fill each ham cup with mac and cheese mixture until full.
Top each with a sprinkle of the shredded cheddar.
Bake at 350° for 10-15 minutes or until ham is firm but not burnt and cheese is melted.
Let cool in muffin pan until you can remove from pan easily. Serve immediately or let cool and put in freezer bag for later use.
Recommended Products
As an Amazon Associate and member of other affiliate programs, I earn from qualifying purchases.