Gluten-free blueberry muffins with the perfect moist crumb and the right amount of lemon flavor to make them yummy! I think you'll love these gluten-free lemon blueberry muffins!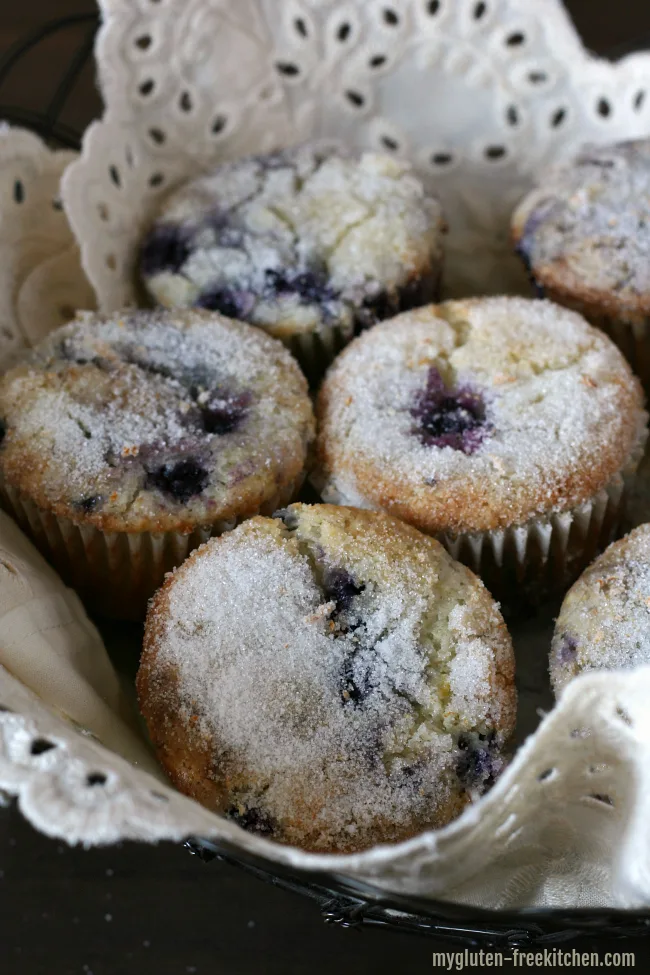 Gluten-free blueberry muffins have been hard for me to perfect. I tried my old favorite recipe, just subbing in my good gluten-free flour blends, but no luck. I tried other recipes, again no luck. I tried adapting my favorite gluten-free blueberry coffee cake to be muffins, no luck. I've attempted to get these perfect over and over during the past few years, tweaking things and trying again and again. Sometimes gluten-free baking is hard!
Last month, my friend Jeanine mentioned a cookbook she was wanting to buy called BakeWise
. I immediately checked it out from our local library, which is my favorite source for cookbooks. I love how the author explains the science behind how different ingredients work and how to combine them successfully in recipes. I like it so much, I ordered my own copy for my cookbook library.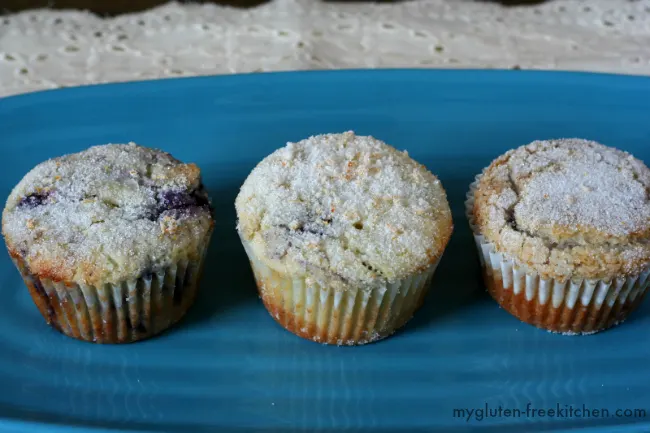 After reading many of the tips, techniques and recipes in the BakeWise, I decided her blueberry muffin recipe looked different from all of the recipes I'd tried and I should give it a whirl. I made several changes to the recipe, both to make it gluten-free and to use some ingredients I preferred or had on hand.
When I tried one of these slightly cooled muffins, I knew I had a winner! I ran one down immediately to my friend/neighbor and she agreed it was really good and I could stop my recipe testing! These are the best gluten-free lemon blueberry muffins!
These muffins have the perfect moist crumb that I was looking for in a muffin. These don't have lemon juice in them, rather lemon zest. I think it's handy to use a good zester – this is the one I have.
The lemon flavor is really subtle, and you can definitely feel free to omit if you would prefer. It lends a fresh taste to these that I really enjoyed.
The original recipe just called for a sugar topping, but I liked the idea of a lemon sugar topping, which ended up being a great choice! My oldest son loves lemon as much as I do and the two of us finished off this whole batch of muffins by ourselves!
Looking for other recipes with the blueberry and lemon combo? My friend Chrystal has a paleo blueberry muffin recipe that has just a hint of lemon too. And Tessa has these almond flour lemon blueberry scones that look yummy.
If you're in the mood for cookies, try these blueberry lemon cookies from my friend Nicole. I've also got to make this vegan berry tart soon! These all look so good!
What is your favorite kind of muffin? Let me know, then grab your muffin pan and make these!
If you make these and love them, please come back and give this recipe a 5 star rating in the recipe card! Feel free to comment with tips or to share any successful substitutions you made.
Gluten-free Lemon Blueberry Muffin recipe:
Yield: 12 muffins
Gluten-free Lemon Kissed Blueberry Muffins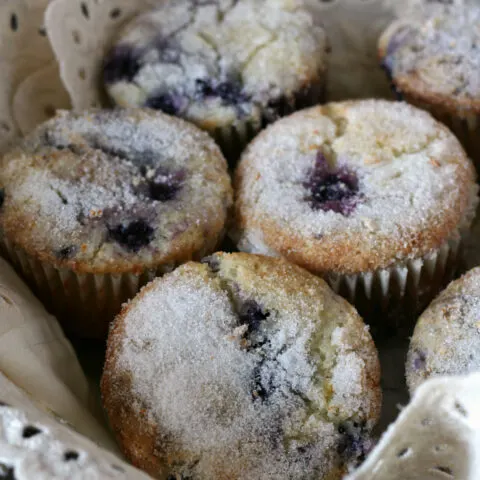 Gluten-free Blueberry muffins with just a touch of lemon.

Prep Time 15 minutes

Cook Time 16 minutes

Additional Time 5 minutes

Total Time 36 minutes
Ingredients
2 cups good gluten-free flour blend
1 tsp.xanthan gum *see note
2 tsp. baking powder
1/2 tsp. salt
1 1/4 cups sugar
1 egg
1/2 cup oil (your choice of any mild-flavored oil)
1/2 cup buttermilk
1/2 cup sour cream (recommend using a natural one)
1 tsp. vanilla
1 tsp. lemon zest
1 1/2 cup blueberries (fresh recommended, frozen ok)
Topping:
1/4 cup sugar
1 tsp. lemon zest
Instructions
Line a muffin pan with 12 paper muffin liners. Set aside.
Preheat oven to 400°.
In a large mixing bowl, whisk together the flour, xanthan gum, baking powder, salt, and sugar until well mixed.
In a separate medium sized bowl, beat the egg, oil, buttermilk, sour cream, vanilla and lemon zest. You can use a whisk or a mixer for this.
Pour the wet ingredients into the dry ingredients and beat with your mixer (or with a whisk) until all combined.
Using a rubber spatula, gently stir in the fresh or frozen blueberries. Frozen blueberries are much more likely to leave purple streaks in your batter, which just affects appearance, but still tastes great!
Use a large scoop to fill paper muffin liners mostly full, filling 12 muffin cups.
In a small bowl, whisk together 1/4 cup sugar and lemon zest.
Sprinkle the lemon sugar evenly over all 12 muffins.
Bake at 400° for 16-20 minutes, until lightly browned and an inserted toothpick comes out with moist crumbs attached.
Let cool a few minutes in the pan, then carefully transfer muffins to a cooling rack. Store in an airtight container at room temperature or freeze in a freezer bag for future use.
Notes
*If the gluten-free flour blend you use already has xanthan gum or guar gum in it, then omit the xanthan gum called for in this recipe.
Recommended Products
As an Amazon Associate and member of other affiliate programs, I earn from qualifying purchases.

Pin this to your gluten-free muffins board on Pinterest: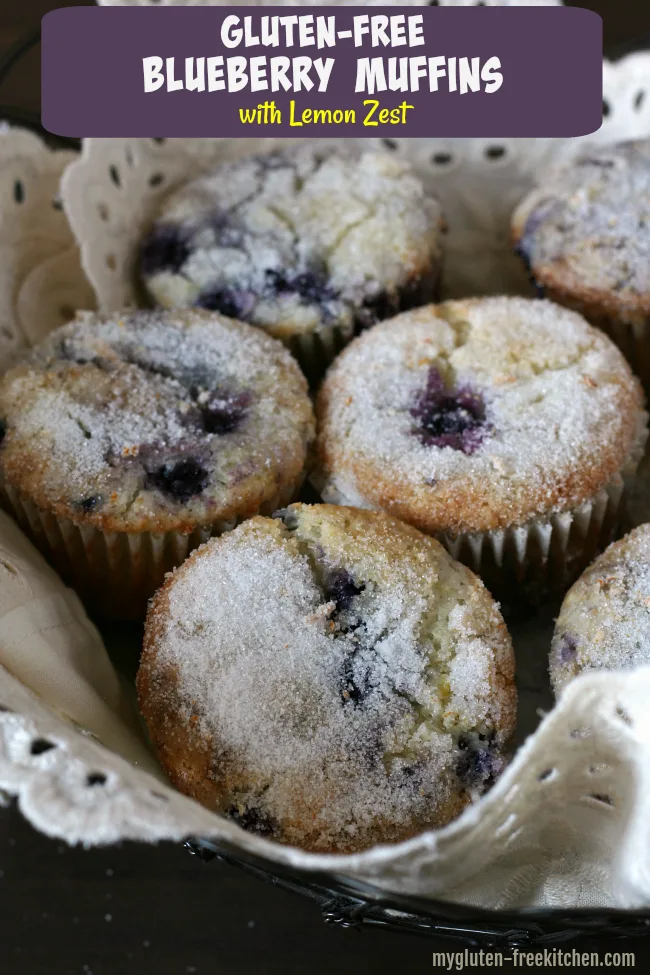 I hope you enjoy baking and eating these!