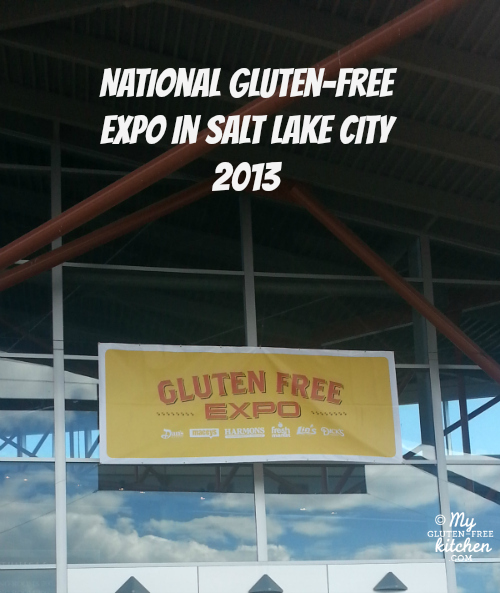 I had a blast at the National Gluten-free Expo in Salt Lake City this weekend. Thousands of other celiacs, gluten intolerant folks, moms of kids with wheat allergies, and supportive family members all made the pilgrimage to Sandy, Utah to enter what felt like gluten-free heaven. Seriously, when was the last time you went somewhere and had hundreds of free samples available to you and you didn't have to ask even once whether the samples were gluten-free?!!!
I enjoyed visiting the booths of some of my favorite companies: King Arthur Flour, Angie's Popcorn, and Sweet Cake Bake Shop (SLC area). King Arthur just came out with an all-purpose flour which I can't wait to try! Angie's Popcorn has come out with a bunch of new flavors, and I'll hopefully be working with them to review them and give some away soon! Sweet Cake Bake Shop provided me with my sugar rush of the day with an insane amount of free samples of cookies, bars, and cupcakes.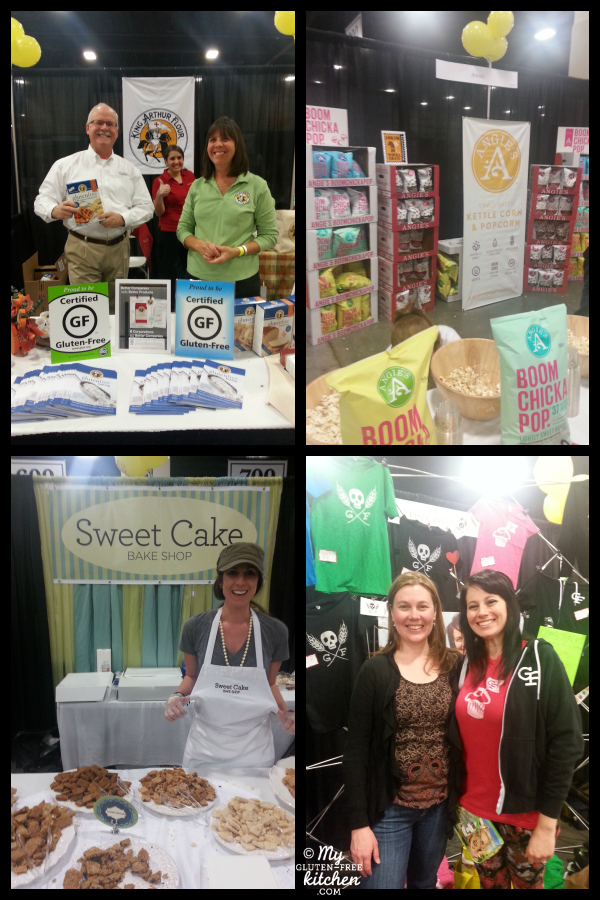 A highlight of the day was finally getting to meet Erica of the humorous blog Celiac and the Beast (bottom right pic). I've been following her blog for quite some time, but as I am new to the blogger world, I'd never had the opportunity to meet her. I appreciate her work as a celiac advocate and for the humor she provides to us. Her book is coming out this week and you can go order your own copy here: Celiac and the Beast: A Love Story Between a Gluten-Free Girl, Her Genes, and a Broken Digestive Tract
Some of the other booths I enjoyed visiting:
Delallo Pasta was there with all of their varieties of pasta and I'm hoping to work with them on a giveaway soon as well. I've liked all the products I've tried of theirs.
The guy working the Crunchmaster booth was very generous with the samples! I'm actually jealous that the winner of my giveaway, below, gets to try these new products before I do!
I'm super jealous that products from New Grains Gluten-free Bakery aren't available in my area. I was really impressed with the texture of their bread.
Nancy's Yogurt was sampling a number of new items, including a blueberry Kefir drink that was yummy! We are hoping our local stores start carrying more of Nancy's products. I also happened to win a prize package from Nancy's yogurt and have included some of the items in the giveaway.
The Rudi's booth was super popular as they were making and serving grilled cheese sandwiches and quesadillas! They were good!
I was surprised to travel all the way there and find out about a new gluten-free bakery that just opened up back in my area of Boise, Idaho. I can't wait to try out Amaru Confections soon. The owners were all so nice and friendly and I appreciate that they've added a completely separate kitchen where they bake and package all of their gluten-free goodies so they won't get cross-contaminated.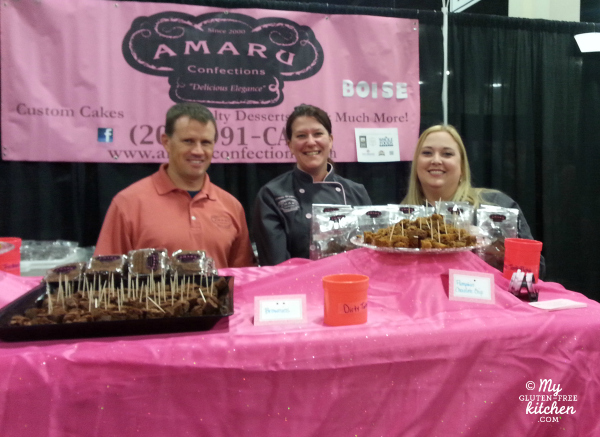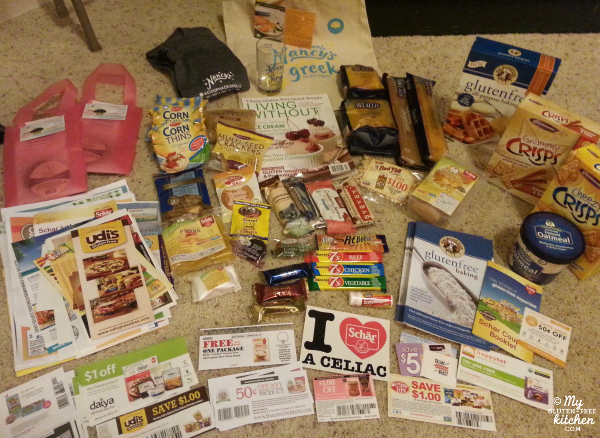 Monday 21st of October 2013
I would love coupons for crunchmaster or King Arthur! Thanks for doing this giveaway!!
Monday 21st of October 2013
ANYTHING gluten free to try is a treat. I'm fairly new to this lifestyle and any new products are always exciting!
Friday 18th of October 2013
King Arthur was on my list of flour blends to try next....but then I spoke with someone in the store about your flour, Jules, and decided to give it a try first. Can't wait to start some fall baking experiments.
Friday 18th of October 2013
King Arthur products are wonderful, their chocolate cake package, which makes a 9 x 13 or double layer is the absolute best. Would love to have coupons to try Crisps and Goldfish and lots of other snacks.
Thursday 17th of October 2013
My 8 year old Celiac son loves Udi's and would love some coupons from them!