Peaches and cream are added to high-fiber steel cut oats and ground flaxseed for a hearty gluten-free breakfast.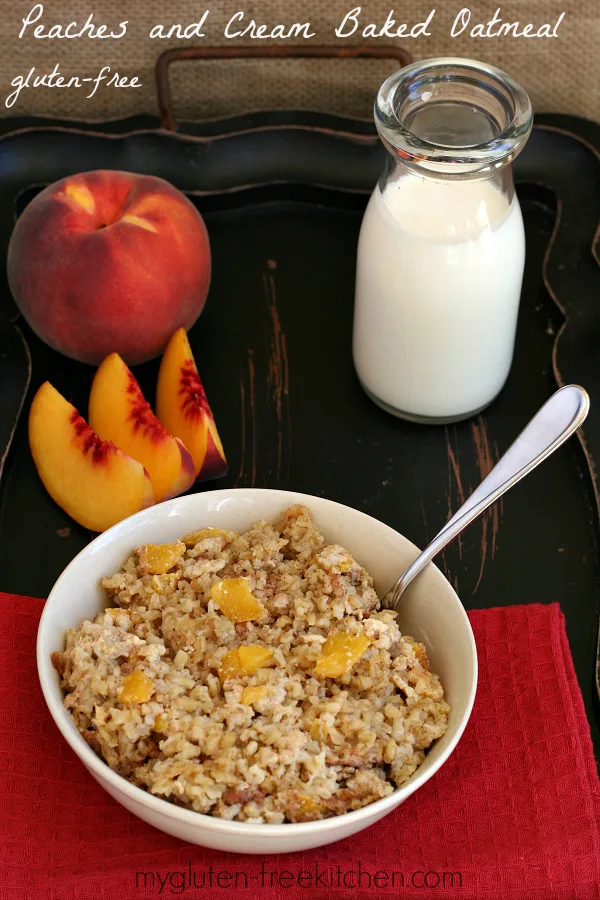 As a celiac, I've eliminated several whole grains from my diet – wheat, barley, and rye. I realize the benefit of whole grains though, so I've been wanting to incorporate more of them into my diet.
Oats are heart-healthy, high in fiber and minerals. Oats do not have gluten in them, but since they are frequently harvested and processed on shared equipment with wheat or barley, you'll want to double-check that your labels not only have a certified gluten-free label, but inquire to make sure the manufacturer follows purity protocols, instead of mechanically sorting oats. say gluten-free!
I had never used steel cut oats, but tried them out in baked oatmeal. I loved the texture! They didn't get mushy like regular oats can. I added ground flaxseed after being reminded how high in fiber they are too.
I've mentioned before that we have a ton of peaches right now from our three backyard peach trees. The idea of making a peaches and cream baked oatmeal popped into my head and I'm glad I went with it!
The peaches add a little extra flavor and sweetness to this recipe.
This isn't a very sweet breakfast, with only 1/3 cup of maple syrup as the sweetener. If you'd like to add a little more sweetness when serving, you could drizzle a little more maple syrup, honey or sprinkle on some brown sugar.
We enjoyed eating this with some cream or milk poured over it. Yum! This is definitely not a low calorie meal, but I feel like the trade-off of having a hearty, high-fiber, low sugar breakfast is worth it.
This hearty and filling breakfast will definitely make an appearance on our breakfast table again. I'm already looking forward to making an apple cinnamon version this fall. I currently enjoy making this delicious oatmeal recipe using these certified gluten free steel cut oats.
Gluten-free Peaches and Cream Baked Oatmeal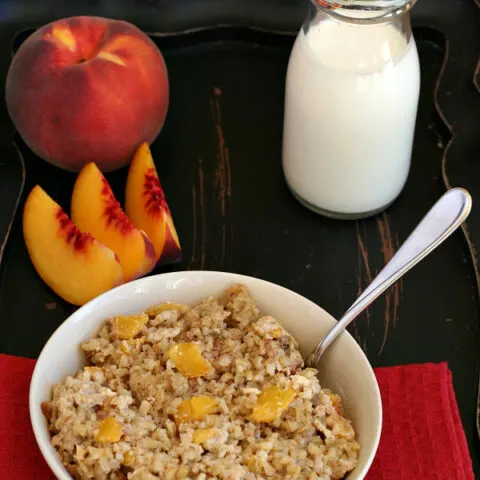 If you like gluten-free baked oatmeal, you should try this peaches and cream version! It's a heart-healthy and hearty breakfast!

Prep Time 15 minutes

Cook Time 1 hour 5 minutes

Additional Time 15 minutes

Total Time 1 hour 35 minutes
Ingredients
3/4 cup gluten-free steel cut oats
2 Tbsp. ground flaxseed
1 tsp. baking powder
2 tsp. cinnamon
1/4 tsp. nutmeg
1/2 tsp. fine sea salt or table salt
1 cup whipping cream or half & half
1 cup milk
1/3 cup maple syrup
1 egg
3 Tbsp. unsalted butter, melted and cooled
2 tsp. vanilla extract
1 cup diced fresh peaches (peeled)
Instructions
In a large bowl, whisk together the steel cut oats, ground flaxseed, baking powder, cinnamon, nutmeg and salt. Set aside.
In a medium bowl, whisk together the cream, milk, maple syrup, egg, melted butter and vanilla.
Pour the cream mixture over the oat mixture and stir with a spatula to combine. Let sit for 15 minutes or cover bowl and place in refrigerator until ready to use (even overnight).
When ready to bake, preheat oven to 350° and lightly spray an 8"x8" baking pan with cooking spray. Cover the bottom of the pan with the diced peaches.
After stirring oat/cream mixture again, pour into baking pan over the peaches.
Bake at 350° for 65-70 minutes, or until top has browned and oat mixture has set (i.e. nothing "jiggles" when you move the pan!)
Allow to cool for a few minutes before serving. Store leftover covered at room temperature or in refrigerator. Tastes great up to 2 days after baking too!
Notes
Dairy-free substitution: Replace the whipping cream and milk with 2 cups total of your preferred dairy-free milk. Replace the melted butter with melted coconut oil.
Recommended Products
As an Amazon Associate and member of other affiliate programs, I earn from qualifying purchases.


I'd love to hear how you incorporate ancient grains in your gluten-free diet too. Let me know in the comments below.