Here's an easy gluten-free, dairy-free, nut-free snack mix to make in bulk and portion for kids to bring to school. I'm also sharing tips on other school safe snacks for gluten-free kids!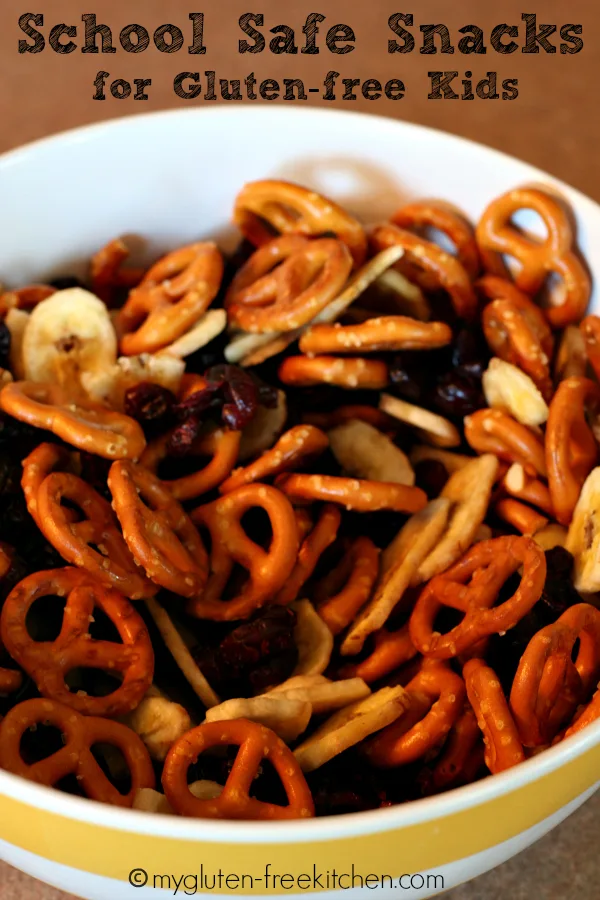 My boys' teachers like for them to bring a snack to have during their school day. I think it is a great idea as it minimizes the distractions that growling tummies and low blood sugar can bring.
Since we already eat a lot of fresh fruit and vegetables at lunch and dinner, I allow for snacks to be a little more on the carb side. It fills them up and helps tide them over until the next meal.
Their school is great about making sure that everyone is aware of food allergies in the classroom, and sends home a letter outlining what food items aren't allowed. Due to school guidelines and concern for children with other food allergies, I avoid sending any products with nuts, peanuts, or peanut butter in them.
Fortunately, there are plenty of gluten-free, nut-free and peanut-free snacks to send! I'll share with you my boys' favorite snacks that I send in pre-portioned bags:
Homemade Gluten-free Nut-Free Snack Mix (pictured above)- with gluten-free pretzels, banana chips, dried cranberries and raisins.
Gluten-free "Spring" Snack Mix – not just for Spring!
Air-popped Popcorn with a little butter and salt
Dried Fruit or Fruit Leather
Muffins – I bake big batches of our favorite muffins and store in freezer bags in the freezer so that I can pull out 1-2 to send for a snack or lunch. My boys love the gluten-free banana muffins and gluten-free pumpkin muffins the best.
Gluten-free Crackers
Box of Raisins
Fresh Apple Slices or Dried Apples
Beef Sticks/beef jerky
Applesauce pouches
I've included many of these in our Gluten-free Snack Bin that I keep in the pantry. It does include a few nut snacks, but my kids know those are for at home or in the car only. The rest are all nut-free and peanut-free.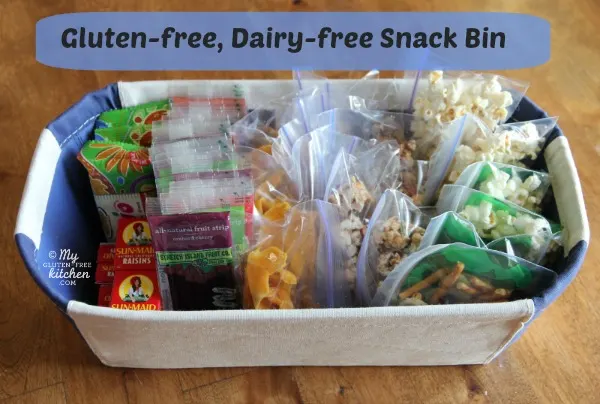 Having a snack bin full of pre-portioned, ready to grab snacks has been such a help! It makes before and after-school go so much smoother as my kids know right where to grab a healthy snack. They aren't snacking on chips and candy this way!
My kids really enjoy working with me to make and package the healthy snacks.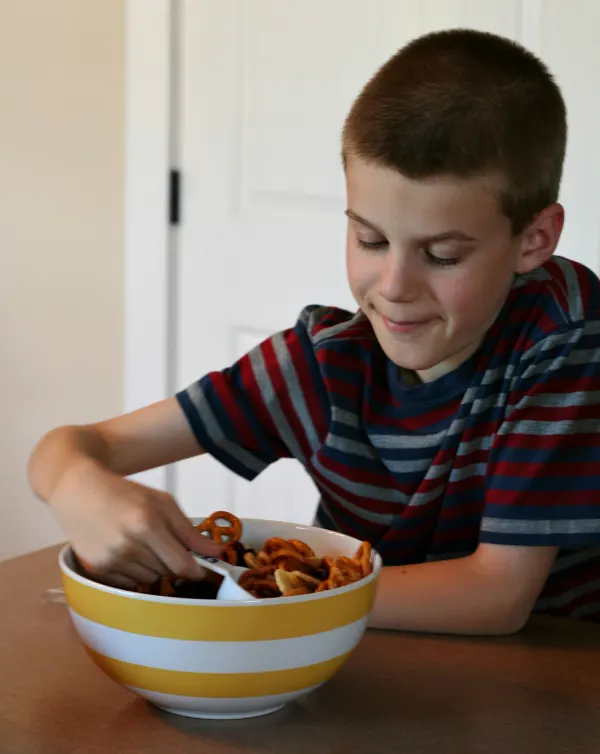 What snacks do your gluten-free kids like to eat?