We like the flavor of this gluten-free skillet spaghetti even better than normal spaghetti. Since the gluten-free noodles actually cook in the spaghetti sauce, the sauce flavor really soaks in. Leftovers are spectacular too! I have to admit that I love the cheesy topping the most!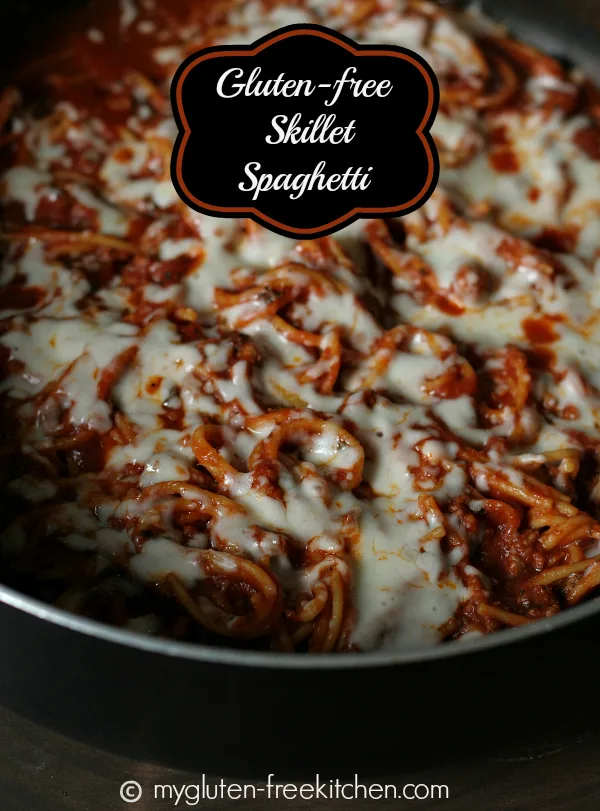 I love easy one-dish meals for busy weeknights. Like most families, I find the dinner hour to be such a busy time, with getting the kids through their after-school routine, chores, and homework, while making dinner. Meals like this gluten-free Skillet Spaghetti are perfect for weeknights. It may not be a photogenic recipe, but it's sure easy and a hit with the fam.
When I'm on the ball with planning ahead, I even pre-cook a bunch of ground beef and freeze in 1/2 lb. servings, so that I can pull it out to make this meal even quicker to make!
The beauty of this recipe is you can really change up the flavor with easy swaps.
Can't stand the thought of store-bought sauce? Feel free to use homemade!
Prefer Italian Sausage over beef? Use it! I have and it is delicious!
Want more seasonings? Feel free to add Italian seasonings or your favorite fresh herbs.
Want to make this dairy-free? Just leave off the cheese or sprinkle with a dairy-free cheese alternative.
I've made this with many different brands of gluten-free spaghetti noodles with success: DeLallo Gluten Free Corn and Rice Spaghetti
, Trader Joe's gluten-free Rice Spaghetti, Jovial Brown Rice Spaghetti, and Le Veneziane Italian Gluten Free Corn Pasta Spaghetti
are all my favorite brands of pasta and all hold their texture instead of getting mushy like some brands.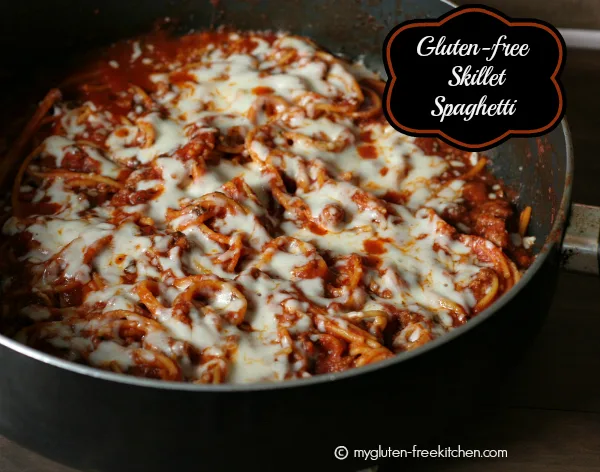 Add this one-skillet meal to your menu plan this week. I'm sure your family will love it and you'll love the easy clean-up too!
Gluten-free Skillet Spaghetti:
Yield: 4 servings
Gluten-free One Skillet Spaghetti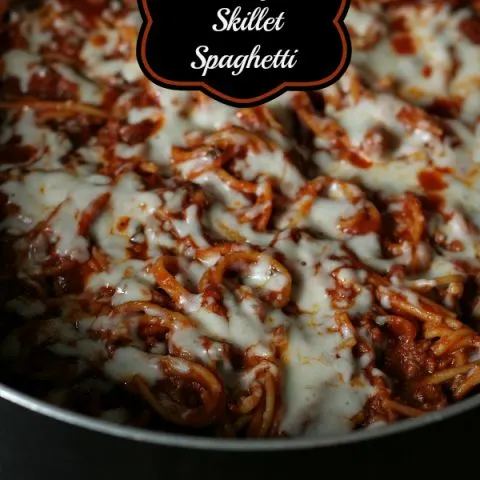 One skillet is all you need to make this entire gluten-free spaghetti dinner! I even serve it up right from the skillet, so I only have one thing to wash! Leftovers freeze and reheat well.
Ingredients
1/2 lb. ground beef, ground turkey, or Italian sausage
1 tsp. garlic powder
1 jar spaghetti sauce (26-28 oz.) (double-check for any gluten ingredients) or use homemade sauce
1 1/2 cups water
8 oz. gluten-free spaghetti noodles, uncooked, broken in half
1 cup shredded mozzarella cheese
1/2 cup shredded Parmesan cheese
Instructions
Brown meat in a 12" deep skillet, sprinkling with garlic powder while cooking. Drain, or dab with a paper towel to remove excess grease from skillet, but leave meat in the skillet.
Stir in sauce and 1 1/2 cups water. Heat over medium-high eat until boiling. Stir in broken spaghetti noodles. Reduce heat to medium-low and cover.
Simmer for 20-25 minutes or until spaghetti is cooked through completely, stirring every 5 minutes.
Sprinkle with mozzarella and Parmesan cheese; cover and cook for 2 minutes or until cheese is melted.
This is great served with a fresh lettuce salad and gluten-free baguette.
Notes
Dairy-free option: Omit cheeses or substitute with a dairy-free cheese alternative.
Recipe adapted from
Kraft
.