Pull out your slow cooker for this easy gluten-free taco recipe. We have these gluten free chicken tacos at least once a month. I like this making gluten-free crock pot chicken as it's so easy and I can use the shredded chicken for tacos, burritos, nachos and more!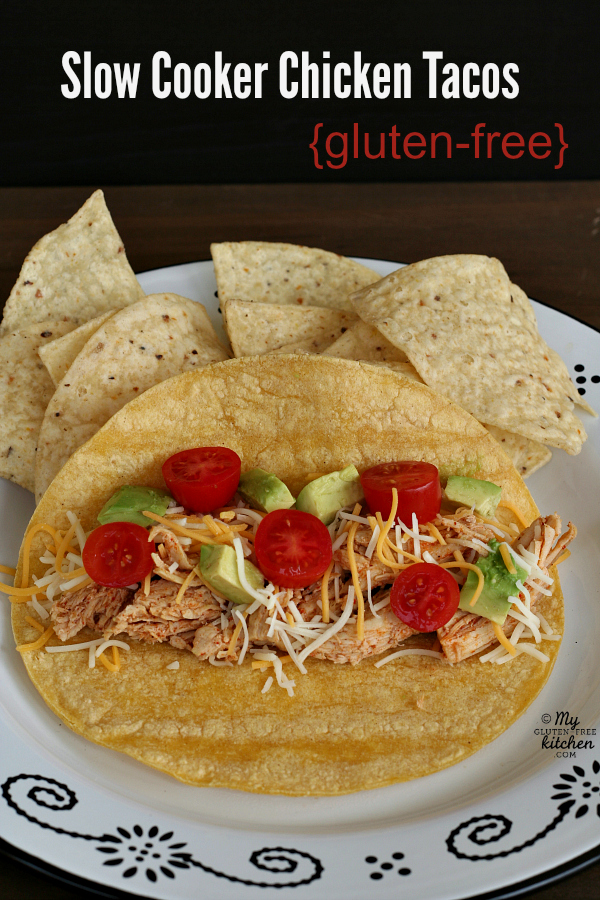 One of the things that I think makes many of us moms feel great is when we serve an easy, healthy meal that our kids love! It is so rewarding when the whole family will sit up and chow down on a meal we've made that is also healthy. These gluten-free slow cooker chicken tacos are one of those well-liked meals.
Besides tacos, I also use this shredded chicken to make chicken quesadillas, enchiladas, taco salad, and on nachos. That's a lot of yummy family-friendly meals you can make using this one simple recipe. I can usually get at least 3 meals for our family of 4 out of this recipe.
The shredded chicken also freezes well, so I will often make a double batch and divide into family-size servings in Ziploc freezer bags and freeze so I can pull out on a busy weeknight for an easy dinner.
I also love using my Crock-pot slow cooker. I tested many slow cookers before finding this one and I just love it! Everyone I've recommended it to has loved theirs too!
I love gluten-free crockpot meals and I know many of you do too! They make getting dinner going so easy. I can start this chicken in the Crock-pot just after lunch and the meat is ready to shred and eat at dinnertime. The chicken shreds so easily that I just use a couple of forks to shred it right in the Crock-pot.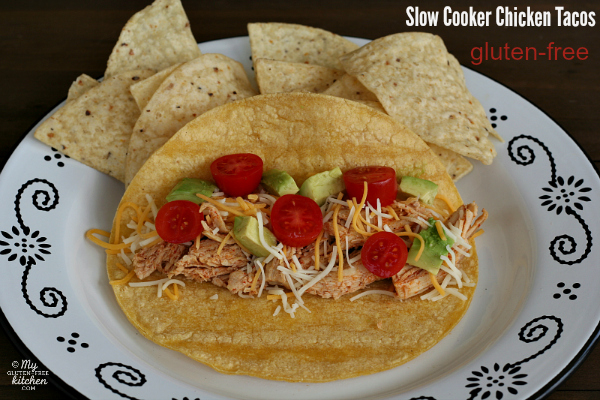 Notes on ingredients for these gluten-free chicken tacos:
Taco seasoning: I use a homemade taco seasoning when I make this and will post that soon. But you can use any gluten-free taco seasoning. The one from McCormick is great – I can find it at some local stores, but you can also get a 12 pack of them from Amazon here.
For the chicken broth, I recommend Pacific Natural Foods Organic Free Range Chicken Broth as it is gluten-free, unlike some other brands.
If you are in the market for a new Crock-pot and want a good recommendation, check out my post on my favorite Crock-pot. I tried several models over several years before I landed on this one that I love!
I like serving homemade gluten-free guacamole and black beans or refried beans alongside these tacos. I'm wanting to try making these Instant Pot Black Beans from my friend Cindy. I'm also loving this meatless taco recipe: Chili Lime Tacos!
Serve these with your favorite corn tortillas or gluten-free flour tortillas. I really like the Mission corn tortillas and gluten-free flour torillas. But sometimes to mix it up I'll buy some hard shell taco shells that are labeled gluten-free too.
Looking for more gluten-free chicken crock pot recipes? You might like my gluten-free chicken noodle soup recipe! Make sure you check out my other gluten-free slow cooker recipes on the blog too.
Gluten-free Tacos Recipe:
Yield: 12 servings
Gluten-free Chicken for Tacos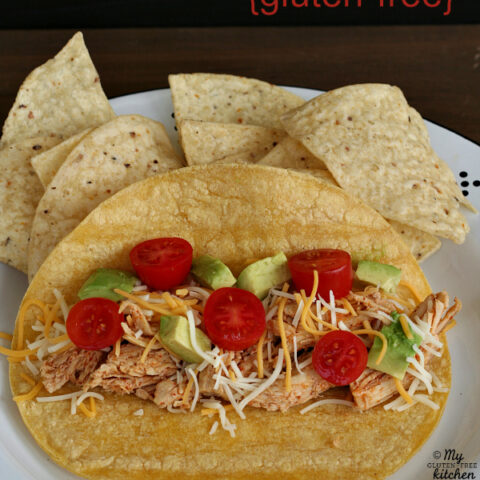 This versatile gluten-free shredded chicken can be used in tacos, enchiladas, quesadillas and nachos. We have these gluten-free chicken tacos at least once a month!
Prep Time 5 minutes
Cook Time 4 hours
Total Time 4 hours 5 minutes
Ingredients
1 cup gluten-free chicken broth (recommend Pacific)
1 packet gluten-free taco seasoning mix or 2-3 Tbsp. homemade seasoning
2 lbs. boneless, skinless chicken breasts or tenders (thawed)
Instructions
Pour the chicken broth and seasoning into the slow cooker.
Place the chicken breasts in the broth.
Cover and cook on low for 4 hours.
After chicken has cooked, use two forks to shred it into small pieces. I shred it right in the slow cooker.
Use with your favorite toppings and tortillas for tacos, enchiladas, quesadillas, nachos, etc.
Notes
When I double this recipe, I do not double the broth. If I triple the recipe, then I do double the broth.
Recommended Products
As an Amazon Associate and member of other affiliate programs, I earn from qualifying purchases.
Sunday 23rd of February 2020
[…] Gluten-Free Slow Cooker Shredded Chicken for Tacos via My Gluten-Free […]
Friday 1st of November 2019
[…] Get the recipe for Slow Cooker Shredded Chicken for Tacos here […]
I love Mexican food and making it with the crock pot is perfect! These look delicious. Would love one right now!
Toni - Thanks so much for stopping by and commenting! I love Crock-pot meals - they just make my day smoother!
Yum, these look fantastic! I am a huge fan of making foods in the slow cooker, so this is great! I've also been gluten free for a couple of weeks now, so glad to have found your site!
Thanks Dawn. Slow cookers are the best! I'm so glad you found my site too, and hope you'll find some new recipes to add to your rotation. Let me know if you have any questions as you navigate this new challenge!
Thursday 27th of March 2014
Looks like a great recipe: healthy, easy & simple. Would serve with veggies & beans of some kind. Look forward to trying!
Monday 31st of March 2014
Rose, this would go great with the veggies and beans. I often pair it with black beans. Hope you can try it soon and enjoy!