Simple homemade guacamole is so easy to make and tastes so much better than that packaged guacamole bought at the store! Plus, when you make it yourself, you can be sure it's truly gluten-free guacamole, and hasn't had any cross-contact with other ingredients. I hope you love my easy homemade gluten-free guacamole recipe and my suggestions on how to use it!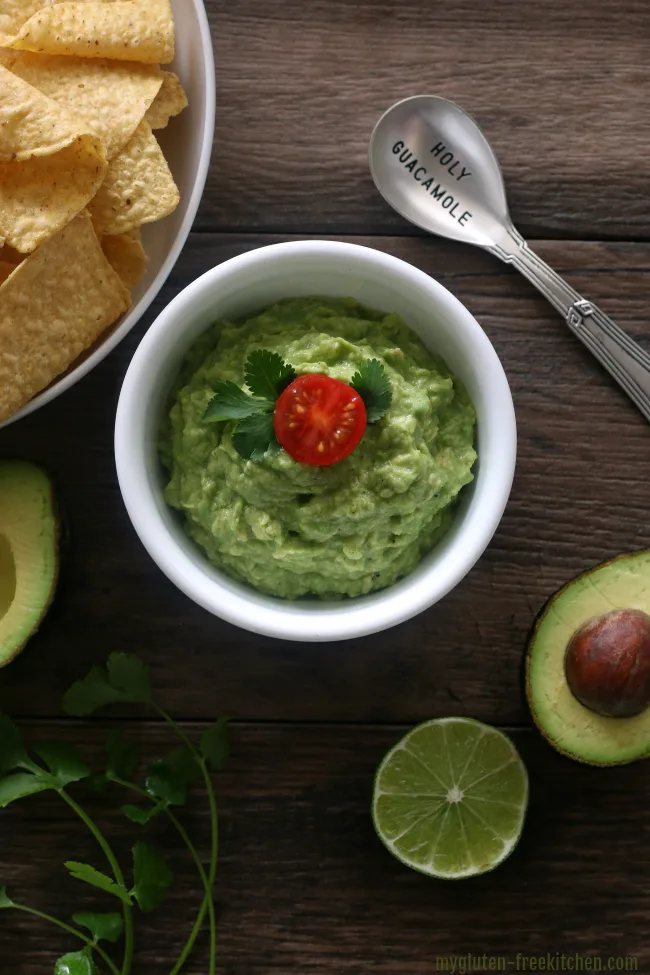 Simple Guacamole Recipe
I looooove homemade guacamole. It is so much more flavorful that the pre-made stuff, plus I can control all of the ingredients. Garlic is the star of this simple guacamole recipe so I warn you not to eat this before heading on a date!
This is the perfect food for your football parties! You can multiply this easy guacamole recipe if you need to feed a crowd!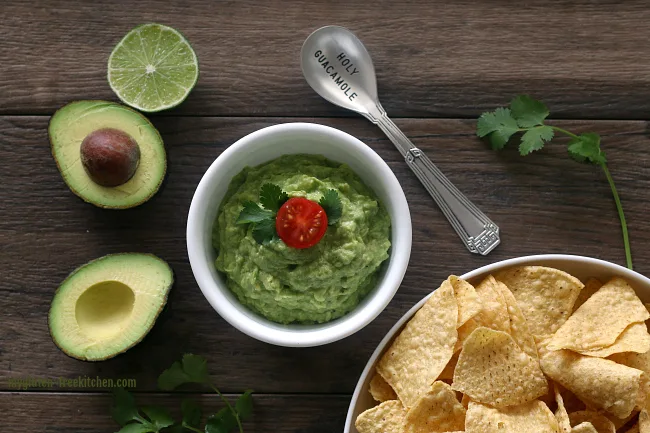 Even though I grew up in a major avocado growing state, California, I never actually tried an avocado or eating guacamole until I was in college. Let's just say I was a little picky as a kid. (Sorry Mom!)
Once I tried it, it was love at first bite! Now I enjoy avocados on my sandwiches, tacos and salads several times a week. I love homemade guacamole on burritos, nachos, even crackers with a little cheese, and of course, I enjoy just eating them with tortilla chips.
Notes on ingredients and substitutions for this homemade gluten-free guacamole:
Avocados: The key to a ripe avocado is making sure it gives a little when you squeeze.
Lime: While I love this with fresh lime juice, if I only have lemons on hand, then I just use those. You can also use bottled lime or lemon juice if you can't get fresh fruit.
Fresh garlic is so important here. In a pinch, if you don't have any garlic cloves on hand, then go ahead and use garlic powder.
Salt: Sometimes I use coarse kosher salt, sometimes coarse sea salt. Either is fine!
Pepper: This might seem like an odd addition to some, but it really adds to the overall flavor, so I recommend you don't skip this!
You can also add cilantro to this simple guacamole recipe if you are a cilantro lover!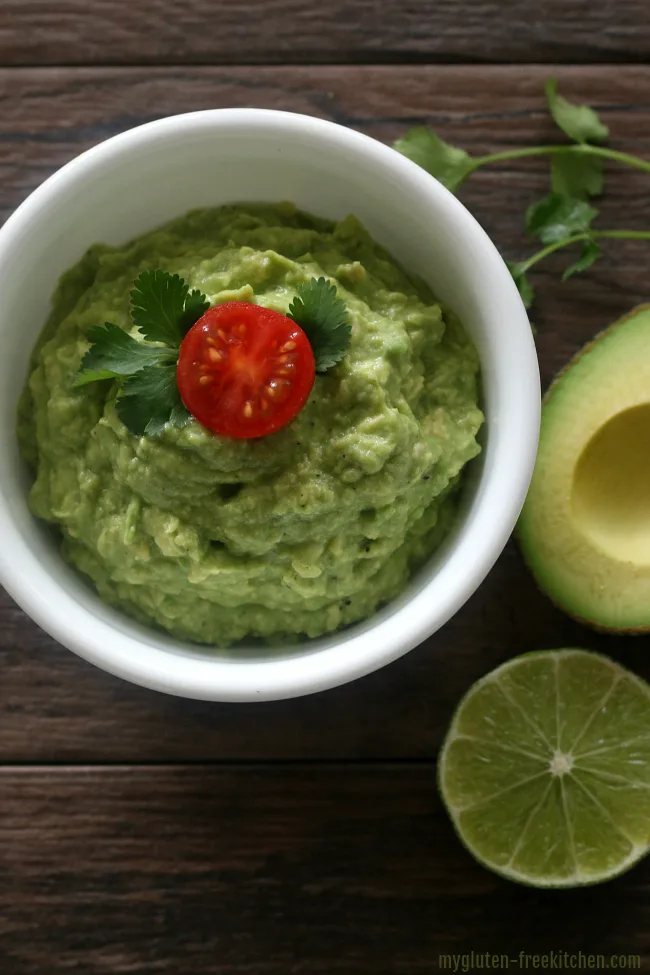 How do you keep guacamole green?
Fresh lime or lemon juice is the key to keeping it green until you're ready to serve! It keeps this green for the whole day the same day I make it, no problem. We very rarely have leftover guacamole, but on the rare occasion that I do make a double batch and people only finish off half, then I press Saran Wrap right up against the surface of the guacamole in the bowl, and then wrap the bowl completely in more Saran Wrap and that works to keep it as green as possible.
Is Guacamole Gluten-free?
Yes, usually guacamole is naturally gluten-free. Some brands of pre-made guacamole, like Wholly Guacamole, clearly label all of their products as gluten-free. Sabra also labels their guacamole as gluten-free, but they also make hummus that is packaged with pretzels and I can't find information about whether those are different factories or not, so there is a possibly of cross-contamination. I would hesitate to buy a local store's own brand without consulting regarding cross contamination risks. Always read the ingredient labels and contact the makers to ask about cross contamination.
Pre-made guacamole is also often full of a lot of extra additives, that you just don't need if you make it yourself at home! And when it's this easy, why not?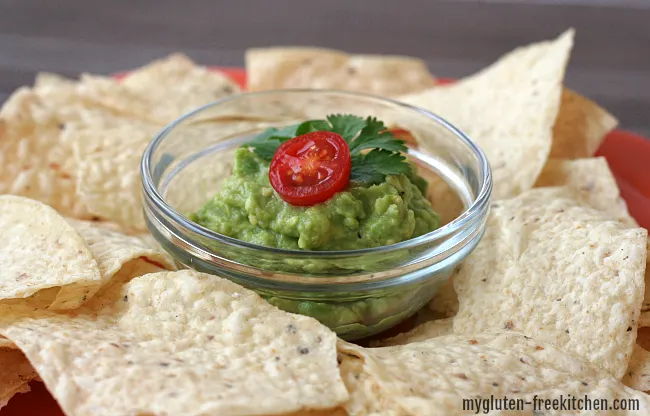 What brands of tortilla chips are gluten free?
If you are looking for gluten-free tortilla chips, the brands that I buy the most are Food Should Taste Good Tortilla Chips,
Mission Tortilla Chips (I love the thin ones), Tostitos Original Restaurant Style or Scoops, and the big bag of Costco's Mission Tortilla Strips. All are clearly labeled gluten-free, plus I've checked into the manufacturing of each of these and am reassured. I have to caution you against buying the big bag of Organic Tortilla Chips at Costco, they do contain a wheat warning – at least they did last time I checked.
I use this simple guacamole in my popular Chips and Guacamole Bites Recipe. You've got to try it too! It's perfect for parties!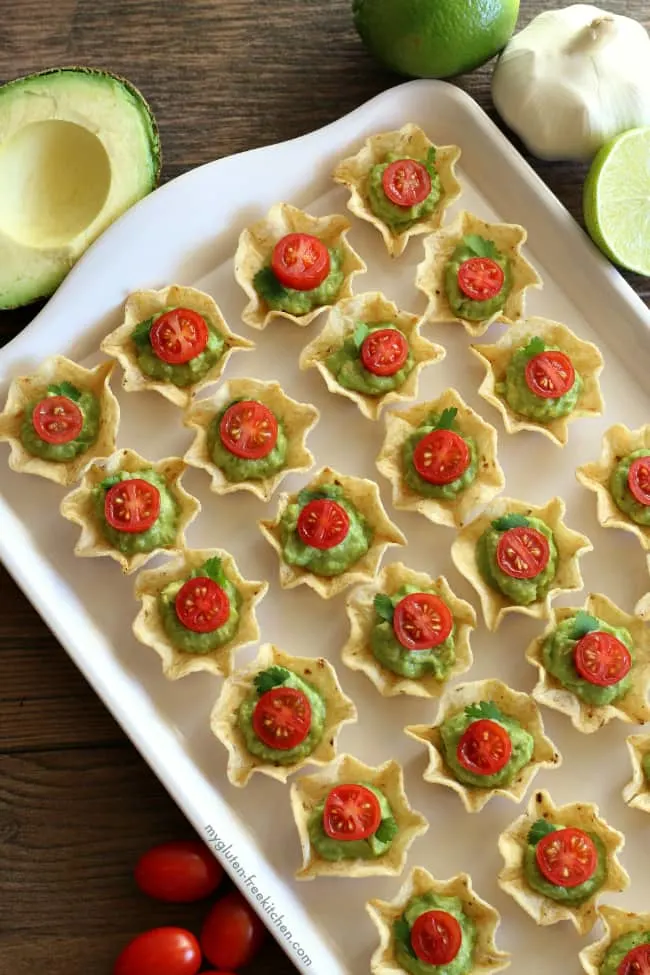 Looking for more appetizers? Check out my Gluten-free Appetizers Pinterest Board.
I hope you and your guests enjoy this simple guacamole recipe. When homemade guacamole is this easy, it leaves you time to focus your energy on everything else for hosting! Have a fun time!
Simple Guacamole Recipe:
Yield: 1 1/2 cups
Easy Homemade Guacamole Recipe (Gluten-free)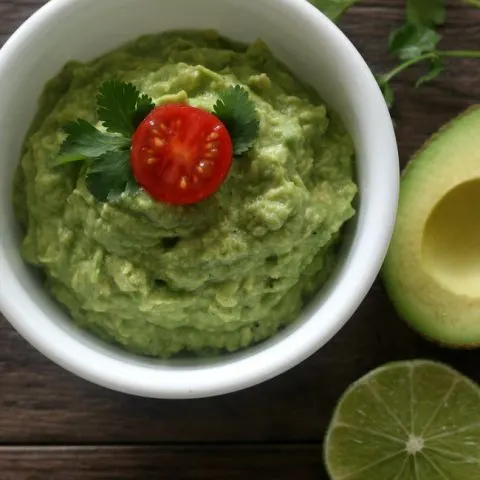 Just 5 ingredients make up this simple guacamole recipe! Once you make this easy homemade guacamole, I doubt you'll want to go back to store bought!

Prep Time 5 minutes

Total Time 5 minutes
Ingredients
3 small/medium avocados
1 Tbsp. fresh squeezed lime juice, strained to remove seeds
1 clove garlic, minced
3/4 tsp. sea salt
1/8 tsp. black pepper
Instructions
In a small/medium bowl, use a fork to mash avocados.
Stir in remaining ingredients until well mixed. Taste. Add additional seasonings if needed to your preferred taste. Keep in mind not to add extra salt as you'll be dipping salty tortilla chips in this!
For best results, serve the same day as you make it.
Notes
If you love cilantro, feel free to add it in this guacamole! I usually just include some on top that the cilantro lovers scoop up!

Pin this to your Gluten-free Appetizers board: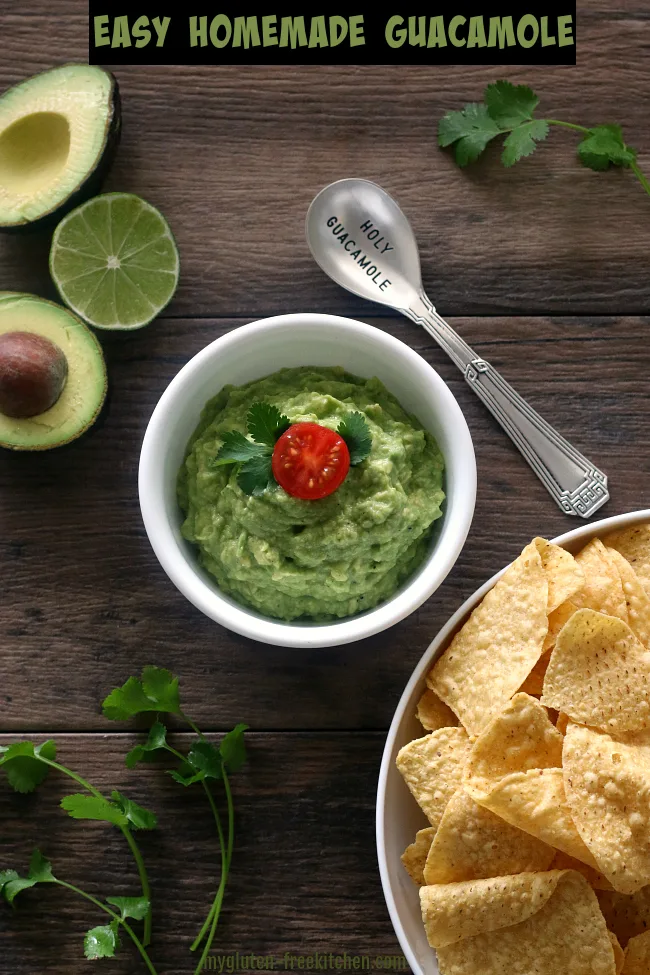 I hope you and your family enjoy this gf guacamole as much as we do!