Looking for new school lunch ideas that go beyond sandwiches? Here are three gluten-free, top 8 free lunch box ideas! Happy to feature new chewy bars from sponsor Enjoy Life Foods in these.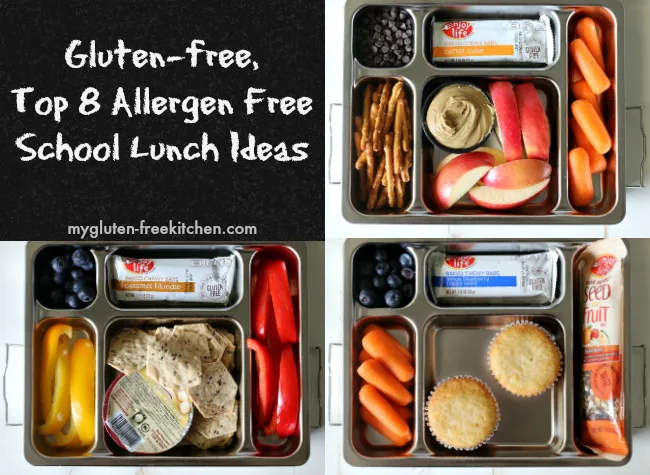 I've already seen a number of posts on Facebook from friends that are looking for school lunch ideas. For some, packing lunches is new, some are looking for lunches their older kids can pack, and some are already bored with sandwiches and just want some other options. Today I'm sharing with you 3 gluten-free lunch ideas that my boys actually eat! I've taken a step further to make these each completely top 8 allergen free! These are great for kids with any of the top 8 allergens, or for the many of you with celiac kids and other allergens present in the family or in the classroom.
My kids have been eating the gluten-free version of these lunches for quite a few years now. Enjoy Life sent me their three new flavors of baked chewy bars, so I included one in each of the three lunches that they're already used to having! Like all of their products, these new Enjoy Life baked chewy bars are certified gluten-free and free of the top 8 allergens: dairy, eggs, peanuts, wheat, soy, tree nuts, fish and shellfish. The three new flavors are carrot cake, caramel blondie, and lemon blueberry poppyseed. They're certified non-GMO and Kosher as well and have no artificial ingredients.
My boys are now a tween and a teen, so they make their own lunches in the morning almost every day. They can, and do, make variations of all three of these lunches. My youngest will not eat veggies in his lunches, so the carrots only show up when I'm making the lunch!
Lunch #1: Sunseed Butter, apple slices, carrot sticks, gluten-free pretzels, mini Enjoy Life chocolate chips, and an Enjoy Life Carrot Cake Baked Chewy Bar.
If you don't need to avoid all 8 top allergens, feel free to add back in the ones your child can tolerate! For instance on this first lunch, while I used sunseed butter, you can use peanut butter or almond butter if your child's allergies allow. There are various brands that make little to-go containers of the sunseed butter, peanut butter or almond butter that you can use, but I just used my own container and scooped from a large jar of sunseed butter. I do put a lid on the little container so it doesn't get everywhere.
I include mini chocolate chips because it's super fun to dip pretzels or apple slices in the butter and then into the chocolate chips. I used a snack pack size of Enjoy Life mini semi-sweet chips for this. This lunch has been a favorite of both boys for years, but especially loved by my youngest. I make this same lunch to go for me when I am going to be away for the day or for eating in the car when we travel!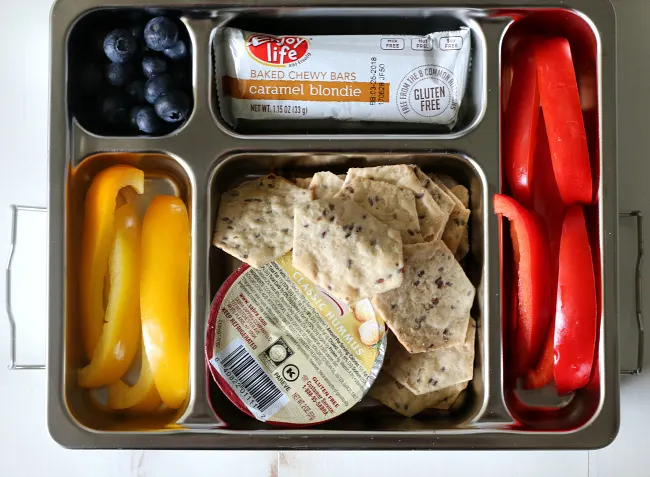 Lunch #2: Hummus, gluten-free crackers, sliced bell peppers, berries, and a caramel blondie chewy bar.
We added this lunch to our rotation about a year ago. My oldest enjoys this one (my youngest won't try yet). I typically slice up the peppers for this one as I know my son won't want that effort in the morning! But if you've got your peppers sliced, this is a super fast lunch to put together in the morning! I buy individual servings of hummus at Costco or my local grocery store – there are a few brands of them. We use various gluten-free crackers for these. Since this is a savory lunch, I chose to include the sweet caramel blondie chewy bar. It was good! This sweet bar was my favorite of the three flavors too, which is probably no surprise to those of you that know I've got all sweet teeth!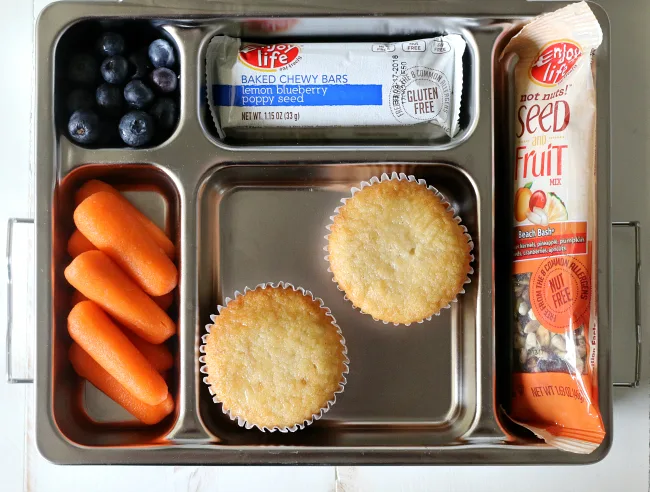 Lunch #3: Gluten-free muffins, Enjoy Life seed & fruit mix, carrots, berries, and lemon blueberry poppy seed baked chewy bar.
This has been a go-to lunch for many years and the first one my kids learned to pack themselves. I almost always have gluten-free muffins in my freezer. They can just pull two out, add a fruit and another grab and go side, and they're done. I have a number of gluten-free muffin recipes on my site that can be adapted to fit specific allergies. You can also check out these gluten-free top 8 free cinnamon roll muffins or these gluten-free vegan dark chocolate cherry muffins (top 8 free too!) The grab and go items I included in this one were the Lemon Blueberry Poppy seed Chewy Bar and a snack bag of Enjoy Life Seed and Fruit Mix.
From now through September 15, 2017, you can get a 20% discount on Enjoy Life new Chewy Bars through their online store. Just use the code CHEWYBLOG and buy them here: Enjoy Life Chewy Bars.
After you try them, be sure to come back to let me know what flavors you liked!

This sponsored post was created through my partnership with Enjoy Life Foods. As always, all opinions are my own. Collaborating with brands I love allows me to keep bringing you new and varied recipes! Thanks for your support!