Perfect for using up that garden bounty, here's my tried and true recipe for gluten-free zucchini bread – an easy and delicious quick bread recipe! You can make this a gluten-free dairy-free zucchini bread too!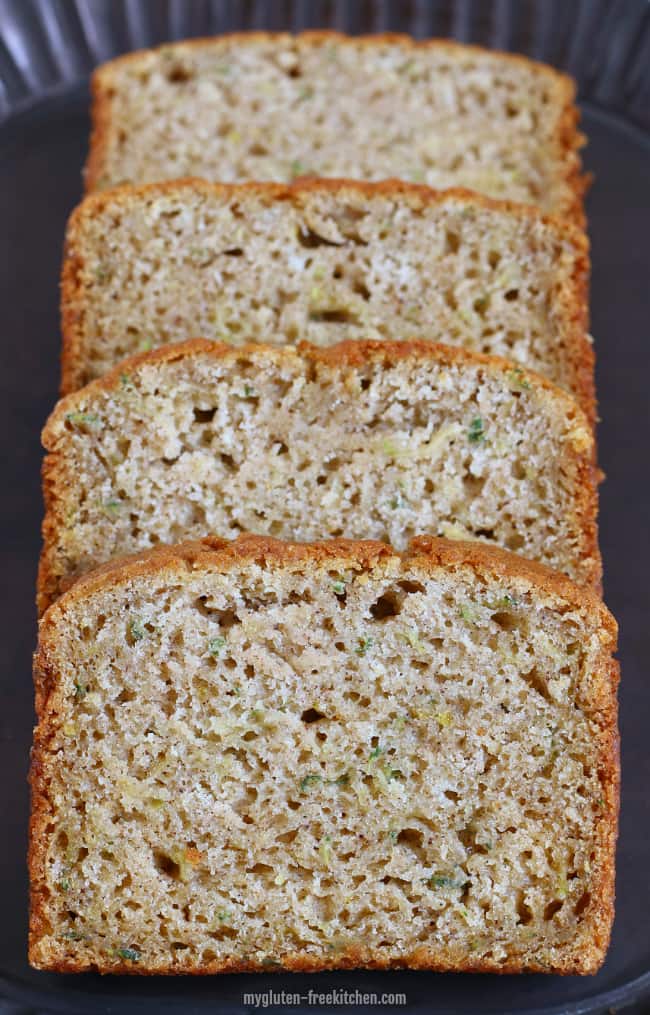 I learned something this year. What I learned is that my good friend and I need to coordinate who is growing zucchini that year. Last year, my friend Lisa and I were both overflowing zucchinis that were the size of baseball bats and were trying to pawn the extras off on anyone we could. This year, neither of us planted any and have instead been having to ask around to get some! Lesson learned – we'll be communicating during planting to make sure one of us plants it!
Since I was looking for zucchini, I was happy when I saw a member of our church bringing in a huge box full of zucchini and squash to the church lobby this week! I wish I'd snagged more than one.
I grabbed one large zucchini and with it I made our favorite gluten-free zucchini brownies and this recipe for two loaves of gluten-free zucchini spice bread. I've tested this gluten-free zucchini bread recipe at least a half dozen times now, so it's ready to share with you!
I love that this recipe makes TWO large loaves of gluten-free zucchini bread. If you're feeling generous, you could gift one to a neighbor – maybe the one that brings you zucchini! 🙂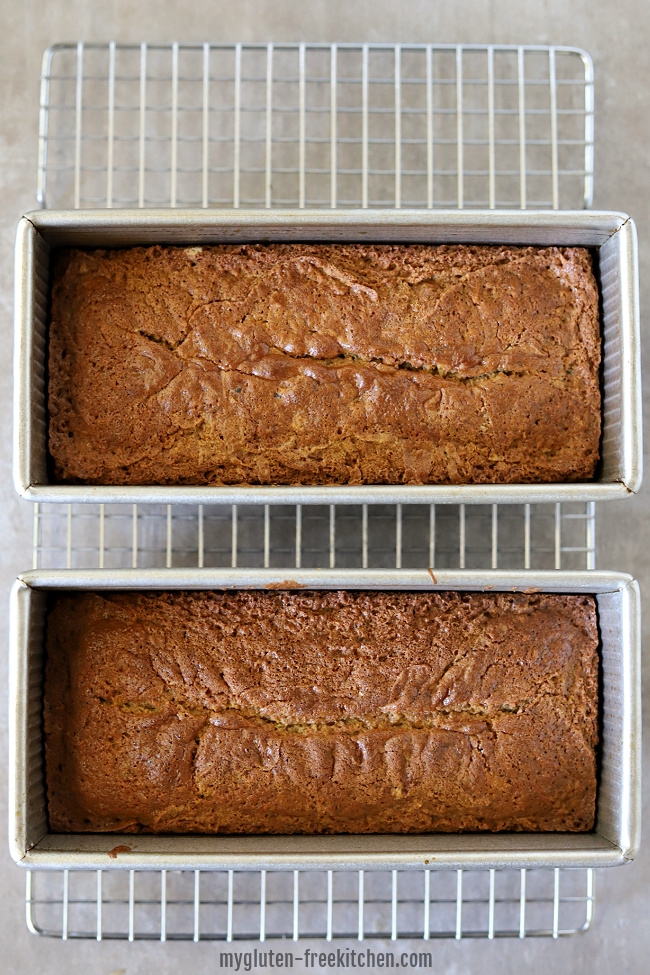 I baked these in my favorite loaf pans – 9x4x4 USA Pan Loaf Pans. They make beautiful straight-sided loaves with that are just right for slicing.
Ok, let's talk about what ingredients you need to gather for this recipe.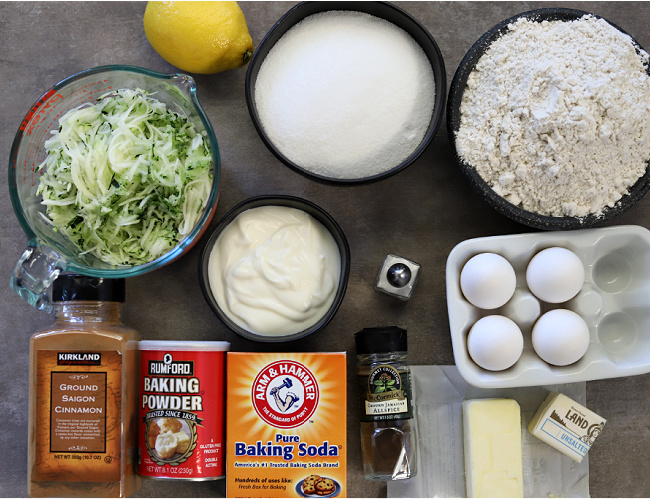 Notes on ingredients and substitutions for this gluten-free zucchini bread:
Flour: Any good quality gluten-free flour blend should work in this recipe. I've tested with gfJules all-purpose gluten-free flour blend (buy direct here) or from Amazon here, King Arthur Measure for Measure Flour (from Amazon here), Gluten Free Mama's All-Purpose Almond Flour Blend with great success with both. I would also recommend Authentic Foods Multi-Blend flour or Cup4Cup.
Remember that if your flour blend already contains xanthan or guar gum, you'll skip adding the xanthan gum called for in this recipe.
Zucchini: I don't peel my zucchini – I don't mind the green flecks. If you do, feel free to peel before shredding. I just cut, remove the seedy center and put through my food processor with the shredding attachment on. Makes it so quick and easy! I do believe it is very important to remove the whole center seed area. It adds a lot of moisture that messes with the overall texture. So basically, core the center out of the zucchini before you shred.
Yogurt: I opted for a lowfat vanilla yogurt. You've got flexibility here with using most any yogurt – Greek, plain, lowfat, nonfat, etc. in either plain or vanilla flavor. You can also use a non-dairy yogurt to make this dairy-free. I've used non-dairy Silk vanilla yogurt alternative with success.
Butter: This gives such great flavor, but you can substitute with your favorite oil instead.
Lemon juice: You can use a fresh squeezed lemon or RealLemon lemon juice that you buy at the store. Either are fine here. I've tested with each.
Can you make this gluten-free zucchini bread without dairy? Yes!
If you can have dairy, use a regular vanilla yogurt and melted butter. If you can't have dairy, use a non-dairy yogurt alternative and your choice of oil. I often use corn oil since it's a flavorless oil I usually have on hand.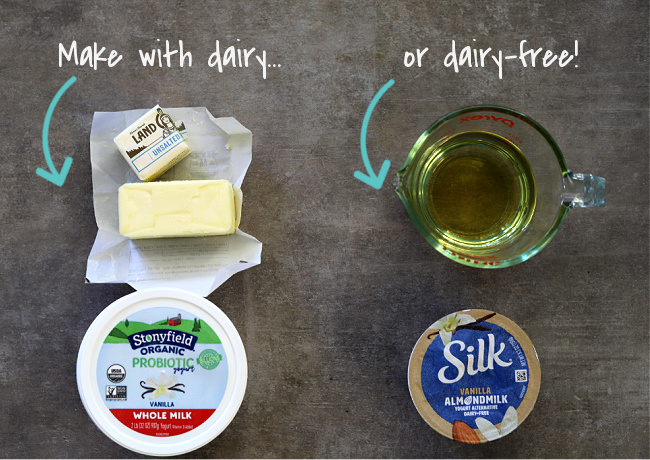 The 1 and 1/2 sticks of butter is equal to 3/4 cup of oil. The yogurt to non-dairy yogurt is a straight swap.
Look at that amazing texture: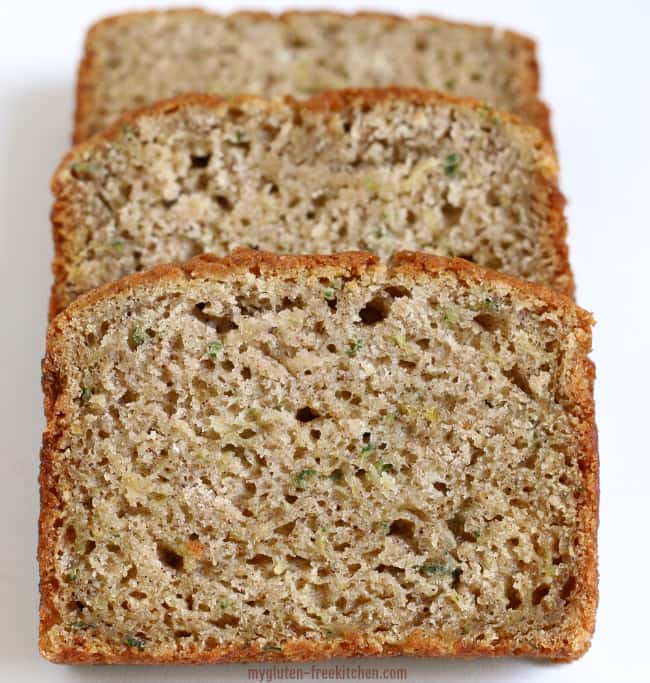 I think you're going to love this gluten-free zucchini spice bread! If you have more zucchini leftover, you can also make these gluten-free applesauce banana zucchini muffins, brown sugar grain-free zucchini muffins, or gluten-free double chocolate zucchini bread! Lots of choices for using up all of that zucchini before the season is over! Let me know what you make!
Looking for more recipes to help you use up all the zucchini you have? Head over to this round-up of more than 30 gluten-free zucchini recipes here.
Recipe adapted from Mel's Kitchen Cafe's recipe for the Best Zucchini Bread.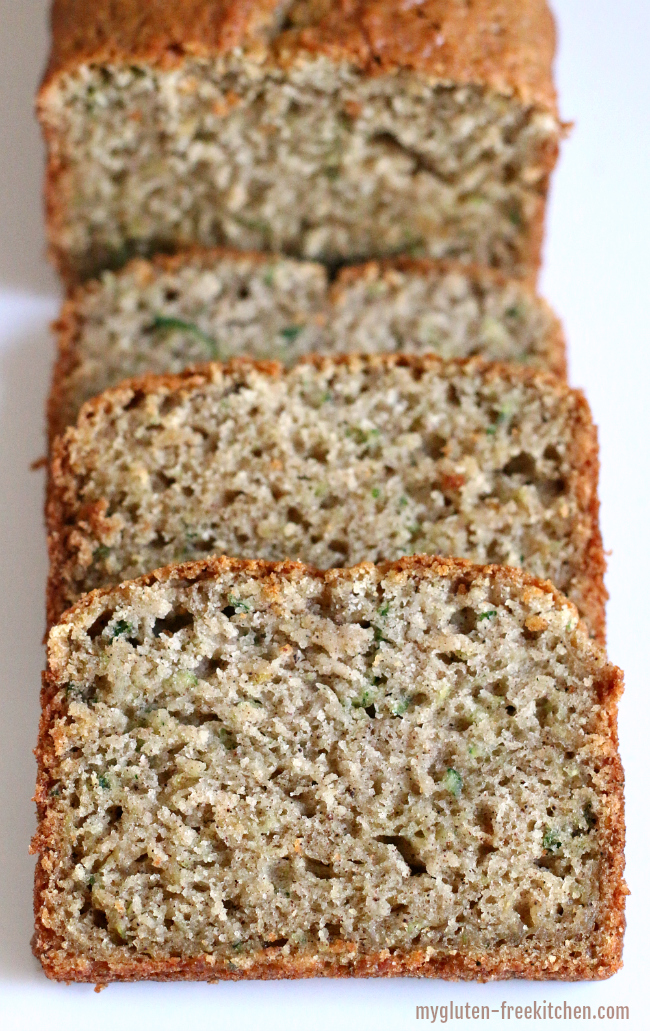 You can wrap a cooled loaf tightly with foil and place in a gallon freezer bag to freeze for up to six months. This is a great option if you have a ton of zucchini to use up and you want to make a few batches of this bread.
It's so nice to be able to pull out some loaves of it in a few months for a nice breakfast or snack! Last year, I pulled a couple out of the freezer to bring with me to visit family for Thanksgiving and everyone loved it.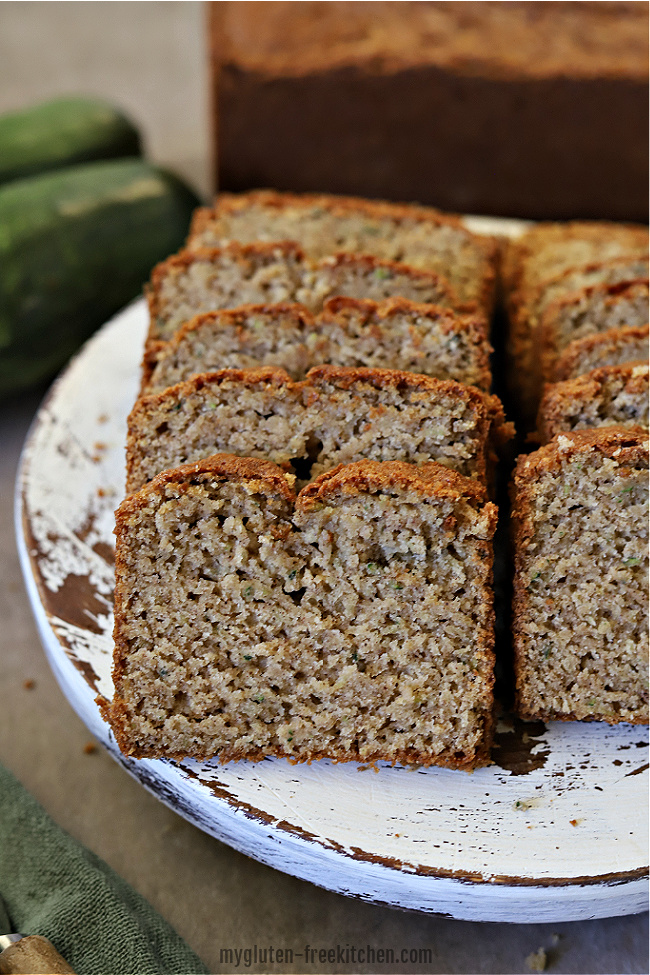 If you make these and love them, please come back and give this recipe a 5 star rating in the recipe card! Feel free to comment with tips or to share any successful substitutions you made.
Gluten-free Zucchini Bread Recipe:
Yield: 2 loaves
Gluten-free Zucchini Bread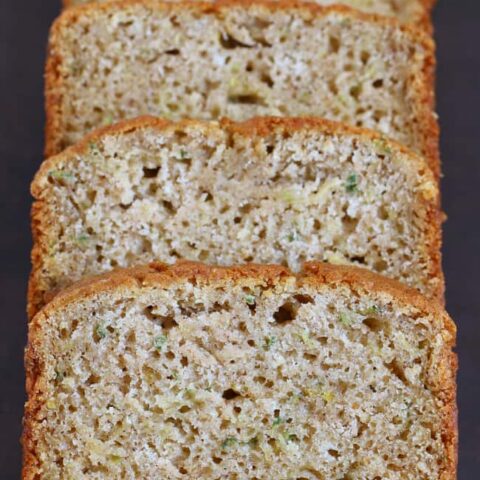 Gluten-free Zucchini Bread is the perfect recipe for when you have lots of zucchini from your garden or from the farmer's market. Dairy-free option: use non-dairy yogurt alternative and use oil in place of butter.

Prep Time 30 minutes

Cook Time 50 minutes

Additional Time 15 minutes

Total Time 1 hour 35 minutes
Ingredients
4 cups good quality all-purpose gluten-free flour blend*
1/2 tsp. xanthan gum (*omit if your flour blend has a gum already)
2 tsp. baking powder
2 tsp. baking soda
2 tsp. salt
2 tsp. cinnamon
2 tsp. allspice
12 Tbsp. (1 1/2 sticks) unsalted butter, melted or 3/4 cup oil
2 1/2 cups sugar
4 eggs
1/2 cup vanilla yogurt or non-dairy yogurt alternative
2 Tbsp. lemon juice
3 cups shredded zucchini (unpeeled, or peel to avoid green flecks. Discard the seedy center of zucchini first)
Instructions
Before starting: Cut your zucchini. Remove the seedy center. This portion can sometimes add too much moisture, so it's best to remove it. Then shred your zucchini. I slice, remove seeds, then put through my food processor with shredding attachment. You can peel or leave unpeeled. Set aside until called for in instructions below.
Lightly spray two 9x5 loaf pans with cooking spray. Preheat oven to 375°.
To a large mixing bowl, add the gluten-free flour, xanthan gum, baking powder, baking soda, salt, cinnamon, and allspice. Whisk together. Set aside.
In another large bowl, add the melted butter. Next add the sugar and whisk together to dissolve the sugar. Add the eggs, vanilla yogurt and lemon juice and whisk until combined.
Alternate adding some of the flour mixture and some of the shredded zucchini to the butter/sugar mixture, gently folding/stirring with a rubber spatula. I did this in three turns of flour and zucchini until all was gently stirred in.
Equally divide the batter between both loaf pans. You can use a food scale to make sure they're even for even baking times.
Bake at 375° until golden brown and a toothpick inserted into center comes out with crumbs only, no wet batter, about 45-50 minutes. Cool in pan on cooling rack for 10-15 minutes. Remove from pan and let cool on wire rack until cool. Once cool, slice and serve, or wrap with foil and keep on counter for serving. Or wrap well with foil and place in a freezer bag and freezer for up to 6 months.
Notes
*I've tested this with gfJules flour, King Arthur Measure for Measure gluten-free flour blend, and Gluten-free Mama's Almond blend and recommend any of those!
**If using a flour blend that already includes xanthan or guar gum, then omit the xanthan called for in the recipe.As always, be sure to double-check your ingredients for gluten.

See blog post for how to video as well as answers to common questions about ingredients.
Recommended Products
As an Amazon Associate and member of other affiliate programs, I earn from qualifying purchases.

Pin this to your gluten-free breads board: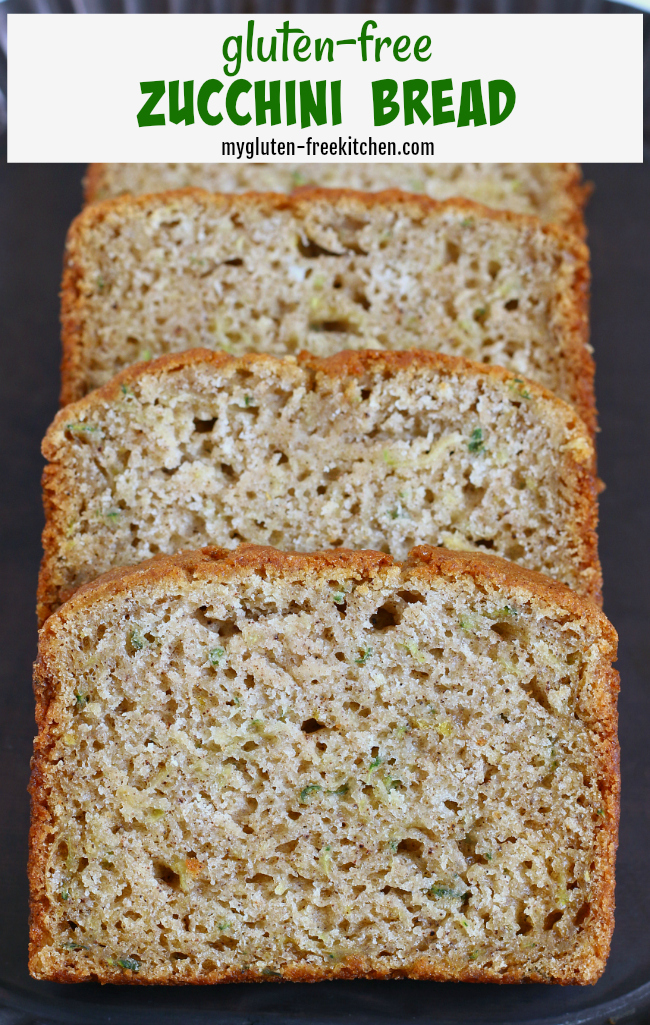 I hope you and your family enjoy these as much as mine did!
Enjoy!