Gluten-free white choocolate raspberry muffins are a yummy muffin that's full of flavor! With fresh raspberries and a bit of white chocolate, and topped with a crunchy topping, the flavors and textures will win anyone over!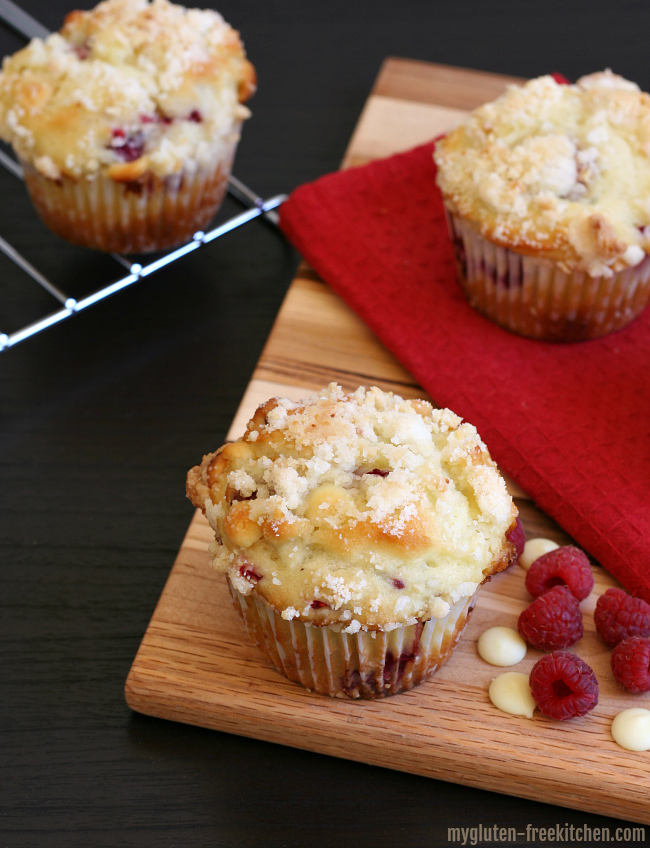 I recently asked on Facebook what everyone's favorite muffin was and a few people mentioned white chocolate raspberry muffins. While I had seen that combo before, I actually had never had them myself. To the kitchen I went, and created these gluten-free white chocolate raspberry muffins with almond streusel topping!
We grow raspberries in our backyard, and this is prime picking time, so I told hubby I needed some for baking. He brought in about 2 cups of fresh red raspberries for me. I used a mounded cupful in this recipe (while I munched on the rest!)
I considered adapting my gluten-free lemon blueberry muffin recipe, but instead decided to try an entirely new muffin recipe. I found this muffin recipe over at the blog Winter Monroe and it looked perfect! I made just a few changes to make it gluten-free and suit some of my preferences.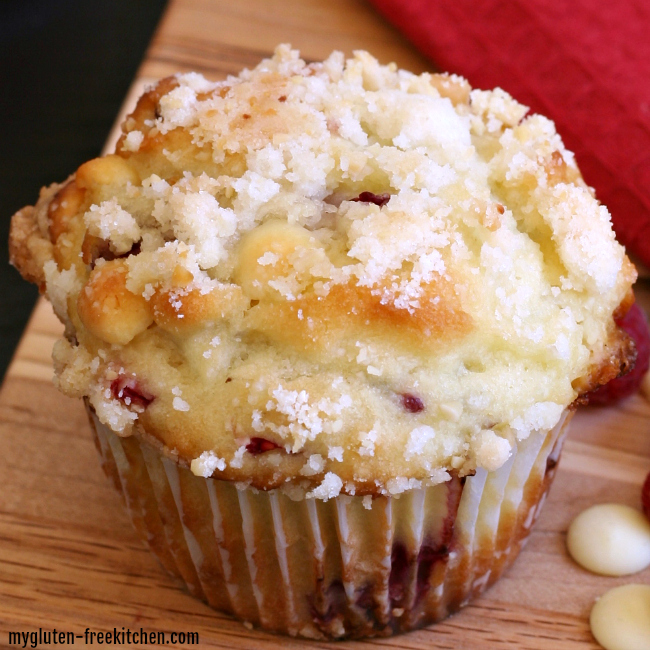 Doesn't that muffin look delicious?
Now let's talk about what you need for making these.
Notes on ingredients for these gluten-free raspberry muffins with white chocolate:
Tools you need to make these:
A muffin pan, a large #20 scoop, and paper muffin liners.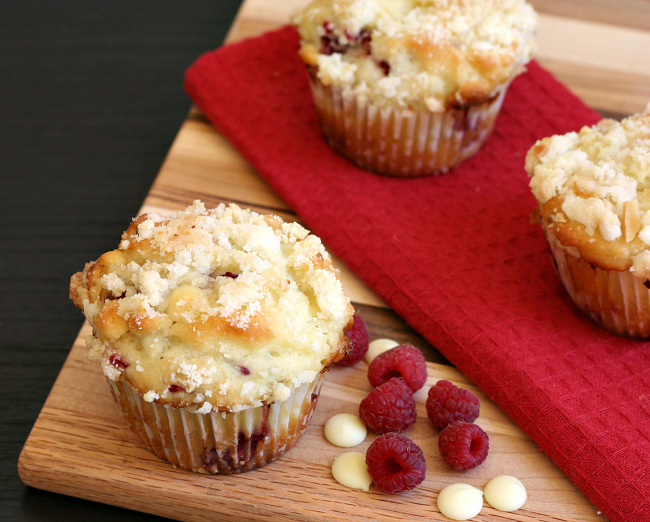 I'm allergic to walnuts, so I made an almond streusel topping instead. I really loved this almond streusel topping and plan on using it in other recipes for sure.
Let me know if you give these a try! I think you'll really enjoy them!
If you make these and love them, please come back and give this recipe a 5 star rating in the recipe card! Feel free to comment with tips or to share any successful substitutions you made.
Gluten-free Raspberry Muffins with White Chocolate Recipe:
Yield: 12 muffins
Gluten-free White Chocolate Raspberry Muffins with Almond Streusel Topping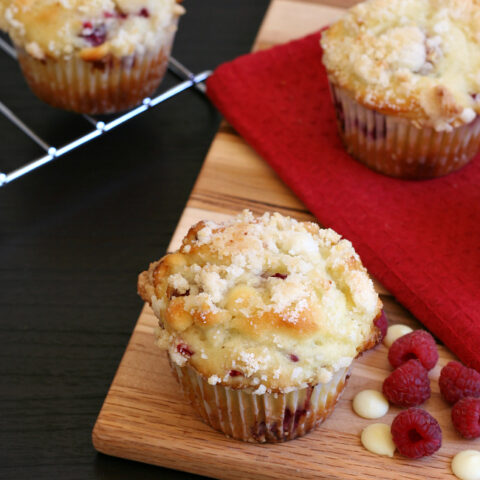 Gluten-free white chocolate raspberry muffins with almond streusel topping! These can be made with fresh or frozen raspberries.

Prep Time 20 minutes

Cook Time 18 minutes

Additional Time 5 minutes

Total Time 43 minutes
Ingredients
Almond Streusel Topping:
1/4 cup good all-purpose gluten-free flour blend
2 Tbsp. salted butter or margarine, softened
2 Tbsp. sugar
2 Tbsp. finely chopped almonds
Muffins:
2 cups (8 1/2 oz.) good all-purpose gluten-free flour blend
1 tsp. xanthan gum *see note
2/3 cup sugar
2 tsp. baking powder
1/2 tsp. baking soda
1/2 tsp. salt
2 eggs
1 cup buttermilk
1/2 cup (8 Tbsp.) butter, melted (or margarine or mild-flavored oil of your choice)
3/4 cup white chocolate chips or chopped white chocolate bars
1 mounded cup fresh raspberries
Instructions
Use paper liners to line a standard 12-cup muffin tin or spray each cavity well with non-stick cooking spray.
Preheat oven to 400°.
Almond Streusel Topping:
In a small bowl, use a fork or pastry cutter to mix together flour, butter, sugar and almonds until crumbly. Set aside.
Muffins:
In a medium bowl, whisk together gluten-free flour blend, xanthan gum, sugar, baking powder, baking soda and salt. Set aside.
In a large mixing bowl whisk the eggs, buttermilk, and melted butter together.
Add the dry ingredients to the wet, using a spatula to stir. Do not overmix- batter will stay lumpy. Use spatula to gently fold in the white chocolate chips and fresh raspberries.
Use a large cookie scoop to scoop batter into 12 equal portions in muffin tin. Sprinkle almond streusel topping evenly over the muffins.
Bake at 400° for 18-20 minutes, until a toothpick inserted into the center comes out with moist crumbs but no wet batter.
Cool in muffin pan for 5-10 minutes, then gently remove to cool completely on wire rack.
Notes
* If the gluten-free flour blend you use already has xanthan gum or guar gum in it, then omit the xanthan gum called for in this recipe.

*These muffins stuck to the paper liners a bit for me, so you might prefer to use greased pans instead.

Use your preferred good quality gluten-free flour blend. I've tested Gluten Free Mama's Almond Blend and King Arthur Measure for Measure in this recipe.
Recommended Products
As an Amazon Associate and member of other affiliate programs, I earn from qualifying purchases.

Pin these to your gluten-free muffins board on Pinterest: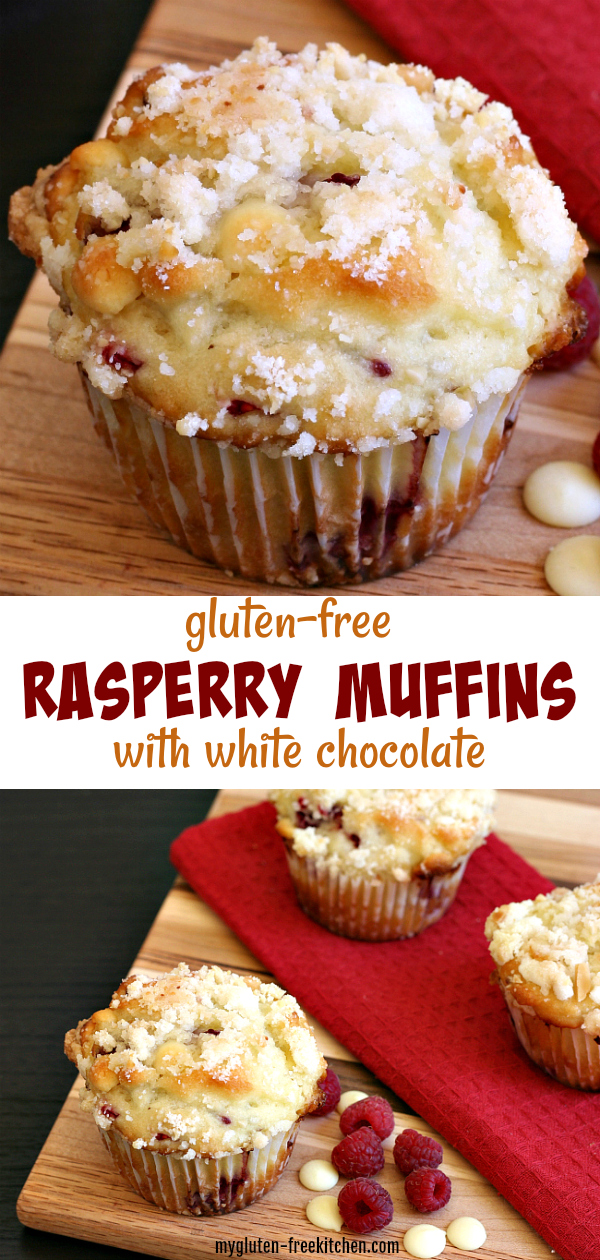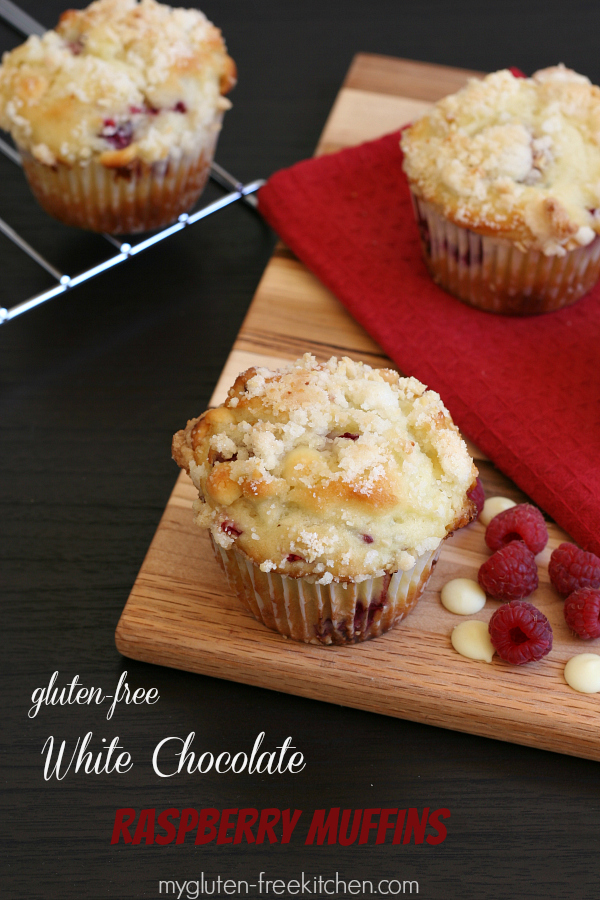 I hope you and your family enjoy these muffins! If you try them, please come back and rate and comment about them!